Safety First: The Best Kids' Bike Accessories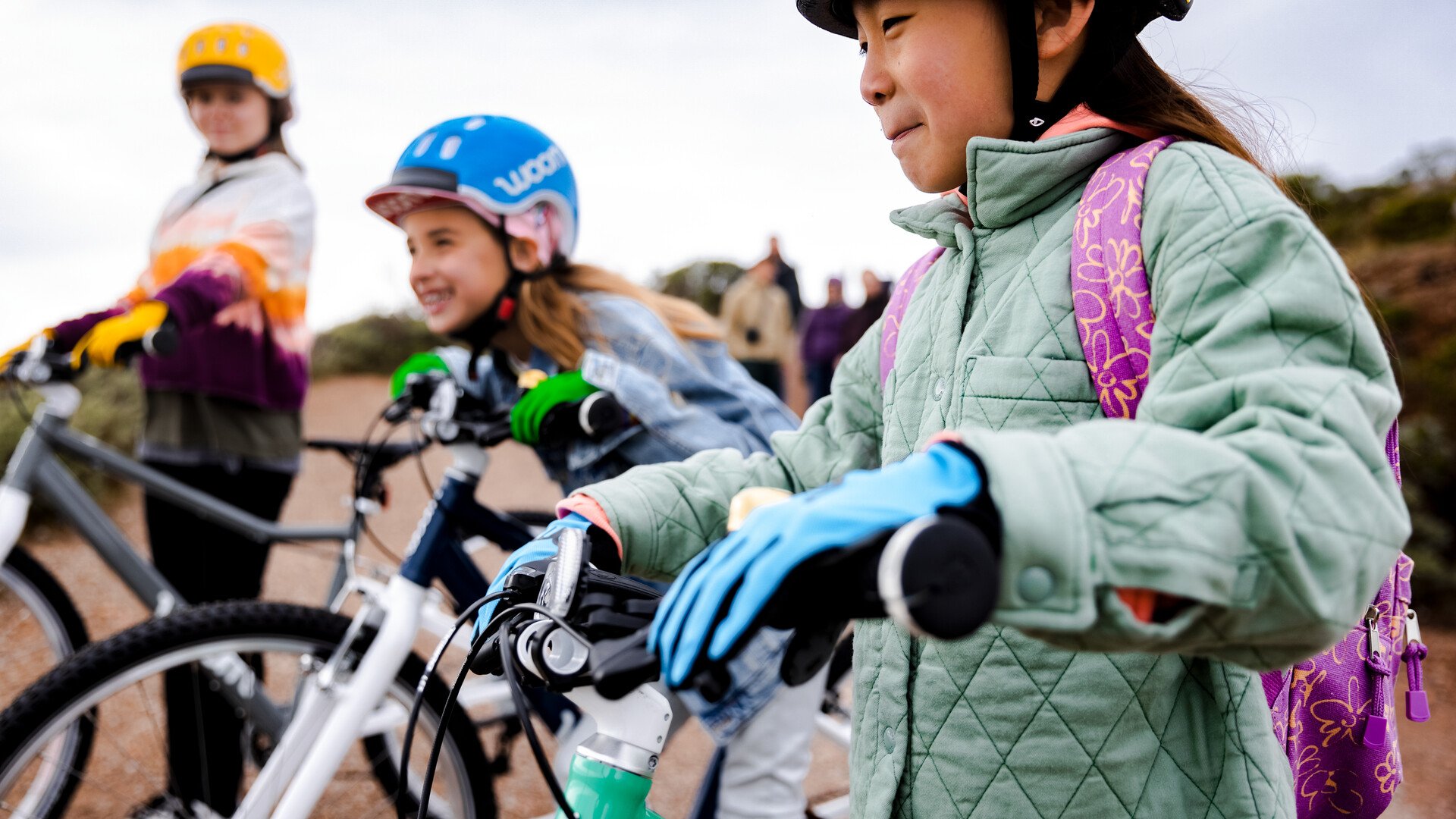 From purchasing the right car seat to teaching youngsters to look both ways when crossing a street, keeping a child out of harm's way can be a full-time job. When teaching a child the joys of riding a bicycle, there are three main safety elements to consider.
Of course, there is the bike itself, getting a quality, lightweight one and ensuring it's tuned up and properly fitted. Next, there are the rules of the road, making sure your kiddo knows how to safely navigate through intersections, signal their turns, and so forth. Lastly, the often overlooked third tier of bicycle safety is the equipment. Getting the right kids' bike accessories isn't just about their safety; it can make your child more confident, enjoy a smoother ride, and give you peace of mind.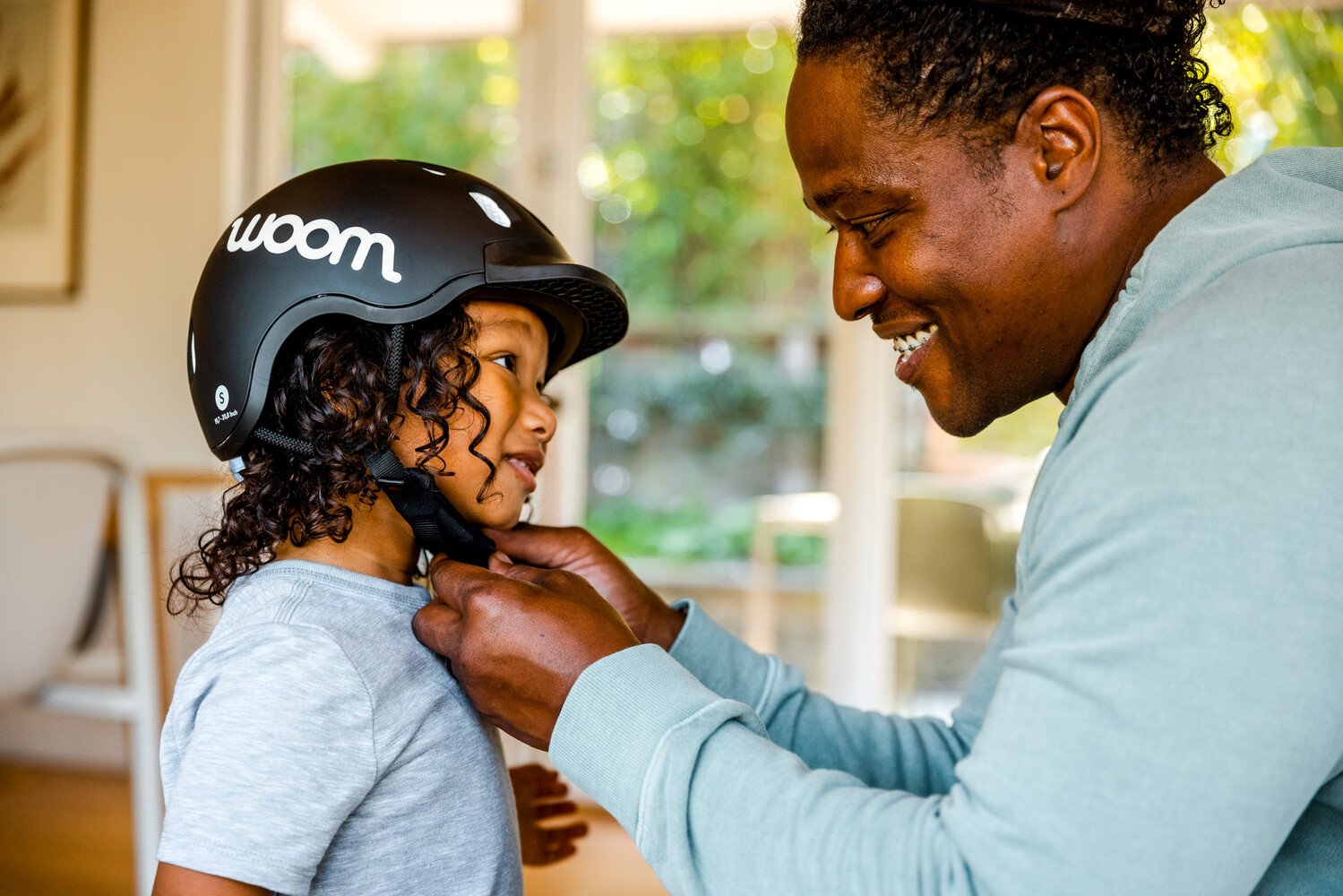 Protective Gear for the Rider
KIDS' Helmet
Undoubtedly, the most important of all biking accessories is a helmet. While it might seem that all kids' bike helmets are roughly the same, there is more than meets the eye. The woom KIDS' Helmet comes with an innovative visor bumper, high-visibility reflective accents, and an extended shell design that provides extra protection for the forehead, temples, and back of the head. Adults can easily adjust the fit thanks to interchangeable pads and a size-adjustment dial, and kids can easily buckle the straps thanks to the magnetic closure.
TENS Kids' Bike Gloves
Gloves are another one of those essential biking accessories that you don't want to leave home without. The TENS Kids' Bike Gloves add comfort and keep kids' digits safe by providing protection against road rash and hand scuffs (in the event of a spill) and absorbing vibrations from the road while riding.
Looking for a warmer pair of kids' bike gloves? Check out our WARM TENS Bike Gloves.
Just what you expect from woom! Great design, materials, and construction! These gloves improved grip while riding as well as just the right amount of protection from minor scrapes from falls. The fit is true to size and easy for little riders to put them on and remove them by themselves.
NEEBOWS Knee Pad Set & NEEBOWS Elbow Pad Set
Not all bike rides require knee and elbow pads. However, if your child is just getting started learning to ride or venturing out into some new territory, such as going to a bike park, they are a pretty good idea! Both NEEBOWS Knee Pads and NEEBOWS Elbow Pads protect your Rider's joints from falls and scrapes without restricting their range of motion and compress upon impact to cushion the impact.
Other Protective Essentials
Whenever heading out on a ride, it's important to remember a few other protective essentials for you and your kiddo:
Sunscreen: Even seemingly cloudy days can result in burning exposed skin.
Sunglasses: Eye protection is serious business. Block out the glare, gravel, and gnats.
Snacks: Cycling burns calories faster than you might think, so perhaps pack an extra snack if your kid is commuting to or from school or practice.
First Aid Kit: We never plan on getting hurt, but accidents happen.
Water: Make sure to fill up your GLUG Stainless Steel bottle before you hit the road!
Directions: Whether using a bike computer, phone, paper map, or you have a route memorized, it's helpful to know where you're going!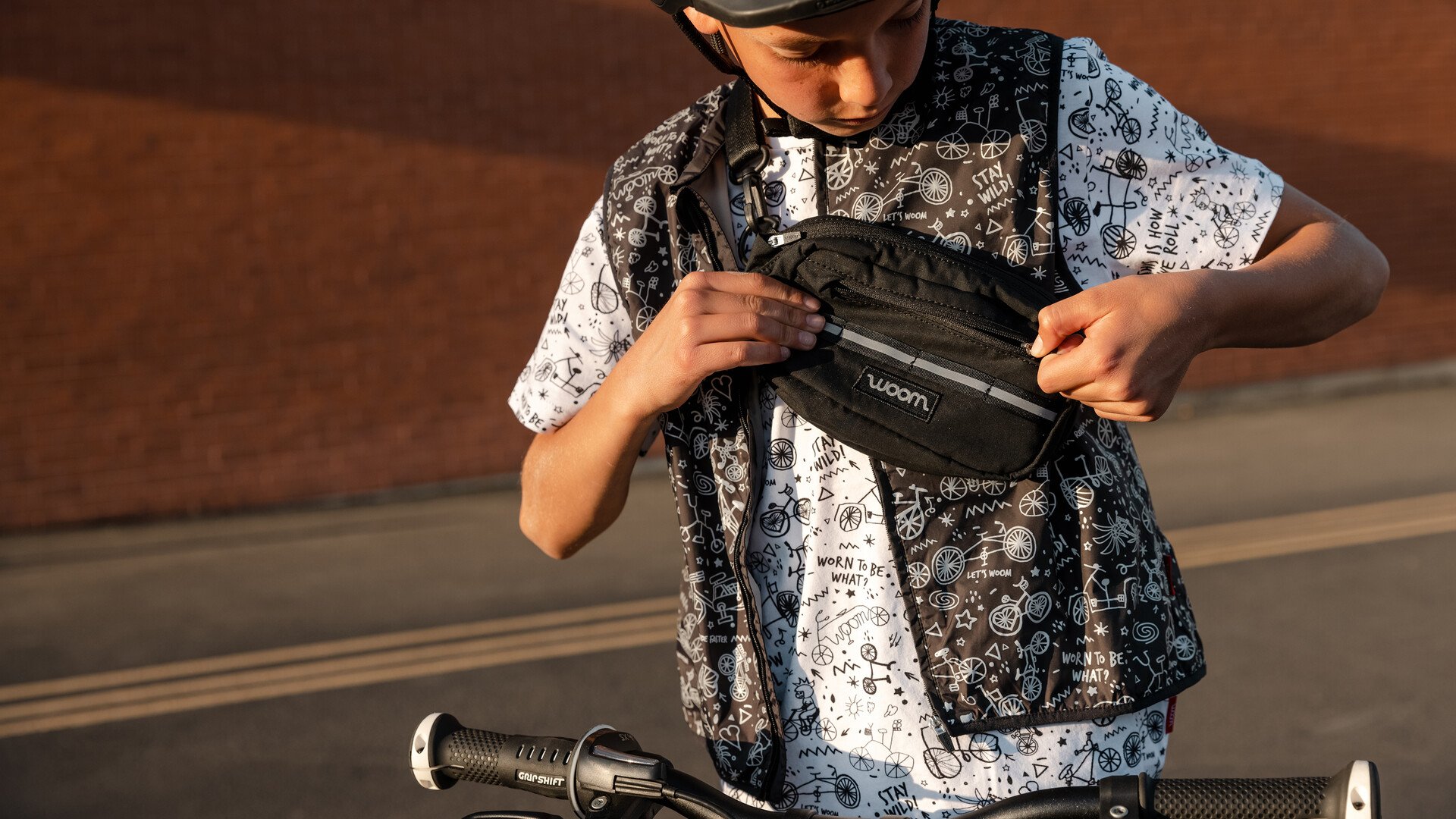 Reflective/High-Visibility Gear
AMIKO Active Bag
Featuring a reflective stripe and woom logo, the AMIKO Active Bag provides your child with a durable zippered pouch to add a snack, a wallet, a phone, or other ride essentials. It can be placed on the handlebars, or used as a waist pack depending on preference.
GLAM Reflective Sticker Set
What would a kid's bicycle be without some awesome stickers!? This high-vis sticker set allows your Rider to personalize their bike, helmet, and water bottle while also ensuring your child will be seen by motorists even when riding in the dark or rain.
FLARE Reflective Vest
Incredible style, comfort, and reflectivity all come together in the FLARE Reflective Vest. When the weather takes a turn for the worse, this ultralight vest helps fend off rain and wind and conveniently packs into its own rear pocket for easy on-the-go storage.
Wow wow wow! I was completely blown away by how bright and reflective the woom flare vest is! It seems to soak up every bit of light around it and reflect it right back out. Making my children so visible and so seen out on our evening bike rides. The vests are lightweight high-quality great material the designs are super awesome my boys love looking at all of them. Definitely a winner in my book.
FLARE Reflective Cap
Designed to fit underneath a helmet, the FLARE Reflective Cap sports the same reflective, kid-drawn bicycle print pattern featured on the FLARE Reflective Vest. Flip the brim down to block the sun or rain, or flip the brim up to sport the reflective woom logo.
CYCLOPE Bike Lights
One of the best ways to stay visible when riding a bike is with a pair of bike lights. Featuring a white front light and a red rear light, the CYCLOPE Bike Lights are simple and reliable. Whether in the dark, on a foggy day, or in broad daylight, bike lights make cyclists more visible to other road users.
woom REPLACEMENT REFLECTORS
Not to be forgotten, front and rear reflectors come standard with every woom bike. If you have any difficulty attaching them to your child's bicycle, watch this video. If you broke or lost your reflectors and are in need of a new set of replacement reflectors, you can purchase them here.
Shop High-Visibility Gear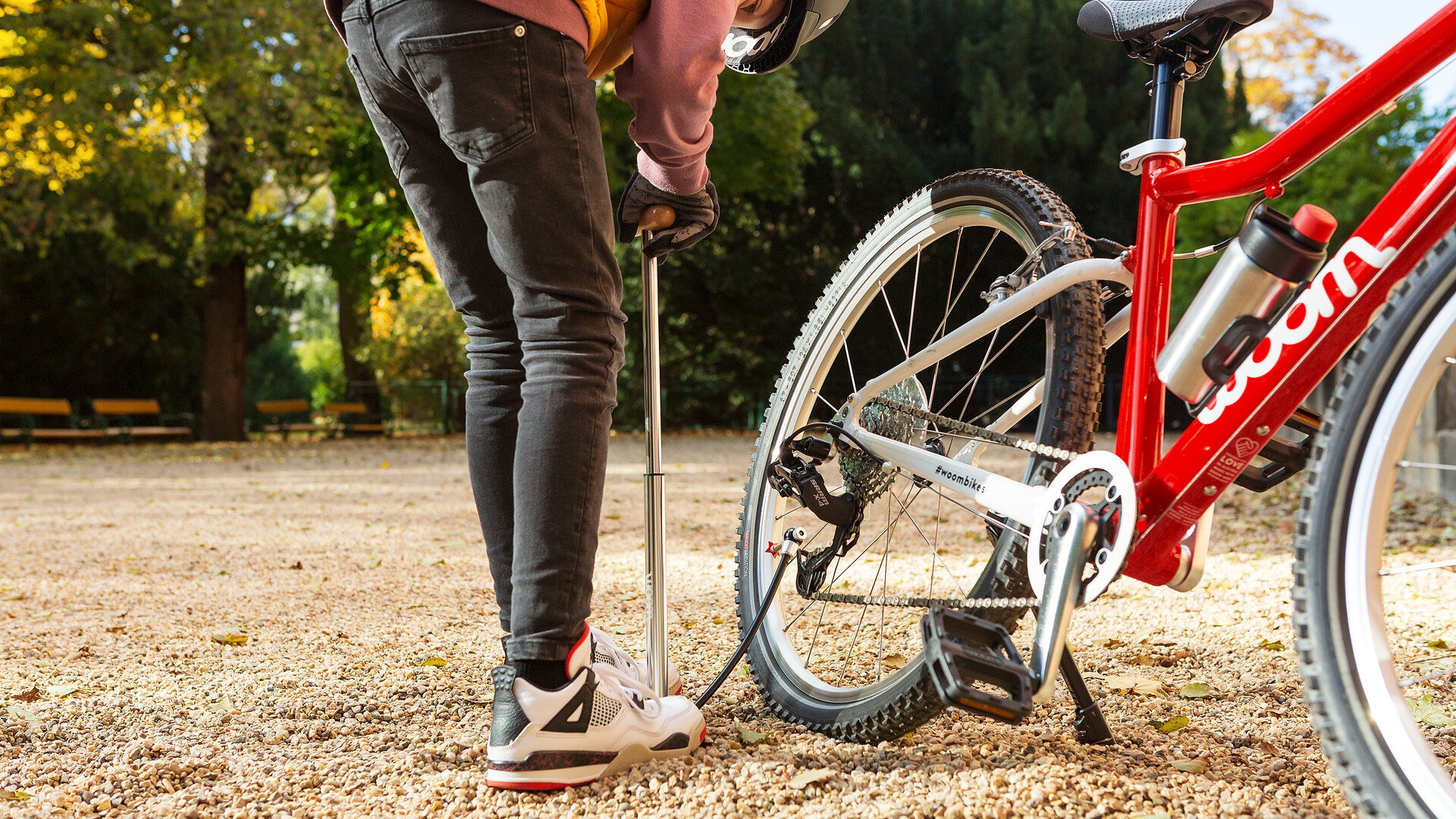 Tire Maintenance Tools
Spare Tube (Schwalbe)
Being stranded without the right tools can be inconvenient or even dangerous, so it's best to plan well. This includes planning for potential tire problems. Having a spare tube of the correct size is a good precaution for all Riders when they venture far from home.
woom ORIGINAL Tire (Schwalbe)
It isn't practical to carry a spare bicycle tire with you on every ride, but it's a good idea to have one in general, especially if your kiddo rides quite a bit. While a flat doesn't necessitate a new replacement tire (usually, a new tube will do the trick), a new tire is needed when the tire tread is running low, which reduces traction and could result in a fall when rounding a corner.
Tire Lever
Another helpful tool for fixing a flat tire, is the tire lever – it's the unsung hero of kids' bike accessories. A tire lever helps remove a tire from the rim (to change the tube), which is helpful when you get a flat tire far from home.
AIRFLO Bike Pump
A lightweight, portable air pump is an extremely handy tool. Whether doing regular inflation to maintain the proper baseline air pressure or using the pump to inflate a tube when changing a flat tire, you don't want to be stranded on your bicycle without one. The AIRFLO Bike Pump features a threaded fitting nozzle to help make pumping tires easy.
My boys and I have used tons of bike pumps in the past but this woom pump knocked our socks off! Like everything from woom the quality and design is spot on. Beautiful, lightweight, and high-quality. The pump works great and we love the presto/Schrader valve screw on attachment, it is very secure and my boys can easily attach and pump their tires on their own. We always throw it on our backpack to take on the trail. Highly recommend the woom Airflo pump you won't be disappointed!
Shop Tire Maintenance Tools
Other On-the-Bike Accessories
VIENNA Bell & BING Bell
A bike bell is more than just a fun noisemaker for kids. Whether you prefer the crisp and clear "bing" of a BING Bell or the dulcet tones of the VIENNA Bell, a bike bell provides children a means to quickly notify pedestrians and other cyclists of their whereabouts to prevent would-be collisions.
GLUG Stainless Steel Bottle
Maintaining proper hydration is vital for cyclists of all ages, especially in the warmer months. The GLUG is a 100% stainless bottle that keeps your water cold even in the blazing heat.
LOKKI Bike Lock
A bike getting stolen is more than just inconvenient and costly. It can also leave its Rider stranded with no wheels to get home. The LOKKI Bike Lock is heavy-duty and child-friendly thanks to its easy programmable four-digit code (no keys for your child to lose!).
Great quality lock - easy to reset and unlock for my 6 yo. Don't get a bike without one!
PICKUP Rack
Kids are known for toting around a lot of odds and ends, but riding a bike with too many items all stuffed into a backpack or in loose pockets — or worse, held in their hands — can be a recipe for disaster. To secure gear, consider attaching a PICKUP Rack to your woom bike (compatible with the bigger woom ORIGINALS and all woom NOW bikes). The built-in bungee cords make it easy to strap on stuffed animals or other toys, and the rack rails are compatible with panniers for serious hauling.
Shop Other On-the-Bike Accessories
The Gift of Safety
Kids' bike accessories make great stocking stuffers or birthday gifts and double as functional tools your child will use to stay safe on their bike rides. There's a lot to consider: protecting your kiddo's head or hands, making sure they're hydrated, ensuring they're easy to spot by drivers, preparing them for flat tires, and providing them a means to keep their bicycle secure. Rest assured, these efforts will make your child feel protected and safe on their two-wheeled adventures, allowing them to continue progressing as cyclists.
Shop Accessories