A Parent's Guide to the Bike Park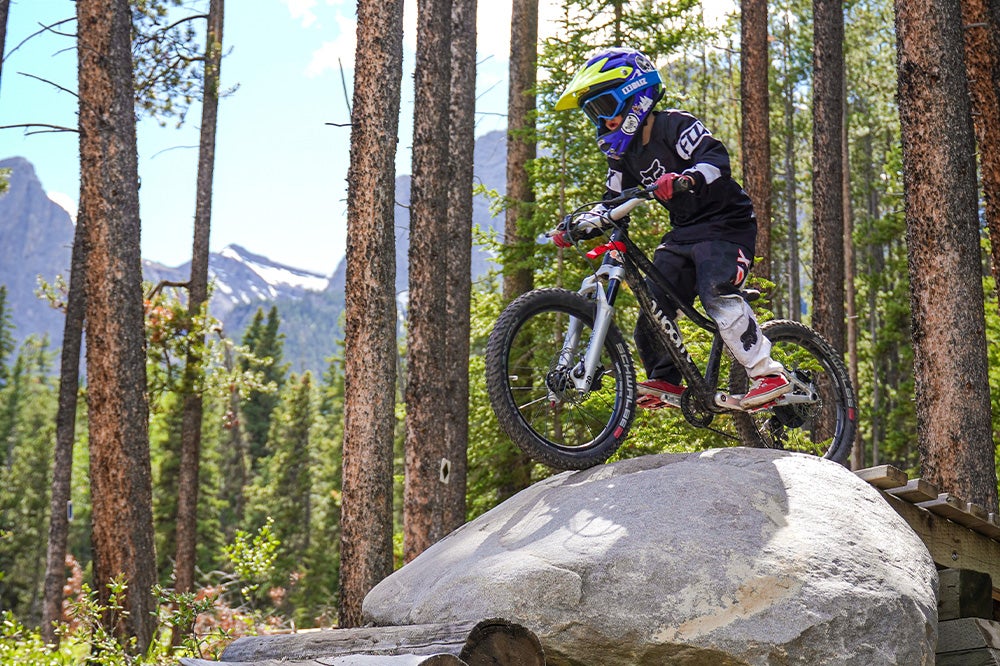 Looking for a fun way for your kiddos to play outside while incorporating exercise, friends, and a little competition? A bike park creates a safe place for Riders to gather, families to bond, and new friendships to form. Unlike traditional neighborhood playgrounds that kids eventually outgrow, everybody can enjoy a bike park regardless of age.
Bike park veteran parents share their top tips for memorable bike park adventures.
Why Bike Parks?
From safety to character building and everything in between, there are plenty of fantastic reasons to consider a bike park as your family's next destination. While another lap around the cul-de-sac may be an easier option, the rewards of time at the bike park are endless. They can be a safe, fun option for Riders of all ages and skill levels.
"My kids were learning to ride bikes as they were learning to walk," says Garett McDermid, a dad of three in Sacramento, CA, and an avid mountain biker.
Garett's passion for bike parks for his family was sparked after a close call on a paved bike trail when one of his kiddos nearly got run over. "We realized we needed to find a good place for the kids to ride." Garett, along with others in his community, spearheaded an effort to improve a bike park run by their park district, and today, his kids love Fair Oaks Bike Park.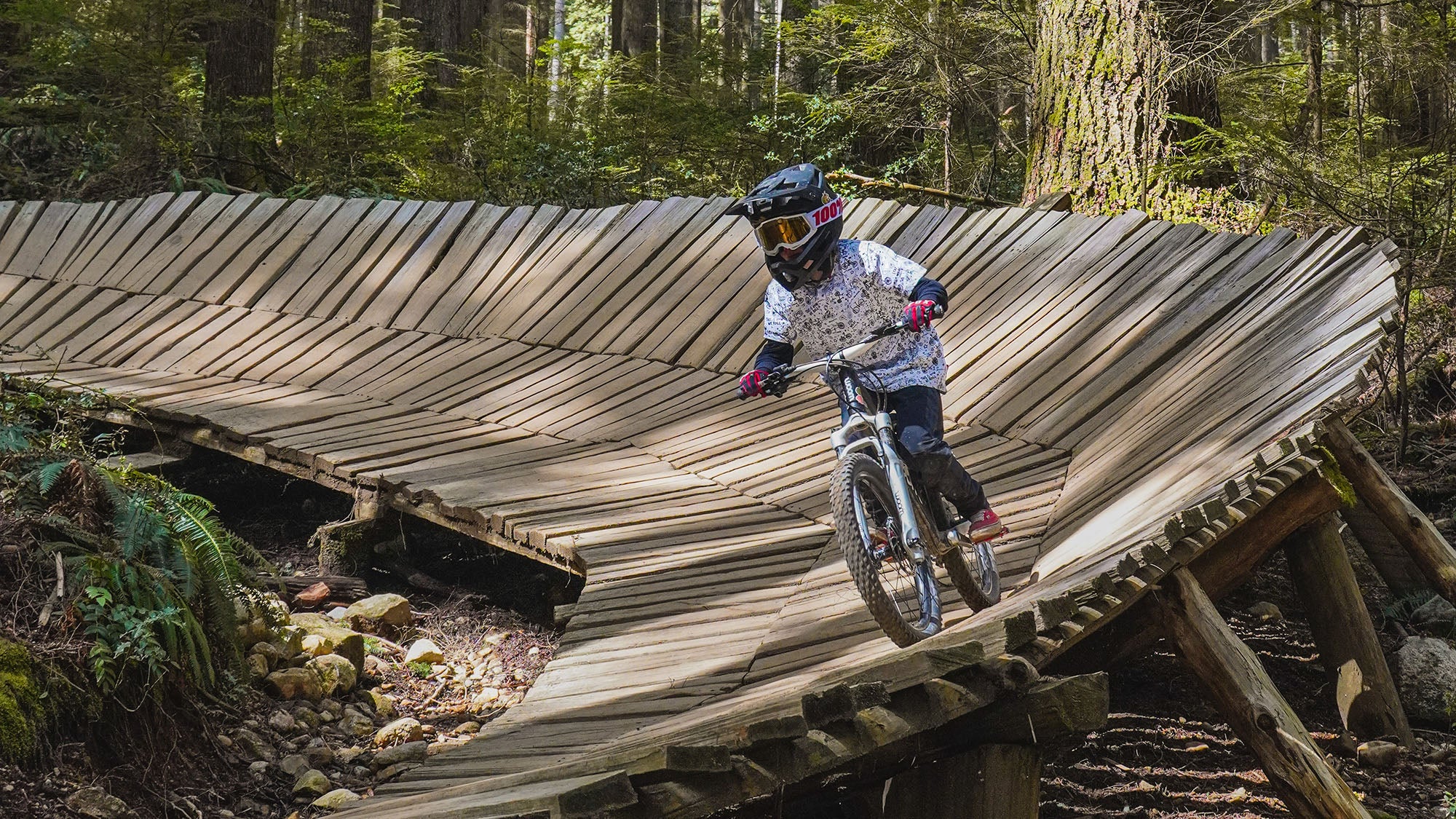 Photo by Devin Featherstone
For Jason Gold, a dad of two in Denver, CO, it's all about how bike parks foster community and help his kiddos build character.
"The bike park culture is really special itself," Jason says. His son Grayson, who is 6, is a skilled Rider and an outgoing kid who loves learning from the older Riders at the park. "The kids are really helpful to each other. Some of the teenagers who ride well and are into the bike park are excited to ride with the younger kids," he explains.
"My son is now getting old enough that he'll soon have the opportunity to mentor other kids and pay it forward. He'll have to be sweet and supportive and get other kids excited about riding like the older kids have done for him. As a father, that's a value that I want to instill in my children. It's a great practice in how to value people," Jason shares.
Jason's daughter, Harlow, is four years old — and unlike her older brother, Harlow isn't motivated by speed and adrenaline.
"Their personalities couldn't be more different, but she's still at the bike park having fun and enjoying it," Jason says. Plus, time at the bike park pushes Harlow outside her comfort zone and helps her build resilience. "She gets to try new things, and she's proven to be super tough. When she falls down, she dusts herself off and gets back up again."
For Devin Featherstone, a dad from Alberta, Canada, his son Kai's passion for biking has reignited his own love for it.
"Everyone can be together, whether you're a spectator or participant," Devin says. "That's one thing we have found and love about bike parks. It can be a family outing, and you can also go with friends. It doesn't matter the age or skill level; there are always supportive people at the bike park."

Kids Bike Parks: Types and Features
Depending on the skillset and experience of your Rider, there are various options to explore when deciding on the type of bike park they'll enjoy. Many bike parks combine some of the following features:
Pump Tracks: A small, looping trail system can be ridden continuously without pedaling. Your speed along the pump track is dependent on your ability to gain momentum by "pumping" the tight terrain transitions of the track.
Dirt Jumps: This is the practice of riding bikes over jumps made of dirt or soil and becoming airborne. This option is generally for experienced bike Riders.
Bicycle Playgrounds: Includes features like ladder bridges, rollers, tunnels, and even teeter-totters specifically designed to offer a variety of fun obstacles that safely build cycling confidence.
Mountain Bike Trails: Typically through rough terrain and require a specially designed mountain bike. This type of biking requires endurance, core strength and balance, bike handling skills, and self-reliance.
Mountain Bike Parks: These are located on a piece of land specifically designed for off-road style biking. Different course levels are built for various skill sets, including dual slalom, slopestyle, and enduro).
Indoor Bike Park: A great option for months when extreme weather is a problem. Many indoor kids' bike parks have safe options for beginner and experienced Riders alike!
No matter what kind of park you try, the fun is endless!
Photos by Devin Featherstone
Your First Trip: Bike Park Etiquette
When it comes to bike parks, it's all about safety first. Although most parks have a multitude of rules to follow to ensure the safety of all Riders, it's important to know the etiquette before you get rolling.
"The biggest thing I see is not understanding the etiquette at the bike park," Devin says. "That is a huge component. It's not a playground."
For example, Devin says it's important that kiddos know it's not safe to climb and run on jumps. "The last thing you want is having your young kid think it's a playground and then get hurt. You don't need to be scared, but you do need to know the etiquette." Devin recommends asking more experienced Riders at the bike park for the rundown.
One great way to help your Riders get up to speed on the bike park etiquette is to model it for them. "It's so important to ride with your kids," Garett says. "Lots of times, parents come to the bike park and don't bring their own bikes. But the best way for a kid to learn is by seeing someone else do it. Teach your kids to ride by example."
Not a bike rider yourself? That's okay, but be sure to keep an eye on your young Rider, Devin recommends. "So many times, you see a parent on their device and not engaging with their kid," he says. "You need to pay attention to your child and make sure they're riding safely with the proper bike handling skills. Don't be the parent just sitting on the sidelines. Stay engaged, and you'll create an even better relationship with your kids. They may teach you something, too!"
When it comes to guidelines and proper etiquette, kids' bike parks tend to be strict with enforcement to ensure safety for every rider. Respect other Riders by sharing the park, staying in control, and being safe. In addition, respect the park by not making any modifications, damaging the trail, or disturbing nature.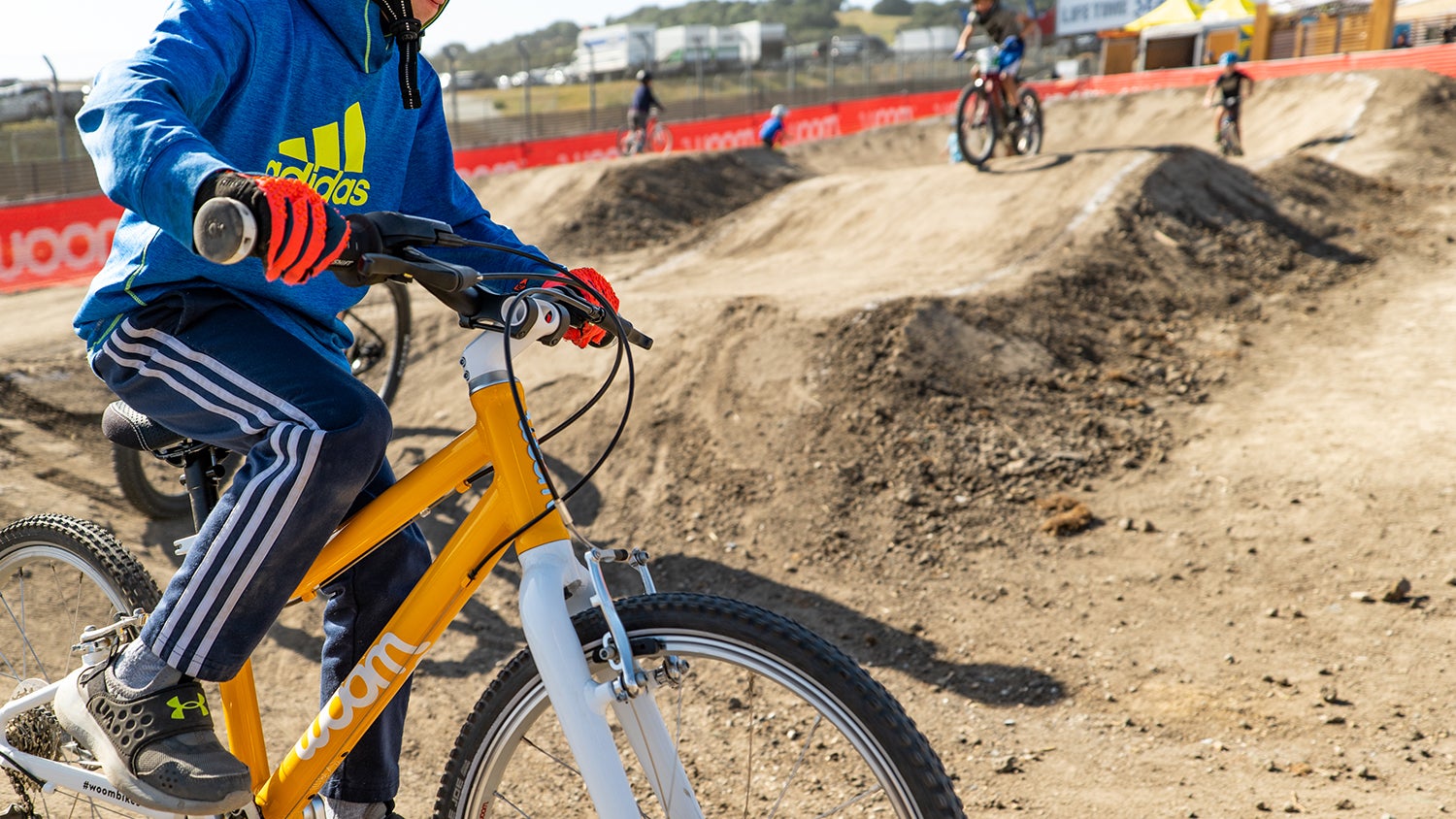 Gear and Safety: How to Plan and What to Bring
When you begin to plan your bike park adventure, be sure to check the weather first. Bike parks will often be closed when rain has impacted the trails. Plus, rain and cold temperatures can put a damper on your riding experience and make it difficult for you and your kiddos to thoroughly enjoy your time.
Although all bike parks are built differently, many feature many different levels. Some of the trails will be smooth and wide, while more advanced trails will have wall rides, small rollers and drops, jumps, and tabletops. Expect to start small and build your way up to the more advanced trails. For younger Riders, ensure they're comfortable with leveling up even if they seem to be excelling at the lower levels.
Gear is a crucial aspect for all Riders. Most bike parks require eye protection, as well as a helmet. Knee pads, elbow pads, and riding gloves are recommended for extra precautionary measures. Also, something to consider: a full-face helmet. Especially when kids are tackling advanced features, the elements of risk and danger call for extra protection. "You want to set your kids up for the best success," Devin says.
Don't forget the sunscreen, first-aid kit just in case, plenty of water, and woom apparel! And of course, Garett recommends — "The biggest tip is to bring snacks!"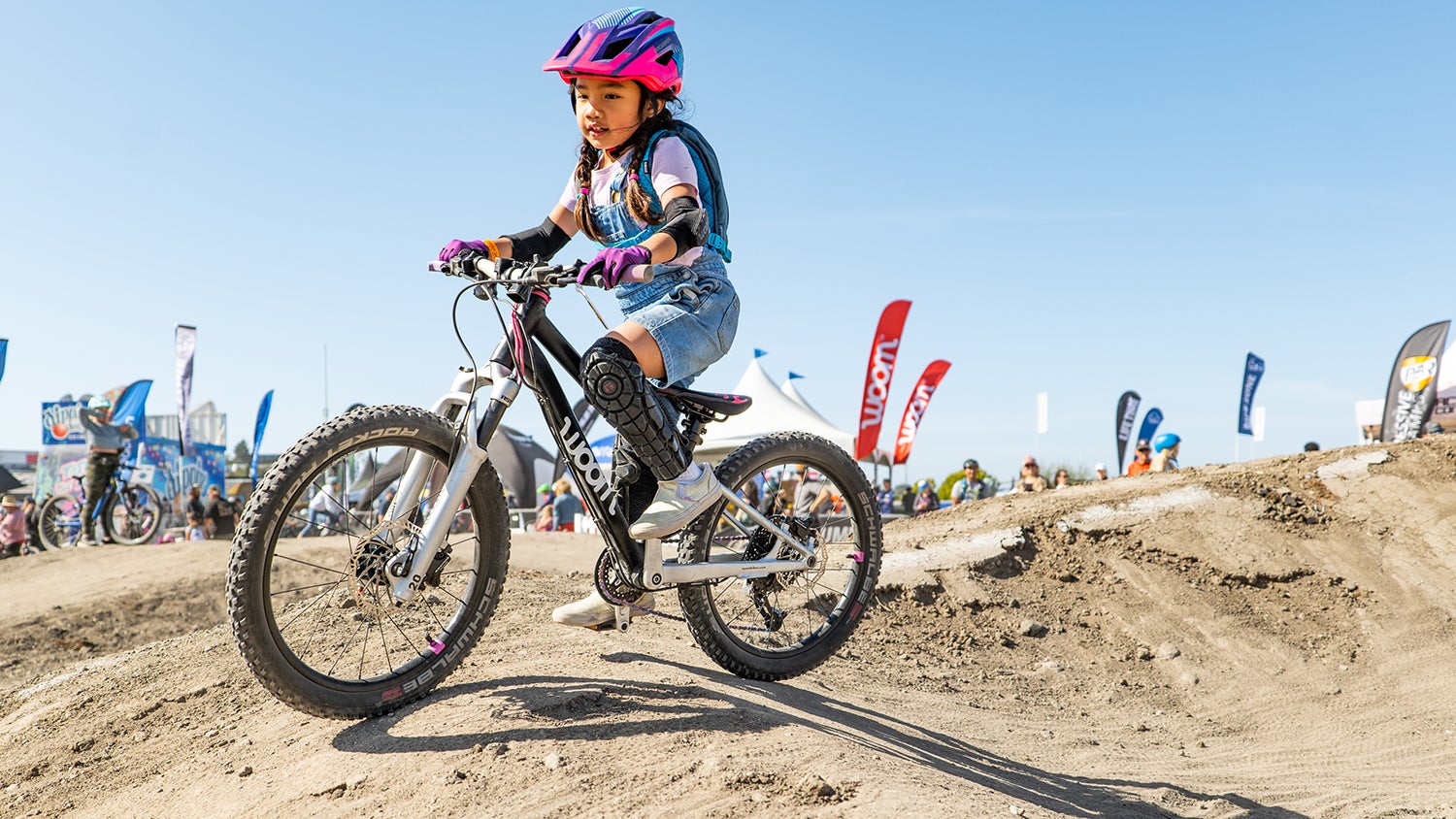 Check These Out!
There are so many incredible kids' bike parks across the nation. Here are a few highlights: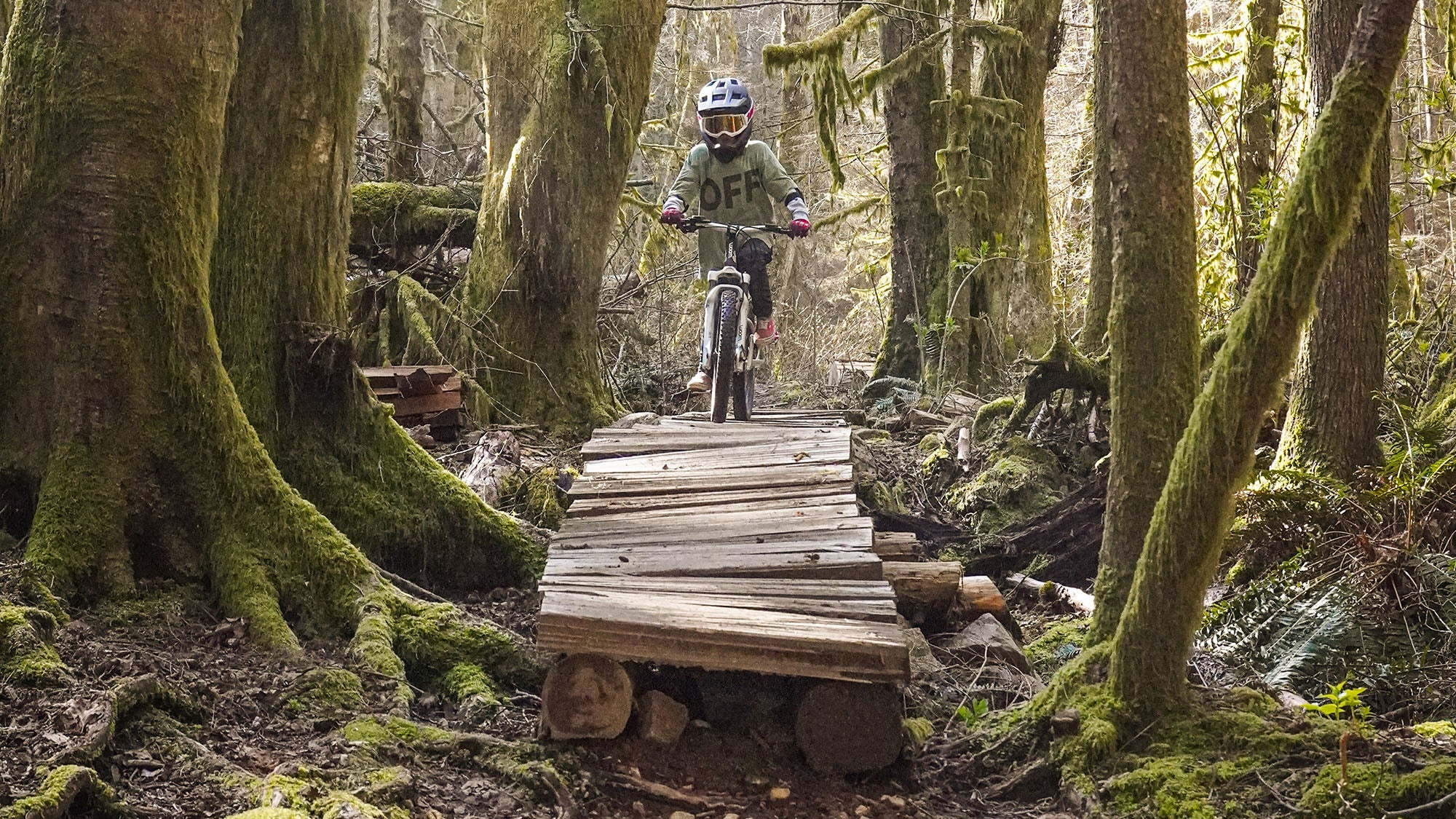 Photo by Devin Featherstone
Time to Tackle the Trail!
Modern kids' bike parks are designed to appeal to every skill level, with enough variety to keep Riders coming back for years. Bike parks are a fun way for families to experience a different style of biking that suits beginners and advanced Riders alike.
"The bike park offers independence and risk and possibility. We give kids opportunities to push the boundaries while staying safe and while we're here to encourage them," Jason says, speaking to how bike parks have an impact far beyond the bikes. "When you do something that entails some kind of risk and opportunity, that's a chance to learn resiliency and inner strength. When you fall down, you have a choice: to get back up or stay down. We want to create a generation that knows how to get back up and thrive when challenged. When you try again and succeed, that's one of the greatest lessons a child can learn, and they only learn by embodying these experiences."
Make it a goal to check out a bike park in your area this summer! Follow these tips to get started with your best pedal forward.