NOW
With its innovative design and built-in cargo rack, the woom NOW was made for kids on the go. Whether biking to school, practice, or the park, the woom NOW is the bike to take them there. Utilitarian, stylish, and one-of-a-kind, the woom NOW comes loaded with useful features to empower your Rider!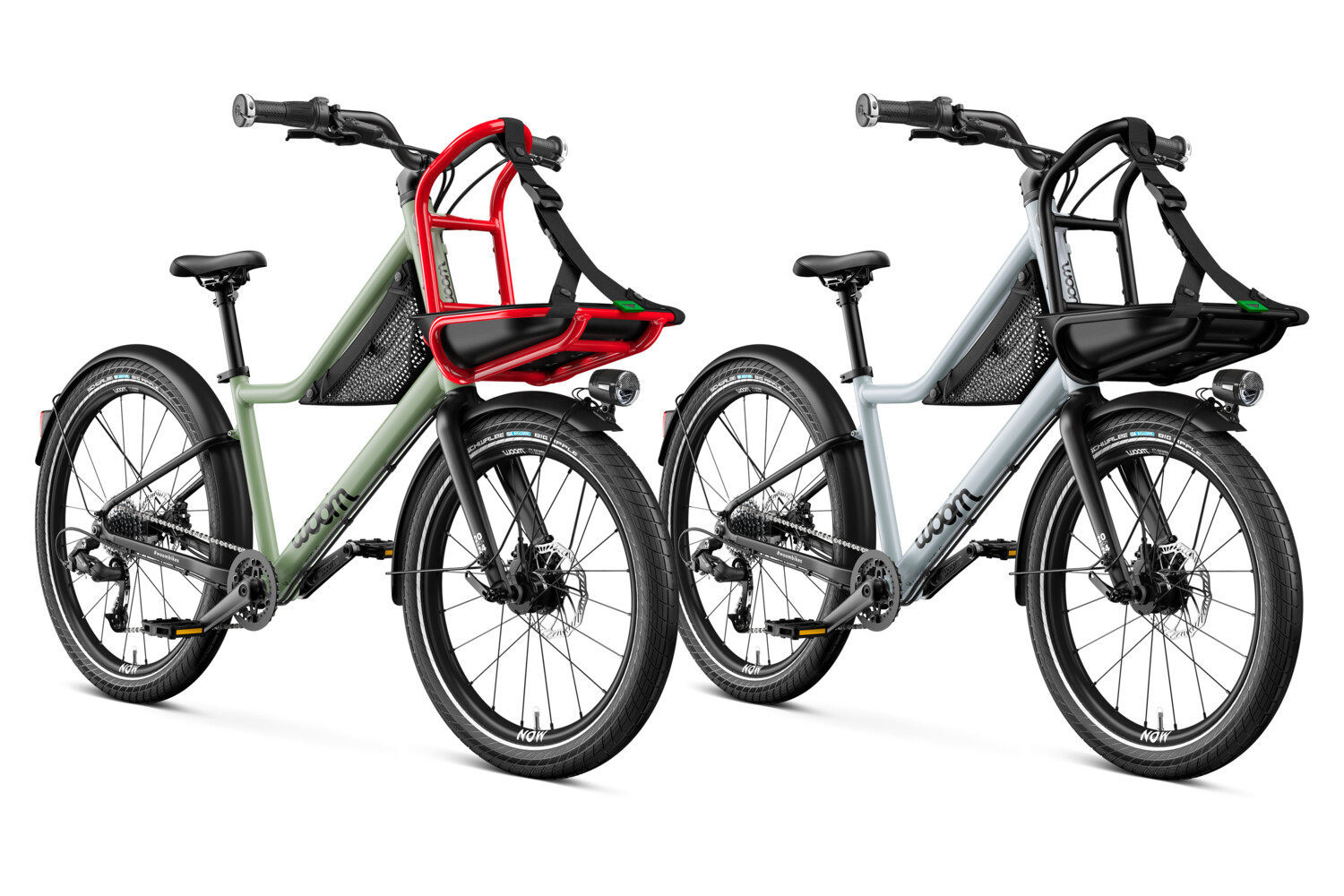 Total control. Total sight.
The innovative frame design works with the front rack and smaller front wheel to keep the weight of your cargo down low. That makes it easy to handle no matter where your ride takes you. The comfy saddle and wide handlebars make getting from here to there as comfortable as possible, and it's built to help you sit upright for a clear view of your surroundings.

Everything on board.
Your backpack, sports equipment, or skateboard — the front rack stores it all safely with built-in straps, and there's still room to mount a few water bottles. You'll carry your stuff like a pro with more control than any rear rack.

Bigger tires prevent a bumpy ride.
The balloon tires are all about natural dampening, which smooths out the feeling of those bumps on the roads. Bonus? Built-in puncture protection means you're less likely to get a flat so you can focus more on where you're going than how you're getting there.

It's totally lit.
Riding in the dark isn't safe, and it's just not cool. Don't worry about waiting for the sun to come up or worrying about getting home late. The dynamo-hub lighting is powered by your pedaling so you never lose power. The standlight function keeps your light on while you wait at a stoplight.

Like any bell but better.
Subtle and stylish, this twist-grip bell is hidden on your handlebars and so easy to reach you don't have to lift a finger — literally. Be heard. All the time.

Keep it clean.
These durable, full-coverage fenders got you covered and keep you from getting wet! Virtually indestructible and built with hard-wearing, stainless-steel stays, they keep you and your bike clean.

You are unstoppable.
But your bike isn't. Powerful disc brakes engineered to unleash superhuman stopping power without much effort keep you controlled, even on wet ground.

Show your style.
Designed as part of the frame, the handy frame bag is where to stow your essentials as you ride so you don't have to worry about money, keys, or your phone falling out of your pocket. You can also personalize your ride with customizable message boards.