How Bikes Impacted This Mom's Approach To Parenting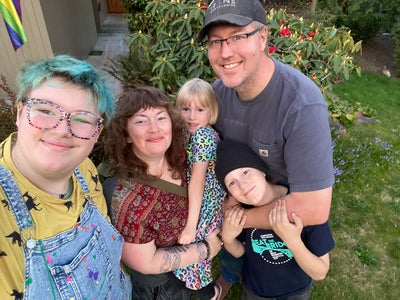 Mothering in and of itself is an adventure! But in 2022, mom Liz Colver said yes to an entirely different kind of adventure, which ended up being a transformative experience: riding the Oregon Coast with her son, Shepherd "Shep" Colver. This mom had never dreamed she would do something so daring and adventurous — but when her son believed in her and asked her to do it, she knew the only answer was "yes."
In honor of Mother's Day, we reconnected with Liz to reflect on how their family's unique approach to parenting empowered them to treat adventure as a family value. Explore how bike riding fortified her relationship with her son, and helped her strengthen the skill she says is most important in mothering: trusting her gut.
Parenting with Intentionality and Authenticity
Everyone approaches caregiving differently. Liz and her husband, James, define their parenting style with two words: intentionality and authenticity. Liz has had the joy of seeing this approach inspire her three children to all discover who they are, no matter what that looks like.
For Shep, it's about a love for moving, whether that means hopping on his woom OFF to pedal across the country with his dad or taking his new longboard to the local skate park. For his sibling Hazel, it is about exploring SFX makeup and baking pita bread from scratch in the middle of the night. Mo, the youngest of the crew, is completely their own person at six years old and has a memory like a steel trap!
"I think these are all reflections of how we've given them the space to intentionally be whoever they are," shared Liz. Liz is passionate about creating a safe space for all her kiddos to explore who they are while learning about the world around them.
It's Not Just About the Bikes…
Saying "yes" when Shep asked her to consider their Oregon adventure wasn't natural and easy for Liz, even with her intentional approach to parenting. "I've walked through lots of difficult experiences in my life, but I've never felt especially motivated to take on physical challenges like this one," she says.
She remembers feeling a lot of doubt and fear but believed in her ability to do hard things, as well as Shepherd's own ability. Embarking on this bike journey together allowed both Liz and her son Shep to develop a new level of trust, respect, and understanding for each other. This bike tour was about more than just riding bikes for this mother-son duo. "It's not about the bikes," Liz said, "The bikes helped a family find their identity and adventure."



It's the Lessons Learned Along the Way
For example, Liz recalls how she and Shep built trust on their bike trip. "At the start of the ride, it was really important for me to be behind Shepherd, to block him, to keep my eye on him, and make sure he was doing well," she says. "But after a few days, he wanted to be behind me. And he gave me some clear reasons why."
"After thinking it through, and trusting what he suggested, we tried it," Liz says — and the change went beautifully. "Our relationship had the opportunity to develop a different level of trust and respect for each others' capacities and comfort level. We were able to adapt as needed, respectfully. And it all happened through bike riding."
A bike can be a powerful foundation for real change and transformation, empowering children and families to try new things and be bold. Of course, making sure your young Rider has the right bike for their age, ability, and riding style is a great starting point. But in the end, the bike isn't what it's all about. It's about the Rider finding their potential, and the family and the experience that make it a Magic Moment: the bike simply unlocks the magic!
Trusting Yourself and Saying Yes
Taking on the Oregon coast with her 11-year-old son empowered Liz personally and in her relationships with her children. "Since doing this with Shepherd, I have a different level of trust and capacity to say yes to crazier things." Liz is a strong believer in the power of trusting your intuition and has learned to trust her children's own instincts as well after watching Shep navigate the challenges of the ride so independently.
What advice does Liz have for other moms and caregivers who want to experience adventures like her family does? It all comes down to trusting yourself. "There are millions of groups, resources, books, doctors, professionals, etc., who will tell you what to do and how to do it," she says. "But you're ultimately the one who is responsible for making the right choice for your family and your kid. There's no better parenting tool than your own gut."
Just like when you learn to ride a bike and discover an instinct for balancing, pedaling, and braking, your gut is a tool that grows stronger and more reliable the more you choose to trust in it. And the next time your Rider asks you to go on an adventure, say yes.
From all of us at woom, happy Mother's Day! We're celebrating you, today and every day.