Elliot Bikes to Kindergarten
Photos by Jake Hanson and Katy-Robin Garton, Video by Katy-Robin Garton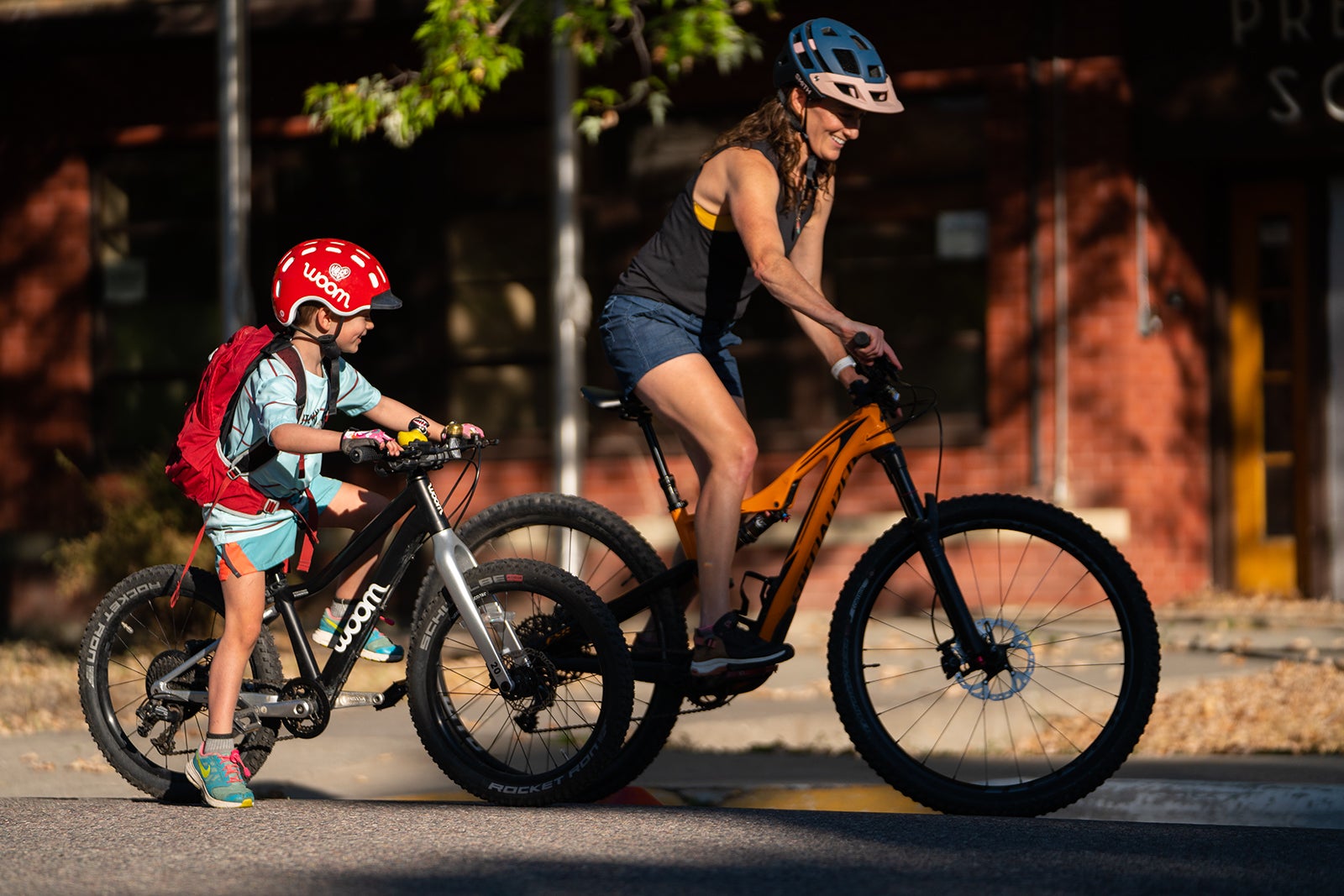 Photo by Jake Hanson
Elliot Melzer laces up his shoes and runs out into the garage. After buckling on his bright red helmet and securing his gloves, Elliot pulls his woom OFF AIR down from the bike rack and pedals out into the driveway of his neighborhood in Missoula, Montana.
"Mom, I'm ready! Are you ready to go?"
Katy-Robin Garton smiles at her son's eagerness as she helps her younger kiddo and her nephew get geared up and ready to join Elliot. Although they've practiced this route several times this summer, today is different. It's Elliot's first day of kindergarten, and he is more than ready to roll.
Photo by Jake Hanson
The Joy of Becoming a Rider
Elliot rode his very first woom when he was just 20 months old, and since that balance bike, he has been hooked! Katy and her husband both grew up riding bikes and spending time in the mountains, so it felt natural to pay that love for biking forward.
"It's something we share and love and wanted to introduce to our kids. Being outside is in our blood," Katy says. "We don't want them to feel like they have to love biking just because we love it, of course, but we want to help them feel it in their souls that this is something they love. Biking has always had an association with having fun and special times together, even from a young age!"
It's essential to Katy that her kiddos know there's no pressure in biking. Want to stop? Let's stop. Feeling scared? It's okay to feel scared. When they know they're always supported, Katy reflects, riding feels comfortable, and conquering fears feels possible.
And in that spirit, woom has always felt like an ideal fit for Katy's young Riders. "woom aligns so beautifully with our family and the kinds of stories we've been creating," she says. As the resident researcher among her friend circle, Katy naturally dove in and analyzed the many options in the biking landscape for kiddos.
"It became quickly apparent that woom is leading the field," Katy says. "I talked to my husband about all the advantages, especially that woom bikes are so lightweight. Those are huge factors beyond just being able to ride well: I want to set them up for success, and I want them to enjoy it."
Described by his mom as a gentle little soul, Elliot didn't immediately race into newfound freedom from his first ride. He liked to stay close to his parents and approached biking as he approached all things: with a natural curiosity and desire to consider the world around him before exploring it.
Whether riding with friends or with his parents, Elliot takes his time and stays in tune with the world and the people around him. He loves to go with the flow and enjoys a steady pace.
Being a young Rider has instilled in Elliot a unique sense of play and freedom that all six-year-olds crave. Kiddos don't have control over much in their lives, but Elliot shares a sense of freedom with his friends that can only come from a bike.
Elliot also finds comfort through biking — a sense of confidence and belief in himself. He has learned how to face challenges and move through them. He has had permission to feel and process those emotions.
Biking has been more than just a personal experience of freedom and confidence for Elliot. It has bonded his family together through the shared journey and joy. When Elliot's family bikes together, everyone is present. No phones. No distractions. No expectations or agendas. Just each other and the wheels beneath their feet.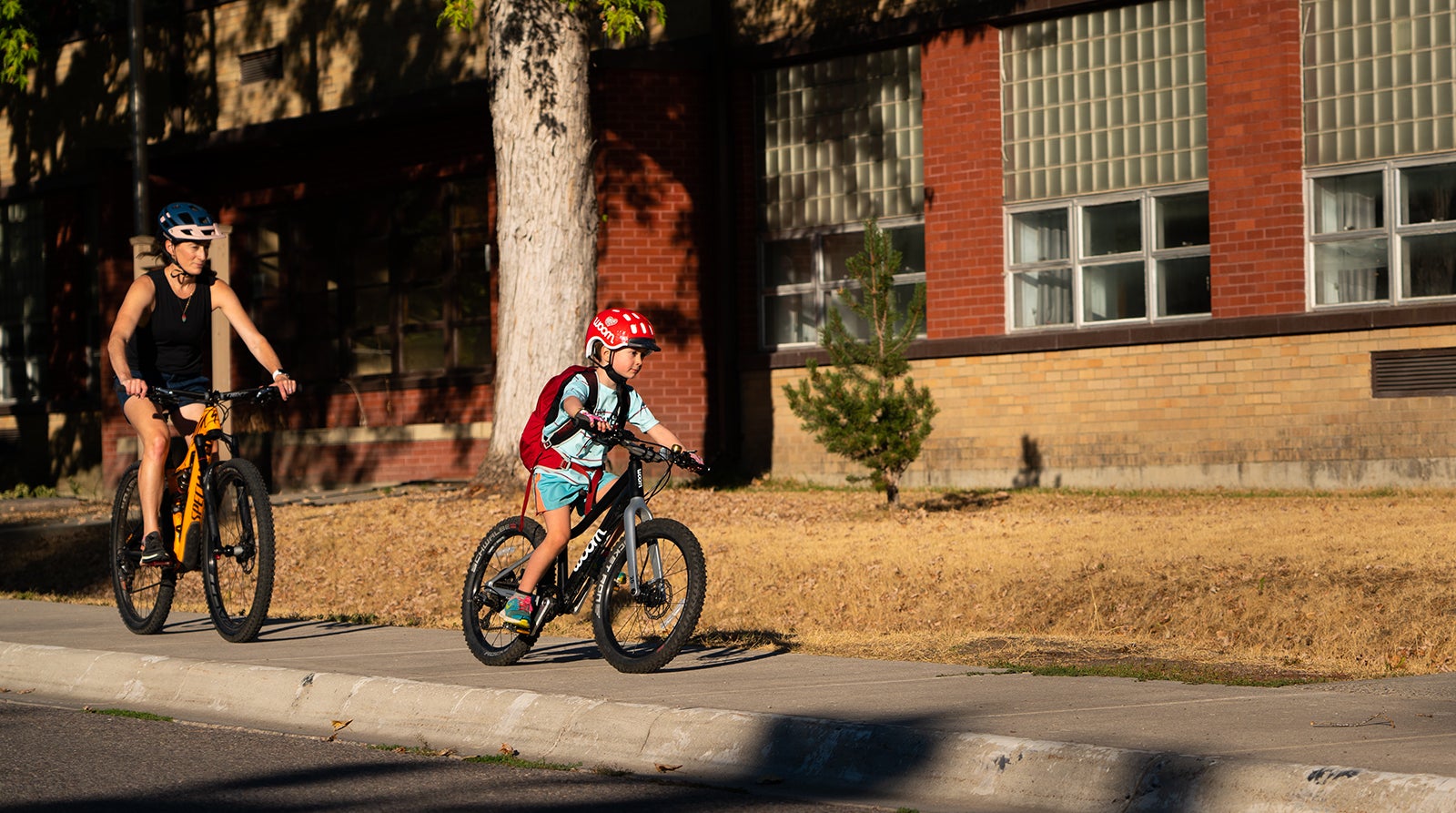 Photo by Jake Hanson
Riding to the First Day of Kindergarten
Elliot has never spent much time away from his parents, so full-time kindergarten is a new adventure. Starting this new normal with something as familiar and comfortable as biking seemed to be the perfect way to help Elliot mentally, emotionally, and physically enter this new milestone.
Any parent of a kindergartener will agree that time is of the utmost importance. And biking to school each day may sound like an extra layer to the already tight start-of-day time crunch, Katy admits. But it's worth it, she says.
"I truly believe that for Elliot going to kindergarten and experiencing this big routine shift and life transition, I want to bring as much to that day as possible so he can have confidence and believe in himself," she reflects.
On a day that feels intimidating for even the most confident kindergartener, arriving by bike on a familiar route is all about familiarity, joy, and fun. "When you do something you love, and you feel comfortable, you find joy and confidence. That fills your soul and carries you into the day," Katy says.
Photos by Katy-Robin Garton
Bigger than the Bike: A Confident Kindergartener
Leading up to the big first day, Katy and Elliot naturally had no shortage of conversations about kindergarten. They felt a mix of excitement and nervousness, and the same goes as they approach the school. After hitting the pedals with so much joy, Elliot slowed his pace. The nerves were setting in. Will his friends be in his class? What if he misses his family? What will it be like to be away from home all day long?
But on the ride to school, Elliot released some of his pent-up energy and arrived feeling confident: Being in kindergarten may be new, but he's got this.
As Katy helped Elliot lock his bike up in the rack, Elliot took a deep breath and said goodbye to his black woom OFF AIR, which gives off the "superhero" vibes he loves. Knowing it will be waiting for him to ride home at the end of the day gave him all the courage he needed to enter the school and start the first day.
"Confidence on a bike is powerful. The belief a child has in themself on a bike can transform an overwhelming and scary experience into a positive one — like your first day of kindergarten," Katy says.
Nervous? Hesitant? Sure. The day was emotional, Katy reflects. "But biking gave us both the space to process our emotions on the way to school, and be present with each other. And on the way home, it also allowed that same space and time for joy from the excitement of the day."
Every pedal stroke was a chance to process nerves, release energy, and process the details of the day. As they stopped along the river trail on the way home to enjoy the scenery and take in the magic moment, Elliot turned to his mom and smiled broadly. He's already excited to ride to school again!