What makes woom bikes so special – Part 4: Ergonomics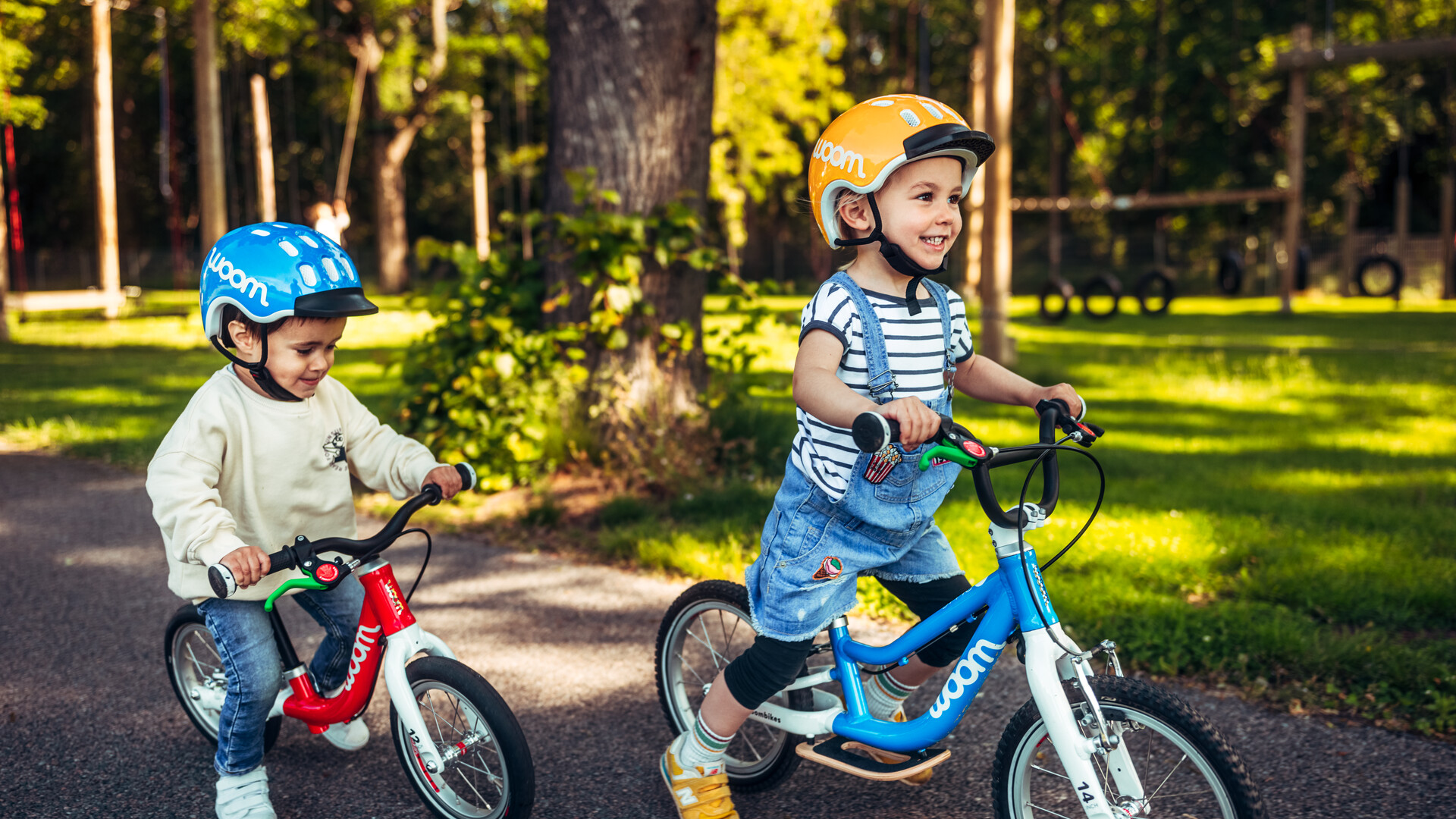 Find out what makes our woom bikes ergonomic and why ergonomics are so important for children's bikes in this part of our mini blog series.
Children are not just little adults – they have shorter fingers and legs, narrower shoulders and a completely different pelvis shape. That's why the frame and components on children's bikes should be tailored to fit the anatomy and needs of children.
Child-friendly frame geometry
One thing that is especially key to a good children's bike is frame geometry; it has a major influence on the handling of the bike. For your child to feel comfortable on their bike and really enjoy cycling, a good children's bike should provide your child with a stable, smooth ride.
On our bikes, the low sitting position (= lower centre of gravity) adds stability.
The flat steering angle (angle of the head tube in relation to the road surface) combined with a long wheelbase (distance between the front and rear axles) enables a smooth ride.
Easy mounting and dismounting is made possible by the low entry on our bikes. This also lets your child get their feet back on the ground quickly in dicey situations.
Ergonomic and optimised components
Beyond the design of the frame, we've considered kids' ergonomic requirements in all other components.
The narrow hub on the rear wheel on our balance bikes (woom ORIGINAL 1 and woom ORIGINAL 1 PLUS) offers plenty of legroom for easy walking and running.
The saddle is the most important contact point between the child and the bike and has a major influence on the feel of the ride. That's why our woom saddle has been specially designed to fit the anatomy of a child's pelvis.
Thanks to their small diameter, our ergonomically shaped Ergogrips fit well in small hands, giving your child a solid grip on the bar in any situation.
The brake levers and shifters are also designed with children in mind; that is, they are easy for small hands to reach and can be operated without much effort.
We also developed our cranks especially for children. The crank length is shorter to fit the shorter legs of a child. This protects the knee joints since the knees won't have to bend as much when pedalling. Shorter crank arms also reduce the risk of the tips of the toes colliding with the front wheel or the pedals hitting the ground when going round corners. The distance between the pedals is also smaller than that found on bikes for adults to fit the narrower hips of children. This ensures optimum power transfer and intuitive pedalling.