What makes woom bikes so special – Part 2: Safety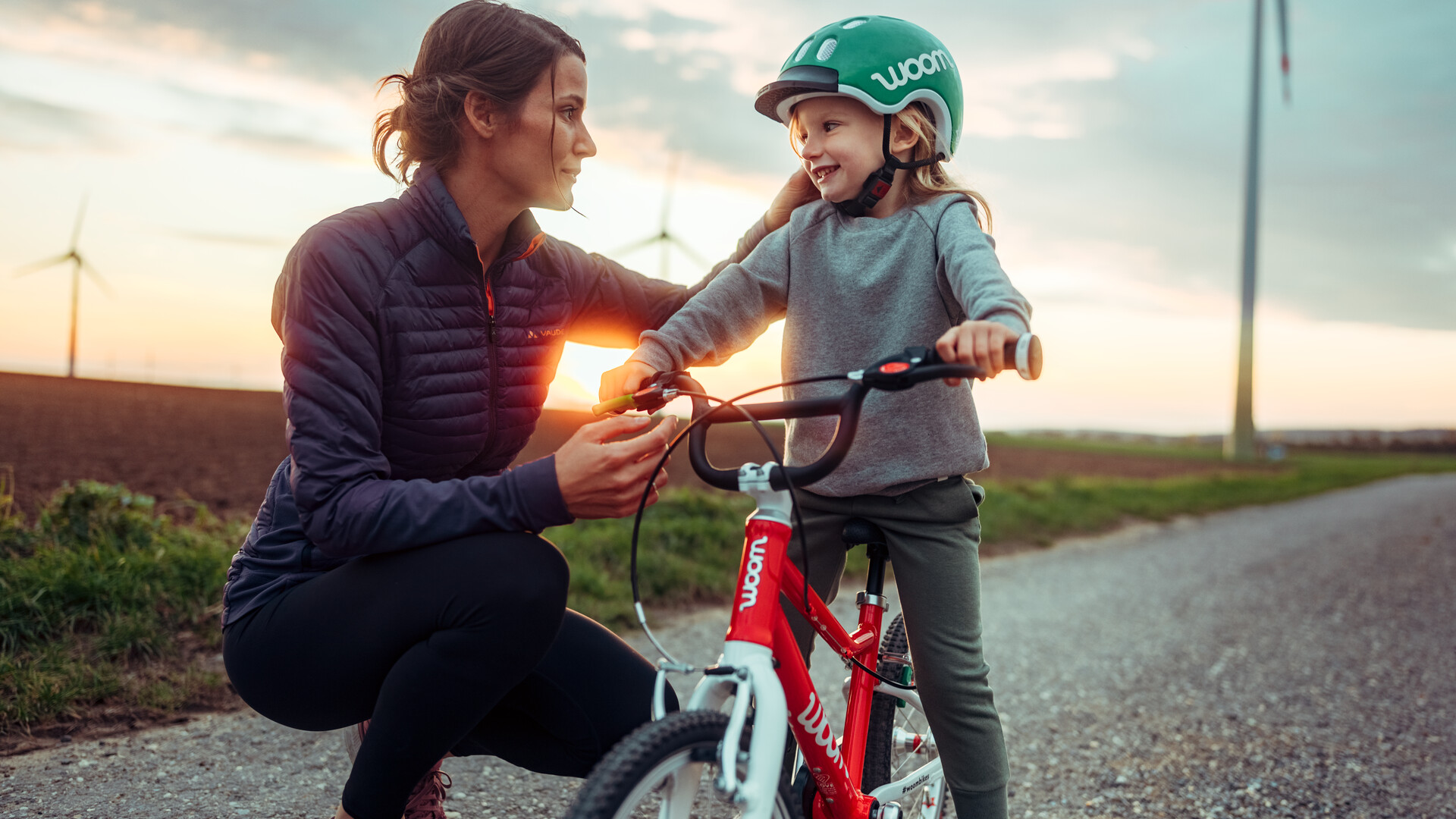 The quality of our parts and our special safety features are a highlight of our woom ORIGINAL bikes. Find out what we pay special attention to when developing our bikes to make sure your child can be as safe as possible while riding in this part of our mini blog series.
Learning new movements, maintaining balance, and at the same time watching where you're going – learning to ride a bike is no walk in the park, especially at first. That's why a good children's bike should have as many safety features as possible.
What makes our woom bikes so safe?
We design our woom bikes with a special eye for quality and the greatest possible safety. These safety features offer your child a high level of protection while bike riding:
Low weight: woom bikes are lighter than conventional children's bikes. That makes our bikes easier to handle and helps children learn to ride.
Our specially developed, flexible steering limiter is a feature found from the smallest balance bike (woom 1) to the 16-inch bike (woom 3) – to help children ride in a straight line and prevent crashes caused by over-steering the handlebars.
To protect your child from injury from falls onto the handlebars, all of the woom ORIGINAL models are equipped with impact protection on the grip ends.
The closed chain guard on our smallest pedal bikes (woom 2 and woom 3) not only keep the grime out; they also stop fingers and trouser legs getting snagged.
The wide, grippy tyres ensure that your child always has the best traction, whether on tarmac, gravel or a forest trail.
The reflective stripes on the sides of the tyres ensure good visibility even in low-light conditions.
Also, the large platform pedals give your child good grip even when it's wet.
The knee-friendly stem without any protruding bolts prevents injuries.
And, by the way, we took a pass on handlebar pads. Although they imply safety, they are mainly just a fashion trend from the 1980s and offer no real protection. Far more important than a handlebar pad is taking care that there are no bolts sticking out in prominent places, such as on the stem or cranks, as this is a common cause of injury for children.
And while we're on the subject of protection – obviously, your child should always be riding with suitable protective gear. That includes a well-fitting helmet, like our KIDS' Helmet. Cycling gloves are another good idea as they protect your child's sensitive skin from serious injury in the event of a crash – hands are often the first part of the body to come into contact with the ground in a crash.
Regardless of whether your child is riding for the first time after a long break or rides the woom bike constantly, for the safety of your child it is hugely important to clean and inspect the bike regularly. You can find our tips on proper care and maintenance here: