Discover the innovative balance and pedal bikes by woom!
Boost your child's bike skills with a woom bike. But what makes our woom bikes so special? The innovative balance and pedal bikes, urban lifestyle bikes and mountain bikes aren't just superlight, they're also ingeniously engineered to suit kids across the ages. Learning to ride and developing lifelong cycling skills has never been so easy, safe and intuitive – and that's a promise!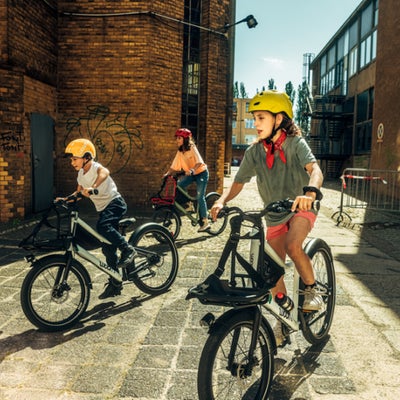 Your urban lifestyle bike for school, sports etc.
The revolutionary woom NOW turns even the world's least inspiring route to school into something fun. The innovative design, clever features and cruise-y balloon tyres are all about a smooth, objectively cool ride, giving you so many good reasons to coast to school.
Another perk: You can load your school bag up front on the rack, confident that the smaller front wheel on the woom NOW will keep a low centre of gravity. This means you'll be in total control of the bike with a front row seat over your surroundings.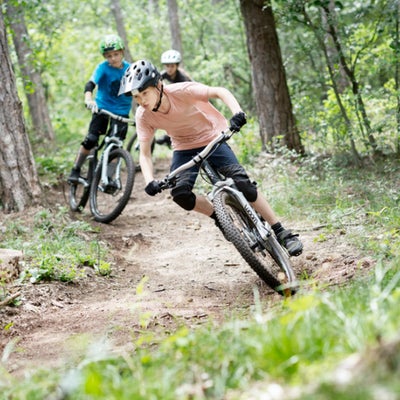 Over rocks and roots with the woom OFF and woom OFF AIR
On the hunt for a child-specific mountain bike with an ultralight but seriously strong frame, plus powerful disc brakes? The woom OFF and woom OFF AIR mountain bikes provide kids aged six to seven up to the age of 14 with a reliable off-road performance and a whole lot of fun. This takes the form of hydraulic disc brakes, capable MTB tyres, a superlight rigid carbon fork or a tunable suspension fork, and much, much more. Added together, it amounts to confidence-inspiring, predictable handling, total control and unforgettable adventures. In short: the perfect bikes for local trails, urban jungles, or mighty mountains.
What makes woom bikes so special
Learning to ride is no easy task. It asks a lot from parents and kids – including buckets of patience, courage and stamina. Our bikes make it easier for your child and you. They stand out from the rest in so many ways – among other benefits, they have a super low weight, exceptionally age-appropriate ergonomics, and numerous safety-focused features. From their first strides on a balance bike through to their next big adventure, these bikes are a gateway to a world of unforgettable magic moments.

Flexible steering limiter
Handlebar grips with impact protection
Reflective stripes for side visibility
Exceptional braking performance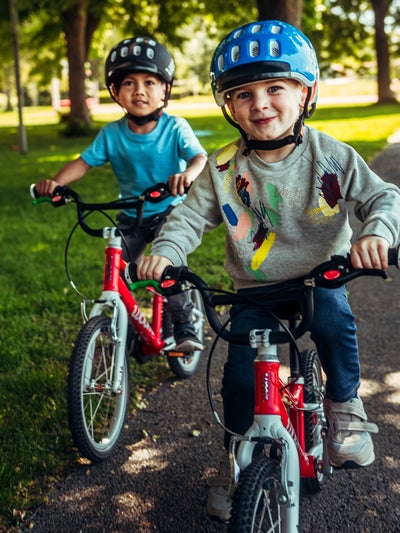 woom bikes: an informed sizing system
In addition to perfectly fitting frame sizes, key components of our woom bikes are adjustable. For instance, the saddle height, position of the handlebars, and reach of the brake levers can all be adjusted to suit your child.
Not sure what size bike your child should be riding? Our lineup of woom bikes runs from the superlight woom ORIGINAL 1 balance bike, right through to our teenager-approved urban lifestyle bike and mountain bikes, which are designed to delight kids from the age of 6.
Please note: Your child has 30 days to test-ride any of our bikes ordered through the online shop. If you're not totally satisfied, or if your child needs a different size, you can return the bike free of charge or exchange it for another size.