What size is right? Find the right bike size online using our bike finder.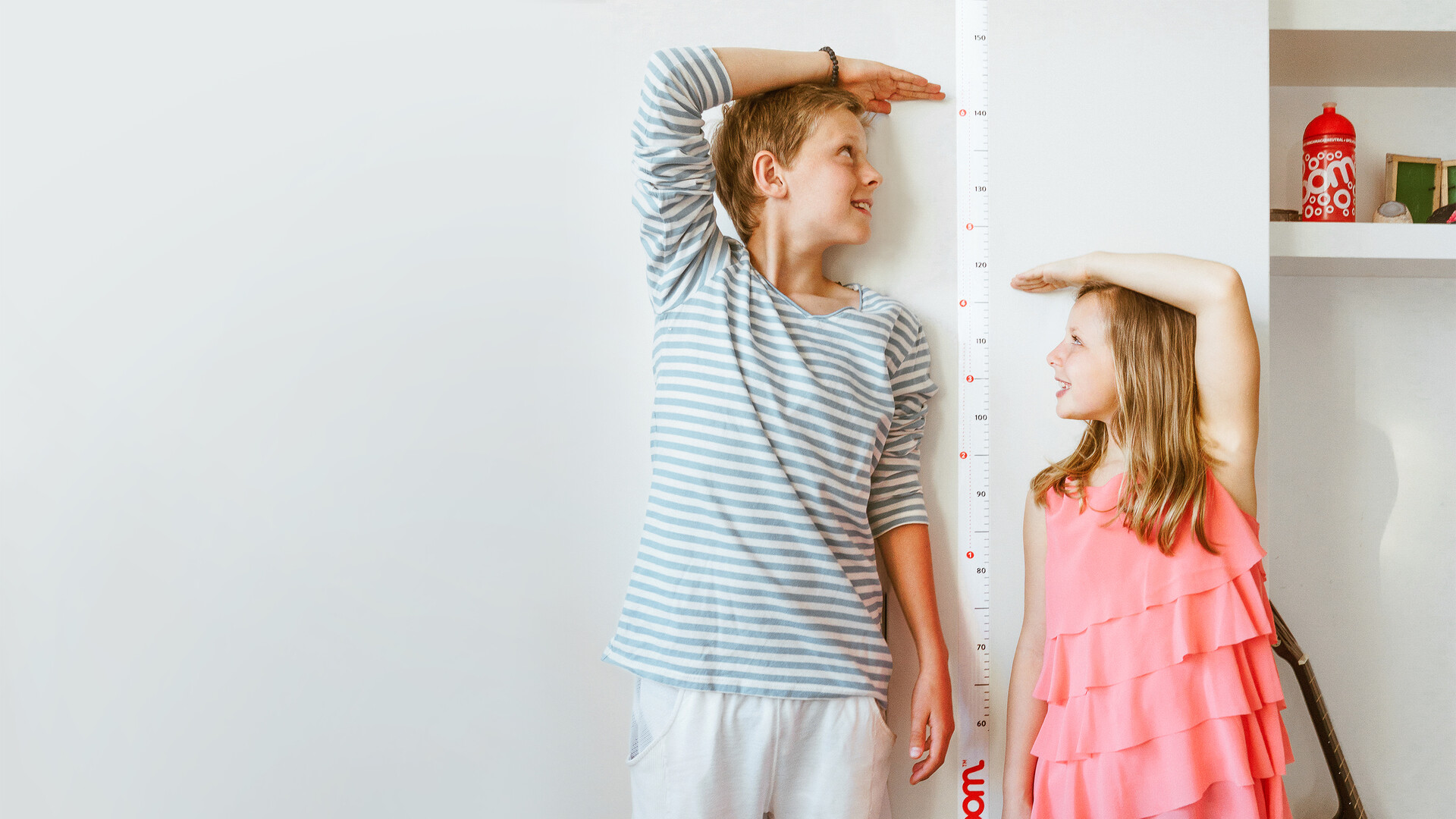 Is your child between two sizes? Not sure if getting the smaller size is still worth it?
Wondering if your child needs a balance bike or is already ready for a bike with pedals?
Do you think your child could, maybe, skip a size?
Here you'll get all the information you'll need to find the right-sized woom bike for your child!
What exactly do we mean by the "right size"?
For every child, there's a bike that's a perfect fit. As a general rule, a bike should never be purchased too large with the intention of getting use out of it for a longer time. Instead, it should always be fitted exactly to the current size of your child. When it comes to a bike for your child, a few centimetres can mean the difference between frustration and fun. The right size means that with the saddle at its lowest height, your child should easily be able to reach the ground with both feet without having to make any major posture adjustments or appearing overexerted. Particularly for beginners and inexperienced riders, this contact with the ground on both sides of the bike is extremely important for safe handling of the bike. When your child stands, feet on the ground, straddling the bike, there should be enough space between the top tube and the crotch to ensure that, even in the event of an abrupt dismount, the crotch doesn't hit the top tube.
Hop on and take off!
If you have the opportunity, let your child test-ride the woom bike you are considering. A test ride will show you fairly quickly whether your child can safely handle the bike size and feels secure in the saddle, in keeping with the motto: hop on and take off! Or, at least, bravely roll down the drive. ;)
If you don't have this opportunity, you can order your chosen woom bike from our online shop to test without any obligation, and then return or exchange it within 30 days if it doesn't fit – the return postage is on us. You pay only the cost of delivery to you. To find the right-sized woom bike for your child, simply use our bike finder.
Our bike finder
You'll find this tool the heading "Find the right bike" in our "Bikes" menu. You simply enter the necessary information about your child, and the tool displays the bike that we confidently recommend will offer your child the best safety and the most fun on two wheels. Our bike finder might look pretty simple at first glance, but it is backed by our exhaustively developed sizing system, which is derived from a large body of statistical data on child anatomy and is the basis for all woom bikes. This means that the bike finder really is the best way to find the right-sized woom bike for your child online.
Essentially, only two factors are really crucial: your child's size and riding ability. And these are precisely the two factors taken into account in our bike finder. To give you confidence that you are entering all of this information correctly into our bike finder, allow us to briefly explain these two factors.

Size
Once you've entered your child's age, you have a choice between "Small", "Average", and "Tall" when entering your child's size. When making your selection, you should consider how your child's size compares to children of the same age: are most of your child's peers a head smaller than your child? If so, your child is rather "tall" for his or her age. Maybe your child is more or less the same size as other kids of the same age? Then "average" is the likely choice. If you're still unsure, you can have a look at your child's medical records or use an online height calculator.
Ability
For the ability factor, you have a choice between "Beginner" and "Advanced". Is your child somewhat hesitant, cautious and either lacking in riding experience or very insecure when riding? For instance, is your child unable to set off without help or make turns confidently? If so, we'd classify your child as a "Beginner". Or is your child, on the other hand, a natural-born athlete who quickly and bravely masters every sporting challenge and already rides a bike with confidence? Are mounting, dismounting, setting off, making turns and braking all easy for your child? If so, you should select "Advanced".
Once you've entered all the required information, the right woom bike for your child will be displayed and you can be sure that the size shown is exactly right for your child.
Why we don't (usually) provide inside leg measurements
Although much is made of inside leg length (or inseam) measurements, riding ability is far more important than your child's inseam measurement. A child with strong motor skills can ride just fine and feel secure navigating on a somewhat larger bike than a child of the same size who is less physically adept and who can quickly feel insecure and overtaxed. A comparison of the inseam measurements from statistics of children in the same age groups reveals that these measurements vary little from the average. What's more, if you take into account that inseam measurements can vary by several centimetres, depending on clothing and measuring technique, it becomes clear why inside leg length is not decisive. That's why we have made a conscious decision not to provide inside leg measurements for our bikes. We are confident that our bike finder is definitely the best tool for determining the right bike size.
If, despite these assurances, you are still concerned about the inside leg measurement, you will find an overview below showing inseam lengths that we consider minimum values for our bikes. We're pretty confident about our sizing system, but we can be flexible, too.
How to measure the inseam properly
Here's how to measure your child's inseam as accurately as possible:
Have your child stand up straight against a wall in socks and wearing trousers likely to be worn while riding a bike.
Take a hardback book and place the spine of the book, facing upward, at your child's crotch with the same slight pressure applied by a bike saddle while riding.
Mark the edge of the book's spine on the wall in pencil.
Now measure the distance from the floor to the marking as vertically as possible with a measuring stick. This measurement in centimetres is your child's inseam.
Now, you can compare the measurement with the minimum inseam lengths in our table.

Is your child still a candidate for a balance bike or are they ready for a bike with pedals?
Maybe, at the age of one and a half or two and a half, your child is simply not interested in a balance bike yet, and that's no problem at all. All children are different and should make their own decisions about when is the right time to start riding a bike. In any case, your child should first learn how to ride a balance bike because it teaches the balance that is so important in bike riding, and it will help your child gradually get the hang of using the hand brake to stop the bike.
For children whose interest in a balance bike develops later, we offer the specially developed woom ORIGINAL 1 PLUS which, with its 14-inch wheels, is larger than the classic 12-inch beginner model. Because kids master the balance bike relatively quickly, the woom ORIGINAL 1 PLUS ships with the SURFBOARD footrest pre-fitted to give that extra fun when riding the balance bike. Once riders get the hang of balancing the bike and start to pick up speed, they can simply put their feet up on the SURFBOARD and enjoy the feeling of coasting.
The first bicycle – woom ORIGINAL 2 or woom ORIGINAL 3?
The most common question about bike size that we get is about the right size for the first bike: a woom ORIGINAL 2 or a woom ORIGINAL 3?
The general rule that a bike should not be purchased too large is especially true when it comes to the first bike. Even if your child can confidently whiz around the neighbourhood on a balance bike, the transition to a bike with pedals involves learning how to pedal, while simultaneously maintaining balance, steering, braking, and making turns. At first, that's a bit of a challenge that a child needs a sense of security to master. This sense of security is often lacking on a bike that is too large – that is, one where it takes effort to reach the ground on tiptoes. For our bike finder, that means you should rate your child as a "Beginner" for the transition from a balance bike to a bicycle, even if your child can pilot a balance bike like a pro.
Please keep in mind that the first bike plays a major role in whether your child develops a love for bike riding. Even if the bike is too small after the first summer, the investment is worthwhile if it means that your child later takes joy and pleasure in biking and can ride safely. And because our bikes are of such high quality and retain their value, you can expect a very high resale value for a slightly used woom bike.

Skipping a size
So, your child is already confidently riding a woom ORIGINAL 2, woom ORIGINAL 3, or woom ORIGINAL 4 and you're wondering whether your child might just skip a size? A test ride or use of our bike finder will help you answer this question, too.
In general, however, we advise against skipping a size. Such a leap should not be underestimated, particularly because, with the woom ORIGINAL 4 and up, gearing is added as a component that demands additional attention from your child. Even if your child is very confident riding a bike and can reach the ground on tiptoes with the next larger size, you should also keep in mind that skipping a bike size not only means riding on a bigger frame but also manoeuvering more weight, and that handling the smaller-sized bike would be easier for your child overall. This is especially true in situations that require a quick reaction.
We put a great deal of time and energy into developing our sizing system: It is designed to ensure that at every age your child is riding a bike that fits just right. Our progressive system tracks your child's development as a rider, and skipping sizes breaks this progression. What's more, with our Vario stem on the woom ORIGINAL 4 and up, the handlebars can be adjusted not only in height, but also in length, meaning that the bike grows with your child while offering an optimal riding posture at all times. Thus, your child will be getting use out of it for a longer time, anyway.
Our mission
We want to instill a love of cycling in as many children as possible. That is our mission. A love of cycling can only arise when a child feels safe and secure on a bike and has full control over it. This key condition will not usually be met on a bike that a child has to grow into.