Trail Riding and Mountain Biking Tips for Beginners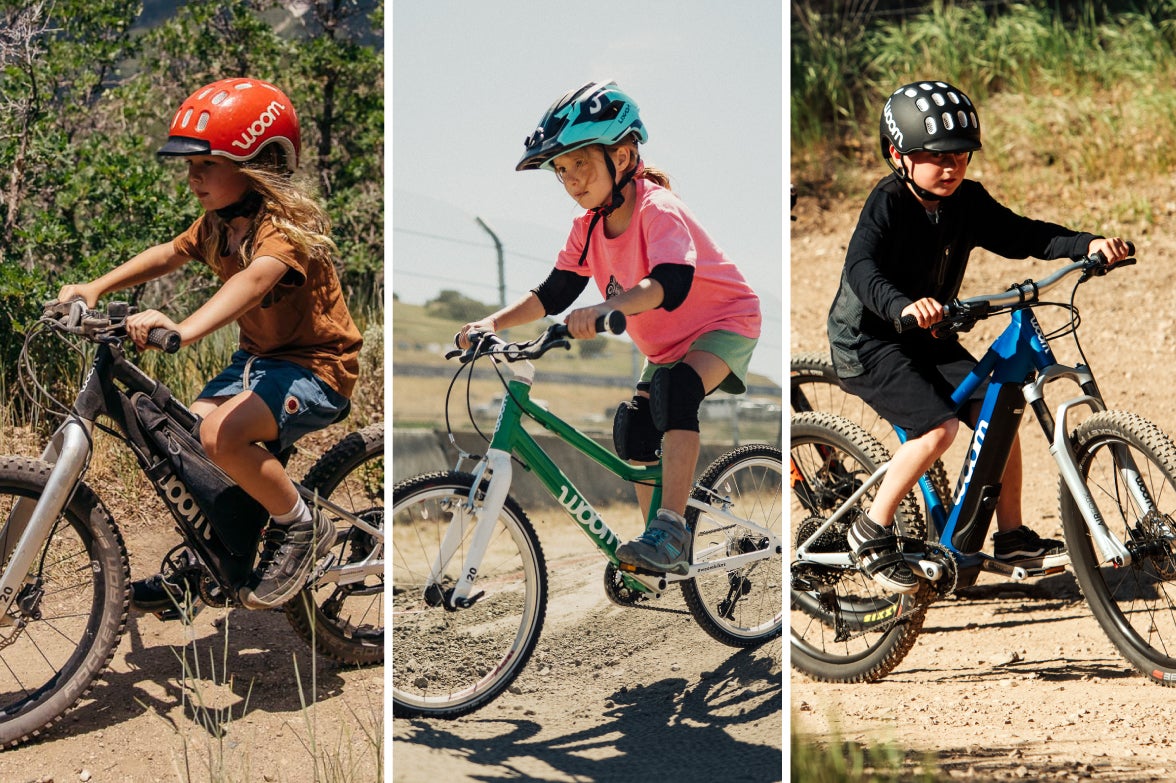 Once your child has already learned to ride a bike around the neighborhood and zoom up and down sidewalks, they may be craving a bit more adventure. Off-road riding is a fun way to change up routines, add entertaining scenery, and get out into nature. It's also a way to improve bike handling skills, increasing young riders' safety and confidence anywhere they want to ride—whether on or off the pavement. After reading woom's trail riding and mountain biking tips for beginners, you'll be ready to hit trails!
What's Different About Off-Road Riding
On gravel and other loose surfaces, turning and braking require greater caution. Explain to your child that the bike will feel different and sometimes act differently on gravel and dirt; movements and actions must be slower and more controlled to prevent sliding. It's best to start at slow speeds and even grades until your child is comfortable with the new setting. It's also not a bad idea to slightly lower the air pressure in your tires when riding off-road, for a more comfortable ride.
Teach your child to stay ON the trail as much as possible. This helps avoid tire punctures while also imparting the lesson of good trail stewardship (deviating from the trail causes erosion). Bonus: if there's poison ivy around, your child won't be the one to find it!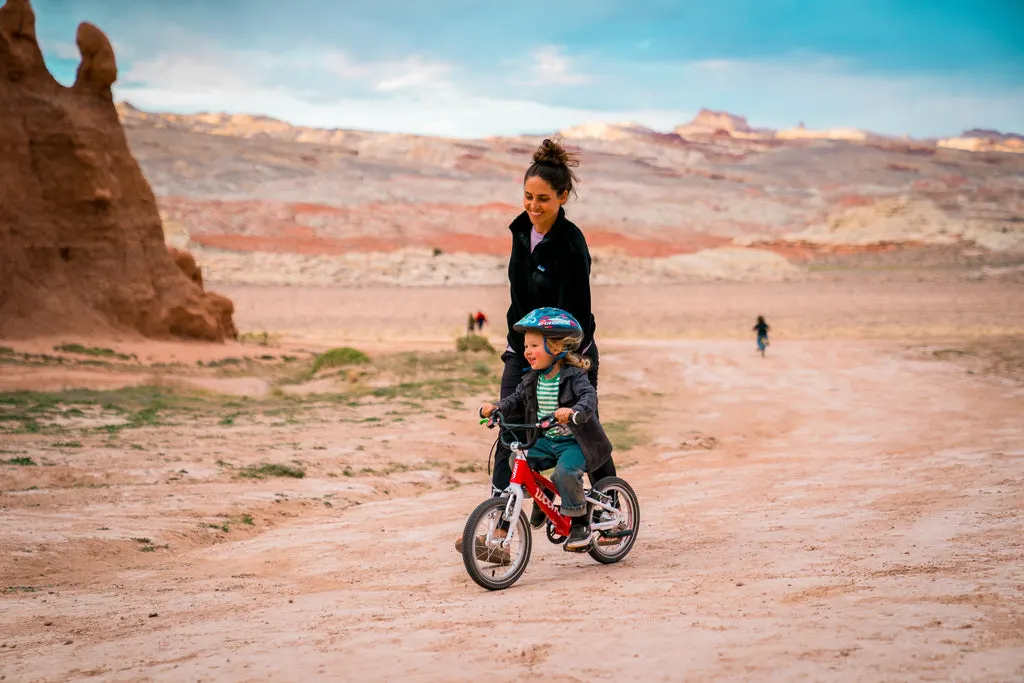 Mountain Biking Tips for Beginners
When to Go
Toddlers who are just getting started will be better served with their very first few balance bike experiences occurring on smooth, flat, paved surfaces. That being said, you can begin taking kids out on the trail as soon as they have gotten the hang of using their woom 1 or woom 1 PLUS balance bike on pavement.
No matter what age a child learns to ride – shortly after they master the basics of pedaling on smooth surfaces, they're capable of starting to explore different terrain. A child's coordination and dexterity will benefit immensely by being introduced to a range of surfaces. This can happen for kids as young as those who ride a woom 2 or as old as those who are on a woom 6.
Where to Start
Gravel park roads and jeep tracks, crushed granite running paths, and smooth singletrack trails are all great introductory experiences for Riders new to off-road riding. For beginner mountain bikers, it's best to avoid paths with many large rocks and roots or other obstacles in the trail. Basically, non-paved surfaces without challenging technical sections are ideal confidence-builders for younger kiddos.
TrailLink is a great resource to locate trails in your area and allows filtering by surface type, activity type (check "bike"), and city. To see what gravel roads are nearby in your area check out Gravelmap.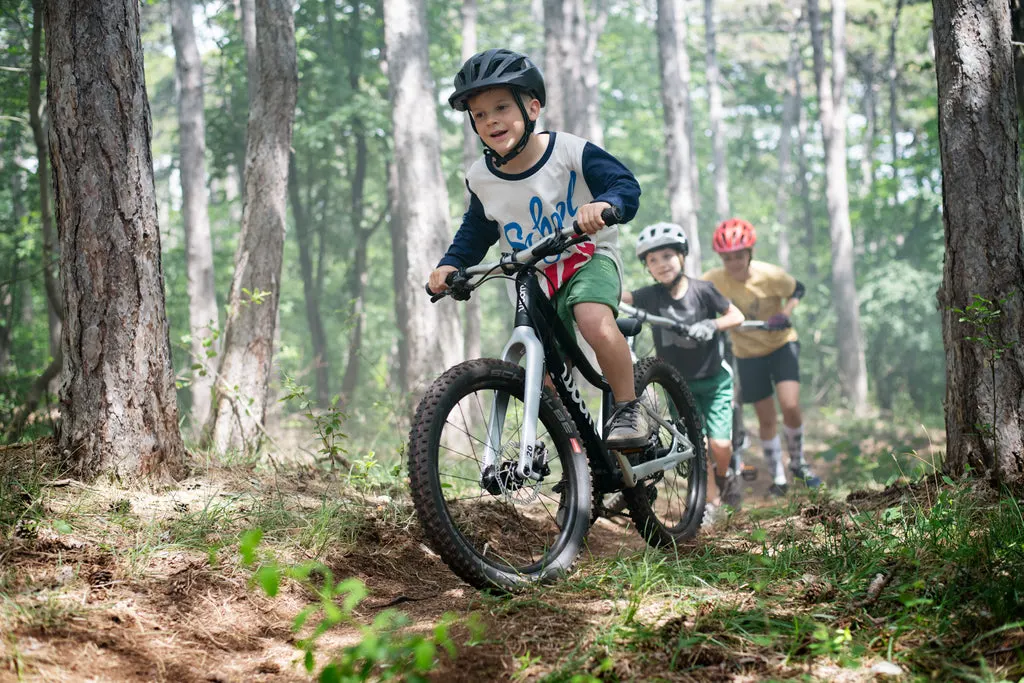 Ways to Make It Fun
Riding off-road typically means being immersed in nature - providing an excellent opportunity for outdoor exploration. Within reason, try letting your child lead and pick which way to turn. Stop to check out cool bugs and pretty views. Kids enjoy having a special waypoint or end destination to look forward to, such as a park, swimming hole, climbing tree, or a picnic.
It's also wise to plan ahead and give your child some extra time and space to slow down and be present. Kids love to learn by doing and enjoy experimenting with their surroundings. The best outings tend to have some waypoints or plans, but being flexible and going with the flow is key.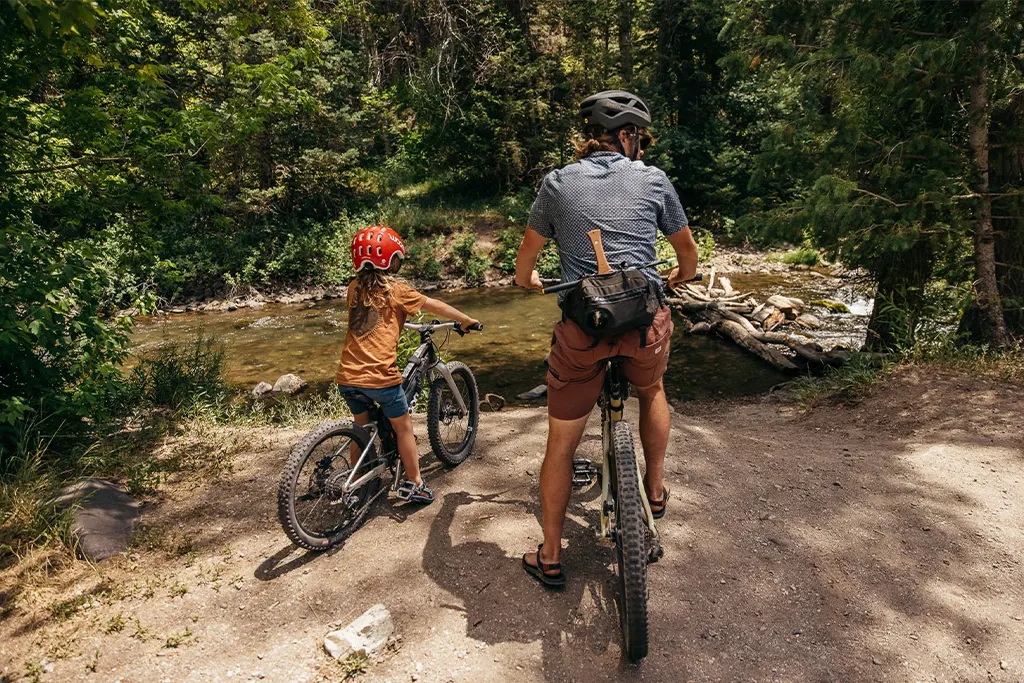 What to Bring
Because off-road riding can often take you miles away from the nearest water fountain or snack machine, pack plenty of food and water.
Your child should be wearing a good-quality helmet, bike gloves, and closed-toe shoes. Other useful extras include a smartphone, bug spray, sunscreen, a bike bell, a water bottle or hydration pack, elbow and knee pads, a waterproof bag, and baby wipes. The AMIKO Active Bag can mount on the handlebar or go around the waist and is perfect for carrying small items when out on the trail.
Which Bike to Ride
The woom bike catalog features several different collections of bikes, each one optimized for different types of riding. While each of them can be ridden off-road to a certain degree, it's important to know the differences between the models in order to find the perfect bike for your Rider.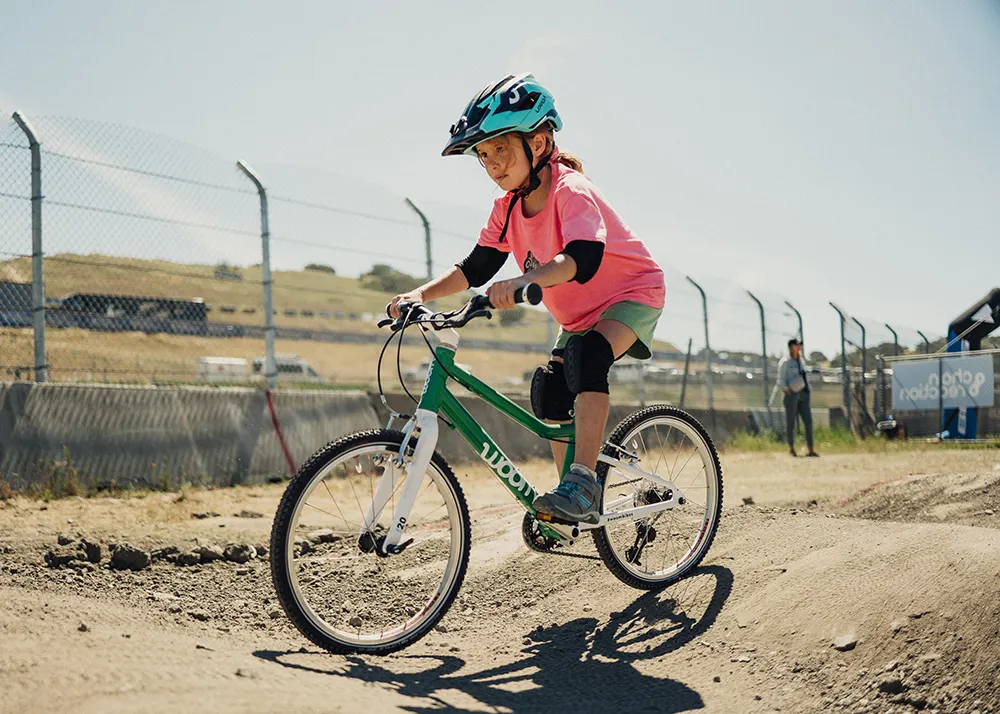 If your child is younger than 6 years old and just getting started riding a bike off-road, any of the woom ORIGINALS will be more than enough to get them going and learning. With their Schwalbe tires and capable tread pattern, woom ORIGINALS can be ridden on gravel roads, crushed limestone trails, and easy singletrack.
Shop woom ORIGINALS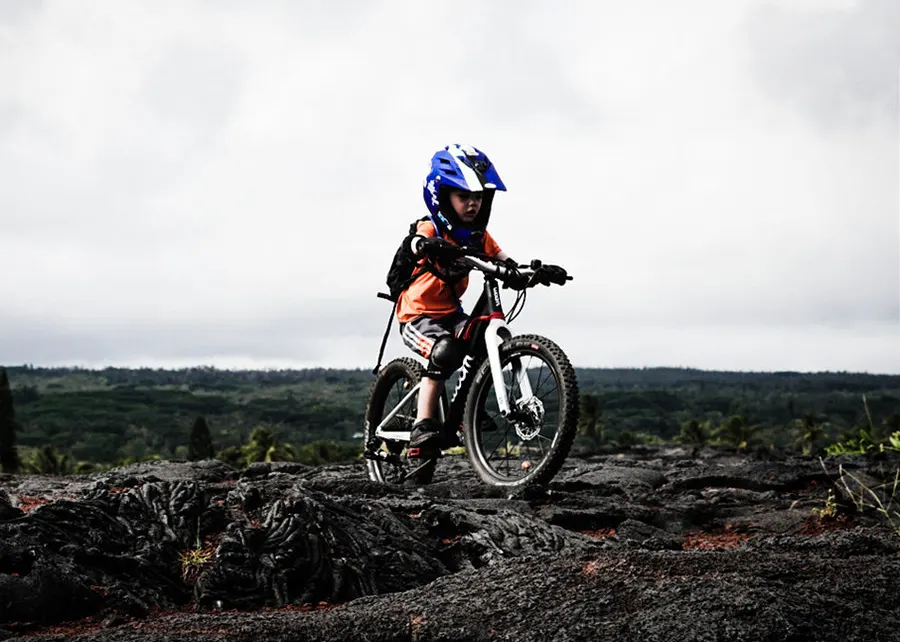 However, if your child is getting more adventurous and looking to start really testing and expanding their skills, we offer woom OFF and woom OFF AIR mountain bikes for kids 46" and taller. Both product lines feature mountain bikes designed for off-road use. While the woom OFFs feature a rigid carbon fork – strong, lightweight, and compliant material that reduces vibrations – the woom OFF AIR models come with an air suspension fork for extra shock absorption on rugged terrain.
Both the woom OFF and woom OFF AIR feature wide tires for more traction, expanded gearing for easier climbing, and hydraulic disc brakes to help on steep descents. With their trigger shifters, knobby tires, and nimble frame geometry, both the woom OFF and the woom OFF AIR are in their element in the woods, dodging roots and rocks on dirt and gravel trails. If you're looking for help choosing between the woom OFF and OFF AIR, check out our blog.
Shop woom OFF & OFF AIR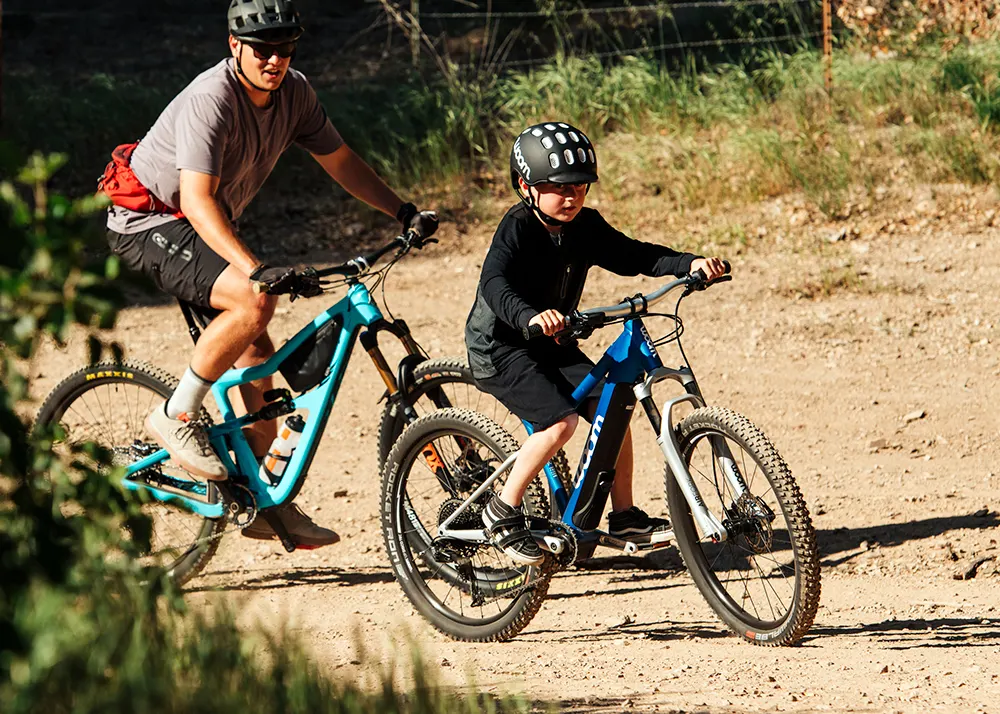 Last but definitely not least, the woom UP lives up to its name by taking kids to new heights, thanks to its electric motor. If your child is looking to expand beyond their neighborhood mountain biking trails and really take it up a notch, they'll love the woom UP. Designed specifically for off-road use and featuring child-specific pedal-assist options, the woom UP allows children to go where they've never gone before. Your young Rider will find themselves being able to keep up with adults along steep mountain ascents, sharp switchbacks, and sudden uphill sections.
Shop woom UP
Ultimately, the key considerations involve the primary use of the bike: How often will your child's woom bike be out on the trails? What kind of trails are available in your area? Will you also use the bike for commuting to and from school by road? Each bike collection was optimized for different settings, so the frequency and type of trail riding you intend to do will help you choose the ideal bike for your child.
The easily-adjustable V-brakes on a woom ORIGINAL are great for light trail use and rides around the neighborhood, but when on steep descents where tight control is necessary, the hydraulic disc brakes on a woom OFF AIR make those descents much easier. For example, the wider tires on a woom OFF will help when riding loose dirt, gravel, and rocks on trails but may add extra weight and rolling resistance on your bike ride to school over asphalt and concrete.
The woom UP is great for tackling some serious elevation and gnarly trails, but it may be overkill for a short ride on a flat gravel trail. Consider the pros and cons of each bike's features and what type of riding you think your child will do most. With those mountain biking tips for beginners in mind, happy trails to you and your family!
We offer lightweight, high-quality bikes for children of all ages, starting at 18 months old and going up to age 14.