Shifting Gears with Roslyn and Her woom 3 AUTOMAGIC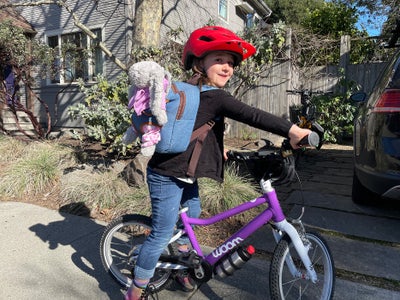 Especially when a love for cycling runs in the family, children need a bike that can keep up with their adventurous spirit and desire for independence. When he discovered the woom 3 AUTOMAGIC, dad Lucas Euser knew it was just what his daughter Roslyn needed to support her growth as an advanced young rider. Discover why the woom 3 AUTOMAGIC has been just the right fit for five-and-a-half year old Roslyn as she continues exploring the world by bike.

Riding bikes "is in our blood"
As a former professional road cyclist, Lucas is no stranger to the power of a bicycle. With 12 years traveling the world racing bikes, he knew it was something he'd want to encourage his kids to explore one day.
"I love the bike for its ability to provide a sense of freedom, adventure, and choice," says Lucas. "It creates a lot of independence, confidence, and self-esteem building." Now all he needed was the perfect bike to introduce riding to his daughter.
Enter: woom.
Lucas loves how woom bikes are designed especially for kids, factoring in their incremental growth and their ever-changing minds and bodies. "woom has definitely put thought into what those increments are, and they're perfect."
Roslyn quickly grew from a woom 2 to a woom 3, but then expressed interest in yet another challenge: gears.

An introduction to gear shifting
After hearing her dad and her friends talk about gears, Roslyn decided she wanted a bike with gears of her own. "She wanted gears, but she didn't know what gears were," explains Lucas, "Now she has a bike that gives her the feeling of gears without the need to shift."
And that bike is the woom 3 AUTOMAGIC. It's one of the only 16" geared bikes on the market with an automatic gear shifter!
Lucas sees the woom 3 AUTOMAGIC as the perfect step between the bike Roslyn was riding before, and larger bikes with a derailleur and a cassette (like the woom 4). As the ideal transition between a single-speed and a larger geared bike, the woom 3 AUTOMAGIC has been the perfect stepping stone to prepare Roslyn for the next phase in her riding journey!
The woom 3 AUTOMAGIC introduces young riders to the feeling of shifting gears without the need to manually change gears themselves. With two speeds that change automatically as you ride, it's the perfect introduction to the world of full-sized bikes with complex gear shifting, as Roslyn and her dad have discovered.
"She's getting the feel of it being easier to pedal or harder to pedal," says Lucas. "It's doing it for her by developing that perception without the act of having to shift. In this stage of her development, it really fits. The AUTOMAGIC is doing for her what a balance bike does to pedaling: slowly introducing the feel and perception of the next step."
The Magic of Riding
The confidence Roslyn has discovered through riding bikes has spread into everything she says and does. As her confidence grows and her momentum builds, Roslyn is becoming more independent and making more choices for herself. For example, Roslyn's parents always let her take the lead when they go out for a ride.
"She gets to choose whether she wants to do it, and she gets to choose where she goes when we do it," says Lucas, "She has autonomy to step outside and have me follow. We go on fun adventures that lead us to all sorts of amazing places."
Roslyn also loves riding with her friends, and that's when her competitive streak comes out! The young cycling crew loves to set up obstacle courses through their neighborhood and around the playground, then race each other. With her brand new two-speed woom 3 AUTOMAGIC, Roslyn can easily outpace the competition!
Not all heroes wear capes — some ride bikes!
Both Roslyn's adventurous spirit and courage to face new challenges inspire her parents and little brother Gus. "She's the hero in our family," says Lucas. "The way that she reflects on the world around her is pretty amazing. To see her experience this world through the freedom of a bicycle is both nostalgic for me and a very proud dad moment as she gets to explore on her own terms."
Roslyn isn't the only one discovering the joy of riding in her family. Although Gus is still getting a feel for riding with a balance bike, he has big sister's old woom 2 "waiting in the wings" for when he's ready to explore pedaling.
Once he does, there will be no adventure too big for him and his big sis to take on! "They're best friends, which is beautiful to see," says Lucas, "I envision them riding bikes a lot together in the future." See why kiddos are on a roll with the woom 3 AUTOMAGIC!