Presseaussendung
Perfect match: Balance bike seeks bag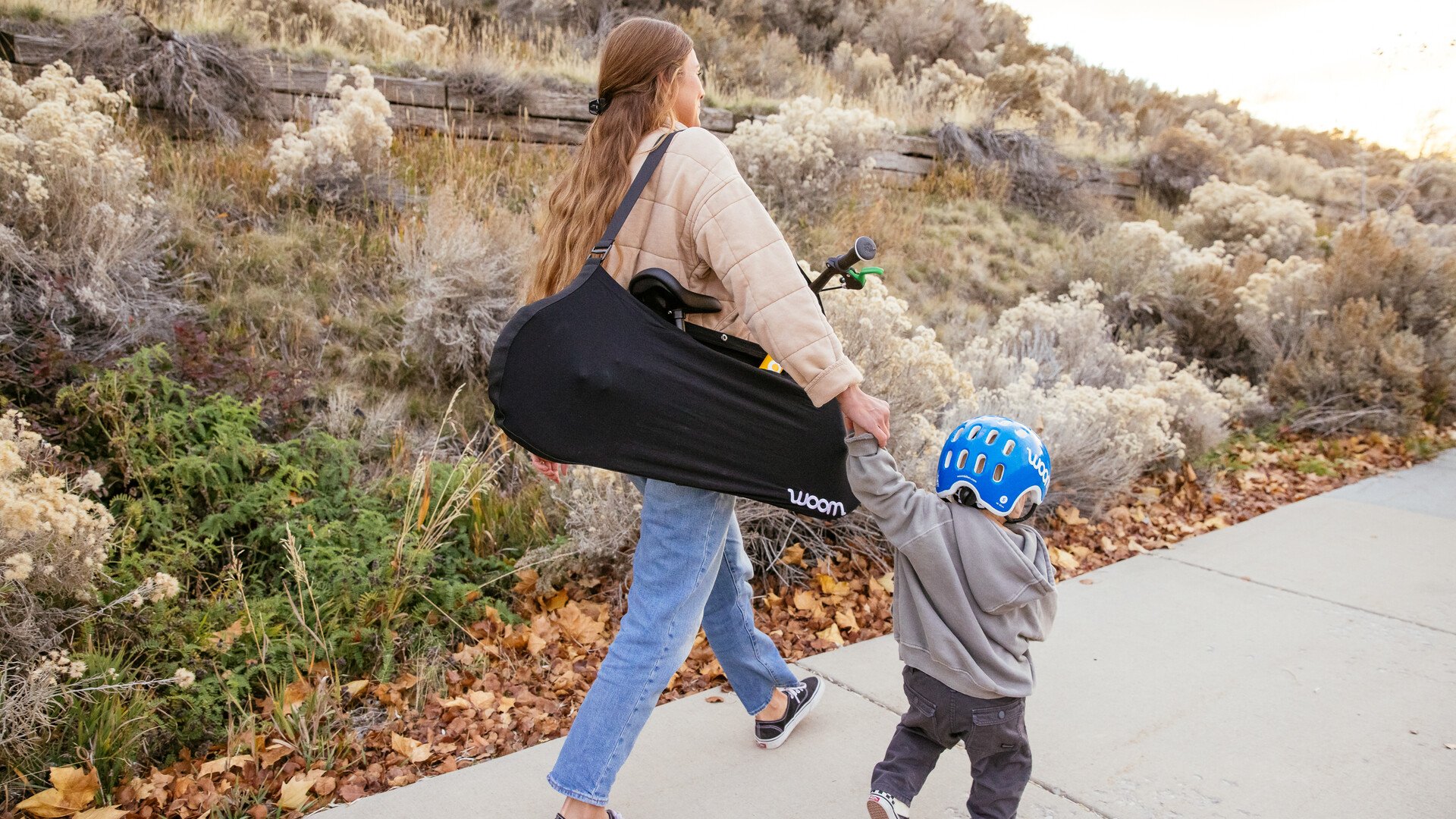 woom makes learning to ride easier with balance bikes designed for ages 18 months and up.
woom makes life as a parent easier with the BUTLER bag, a practical carrying solution for balance bikes and pedal bikes with up to 16" wheels
Klosterneuburg, 03.05.2022: The international bicycle manufacturer woom introduces another ingenious piece of equipment into its lineup to the delight of adults who are out and about with tired children on two wheels: the BUTLER bag for balance bikes and pedal bikes with up to 16" wheels.
The mission of the Austria-based international manufacturer of bikes for children and teenagers is to give children the easiest-possible introduction to riding a bike and spark a life-long passion for cycling, confident that kids who love cycling will grow into adults that enjoy riding their bikes.
Balance bikes are the top way to approach the world of two wheels. woom caters for children from the age of 18 months with the woom ORIGINAL 1 balance bike, which is designed to enable those of a young age to hop on and start riding with ease. Bike riding is an opportunity to develop coordination, balance and other motor skills. What's more, learning to ride through the use of a balance bike instead of conventional, unsteady training wheels or stabilizers results in a smoother, easier transition to a pedal bike.
Getting off to a smooth start on two wheels
Riding a bike proficiently requires three key skills: balancing, braking, and pedaling. Once a child has absorbed the first two by using a woom balance bike, the next step – i.e., moving up to a pedal bike and learning how to pedal – usually goes smoothly. Kids who discover the joy of cycling at a young age are highly likely to continue cycling, lead an active lifestyle, and contribute to a greater shift towards sustainable mobility as they get older.


NEW PRODUCT LAUNCH: the BUTLER bag by woom
While renowned for putting kids first with their child-friendly bikes, the BUTLER bag demonstrates how the Austrian brand woom also place an equal amount of importance on designing products specifically for parents.
It's a familiar cry: "Pick me up!" Whether a child has worn themselves out after a burst of independent and enthusiastic riding or they simply want to change activities, it's quite likely their balance bike will need to be scooped up and carried. At other times, it might be a case of juggling groceries, a child, and a balance bike while trying to board public transport. This is where the BUTLER 2-in-1 bag enters the scene. With a large opening, this versatile, low-volume bag fits the woom ORIGINAL 1 balance bike with ease. The removable strap, which can be worn over the shoulder or hung over the handlebars of a buggy to swiftly salvage any situation, is also compatible with the toddler-sized woom ORIGINAL 1 PLUS, as well as the two smallest pedal bikes in the woom range: the woom ORIGINAL 2 and woom ORIGINAL 3.
Designed with G-hook buckles on either end, the carrying strap can be removed from the bag in an instant and attached directly to the handlebars and seatpost of the bike. The length of the shoulder strap can be adjusted to suit all users. When not needed, the BUTLER bag packs down to the size of a standard book for easy storage and can be readily opened when your child needs a rest.
All woom accessories are available in the woom online shop and at selected dealers.


The BUTLER bag in detail:
A compact, stowable bag to comfortably carry around balance bikes and bikes with up to 16" wheels.
Ripstop fabric (95% nylon and 5% spandex)
Machine washable at 30 degrees
Dimensions when folded: 23 x 14 cm, practical snap closure
Weight: 155 g
Colour: black
Removable carry strap with G-hooks and bottle opener capability, anti-slip silicone on underside, attaches directly to the bike within seconds (e.g. handlebars and seatpost), sliding buckle for smooth and secure length adjustment, compatible with the woom ORIGINAL 1 to woom ORIGINAL 3 models (as well as similar-sized models from other brands), weight: 90 g, colour: black.
Price: EUR 25
Images woom BUTLER bag
Download link for product photos, copyright woom GmbH
About woom:
Founded in 2013 by Christian Bezdeka and Marcus Ihlenfeld in a garage in Vienna
woom has revolutionized children's bikes and set new standards.
woom bikes are superlight, ergonomic, have won multiple awards, and are equipped with numerous features to enhance safety.
Today, woom is a global brand with a presence in more than 30 countries around the globe, above all in Germany, Austria, Switzerland and the USA.
2020: woom welcomes a group of investors on board, with Marcus Ihlenfeld and Christian Bezdeka retaining a two-thirds majority.
2021: woom establishes exclusive Europe-based production for the European market and the 500,000th woom bike rolls off the production line.
2022: Further internationalization, expansion of the dealer network and the D2C segment
Inquiries & contact:
Belinda Ableitinger, PR Manager
+43-664/888-22-837
[email protected]
https://www.woom.com