Unternehmen
Ten reasons why a woom bike is worth waiting for
Right now, we're unfortunately at the mercy of delays and supply bottlenecks. But the good news is that it'll be worth the wait for you and your child. Read on to find out why: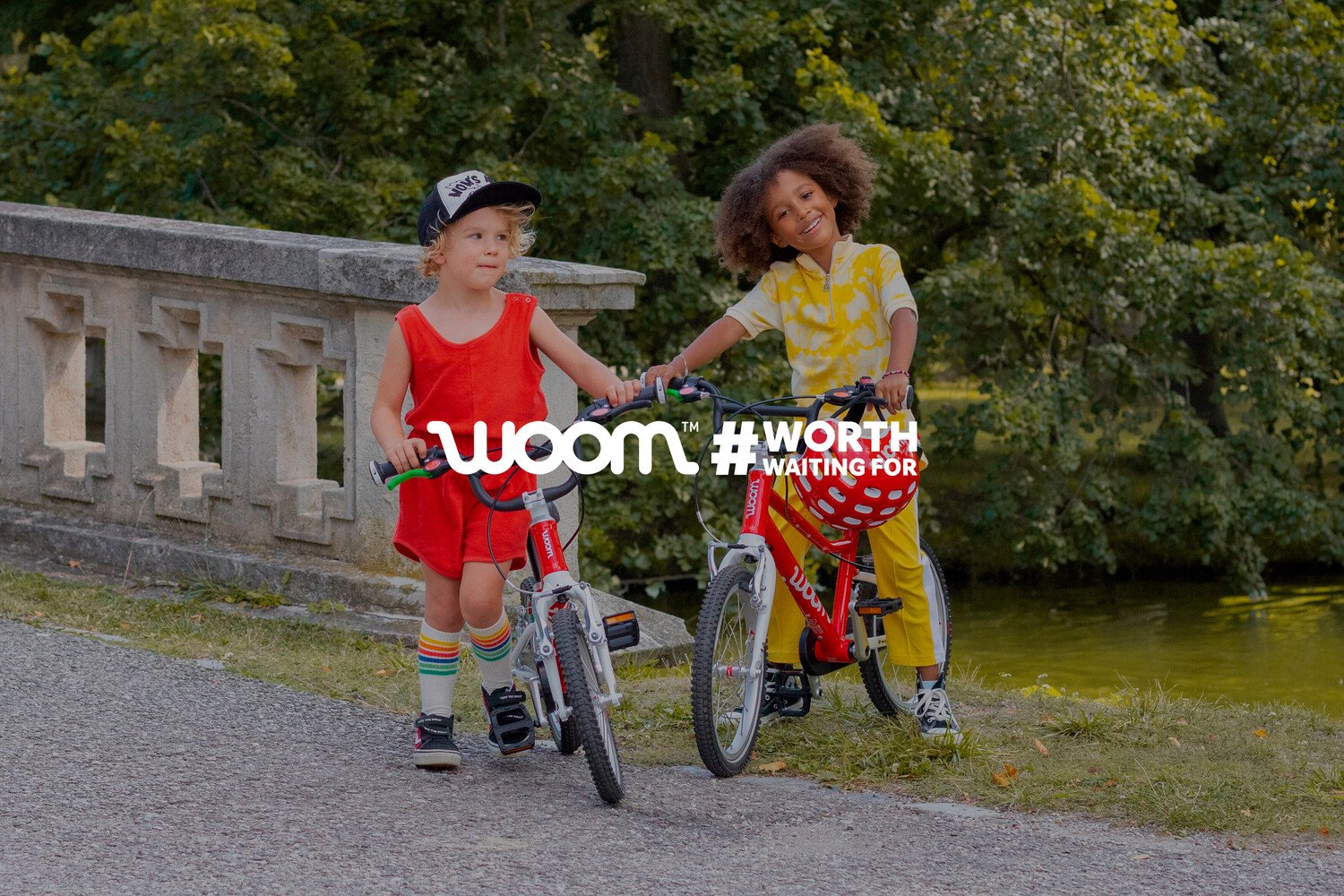 We're really sorry if you are either having to wait for a new woom bike or that you haven't yet been able to place your order. We understand your disappointment – the current situation is just as frustrating for us. However, if there's one thing that's certain, it's this: a brand new woom bike is worth waiting for. We have curated a list of ten top reasons that fill us with confidence to give you our promise.
Smart engineering: woom bikes are scrupulously engineered to meet the needs of children. Our R&D department – the heart of our company – designs, develops and refines everything that goes into a woom bike. Every single detail is scrutinised to ensure the ultimate suitability for children's needs and sizes.

Lightweight: Right from the get-go, our ambition has been to build the lightest possible children's bikes. The lighter the bike, the easier the handling. The result of our constant development, we have succeeded in making sure that our woom bikes that are up 40% lighter than the rest of the market. At just 5 kg, the woom 2 is the lightest production children's bike in the world. And now we're seeing our mountain bikes set new standards too.
But other than weight, there are other factors to consider when buying a bike for your child – find out everything you need to know here.

The highest quality: Our bikes are engineered to withstand everything you can throw at them – and more. Year after year, they can withstand the toughest conditions and the highest demands. When properly looked after and maintained, a woom bike will not just put a smile on one child's face, but ensure that many children get the same brilliant experience.
Check out this article to see what makes a woom bike so special.

Safety: As parents, we understand the importance of safety when it comes to your child's bike. woom bikes are not only robust, but have undergone strict testing to ensure safety standards are met and risks are reduced. With excellent handling and an optimal ergonomic design, a safe riding experience is a given. Our choice of components allows children to intuitively develop the necessary motor skills for riding a bike.
To learn what other factors are important for riding safely on open roads, read the interview with Roland Romano from Austria's cycling advocacy group, Radlobby Österreich.

Maximum fun: A child that feels at ease on a bike will be one that can hardly wait for their next ride. It has been proven that kids pick up cycling quicker when learning on a woom bike. And kids who discover the joy of cycling at a young age are highly likely to continue cycling as they become adults and live a healthy, active life.
To make sure you set off on the right track, have a look at our top tips for getting started.

Magical moments: There is nothing as precious nor as fleeting as time. Cherish these moments that you will look back on in future years. Those lasting memories of shared excitement are exactly what we want to unlock for you and your children: from their very first solo pedal strokes, to the daily ride to and from nursery or school, right through to shrieks of glee on their mountain bike and joint multi-day bike trips.

Timeless designs: Our aim is to design truly modern bikes with a classic, timeless aesthetic. With their sleek silhouette and clean lines, you will always recognise a woom bike. They embody our best attempts to unite technology and aesthetics.
To find out more about our design principles, awards we have won, and how our creative process works, check out the interview with our head of design Matthias Leite-Gürtner.

Exemplary service: Our relationship to our customers does not end when you purchase a woom bike – that's just the beginning. Whatever concerns you may have, we are always available to provide assistance and there is never a bad moment to get in touch with us.
By clicking here, you can go straight to the woom knowledge centre.

Customer satisfaction: Our customer satisfaction score is very high. For many years, our marketing was largely limited to word-of-mouth recommendations between friends and acquaintances. People would see a woom bike in action and want to know what it was—it's the same today. The fact that our product makes people so happy is totally out in the open. These days, we are delighted to see woom bikes in action in more 35 countries, with Asia and the USA represented alongside much of Europe. You can use this easy tool to locate your nearest woom dealer.

An investment: Even while developing the highest quality bikes and investing all of our passion, we never lose sight of the end cost. Sure, woom bikes do not come cheap, but they should be affordable for everybody. Our prices are on a par with those of good standard children's bikes. But what really sets a woom bike apart from the rest of market is its ability to retain its value. Say, for example, you plan to re-sell your used woom bike. You will discover that the price for a second-hand woom is only marginally lower than an new one.

On that topic, we have compiled a list of pros and cons when it comes to second-hand bikes for children, which you can find here.
Why is it so difficult to get hold of a woom bike at the moment?
The ongoing bike boom, which has accelerated so dramatically during the pandemic, is really great news. It's not only good for the climate, it's good for all of us. More bikes and fewer cars mean better air, more liveable cities, and safer roads. Yet, the resulting explosion in demand for bicycles has had an enormous impact on the entire bicycle industry – and woom is no exception.
To produce our bikes, we need components that are manufactured by numerous highly specialised supplier companies. Take a woom 3, for example: This model has around 50 different components. Should one of these be missing, the bike build can't be finished and production grinds to a halt.
Due to the extremely high demand for bikes, delivery times for many components have increased dramatically. What's more, we do not use "off-the-shelf" parts for our bikes; instead, we use components that we have specially developed for children and that have to be custom-manufactured for our bikes. As such, when our suppliers hit a stumbling block, so do we. There is no quick solution to sourcing these special woom components, and we would not be woom if we were willing to simply substitute them with standard parts.
In this video, we break down the factors that have led to these delivery issues.
What steps are we taking to meet this huge demand?
We have already ramped up production as much as possible, but with our suppliers currently working at their maximum capacity, long delays are unavoidable as they strive to fulfil our orders. The very recent opening of a new production facility in Poland means that our own capacity can increase significantly – albeit not immediately. Rest assured: We are doing everything in our power to ensure that waiting times for a woom bike are minimised and we aim to get our bikes back in stock as soon as possible. To find out more about how we at woom have responded to this record demand, this interview with Uli, our head of supply chain, should be your first port-of-call.