Why buy a woom bike?
You can pick up a cheap kid's bike without having to look very hard these days – and it might even cost you less than a pair of new disc brakes for your own MTB. But here's the thing: the quality of that bike is going to be highly questionable. After all, you get what you pay for.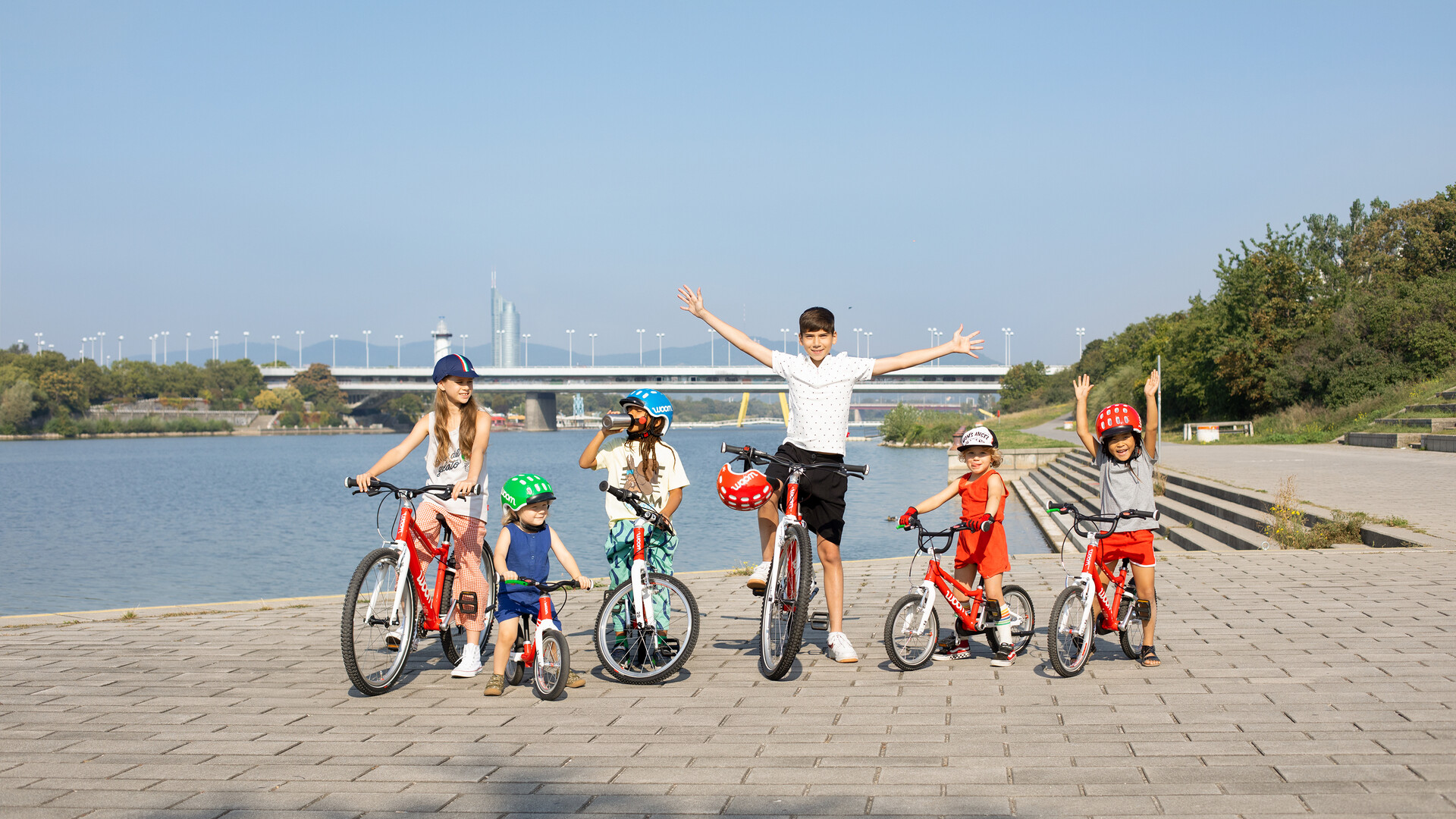 Of course, we're not saying you should pay over the odds for a bike, but a cheap one can soon end up costing you a whole lot more. Once the price of repairs and spare parts has topped the figure you initially paid for the bike, you may wonder if it was worth it. Then there's the resale value – or lack of. No matter how much you've kept up the bike's maintenance, it won't hold its value like a premium bike does. Keep reading to find out why we're so convinced that a premium bike, such as a woom bike, will let you and your child tap into years of unmatched happiness.
Child-friendly design
woom bikes are scrupulously engineered to meet the needs of children. From their low entry point to low bottom bracket, short cranks, ergonomic saddle, the right bar height, adjustable brake lever reach and more – the list of neat features on a woom bike goes on and on. But if there's one aspect that stands out above all: it's the weight. They are so lightweight that your child doesn't just have more fun riding, it also makes the handling safer and more controlled, whether they're learning to ride, riding in traffic or on trails.
Our bikes are also massively adjustable, including saddle and handlebar height as well as the angle of the stem, meaning they can grow flexibly with your child and continue to be used for longer.
Style counts
As far as children are concerned, their bike has to look cool – and that's totally fair. Our woom bikes have a sleek and timeless design, with unmistakeable attention to detail shining through. You can recognise a woom bike through the kink in the top tube and their clean colourway.
For older kids riding the the woom ORIGINAL 5 and woom ORIGINAL 6, our designers gave the teen-versions of our ORIGINAL series a more grown-up identity as part of the 2020 new release with a more striking frame design and performance-led geometry. What's more, the release of three new colours – mint green, moon grey and midnight blue – adds a fresh new vibe to the lineup.
Innovation and premium quality
This is where we separate the wheat from the chaff. When bikes come with a low price tag, you can usually trace it back to substandard parts that are not designed with kids in mind. Those same bikes are likely to be heavy and often need to be replaced before you know it.
When it comes to our bikes, the only thing we cut back on is the weight. We do not compromise when it comes to materials and individual components, ensuring that these are of the highest quality, created with children's requirements as a priority and using cutting-edge technology.
Frames and forks on our woom ORIGINAL bikes are made of high-quality aluminium, which is robust, lightweight, and won't rust.

Children's bikes have to be able to withstand a lot, including the odd spontaneous encounter with the ground. To avoid scratches, our frames come with a protective coating, made up of several layers of paint and a special finish to prevent corrosion.

Our add-on parts are also made of aluminium and coated for more longevity.

The screws are made of stainless or galvanised steel, making them extremely robust and lightweight.

Wheels and tyres have a huge impact on the riding experience. Our lightweight aluminium wheels come with sealed bearings to stop dust and water in their tracks. Paired with the lightweight grooved tyres from Schwalbe, your child enjoys maximum safety and minimum effort.

The corners of the saddle are reinforced with a synthetic fibre called Kevlar to avoid the saddle cover ripping. There are further reinforcements on both sides to minimise the risk of scratches or other minor damage occurring if your child leans their bike against rough walls.

The combination of these components is what makes our woom bikes exceptionally durable and sustainable. Because bikes aren't just reserved for a single user. Instead, they can be passed down and used by child after child. You'll want younger siblings and friends to get just as much enjoyment out of the bike, after all.
That's why regular care and maintenance are fundamental to ensure your woom bike continues to work exactly as it should and retains its value. Regular care and maintenance of your bike is particularly important in winter – you can check out the reasons why and what to do here.
Inside the instruction manual for your woom bike, you'll find important advice on how to look after your bike, plus a list of all the required tightening torques for the fixtures on your woom bike.
Used bike market
If you're thinking about buying a premium bike, it's worth considering the resale value. When resold online, woom bikes currently go for as much as 90% of the original recommended retail price.
Not a fan of online marketplaces? We've got another interesting option for you...
upCYCLING
Yep, kids grow quickly. But that doesn't mean you should buy a bike that they'll 'grow into'. For your child to feel confident and enjoy riding, the right size bike is key to stable handling and a smooth ride. What about a child's bike that could grow with them? That's exactly what the woom upCYCLING scheme is all about.
BECOME A MEMBER: Unlock life-long upCYCLING membership for a one-off fee.
EXCHANGE BIKE: Has your child grown out of a woom bike that is less than two years old and in perfect working order? When you buy the next size up, you can send the woom bike that they've grown out of back to us for free.
RECEIVE CREDIT: Your child's old bike will be checked over by our mechanics. If it's in good condition, you will receive 40% of the price you originally paid for it.

Read more about the woom upCYCLING scheme here.