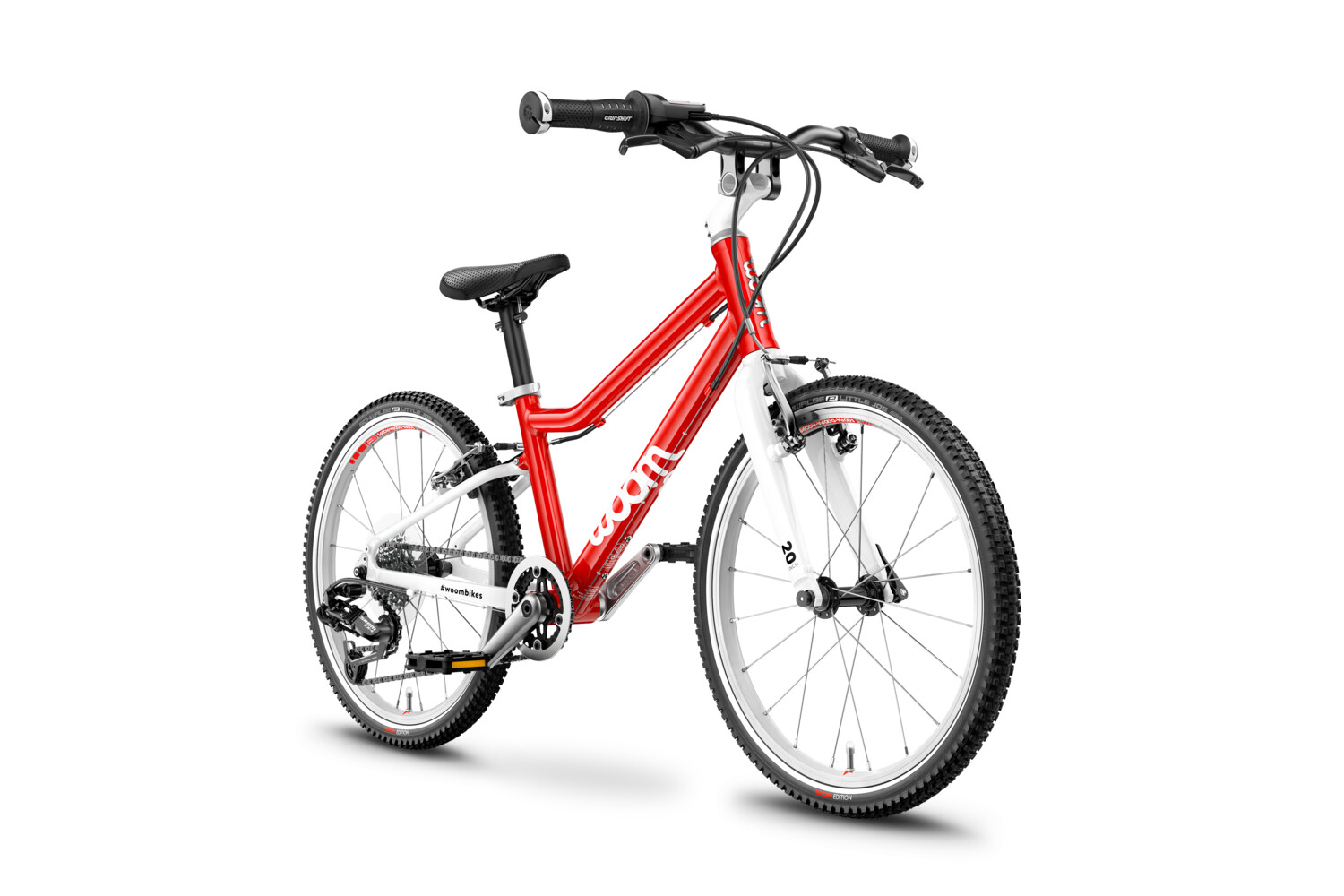 An innovative and ultralight 20" children's bike with 8 gears designed for all-round use by children aged 6 years and over.
115 - 130 cm (3.8 - 4.3')
Gear it up!
The woom 4 introduces children aged six years to the world of gear-shifting. The bike's eight speeds in combination with the easy-to-operate twist shifter expand the bike's range of use and increase the child's mobility. Whether they want to ride their bikes into the woods or up hills – the new-found freedom of gears make longer adventures on two wheels child's play.

woom frame
The superlight aluminium frame is the heart of the bike and ensures a fun and safe riding experience. Its cleverly designed age-specific geometry offers good control over the bike and gives young riders maximum safety while exploring new horizons.
Brakes
The two V-Brakes are easy to operate thanks to their ergonomically adapted brake levers with reach adjustability. The levers require only little strength to bring the bike to a safe halt.
woom Vario stem
Our stem is the safe and lightweight connection between the handlebars and the headset. With our Vario stem the bike can be adjusted not only in height but also in length, meaning it grows with the child and offers an optimal riding position at all times.
woom crank
The crank length and distance between the pedals are ergonomically adapted to fit children's bodies. This results in an optimum stance and very natural movements. And thanks to the chain guard ring those days of getting your trouser leg caught are over!
Twist shifter
The easy-to-operate SRAM twist shifter enables riders to shift intuitively through the eight gears with minimal hand strength required.
Quick-release wheels
Quick-release skewers make installing and removing the wheels from the frame a quick and easy job. Having the wheels out of the frame makes it much easier to transport the bike in a car. And a quick removal and installation of the wheels is also super helpful if you get a flat tyre.
woom saddle
The saddle is one of the most important points of contact between the child and the bike. It significantly affects the feeling when riding. That is why our saddle is designed to fit the pelvis of children in this age group and give them a slightly stretched-out riding position. Perfect for a unique riding experience!
Quick-release seatpost clamp
The quick-release seatpost clamp offers a simple, quick and tool-free way to adjust the saddle height. It's even easy enough to be operated by children. On your pedals, ready, go!
woom low-resistance tyres
Tyres have a major influence on how a bike rides. That is why for our bikes we have chosen tyres that can be used for a broad variety of terrain. Whether you child is riding on tarmac, gravel or dirt, our lightweight tyres will ensure maximum grip in any weather and on any surface, whether your child is riding straight or making turns.
Gears
The precise and easy-to-use gear-shifting makes riding more fun and enables children to go on longer rides while remaining simple enough for youngsters to understand. The SRAM X4 system has eight gears in the back (11-28) designed for a wide range of gradients combined with a 28-tooth chain ring in the front.
This is how we deliver your bike —
5 min., ready, go
!Questions about assembly or use?