Bike-life
Kids' Indoor Bike Trainers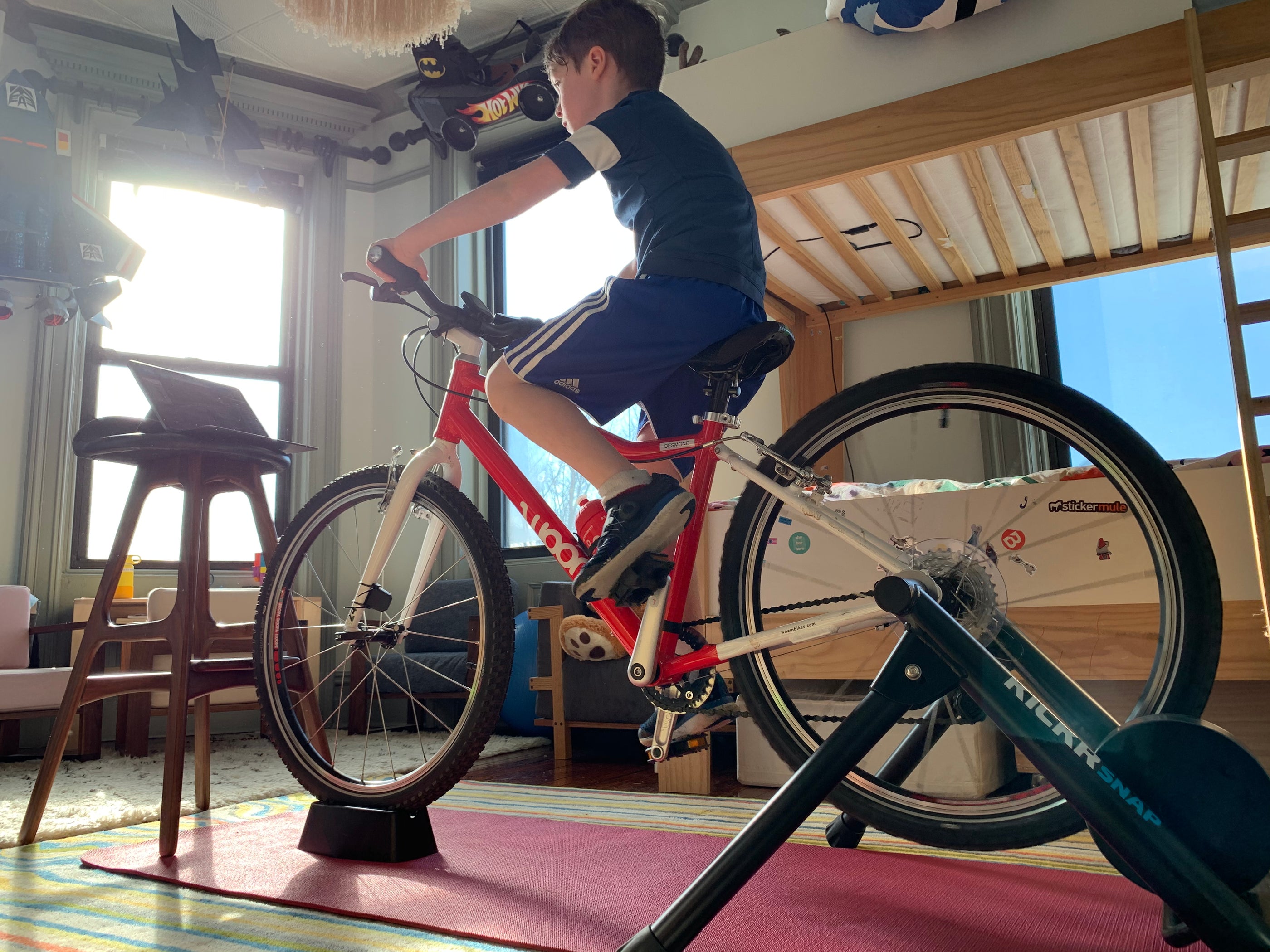 Riding around the neighborhood or tearing up the trails isn't the only way to put in some miles. Say hello to indoor trainers!
Indoor trainers are more popular in the adult cycling realm, but there are a handful of options for setting up your kiddo's bike indoors. Perfect for when the weather isn't cooperating (heavy snow and extreme heat, we're looking at you) or when you can't accompany your young one on their cycling adventures, indoor trainers will keep those feet pedaling.
Cycling indoors may not be the norm, but we're rooting for it to become so! You may think trainers are just for "training," but that's not the reality. Father and cyclist David Mawhiney shows us that riding on an indoor trainer is a fun, shared activity between you and your superstar cyclist, a way to get some exercise, and so much more. Here's David's story!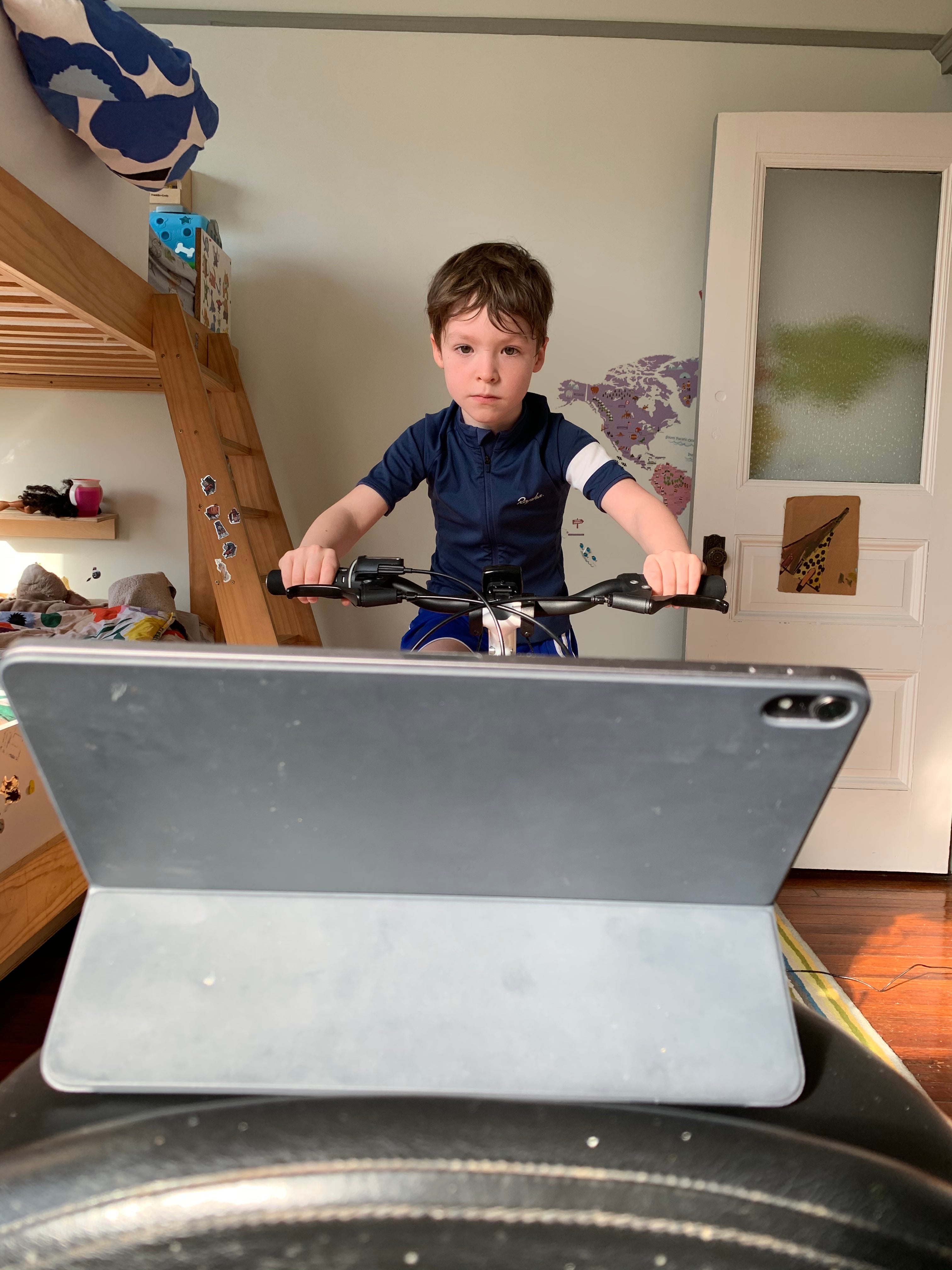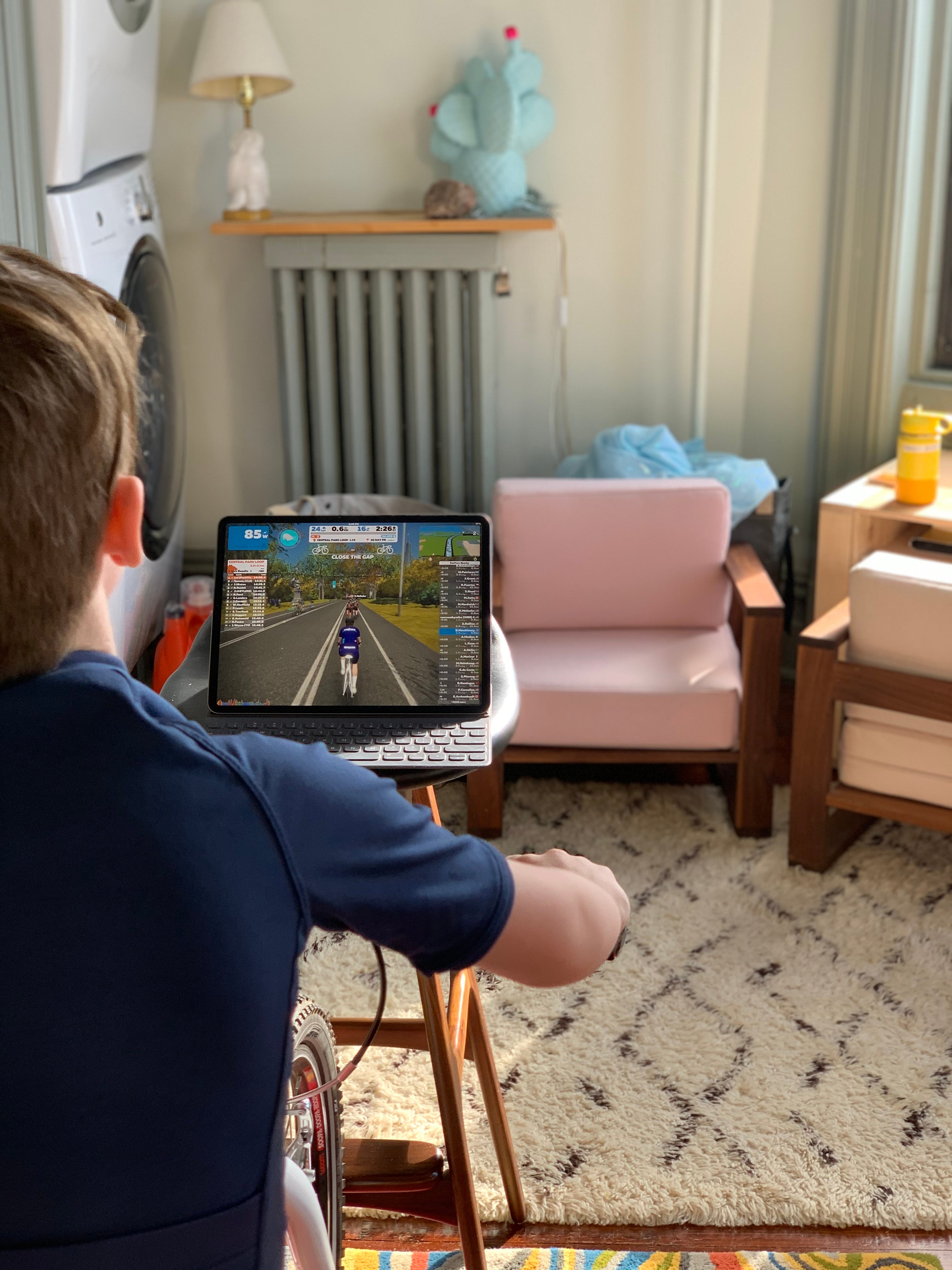 "I'm a dad, furniture designer, and cycling enthusiast. I live in Brooklyn, New York with my seven-year-old son, Desmond, and my four-year-old daughter, Frances. My son has been a huge fan of watching me ride both indoors and out, and it was only a matter of time before he wanted to bring his bike inside and try it himself. Desmond asked if we could hook up his woom 5 to my trainer and play 'dad's cycling video game.' The furthest he had ridden outdoors was five miles, and he often gets bored or tired on the bike, so I was unsure how long he'd last. I took my bike off and put his on, thinking it would be about five minutes.

I attached his woom 5 to the trainer, a Kickr Snap from Wahoo, with a yoga mat underneath to keep our downstairs neighbors happy. Setting the bike up was no problem and didn't require any changes to the bike or trainer. Wahoo trainers are "smart trainers" that work over Bluetooth, and we have ours connected to our Apple TV via the Zwift Companion App. Zwift is a multiplayer online cycling and running video game and training program that enables users to interact, train, and compete in a virtual world. I created Desmond his own Zwift account. Kids 16 and under ride free, and within the features of the app, they take privacy seriously. We changed the settings in Zwift to have the wheel as 24" x 1.75", and it was ready.
He walked in with his kids Rapha jersey and chose Watopia Flat Loop and just started riding. I watched for a bit and then left. I came back ten minutes later and he was still chugging away. Twenty minutes in and his cheeks were getting red, so I recommended the fan to him, which he loved. I also got him a stroopwafel, a Dutch wafer cookie popular with cyclists, from my kit. He had that as well as some water from his water bottle. It was a good time to explain hydration and nutrition to him, a captive audience. After that, I gave him some noise-canceling earphones and put on some music—not because the sound of the bike on the trainer was loud, but there's only so much you can take without them I find.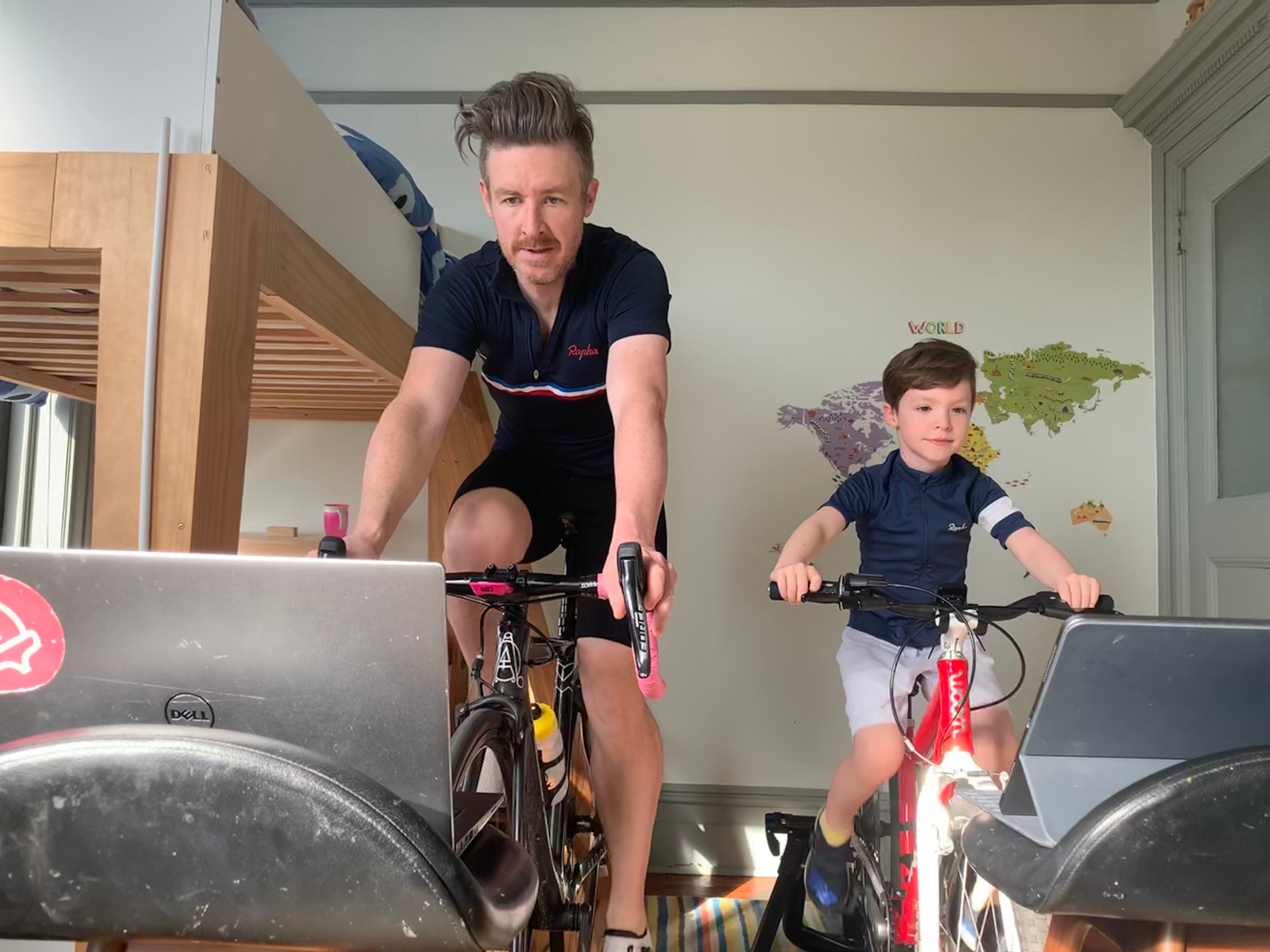 Desmond watches me ride, train, and race, and is therefore pretty familiar with how changing gears, resistance, and speed work together. He loved getting 'thumbs up' and 'ride ons' from riders who had no idea they were riding beside a seven year old. That was a big appeal for him. At home, we do not dumb things down for the kids—be it menus at restaurants or edges on furniture, kids don't get enough credit. And so him being able to ride alongside adults, in the safety of his own home, is great. We've talked with both of our kids to be careful around the trainer, and when someone is riding, we block off the back of the bike with cardboard as a visual reminder that the bike wheel and freewheel are moving.
He kept setting little mid-ride goals for himself: one lap, ten miles, pass ten people, don't stop on a hill, go as fast as you can in the sprint. This soon became two laps, then three laps, 20 km then 30 km. He just kept going. I think it's important that children are in charge of setting those goals and are in control of when they are finished. This is not training, this is recreational, and I didn't want him to think he has to do a certain amount. I also told him that he doesn't have to do this because I like it, which I think is also important as kids do look for approval. He rode to the sprint on the third lap at about 27 km and unlocked Level 2, and got a "ride on" that gave him the "Mr. Popular" badge. These were huge highlights! He said, 'going to finish this lap and stop,' which was perfect. He kept comparing his ride to the park we live across from, Prospect Park. He's done a few laps there, but this beat his record for distance. More thrills.
It was really great to see him truly loving riding indoors because we are taking a pause from it outdoors. This was a perfect way for him to get some quality exercise. Next up, we're going to try riding together. He'll be on the trainer and me on the rollers. We'll see how that goes…"
Kid-Friendly Trainer Recommendations
Updated as of February, 2022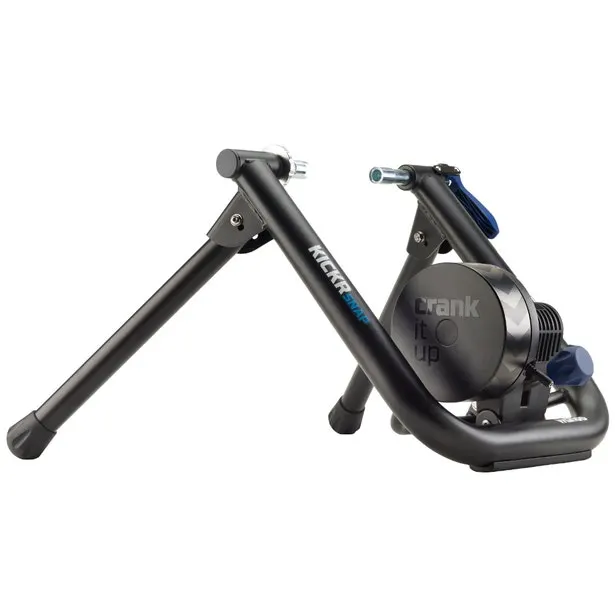 Best for kids who want the full indoor trainer experience.
Wahoo Kickr Snap | $499.99
Includes smart trainer connectivity and automatic resistance control. Fully functional with Zwift. Compatible with 24" and 26" wheel sizes (woom 5 / woom 6).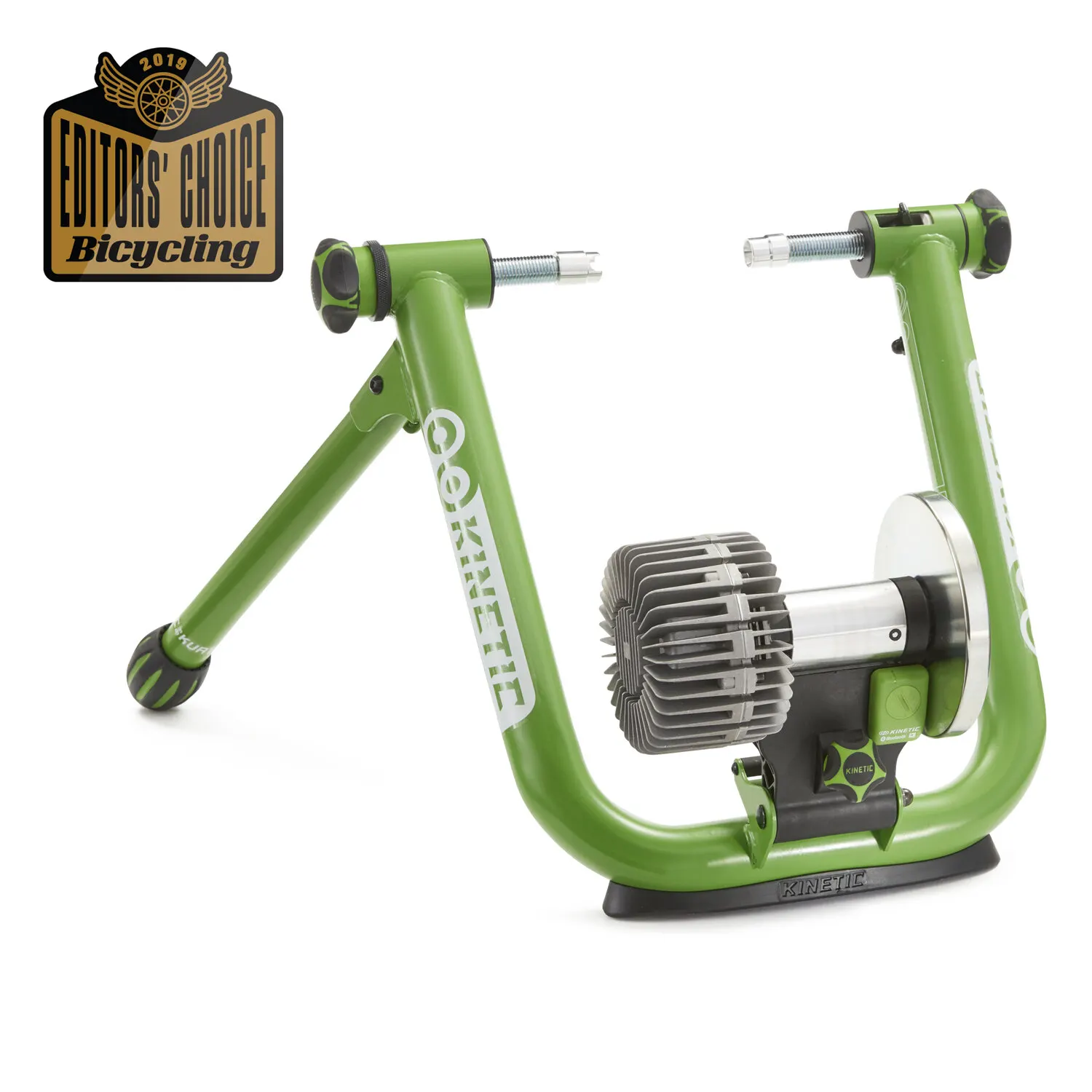 The best value on the block!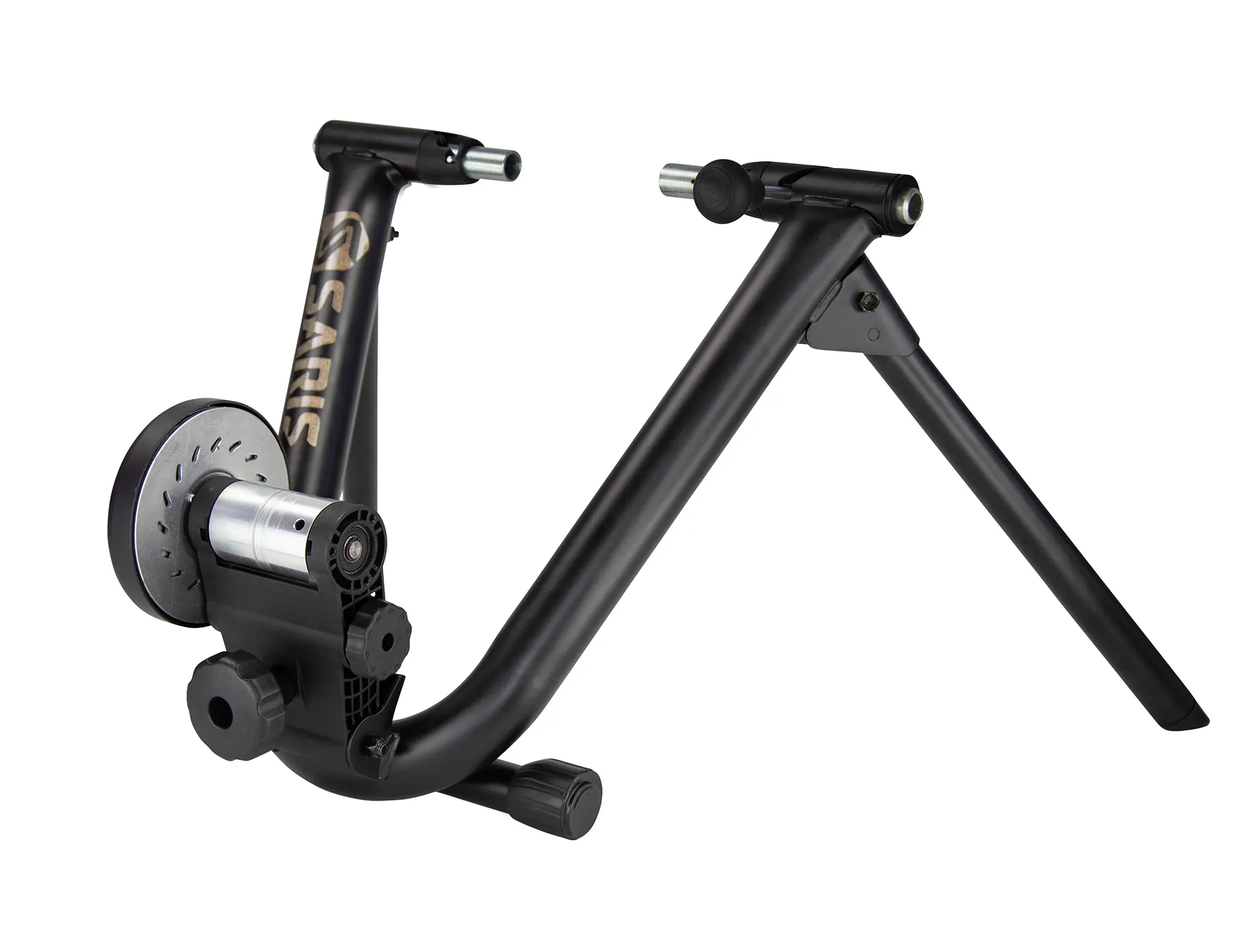 Indoor training, but make it simple and affordable!
Saris Mag Trainer | $219.99
Compatible with 26" wheels and can be ridden on smaller-size wheels without resistance.
Feeling inspired and ready to go for a spin indoors?
Grab that new woom you've had your eyes on!