Gearing up for New Adventures With the woom 4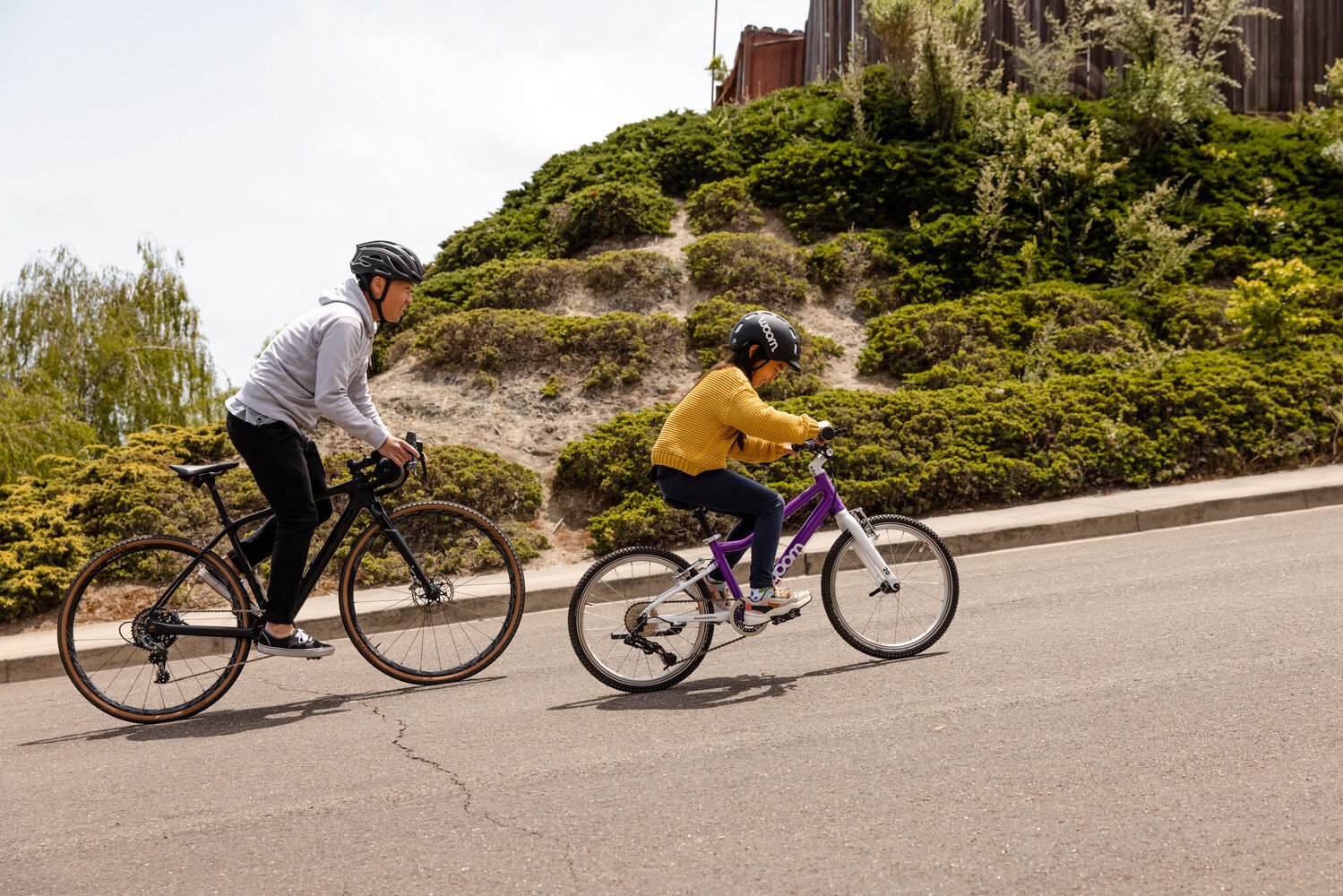 It's time to gear up—your Rider is making the transition to a bike with gears: the woom 4! Some may call a geared bike a "big kid" bike, but geared bikes are really for any kiddo who's mastered the basics of biking and is ready to take on new terrain. Geared bikes didn't always exist, and when they came into play, the cycling world was turned upside down—much like your kiddo's perspective of biking will be when they see all of the adventures that await with a gear shifter in hand!
Fun Fact: The first machine known as a "bicycle" was called a penny farthing and didn't even have a chain, just a huge front wheel, a tiny rear wheel, and a crank!
The woom 4 is the first bike in the woom family featuring gears. For the first time in your young Rider's life, they'll be able to adapt to changing circumstances on the fly—shifting gears to match the shifting terrain. Although practice will make perfect, ultimately, the derailleur and gear shifter will empower your kiddo to go further and feel more in control as they conquer new surroundings.
How to Know if Your Child is Ready for Gears
After a young Rider has mastered balancing and braking on their woom 1 and honed their pedaling skills on their woom 2 and woom 3, it's time to size up to a woom 4—perhaps the most exciting transition of all when going from one woom to the next. Kids approaching 45" in height are the prime candidates for the woom 4. Featuring 20" wheels and weighing in at just 17.9 pounds, the woom 4 is typically ideal for elementary kiddos between the ages of 6 to 8.
If your child is just an inch or two short of 45" and an advanced Rider, you may consider getting them started a bit early! The trademark kink in the woom 4's top tube allows for a low standover height of 19.5", making the bike easily accessible and a cinch to dismount. If your young one is already spinning their woom 3 pedals rapidly when riding on flat terrain, chances are they are ready to move on from their single-speed and graduate to gears!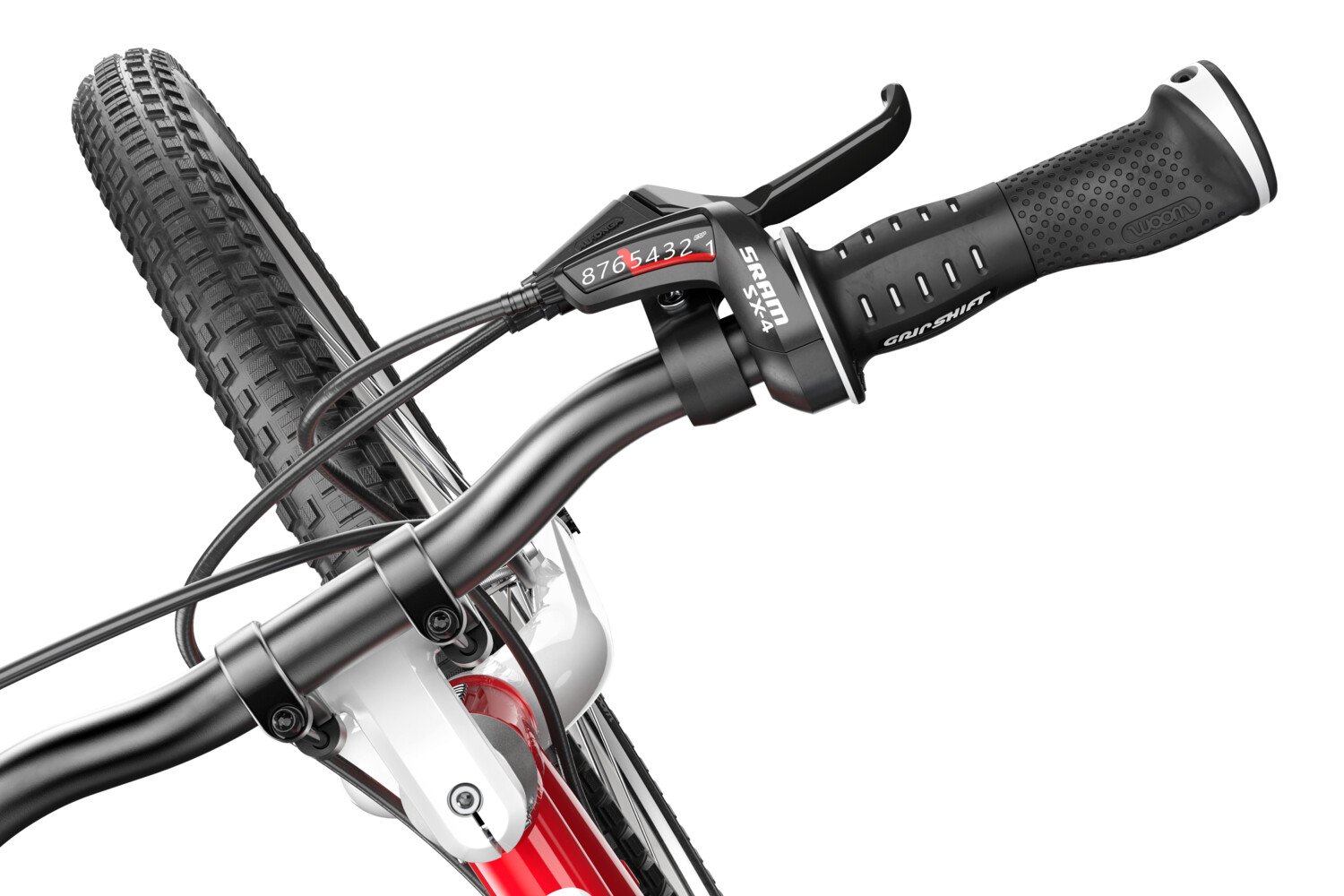 Best Practices - Teaching Shifting
While shifting seems to be second nature to avid adult cyclists, it's important to remember that it could feel foreign at the first go. The woom 4 features an easy-to-use grip shifter (aka twist shifter), so Riders won't be fumbling to locate their shifter as they start to learn. With a grip shifter, the act of changing gears is as simple as can be and can be done without having to glance down.
With eight different "speeds" or gear options to choose from, it'll take some trial and error for your kiddo to dial in their preferences and determine which gears are ideal for their cycling style. Featuring a range of 11-28 teeth in the cassette (and a 28-tooth chainring), the woom 4 is equipped with an array of low gears for hill climbing and higher gears for zooming down hills—say goodbye to your ambitious six-year-old maxing out their single speed!
A few pointers to pass onto your kiddo:
• When you see a hill coming up, downshift before you start climbing. If you wait until you're straining and applying a ton of torque on the pedals, shifting becomes more difficult. Anticipating the need to shift ahead of time only comes with practice.
• Always shift while pedaling, not while coasting. The chain needs to be in motion for the derailleur to correctly do its job.
• Shift one gear at a time. While you can sometimes double-shift, it's not recommended. Once you hear the gear shift and feel the difference, you're ready to shift again if needed.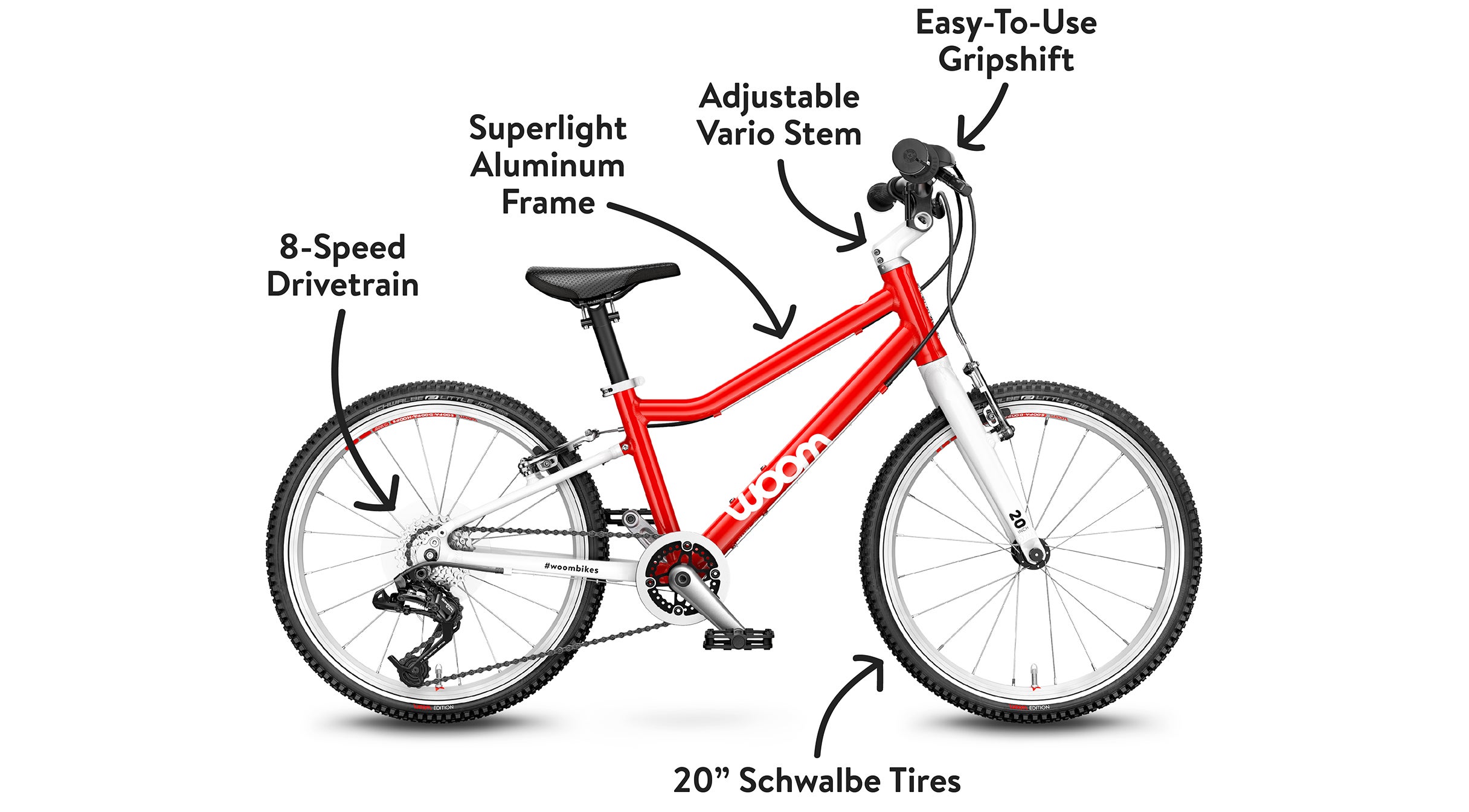 More Than Gears! Other Key woom 4 Features
A narrow-wide chainring is something this bike boasts! When learning how to shift, mis-shifting happens, and that leads to a dropped chain—on most children's bikes that is. The woom 4's narrow-wide chainring features alternating teeth widths on the chainring to match the alternating gaps in the chain links, which results in better chain tension, less chain dropping, and a more confident Rider.
Before long, your kiddo will get the hang of their woom 4 and its shifter. They'll develop an intuition of which gear to use when. While your Rider's cycling skills and intuition grow, it's important that their bike can also grow with them. The woom 4 was not only designed specifically for children—it was designed with growing children in mind. Thanks to the clever Vario stem design, the handlebars can be adjusted to account for growing arms and shifting preferences in riding position.
The brake levers are kid-size and reach-adjustable, so they can be dialed into your Rider's hand size to ensure they're always convenient to operate. The ergonomic saddle and the narrow Q-Factor (distance between the crank arms) are also designed specially for children's body proportions, ensuring their comfort as they begin to ride further distances thanks to their ability to shift gears.
Getting the Most Out of Your woom 4 - Going Further & Farther
As your kiddo levels up from a single-speed to a geared bike, they will shift into a new tier of biking. The woom 4 is sure to take your kiddo both farther (think longer distances), and further (think taking on new challenges). From your Rider's first bike trip to a friend's house, their first time riding solo to the park, or their first ride up the hill to the other side of town—the woom 4 is the bike to take them there. With its ergonomic, kid-specific features, attention to detail, and easy-to-use gearing, the woom 4 provides children their first real taste of freedom on two-wheels and promotes a life-long love of outdoor exploration.
Explore the woom 4