Coaster and Freewheel Hubs: Explained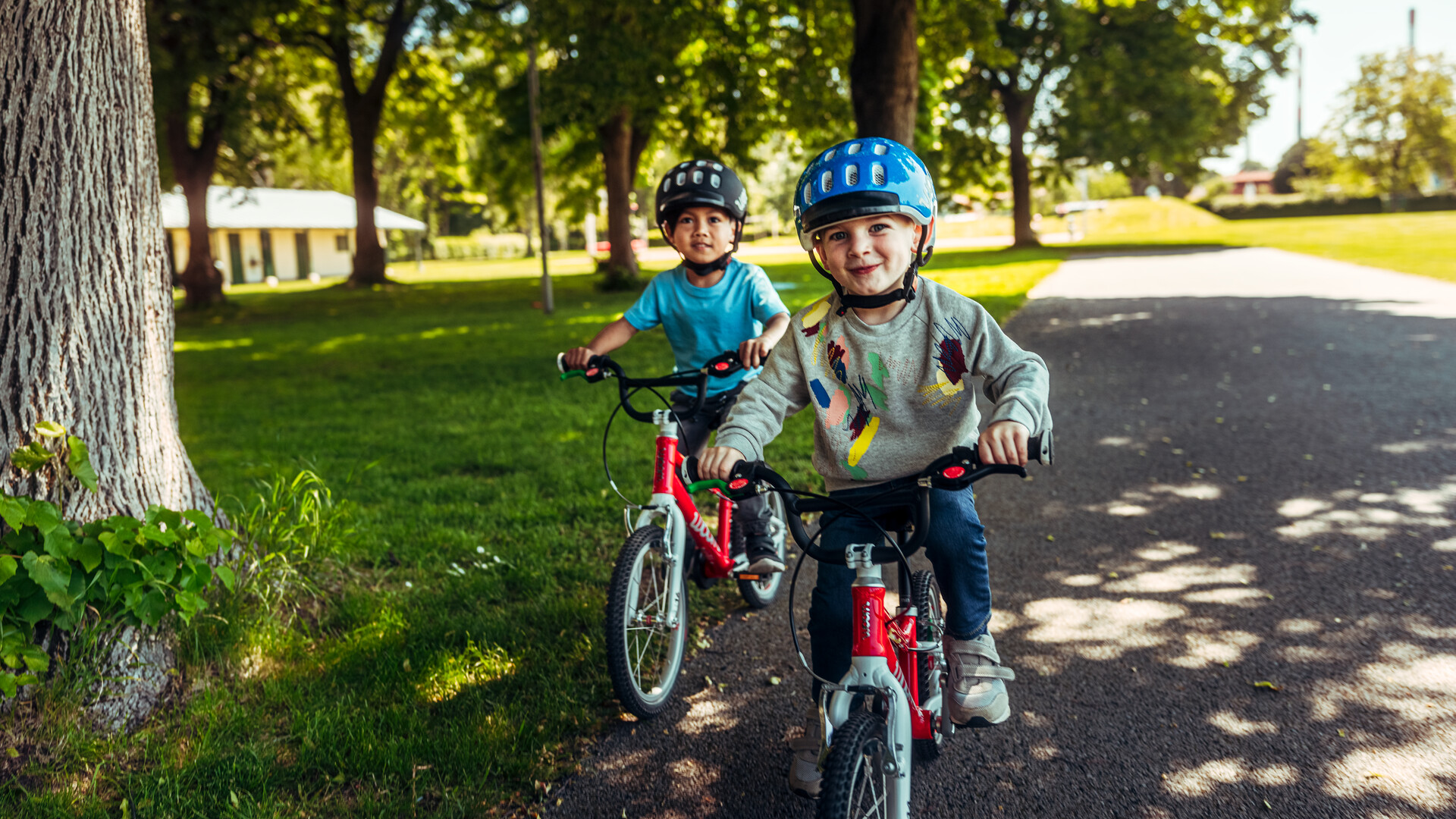 Remember pedaling backward on your childhood bike to brake?
If so, then chances are you learned how to ride using a coaster hub. Widely used in kid's bikes across the US, a coaster hub's main feature is its internal braking mechanism. To use a coaster hub brake, no hands are involved - simply reversing the pedal direction causes the bike to slow down. This is in contrast to a freewheel hub, which allows backpedaling without any braking effect. To provide woomsters and their parents with insights for using both hubs, it is worth digging deeper and shedding light on their differences.
Coaster hubs have been in existence for over 100 years, and their enduring usage is a testament to their simplicity and reliability. Before coaster hubs became widely available, single-speed fixed gear bikes were the predominant bike model - which required the rider's legs to stay moving at all times if the bike was in motion. To brake on a fixed gear bike, one has to resist the forward pedal rotation to slow down eventually. With a coaster brake, the rider can decide to stop pedaling forward and simply "coast" or pedal backward to brake if needed.

Because the coaster brake is housed inside the rear hub, it's unlikely to squeak or require cleaning and works just as effectively in rainy conditions. While they do provide less stopping power than hand lever brakes, one benefit of the coaster brake is its ability to bring the bike to a stop without unwanted whiplash.
Historically, conventional wisdom in the US has been that hand lever brakes are too tricky for young kids - and could result in crashes due to accidental over-braking. The accompanying logic is that coaster brakes are intuitive and more straightforward for kids to grasp initially. Kids tend to understand coaster brakes rather quickly since simply doing the opposite of the typical forward crank motion will result in them stopping.
This line of reasoning has been so prevalent that the US Consumer Product Safety Commission legally requires all US bike companies to manufacture new "sidewalk" bikes with a coaster brake. A "sidewalk" bike is deemed as a bicycle with a maximum seat height of 25" or less. Since our woom 1 has no pedals, and the woom 3 is big enough to be excluded from this legal provision, the woom 2 (with a 19.1" seat height) is the only bike in our line-up affected by this law.
The recommended setting for using a bicycle equipped with a coaster hub would be paved, flat surfaces. Before setting them loose, be sure to have your kiddo practice braking at low speeds to gauge the required stopping distance. Slight backpedaling is needed before the coaster brake will engage and bring the bike to a stop. This means your child will still be able to comfortably coast without accidentally braking and must intentionally engage the coaster brake.
While coaster hubs are legally required on our woom 2 (14" wheel size), the most popular hub found in larger kids' bikes is the freewheel hub. Freewheels became popularized after coaster hubs and earned the name because they freely allowed internal motion in one direction (backpedaling) and prevented internal motion in the other direction (forcing the bike to move forward). Not only can you "coast" on a freewheel, but you can even pedal backward if you're so inclined! Speaking of inclines, freewheels can also be helpful when climbing on a bike, as a certain amount of backpedaling (i.e. when standing up to pedal) can be part of the process. Freewheels can also provide a bit more control when biking off-road, compared to a coaster hub. Often, kids biking on rugged trails may need to backpedal to maneuver through tight areas or other obstacles underfoot. When using a freewheel in this terrain, your kiddo will have the ability to coast and backpedal without skipping a beat.

Since freewheel hubs don't have an internal brake, any bicycle with a freewheel will instead come with hand lever brakes. While many brands sell kids' bikes with coaster hub brakes and don't feature any other hand-operated brakes, rest assured, all woom 2s also come stocked with two hand-operated lever brakes for maximum safety.
Even though coaster hubs are the standard and mandated for the smallest kids' pedal bikes, replacing the coaster hub with a freewheel is allowed as an aftermarket upgrade. Although it isn't actually free, woom provides freewheel conversion kits for our woom 2s at cost to convert your purchased bike from a coaster hub to a freewheel hub without any price markup.
When your child is riding with a freewheel, mostly any terrain or hill gradient could be conquered. However, being that they will be reliant upon their hand brakes when they need to stop or reduce speed, there are a few key pointers to remind your young Rider. When using hand brakes, it's important not to squeeze them too quickly, and especially important to use both brakes. Using only the front brake can result in the bike flipping in extreme cases, and using just the rear brake can sometimes not provide enough stopping power in wet conditions. In order to help educate young woomsters and empower them to use hand brakes effectively, our woom 1-3 include color-coordinated brake pads and brake levers.
Both coaster hubs and freewheel hubs are fixtures of the cycling world, and both have their benefits. While freewheel hubs are perhaps more ideal for covering a wide range of terrain and hills, coaster hubs are suitable for early riders, relaxed cruises, and conveniently require minimal maintenance. Coaster brakes need a bit more stopping time (and distance) than hand brakes, but they are less likely to result in accidental crashes due to improper brake application because of their gentler nature.
builds the lightest and most refined bikes for children of all ages.
Every detail is purposefully crafted to design the best, most enjoyable and safest bike experience for your child.