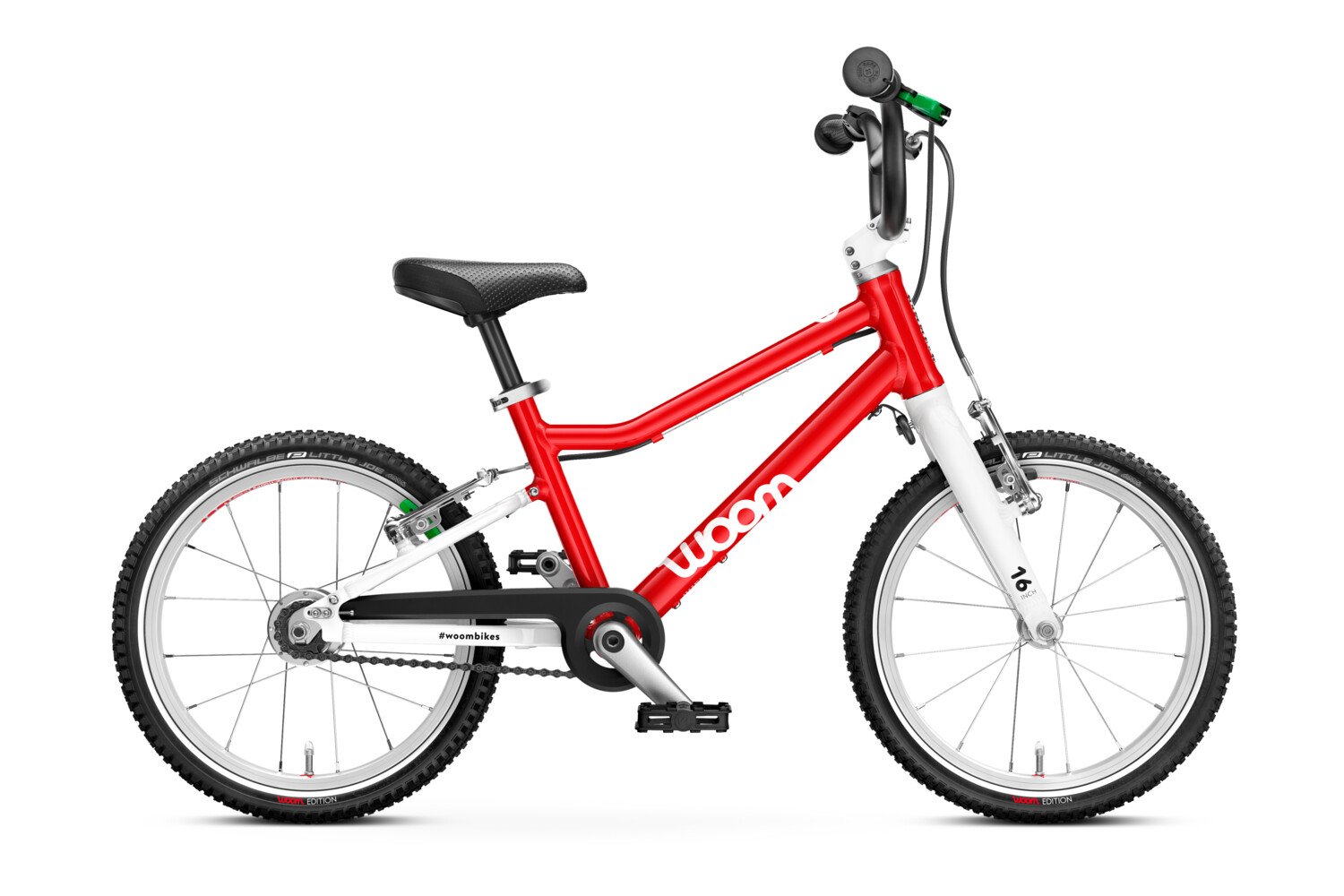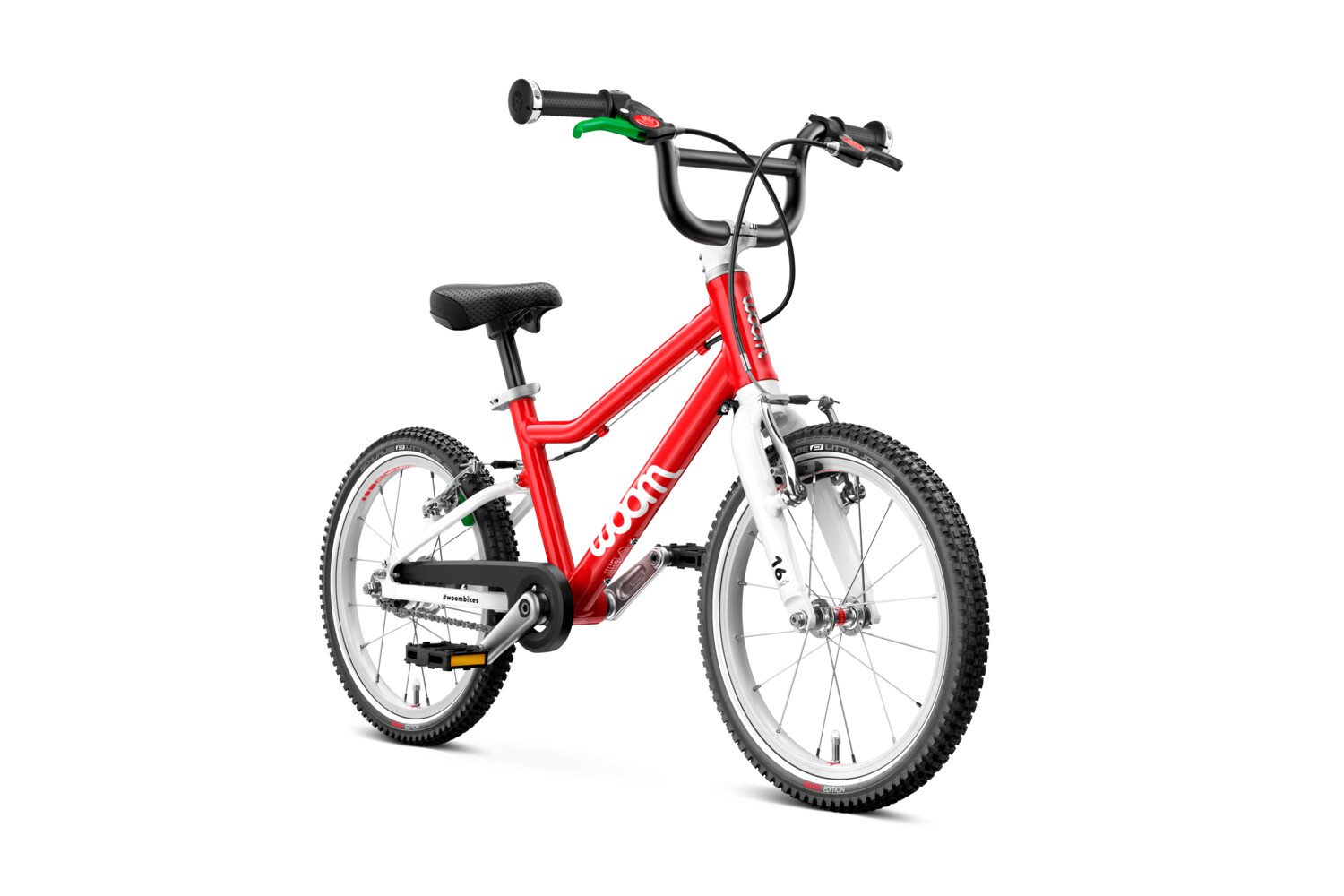 ORIGINAL
AUTOMAGIC
The superlight, innovative, do-it-all 16" children's bike with automatic two-speed hub gearing and wide gear range for kids aged 4 and up.
Weight:
6.1 kg (13.4 lbs)
Top features:
Automatic two-speed hub gearing, optimised gear ratio, green rear brake, Ergogrips, steering limiter
---
Height:
105 - 120 cm (3.4 - 3.9″)
---
Shift as if by magic
Bike-loving children aged between four and six will adore the woom ORIGINAL 3 AUTOMAGIC. As a speed-sensitive two-gear bike, the first gear allows them to ride easier uphill, while the second gear lets them go faster and pedal more comfortably on the flat without spinning out. And the best part of all? It changes up and down automatically – the gear selected is based on the rider's speed, without requiring any manual shifting. It's magic. AUTOMAGIC!
Please note: This product does not include a bike bell, front light, rear light or wide-angle Z reflectors. If your child plans on cycling on public roads and streets, their bike may need to meet certain standard requirements before it can be considered legal in your country of residence. In many countries, bikes must be equipped with a bike bell, front and rear lights, as well as reflectors. We strongly suggest checking the legal obligations and guidance for cyclists in your country to make sure that your child's woom bike complies with the relevant road traffic regulations.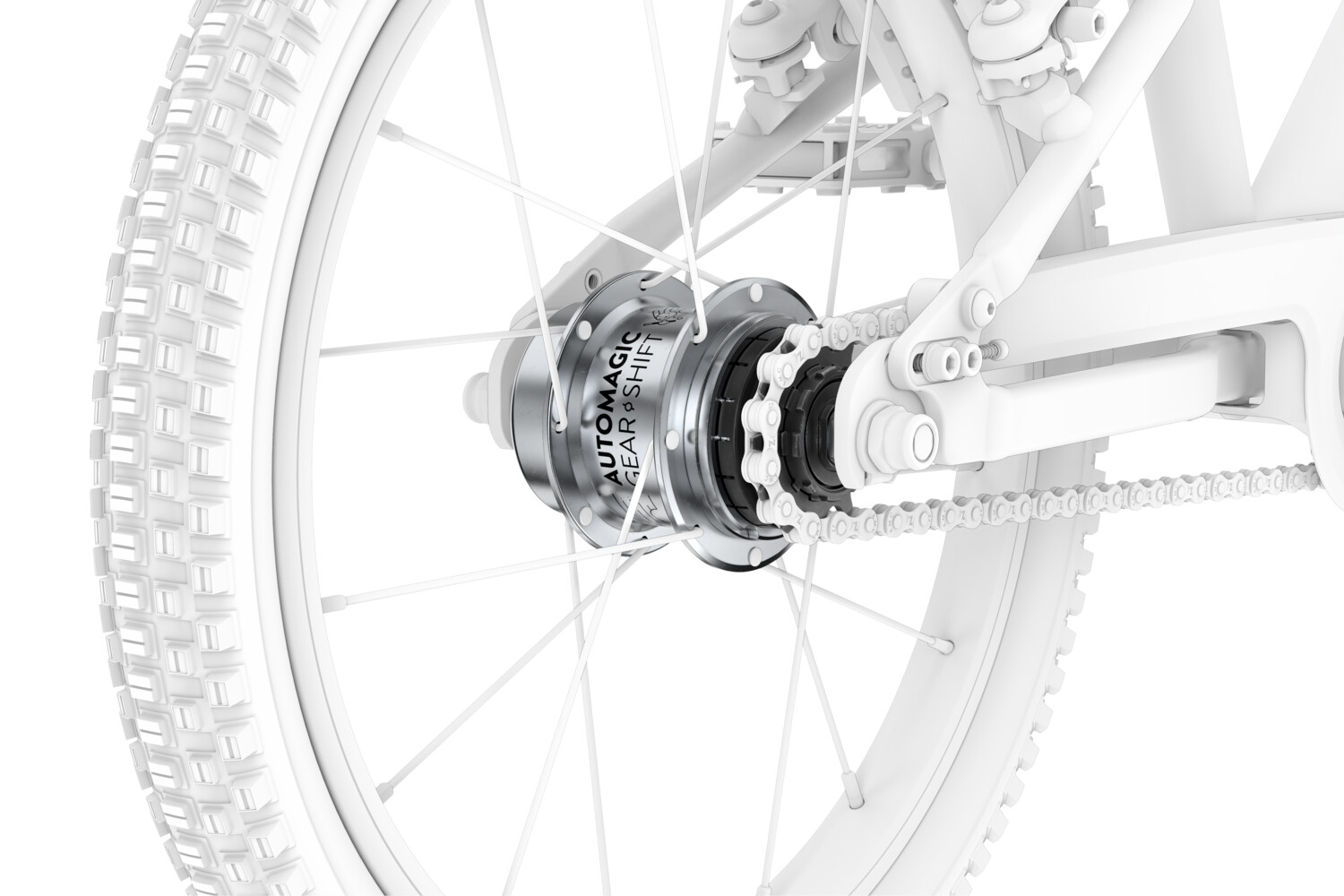 Automatic two-speed hub gearing
When the rider reaches a speed of around 11 km/h, the hub gearing shifts automatically into the higher gear. This means your child gets the benefit of gears without having to negotiate the complexities of shifting – and you don't have to worry about extra servicing. The gearing is tucked away inside the hub, making it among the most low-maintenance and hard-wearing out there. Win-win!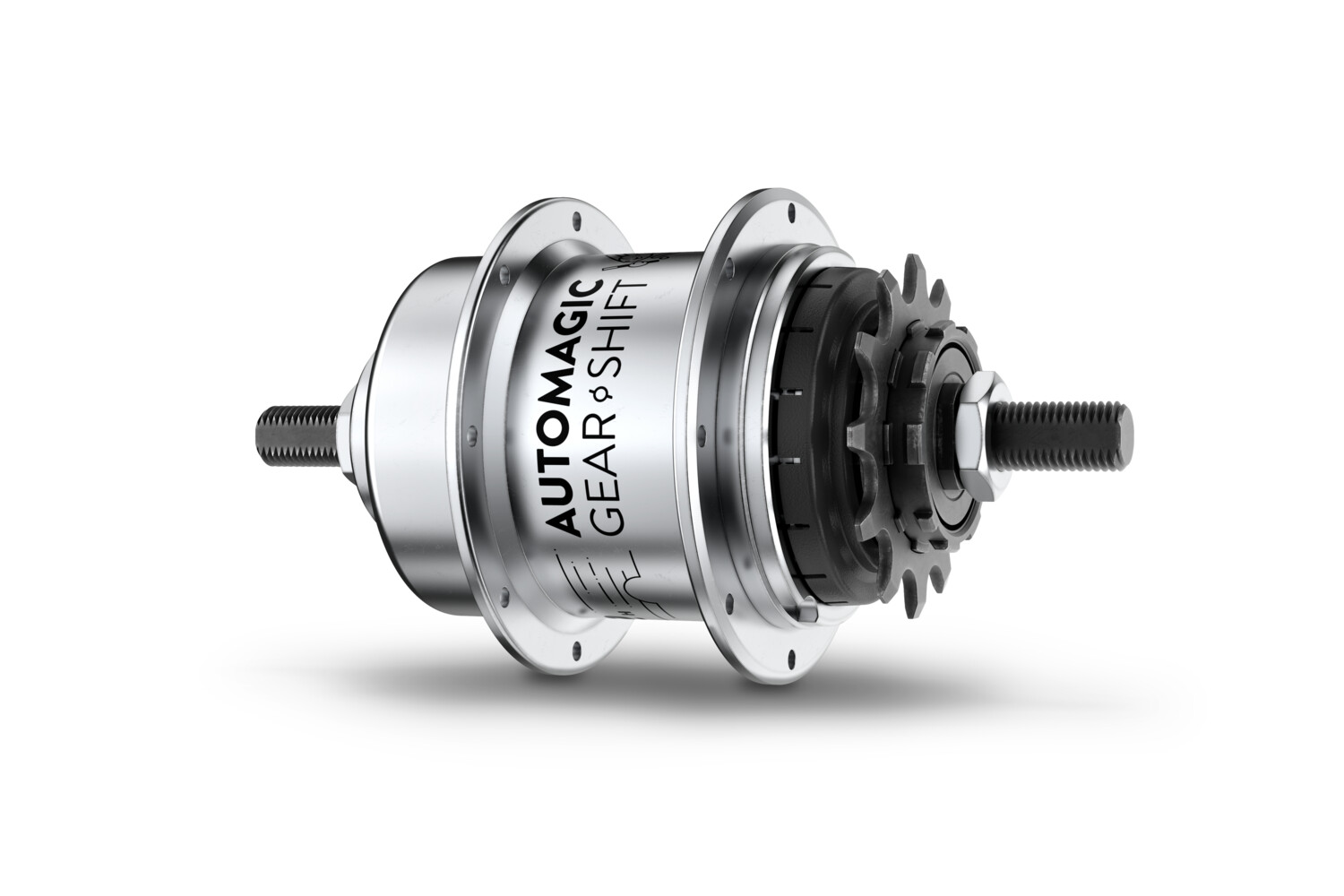 Optimised gear ratio
Put simply, gearing refers to how hard your child has to pedal. As this is a two-speed bike, we've been able to set the spread of the gear ratios on the woom ORIGINAL 3 AUTOMAGIC so that the resistance in the first gear is perfect for climbing. With pulling away and riding up hills made easier, it's time for your child to experience even more fun on their bike!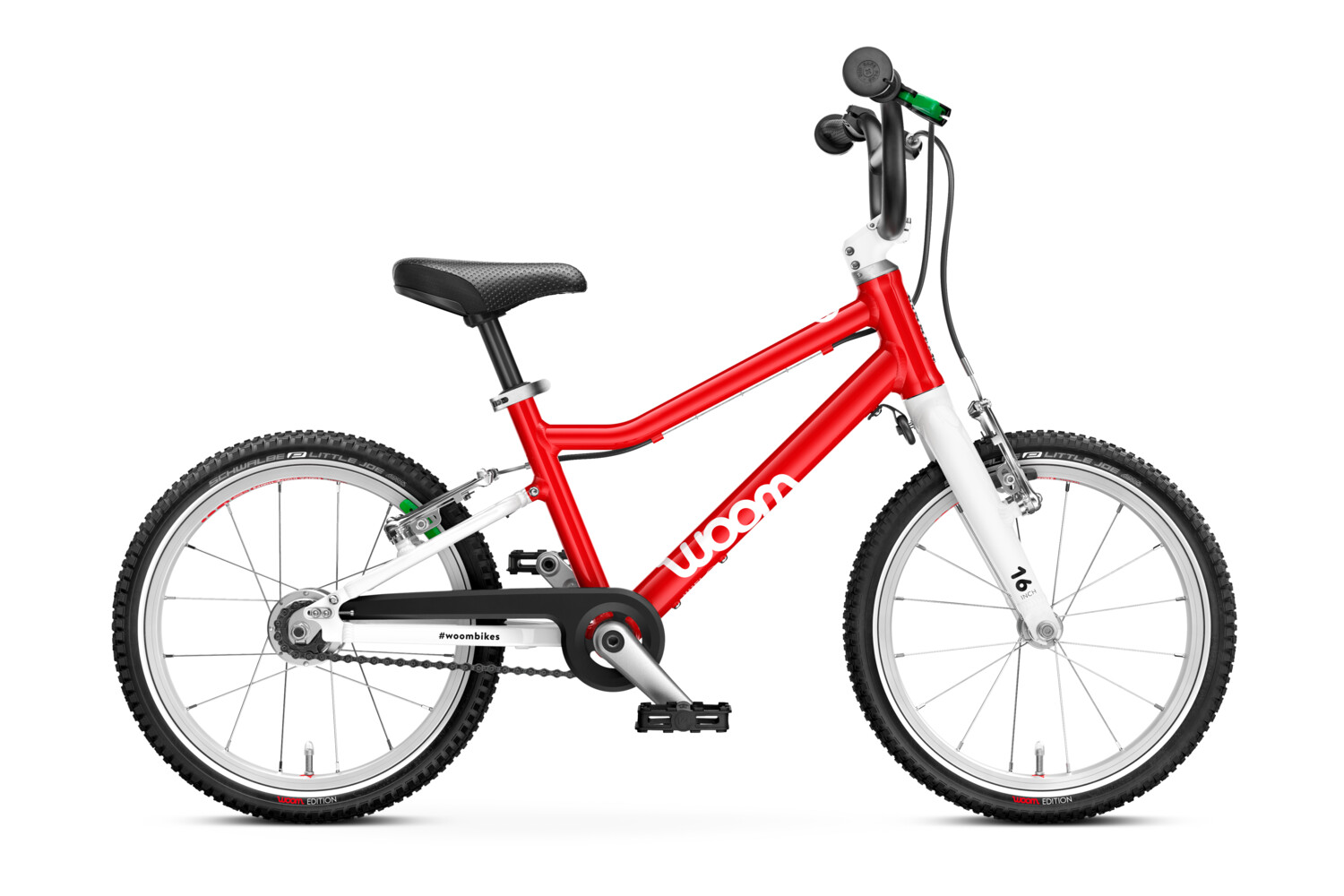 Innovative frame design
The superlight aluminium frame is the heart of the bike, ensuring a fun and safe riding experience. Thanks to its cleverly designed age-specific geometry, the motto of this bike is: superlight = superfun!
Child-specific hand-operated brakes
Your child will immediately be able to spot the all-important rear brake – it's bright green! This colour coding system reduces the risk of mishaps by making things clear for your child. The specially designed brake lever is easy for small hands to operate and requires nominal strength to bring the bike to a safe stop. You can also adjust the reach for your child. Teamed with its ergonomic grips, braking becomes as easy as ABC.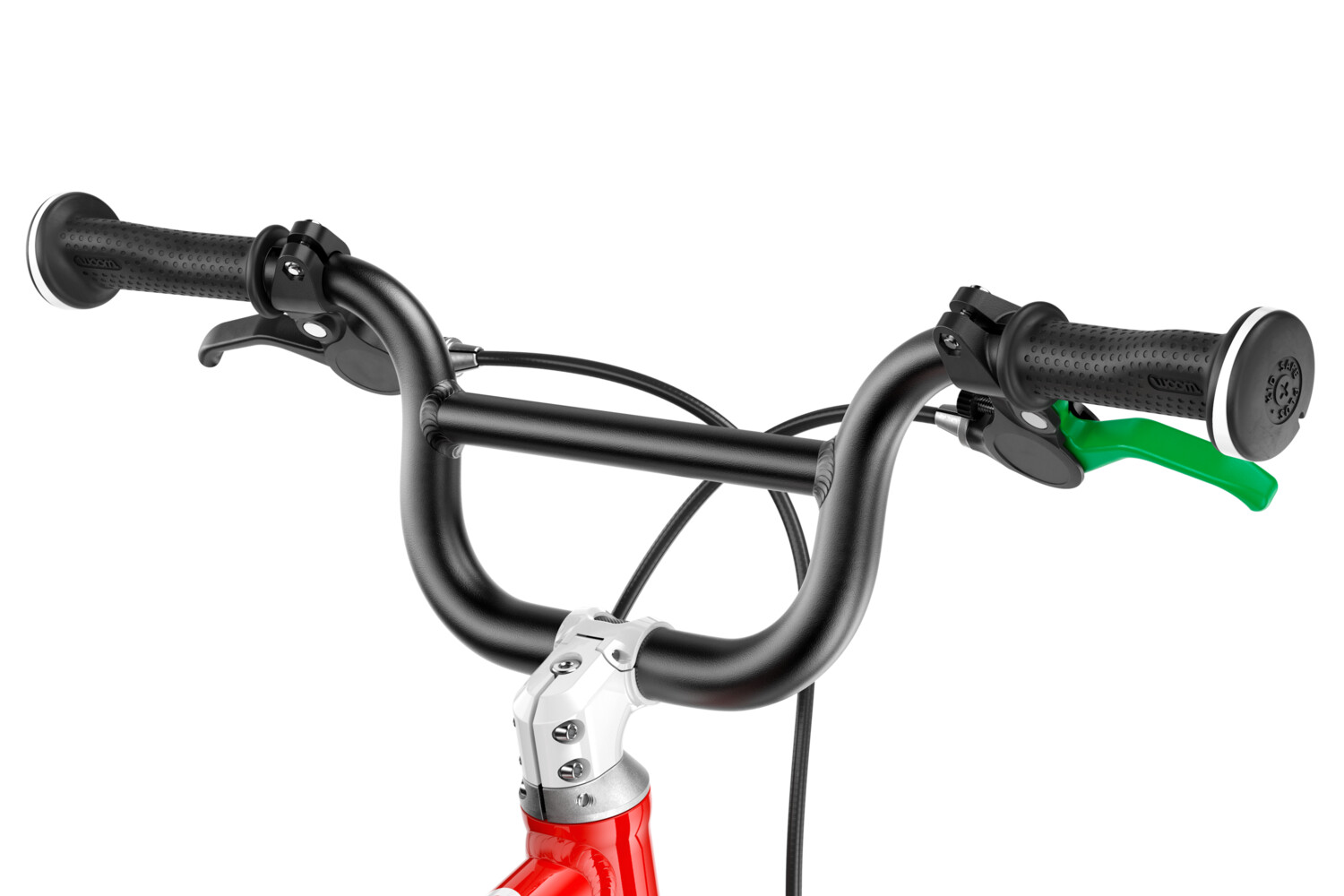 Knee-friendly stem
Our stem ensures a safe and lightweight connection between the handlebars and the headset. The sleek, rounded design, integrated handlebar clamp and recessed clamp bolts make it truly knee-friendly.
Flexible steering limiter
Our specially developed steering limiter is a vital safety feature. It prevents the handlebars from overturning and helps children keep a straighter line, which reduces the risk of accidents.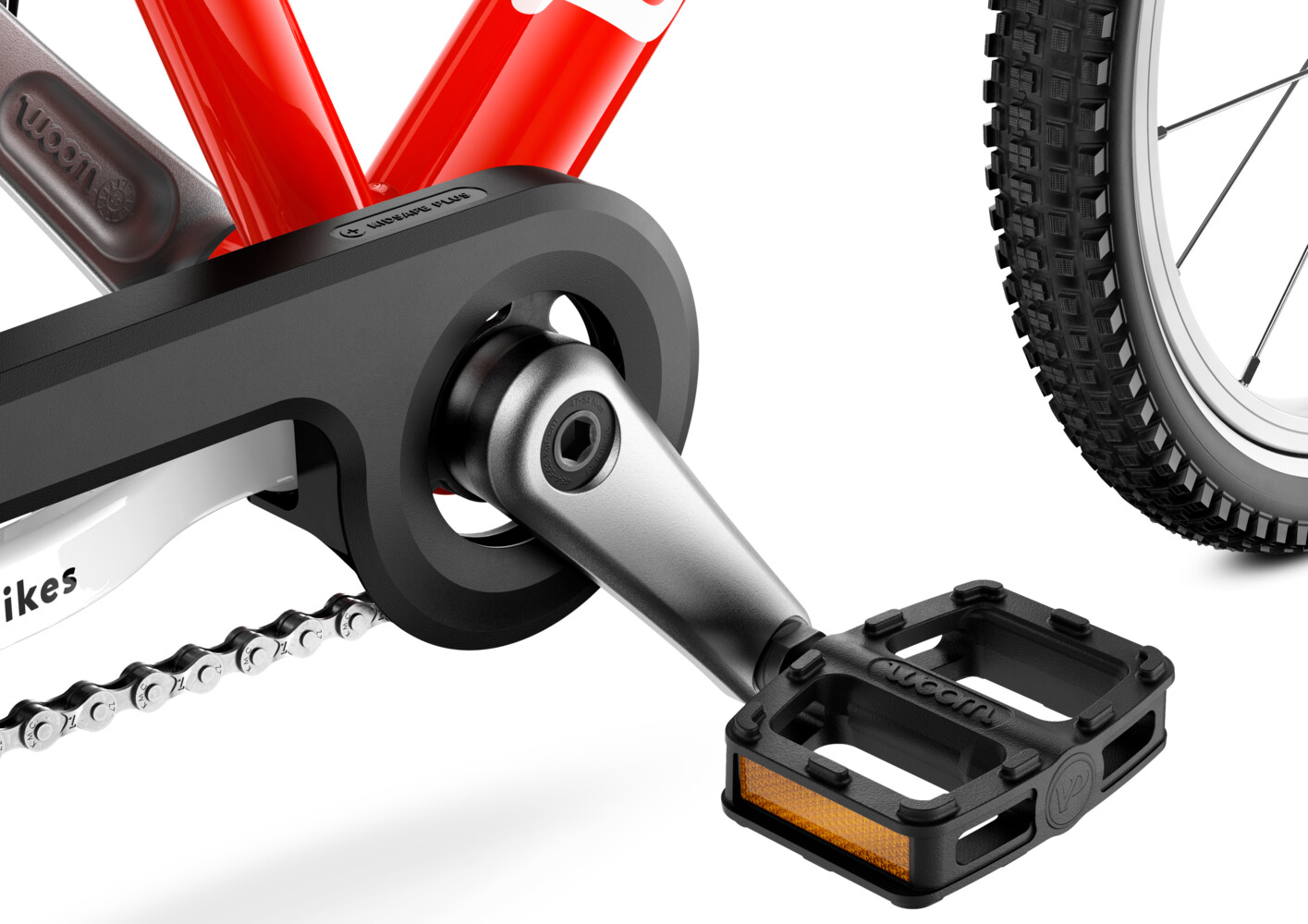 Child-friendly cranks with a narrow Q factor
The crank length and distance between the pedals have been ergonomically adapted to fit children's bodies. This results in an optimum stance and natural movements. Pedalling? A piece of cake!
Maintenance-friendly chainguard
The one-piece chainguard teams a sophisticated and stylish design with a compact and hard-wearing construction. The design keeps your child free from chain oil and chain-related injuries, plus gives you easy access to service the chain thanks to its upper-only form.
Ergonomically formed saddle
The saddle is one of the most important points of contact between the child and the bike. It's vital when it comes to enjoying the ride. That's why our saddles are specifically designed to suit the narrower width of children's pelvises and help create an upright riding position on the woom ORIGINAL 1 to 3 bikes. The result: unbeatable comfort.
Please note that as we work with various suppliers, the actual saddle on your woom bike may vary slightly from the images shown.
Practical quick-release seatpost clamp
The quick-release seatpost clamp offers a simple, quick and tool-free way to adjust the saddle height. It's even easy enough to be operated by children. On your pedals, get set, go!
Grippy, easy-rolling tyres
Tyres have a major influence on how a bike handles, which is why we've chosen tyres that are suitable for a wide range of terrain. Whether your child is riding on tarmac, gravel or dirt, our lightweight tyres will ensure maximum grip in all weather conditions and around every corner.
Smartly engineered wheels
A bike needs really good wheels to get rolling. So that's exactly what we've given our bikes. What makes a woom wheel so unique is the sum of its parts: from its smooth-rolling hub to its high-quality stainless steel spokes and our exclusive rims, which we call the SOOPA DOOPA HOOPS.