Buying a bike: the must-knows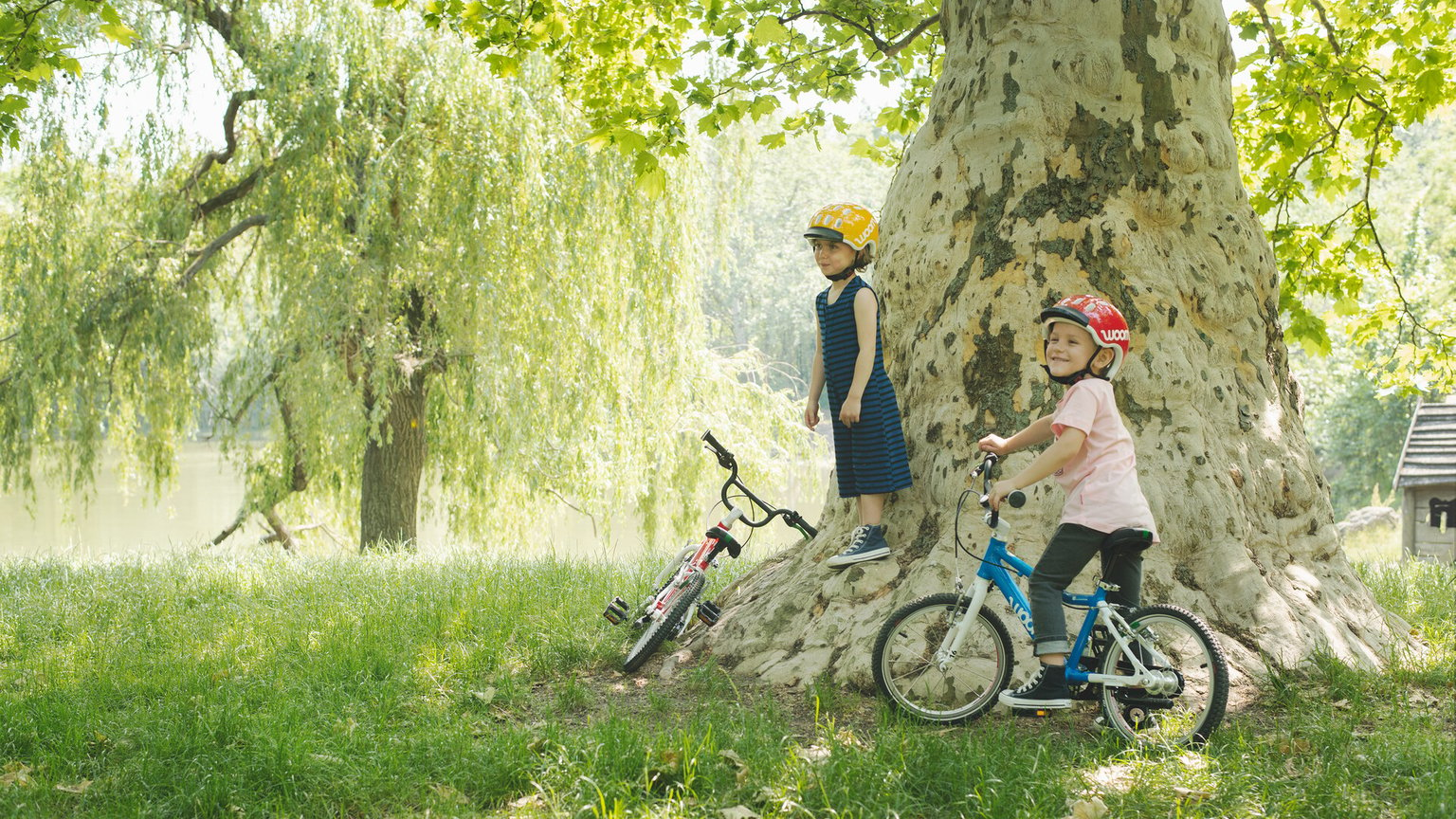 Everything you should consider when buying a children's bike and what makes woom bikes so special
Are you looking to buy your child a balance bike or pedal bike but don't quite know where to start? You've come to the right place! We've put together a handy guide that outlines exactly what you should be looking out for when buying a bike – especially if you're planning to treat your child to their very first bike.
The most important thing to know about learning to ride a bike: You should rely on your child to let you know when they're ready to get on a bike for the first time. They need to be showing an interest and be motivated to start the process. On top of that, they need to be big enough to fit a bike: If they can comfortably touch the ground with their feet and the handlebars with their hands, they're good to go!
The golden rule is that cycling should be fun at all times! So what sort of bike do you need to ensure that cycling is an enjoyable activity?
1. Weight
Most importantly of all, a child's bike needs to be lightweight if a little person is to be able to handle it properly. Your child must be able to push and lift their bike, and setting off on it and taking it for a spin should be no problem for them at all. You don't want there to be any risk of them getting frustrated and giving up before they've really had a chance to get started. A lightweight bike will also help your child learn how to keep their balance and stop in a controlled way.
Many standard bikes are so heavy because they are built with a hefty steel frame and superfluous components that they equate to around 60% or even 70% of a child's total body weight. That's the equivalent of an 80 kg adult having to learn the basics on a bike that weighs 50 kg.
For cycling to be carefree and fun, the weight of the bike should be no more than 35% to 40% of a child's body weight.
When it comes to developing bikes here at woom, we work extremely hard to keep the weight to a minimum. Right from the start, we have achieved this goal by using superlight frames and lightweight aluminum rims and avoiding unnecessary components that weren't designed with kids in mind. This means that our bikes are lovely and light, weighing in at as much as 40% less than standard children's bikes.
2. Size
When choosing the right frame size, your child's size and cycling ability are the defining elements. Age doesn't come into the equation. Whatever you do, do not buy a bike that is too big for your child in the hope that they will get more use out of it. Your child's bike needs to be just the right size for them. If not, they will be left struggling unnecessarily and all the fun will be swiftly sucked out of cycling.
How do I work out the right size? With the saddle at the minimum height, your child should be able to reach the ground with both feet without having to make any major posture adjustments. You can find out all you need to know about working out the right bike size here.
You should also make sure that the main components of the bike can be adjusted, so you can alter the position in line with your child's body. This way, the bike can also grow with your child. Take our woom bikes, for example; these come with the option of adjusting the saddle height, handlebar position and the reach of the brake levers to suit your child.
Talking of the right size bike for growing kids, have you heard about our upCYCLING scheme? By signing up, you can be sure that your child will always be riding an optimally sized bike without having to worry about spending more overall or settling for a compromise. Find out more here.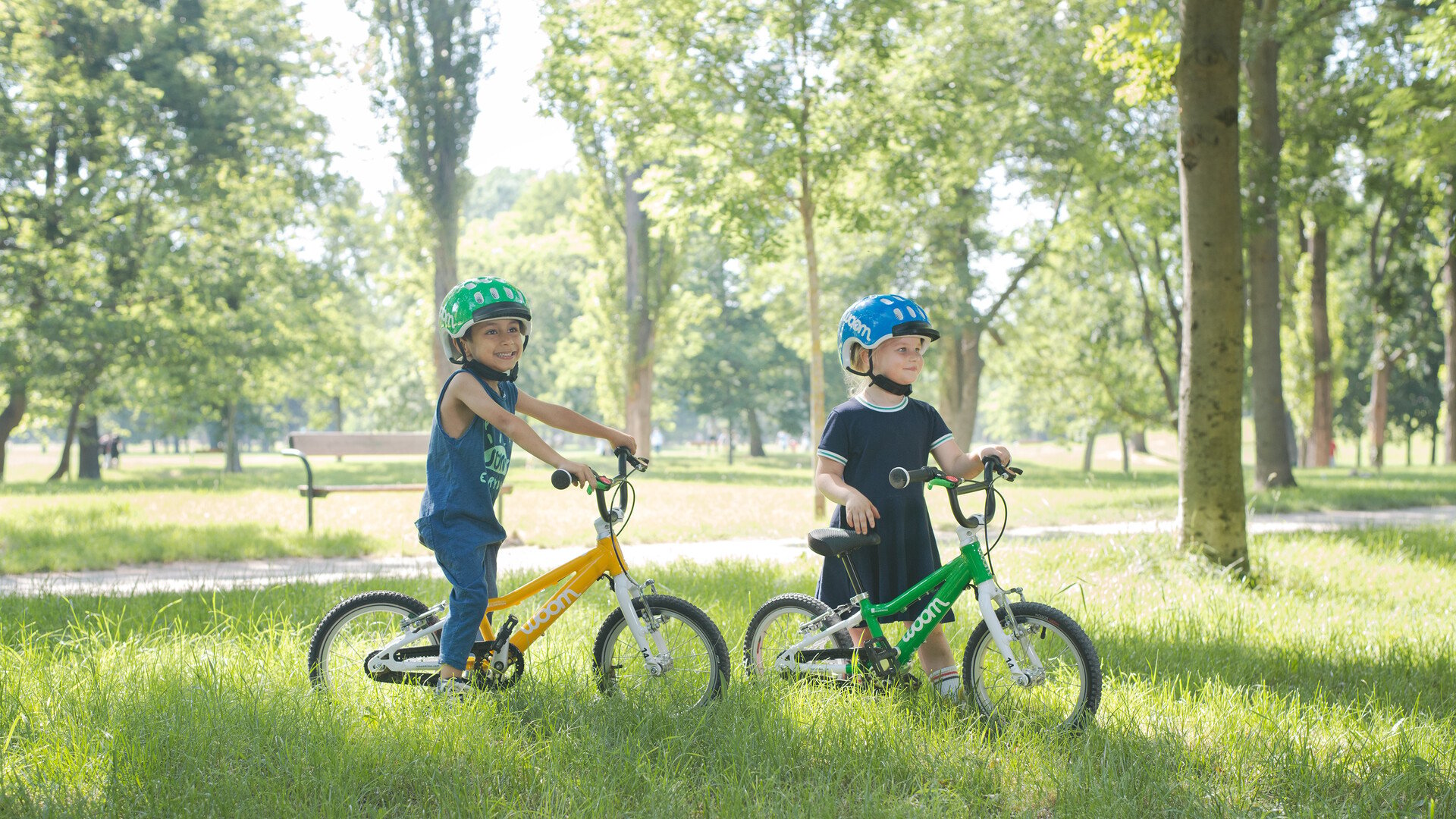 3. Ergonomics
Another important factor is child-friendly ergonomics. After all, children aren't just little adults – they have shorter fingers and legs, narrower shoulders and a completely different pelvis shape. That's why it's so important for bikes and their components to be tailored to fit children's bodies and requirements. Make sure you look out for slim grips that are perfect for little hands and a brake lever that can be easily reached by kids' fingers and operated with minimal effort.
What makes the ergonomics of our woom bikes so child-friendly?
First off, it comes down to the frame design, which has a huge impact on the riding experience. If you want to be sure that your child feels comfortable on their bike and will enjoy cycling, you need to opt for a bike that provides your child with stability and a smooth ride. Our bikes have a low sitting position (= low center of gravity) to guarantee stability and a flat steering angle (angle of the head tube in relation to the road surface) combined with a long wheelbase (distance between the front and rear wheel axles) to ensure the expected smooth ride.
Thanks to the low sitting position, children can always maintain an upright position, giving them a good view of everything they need to keep an eye on whilst cycling. Meanwhile, the low centre of gravity makes it easier for them to keep their balance.
Our bikes also have a low entry position that makes it easy for kids to get on and off the bikes. They can also get their feet back on the ground in no time if they find themselves in a tricky situation.
Beyond the design of the frame, we've considered kids' ergonomic requirements in all other components. The narrow hub on the rear wheel on our balance bikes (woom 1 and woom 1 PLUS), for instance, offers plenty of legroom for easy walking and running. Further examples include our saddle, which has been designed to fit a child's pelvis, and our specially developed cranks, with the crank arms shorter to match a child's leg length and the distance between the pedals smaller to allow for children's narrower hips. This protects the knee joints since the knees won't have to bend as much when pedaling. Shorter crank arms also reduce the risk of the tips of the toes colliding with the front wheel, or the pedals hitting the ground when going round corners. The shorter distance between the pedals ensures optimum power transfer and intuitive pedaling.
4. Brakes
Wondering whether a coaster brake is necessary? It's a very good question! After all, most of us probably learnt to ride a bike with a coaster brake and wobbly stabilisers. Although it is a good question, our answer couldn't be a more definite no. And that is because we believe that the concept of the coaster brake is outdated. It is really difficult to brake evenly by back-pedaling and the rider's feet have to be on the pedals with the pedals at the right angle for braking to be at all possible in the first place. This means that your child might not be able to brake in time, hard enough or at all in an emergency situation. Plus, not having the option to freewheel when setting off can cause problems. Say the pedals weren't in the correct position – your child would have to get off their bike and line the pedals up properly before they could get going. Stabilisers aren't in keeping with the times either since they are counterintuitive when it comes to developing a good sense of balance. The best way for your child to learn how to balance is indeed on a balance bike. Not to mention that coaster brakes and stabilisers are an added weight, making bikes heavier than they need to be.
Child-friendly hand-operated brakes that can be worked easily by little hands and with little effort are the ideal solution. For the best results, you should encourage your child to get used to hand-operated brakes while on a balance bike. This will save them having to learn even more skills when they are ready to switch to a pedal bike, leaving them free to concentrate on mastering the pedals.
With all of this in mind, even our smallest balance bike (woom 1) comes with a V-brake that is easy to operate with a child-friendly brake lever. We also realize that it can be difficult for younger children to distinguish between left and right, which is why the brake lever for the rear brake on our smaller bikes (woom 1 PLUS, woom 2 and woom 3) comes in an eye-catching shade of green to stop children from mixing up their brakes and in turn prevent crashes.
5. Workmanship
A child's bike not only has to withstand a lot of use, but also be sufficiently durable to be passed onto younger siblings. With that in mind, you need to keep your eyes peeled for outstanding workmanship and premium components when you're buying a bike.
For those with limited knowledge of bikes, it may well be difficult to judge the bike's production quality. Consider your overall impression of the bike. After all, a high-quality child's bike consists of many well-considered details that have been brought together in harmony. Is the bike heavy and cumbersome? Does it look like it's just been thrown together? Does it make clunking or rattling noises when your child takes it for a test ride? Is it fitted with a lot of plastic parts? Do the components, like the lights and rear rack, look far from sturdy or as though they've been fitted sloppily? If you answer yes to any of these questions, walk away.
Another thing you can check, for example, is that the handlebar grips are securely fastened. You should not be able to turn or remove them – this is crucial for your child's safety. You should also take a closer look at the saddle. It should be made of a robust and hard-wearing material without being excessively hard.
How do we guarantee high quality and durability with our woom bikes?
We apply multiple coats of paint to protect the premium aluminum frames of our bikes against damage and wear and tear. We also use sealed industrial bearings all over to stop dust and water in their tracks. The wheels are equipped with stainless steel spokes, whilst the welded seams on our frames (where the tubes are joined together) are implemented with care and precision, leaving them beautifully even and smooth. Our woom Ergogrips are all screwed securely to the handlebars. Our saddle is made from quality materials and reinforced with Kevlar. Plus, its edges are protected so that there's no chance of scratches or tears occurring when your child leans their bike up against a wall. In short, the premium quality of our bikes is apparent in every detail.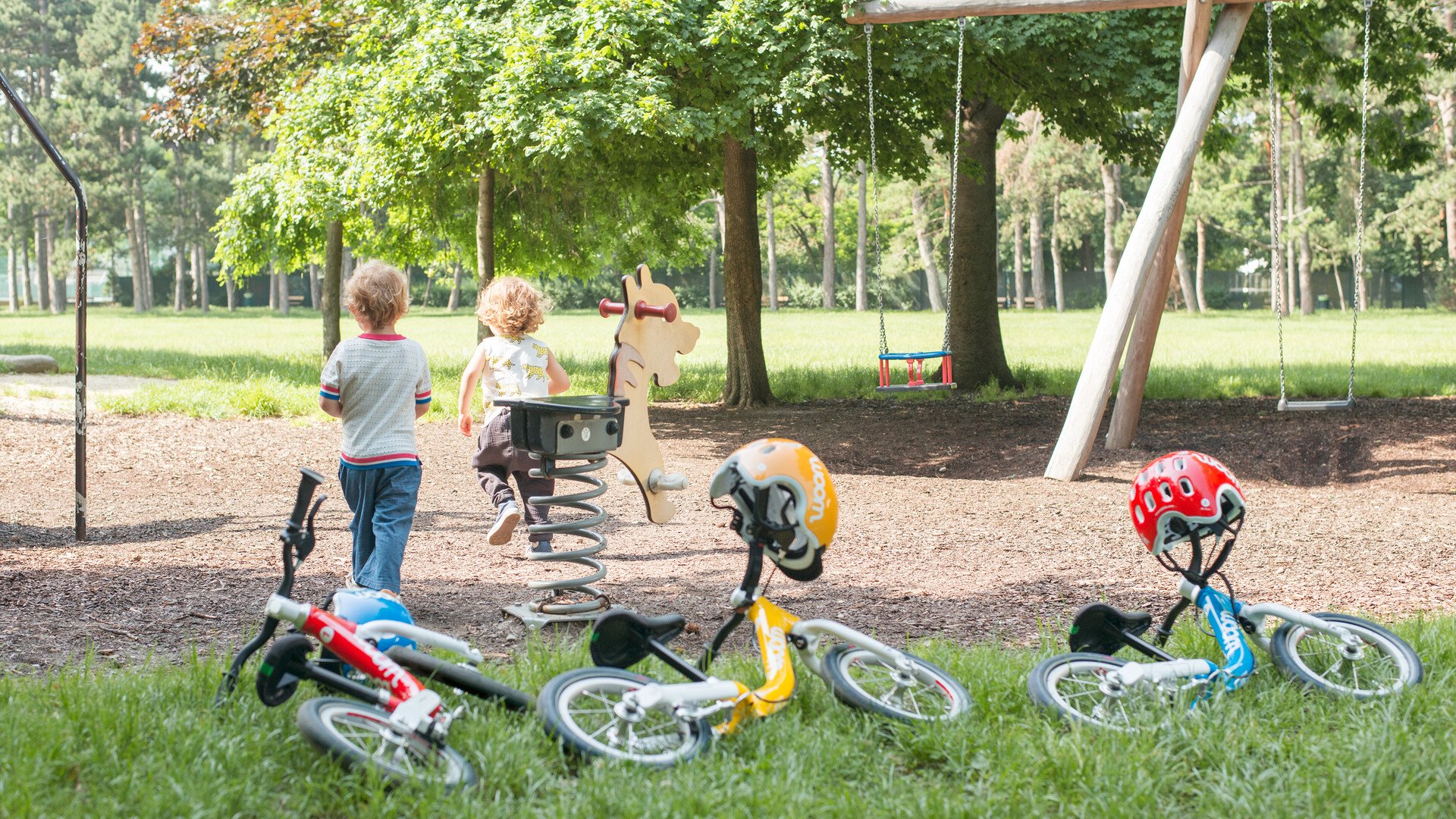 6. Safety
When it comes to learning to ride a bike, safety comes first. Alongside getting to grips with new movements like setting off and pedaling, children often have trouble finding their balance and struggle with fear and a lack of confidence. That's why all good children's bikes come with as many safety features as possible to counteract the challenges associated with developing these new motor skills and to make cycling (and learning how to cycle) as safe as possible.
Many children's bikes still come with handlebar padding with the implication that this feature provides added protection. However, such padding is more of a fashion statement than a genuine safety feature. It's far more important that you check that there are no bolts sticking out in prominent positions, such as on the stem or cranks, as this is a common cause of injury amongst children.
Which woom bike components make cycling so safe for children?
Our specially developed steering limiter is a feature found on all of our bikes – from the smallest balance bike (woom 1) to the 16-inch bike (woom 3) – to help children ride in a straight line and prevent crashes caused by overturning the handlebars. These same models also feature rubber bumpers on the ends of the grips. Our smallest pedal bikes (woom 2 and woom 3) have a closed chain guard to stop fingers and trouser legs getting caught. Our wide, grippy tires give your child maximum grip at all times – whether they are riding on tarmac, gravel or a dirt track. To ensure optimal visibility even in low-light conditions, the tires feature reflective stripes on the sides. The large platform pedals give your child good grip even in the wet. What's more, our stem is easy on the knees and has no screws sticking out, thereby helping to prevent injuries. To name just a few examples! ;)
Whilst we're on the subject of safety, it should go without saying that your child needs to wear a helmet that fits them well whenever they are out on their bike. Cycling gloves are another good idea as they protect your child's sensitive skin from being seriously damaged in the event of a crash. Just think – hands are often the first part of the body to come into contact with the ground when people fall off their bike.
Summary
There's no question that investing in a top-quality children's bike pays dividends. Buying your child a decent bike means that they will be able to get about safely, the process of learning how to ride a bike will be accelerated and exercise will become a fun activity they love. These are the building blocks to set them up for a life-long passion for cycling and sport. What's more, you won't need to worry about buying a new bike for their siblings, as a premium bike will still be around to spread the love of cycling to your second and even third child. One final argument in favor of purchasing a high-quality children's bike is the high resale price. You can expect close to the recommended retail price when selling a premium, well-looked-after bike on one of the popular online selling sites.