Press releases
Adventure ON with The New woom OFF and woom OFF AIR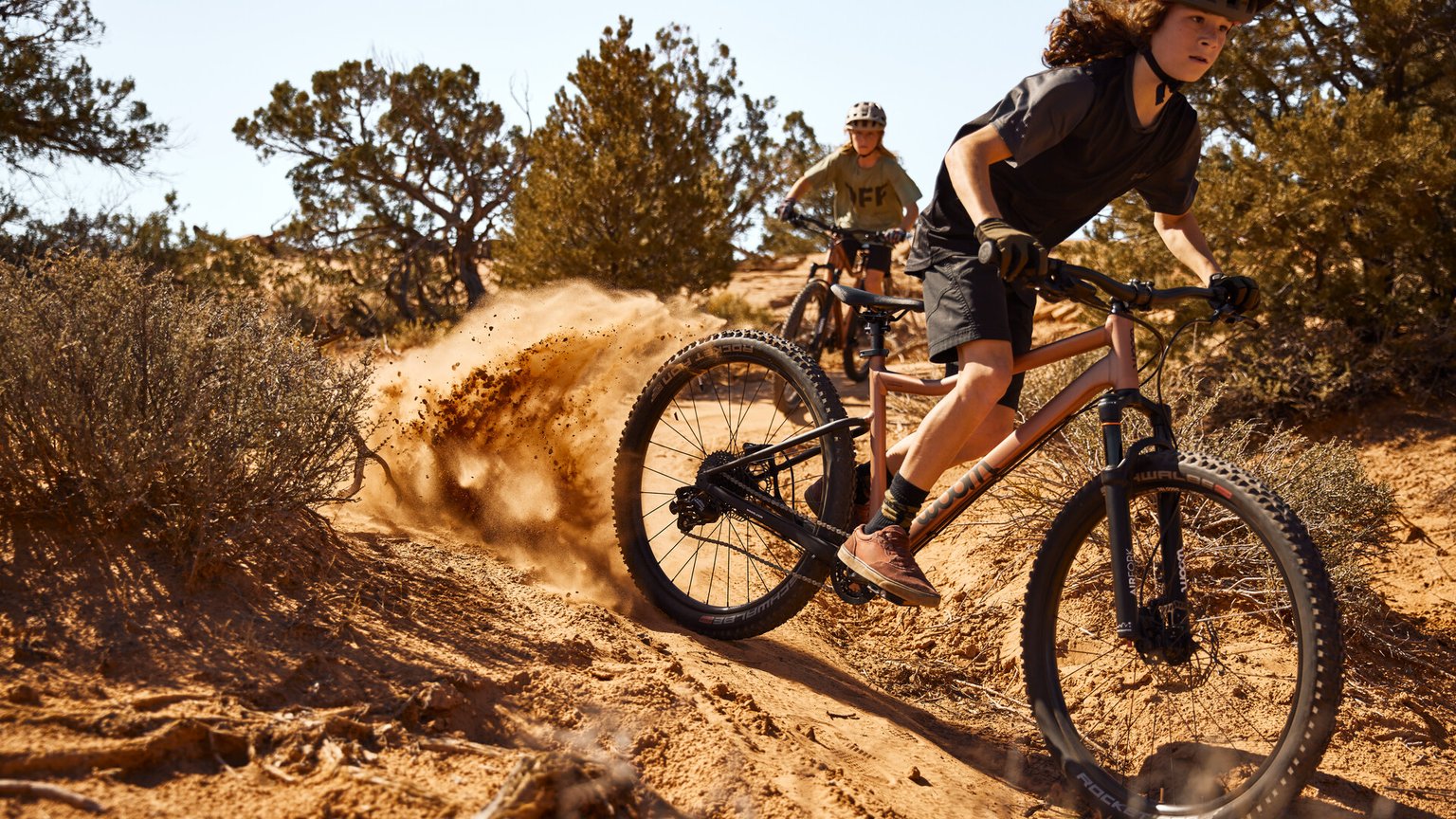 Say hello to the new version of the woom OFF and woom OFF AIR superlight mountain bikes for kids and teens aged 6 to 14.
The handlebars, grips, and saddle have been redesigned with ergonomics and children's growth and development in mind.
The bikes are dropper post compatible and tubeless ready.
terra coppa is the cool new color in town.
The second generation of the superlight woom OFF and woom OFF AIR mountain bikes designed for kids is being launched with optimized components and in an incredible matte copper color called "terra coppa."
The manufacturer of bikes for children and teenagers based in Klosterneuburg near Vienna is no stranger to innovation. "We never stop striving to be better," says woom CEO Mathias Ihlenfeld. "We've improved the ergonomics in the second generation of our mountain bikes and paid even closer attention to the physical changes kids' bodies go through as they grow."
The ends of the handlebars have been tapered in one exciting new development. Lisa Ribarich – the product manager responsible for the development of the second generation of the woom mountain bikes – says: "This means we can attach grips with a narrower diameter to make sure kids and teens enjoy an even more fun and comfortable ride. You won't find child-friendly grips like these on any other mountain bike on the market."
The disk brake rotors are bigger on the new bikes, so there's even more braking power. Plus, woom has designed a chainstay protector to keep the paintwork looking pristine and made sure the woom OFF AIR looks fit to hit the trails with its front suspension. The handlebars, grips, and saddles vary depending on the frame size. So there are three versions of the saddle – one for the bike with 20″ wheels, another for the bike with 24″ wheels, and yet another for the bike with 26″ wheels. They've been adapted to reflect how a child's pelvis changes as they get older. And given a special MTB design and reinforced sides.
Dropper Post Compatible and Tubeless Ready
With the second generation, customers have the option to make changes to the bikes to suit them. Both the woom OFF and woom OFF AIR in all three sizes can be switched over to a tubeless tire system. And the 24″ and 26″ versions are dropper post compatible.
"We decided to open up these options to give customers as much flexibility as possible," explains Ribarich, whose work as an MTB guide and instructor means she is more than familiar with what the market wants. "Tubeless tires with lower pressure are grippier, which is exactly what a child needs when they're riding through hilly areas and hitting basic trails. On routes with varied terrain, they can adjust the saddle height at the push of a button."
We Love Nature: Our New terra coppa Color
woom mountain bikes have only ever been available in black. But now we're introducing a new color to the range and it's called terra coppa. "The matte copper color makes the link between mountain biking and nature in a big way," says Ribarich. "The name 'terra coppa' definitely helps create that connection by bringing in the Latin word for earth (terra). And you can't help but think of terracotta, a warm and earthy shade, when you hear it."
woom Launched Mountain Bikes in 2019
woom revealed the first generation of its mountain bikes four years ago with the launch of the woom OFF with a carbon fork and the woom OFF AIR with a suspension fork. woom bikes are always superlight and high-quality products designed specifically for kids and teens – and these mountain bikes were no exception.
"Mountain biking is an exciting activity that goes hand in hand with a healthy and active lifestyle," says woom CEO Ihlenfeld. "Our bikes are designed to inspire as many children as possible to fall in love with the sport and enjoy heading out into nature with their family." woom has spent months perfecting both models for cross-country adventures to get those outdoor magic moments flowing.
If you're interested in testing out the woom OFF or woom OFF AIR, please send an email to [email protected]. We'll be very happy to send your editorial team a test bike.
woom: Photos

Download-Link, copyright woom GmbH
Please note: These images may only be used in conjunction with media coverage about woom. Thank you!
woom OFF & woom OFF AIR Product Features
Superlight mountain bikes for children aged 6 to 14
3 sizes: 20″, 24″, and 26″
2 colors: black and terra coppa
Lightweight frame made of high-quality aluminum
Durable carbon fork (woom OFF) or child-friendly air suspension fork (woom OFF AIR)
Hydraulic disc brakes with excellent modulation and child-friendly brake levers
Easy-to-operate SRAM drivetrain with nine gears and a trigger shifter for precise and smooth shifting even on rough and muddy terrain
Child-friendly ergonomic grips with a contact surface that absorbs impact
Age-appropriate MTB saddle for added comfort
Premium and tubeless-ready mountain bike tires from Schwalbe for low rolling resistance and maximum grip
Narrow-wide chainring for reliable chain stability even on demanding terrain
Stem with clever flip-flop system: flip it over to change the height of the handlebars
Dropper post compatible
About woom
Founded in 2013 by Christian Bezdeka and Marcus Ihlenfeld in a garage in Vienna
woom has revolutionized children's bikes and set new standards
woom bikes are superlight and ergonomic, have won multiple awards, and are equipped with numerous safety features
Today, woom is a global brand with a presence in more than 30 countries around the globe, above all in Germany, Austria, Switzerland, and the USA.
2020: woom welcomes a group of investors on board, with Marcus Ihlenfeld and Christian Bezdeka retaining a two-thirds majority
2021: woom establishes exclusive Europe-based production for the European market and the 500,000th woom bike rolls off the production line.
2022: woom advances internationalization by expanding the dealer network and D2C segment and welcomes the Jebsen Group on board as a new investor.
2023: 10 Years of Magic Moments: woom celebrates its tenth anniversary.
Inquiries & contact:
Cristina Nguyen
Phone: (512) 567-4559
Email: [email protected]