Bike-life
See & Be Seen: Outfit Your Bike & Rider for Shorter Winter Days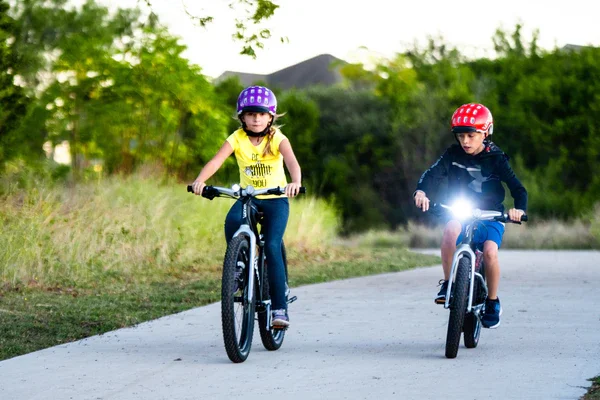 Along with hot chocolate and comfy sweaters, winter brings less sunshine and shorter days. Daylight hours will continue to decrease until Dec. 21, the shortest day of the year, which means many young riders will experience low-light or dark conditions, especially in the evenings.

LET THERE BE LIGHT!
The best way to stay safe is to increase visibility.
Bike lights
Bike lights help cyclists see as well as be seen. Use a white light for the front, mounted on the handlebars, and red for the rear. Lumens are a measure of brightness—the more lumens, the brighter a light will be. You can also purchase lights that attach to the spokes or frame for better side visibility. An additional helmet-mounted light can be useful: one advantage of a helmet light is that it casts light where the rider is looking.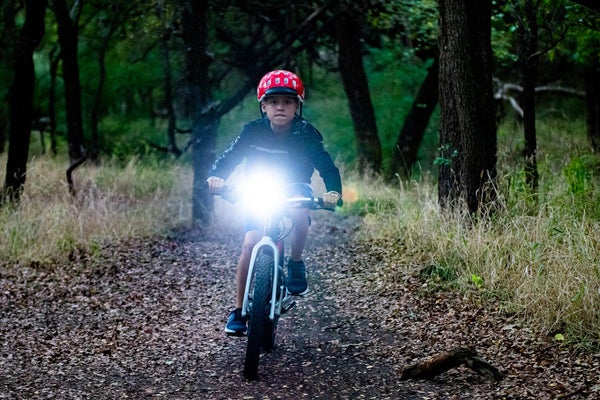 A woom BIKE LIGHT also makes evening trail riding fun!

woom's BIKE LIGHTS are USB-chargeable and splash-proof with a 3-hour battery life at the lower setting (15 lux) and 2 hours at the brighter setting (25 lux).
Leaving lights attached to your bike will mean you have them anytime you need them, like when it suddenly starts to rain or you're out longer than you planned to be. It can also help to carry a backup or two and develop a regular charging routine: if you do most of your riding on weekdays, for example, charge your lights over the weekend.
Reflective accents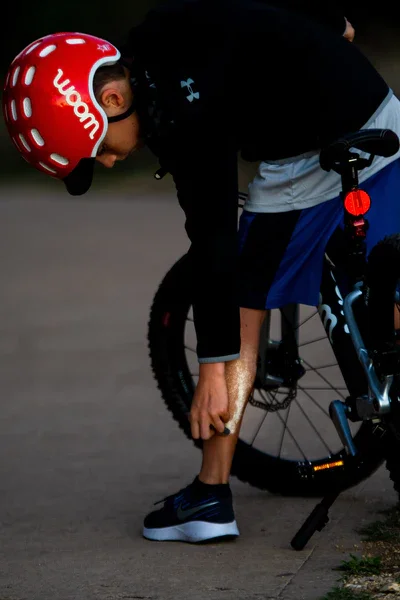 A rider applies Safety Skin to his calves before riding.
Most woom bike models have reflectors on the wheels and seat post as well as a reflective strip on the rims. Consider adding reflectors or reflective tape to outerwear and backpacks, as well. You can apply the reflective product Safety Skin directly to your skin. Loved by runners and cyclists, Safety Skin can be worn where it's needed, with no additional weight, hassle, or charging needs. It comes in stick form, and is hypoallergenic, vegan, cruelty-free, paraben-free, and both rain- and sweat-resistant. Safety Skin is particularly eye-catching for drivers, as it lights up under headlights to show the wearer's motion.
Apply this product to arms and legs, especially the back of calves. This is a great way to light up runners and others who may not be biking but are "along for the ride."
Bright Clothing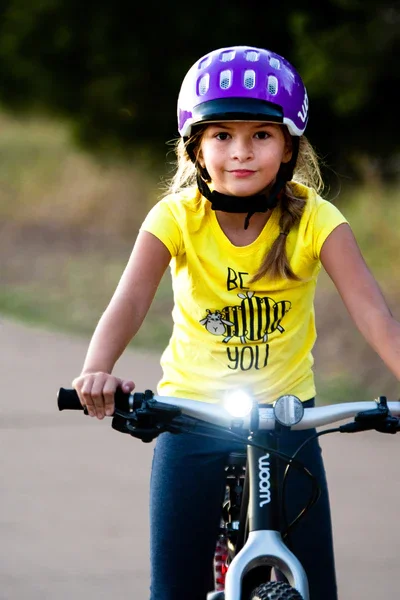 If you don't have specially designed Hi-Viz clothing, bright colors like yellow still work great.

Go with bright, hi-visibility colors (hi-viz yellow is a popular choice for many cyclists) for your rider, especially when choosing jackets, rain gear, helmets, and other accessories your rider will be using frequently. These will help with visibility in sunny conditions, as well.
BE SAFE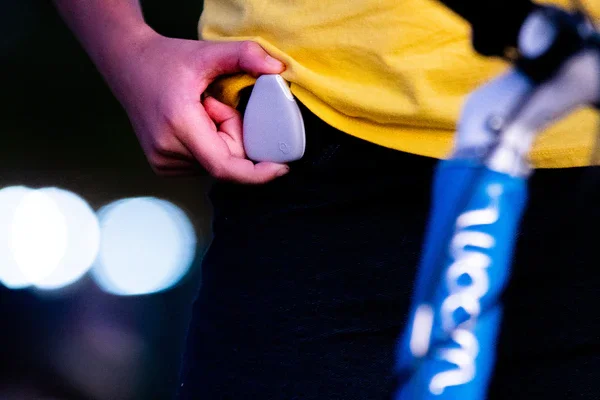 A Jiobit is no bigger than the size of an Oreo and easily fits on a child's waist or belt.
Be prepared to change some of your routines for bad weather and low-light and dark conditions. Will you need to take a different route? Travel more slowly? Cross at a different intersection? (Be sure to take extra care at crosswalks.) Keeping close tabs on your child's location can also be helpful. Jiobit, a wearable GPS device for kids about the size of an Oreo, shows a live view of the wearer's location; geofencing alerts can tell you when they arrive at or leave a trusted place (like school or a grandparent's house). The notifications are sent in real-time, with an unlimited range, and are encrypted for security.