Learning in Practice, Not in Theory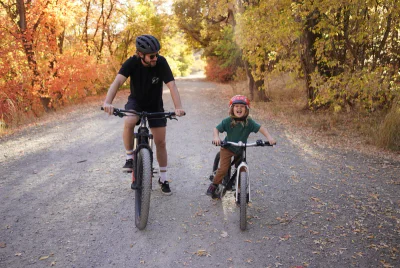 There may be nothing more experiential than learning to ride a bike. Because most people try it as a child, it's formative. Often it's a memory seared in the brain, most likely due to the fear, frustration and eventual elation around the challenge in childhood.
No one can do it for us. Parents can't read their child a book about biking and expect success. Learning to balance, then pedal, steer and climb are purely legs-on experiences. They watch. They try. They learn.
But there's one approach that does far more than demonstrating how to mechanically maneuver a bike: living a biking lifestyle. That may mean having the whole family onboard, choosing to commute by bike, fixing your own bikes, planning trips and outings around bike-related activities, making friends via bikes, and generally defaulting to two wheels for function and fun. Kids mimic what the see, but they may embrace more deeply what they experience in enthusiastic practice, on the daily.

Living the Bike Life
We caught up with one Salt Lake City family who defines this bike life. For the Rebers' four-year-old son Shepard, biking has become so second nature that there's little doubt his passion for pedaling will last a lifetime. When asked why he likes to ride his bike, his youthful answer is so obvious: "Because it's fun, that's why!"
Shepard rides a woom OFF 4, which took him awhile to grasp coming off the woom 2 and a balance bike. But once he got it he was off, never looking back, says his dad Lars.
"Shepard started walking at 10 months, and running the day he learned to walk. He's so high energy, but biking is the only time I really see him get in the zone," Lars says of his bike-crazed son. "For hours, it's the only thing on his mind. He'll play soccer, skate and climb a little bit, but biking has always been his main thing."
It's not exactly surprising; his parents like to bike, have backgrounds in competitive sports, and use bikes as a core means of transport in and around Salt Lake City. Visits to the ice-cream shop for Shep's favorite — "the kind with all the different colors!" — are always on two wheels, as are excursions to friends' houses. Bikes take precedent.
"I think for a young mind, biking just makes kids so much more aware of their surroundings," Lars says. "It helps them react."

Instant Friends By Bike
In addition to teaching the real-life skills where children fit in their physical environment, bikes work as a social tool, too. The Rebers regularly hit the local pump track, ideal stomping grounds for seeing more tykes on bikes. "Shepard loves riding with — or watching — other kids. He just gets the biggest smile," Lars says.
In fact, recently dad tried to talk Shepard out a straight "jump line," but his son was determined. "He just wanted to do what the older kids did," Lars says. "We were there for hours and he just kept lapping it. At the end of the day he was beyond excited. But according to Shepard "tricks like no feet" is the coolest thing he's ever done on a bike.

Lars says the bike has ignited competitiveness that they don't see elsewhere. "He probably gets it from us and that's a little worrisome, but we're excited to see where it takes him," he says. "It's so cool to watch him grow and learn. It's brought out characteristics we didn't know he had."
Shep's woom has also led to "instant" friends, like the one he made in Sun Valley when he discovered another woom rider on at a pump track. Pre-COVID, the Rebers were also in Austria. "We saw wooms everywhere!" Lars says. Shep quickly connected the dots that he, too, was part of a bike-brand "family" that stretches far and wide.
But Shepard also uses his bike like a well-worn teddy bear. "If he's overwhelmed, he'll jump on the bike," Lars says of the creative coping mechanism. "Everywhere we go, the bike comes with."

Kid-Centric Components Just Click
Child-size bike components get Shepard fired up and learning something tangential to riding a bike — how they work. The color-coordinated brake system was a big hit, as was woom's clever downtube water bottle holder.
"Knowing what we rode as kids, it's just insane that a kid can have this kind of geometry and weight on a bike," Lars says. "I can only imagine how much easier it is to move around. If anyone compliments his bike, Shepard starts listing off all these things like his disc brakes and carbon fork. We have to laugh."
His most treasured component these days? "Gears for going fast up hills!" says Shepard. He's progressed from practicing in a parking lot to a pump track to hilly dirt trails. "Going to the parking lot every day after work just became the thing our family did," Lars says of the early days, along with carrying Shep's beloved balance bike on hikes. With a bigger bike came bigger challenges. "It's crazy to see his improvement. We see him get this confidence and make these quick decisions on the move."
Next up? A bikepacking trip. Lars has done several already, but crafting a multi-day desert excursion with a "tow bungee" to haul Shep when he wears out should make life interesting. Well, that, and another baby on the way. To say biking is in the family is an understatement.