Bike-life
The Best Kid-Friendly Places to Ride a Bike in Austin, Texas
By Kat Hunter, freelance writer, bike racer, and mom of two woom riders
Austin has an incredible variety of paved paths, trails, and fun places for bike-riding kids of all ages. Grouped by geographic area, these suggested locations around town will get you started exploring the best of ATX on two wheels. Once you know which awesome trail and path you want to hit, be sure to read these 5 Tips for a Successful Family Bike Ride!
Central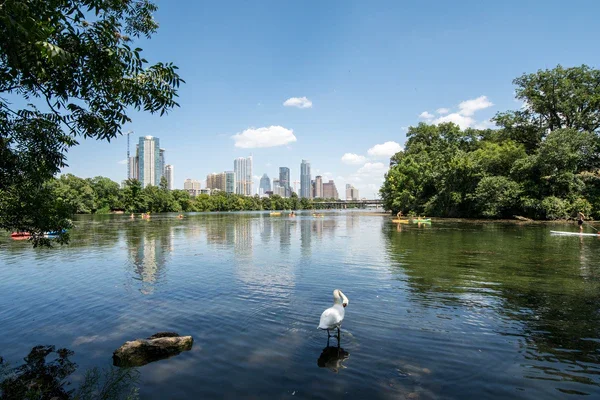 Ann & Roy Butler Hike-and-Bike Trail & Boardwalk
Ladybird Lake
The Hike-and-Bike Trail on Ladybird Lake is Austin's playground for all ages—10 miles of mostly crushed granite trail that loops around Lady Bird Lake near downtown. Bridges and various trail connections allow you to design your own (abbreviated or extended) perfect route past skyscrapers, the South Congress bat bridge, Zilker Park, Deep Eddy Pool, and other iconic Austin attractions. The 1.1-mile, paved Boardwalk at Lady Bird Lake is a particularly fun and scenic section. For summertime fun, get off the trail for a stop at the splashpad at Butler Shores. A great place for beginners to ride, Butler Shores has paved and mostly level paths, grassy areas, and fun hills.
Cautions: The people-watching is spectacular on the Hike-and-Bike Trail, but this means it can also get a bit crowded, especially at peak times. Expect to share the trail with lots of runners and walkers. In most sections, you'll also encounter plenty of ups and downs.
Parking: Multiple access points (see map), but one spot where there's often plenty of parking is under the south side of the Roberta Crenshaw Bridge and the surrounding field (South Hike & Bike Trailhead, 2222-2384 Stratford Dr).
Stroller friendly?: Yes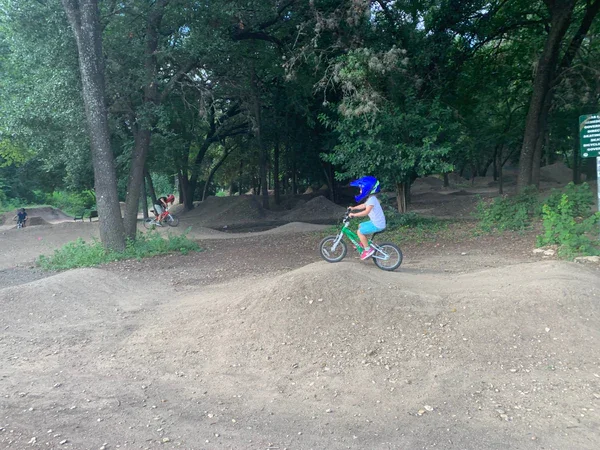 9th Street BMX Park
900 W. 9th Street
This "unique, hand-built BMX paradise for all ages to enjoy" at Duncan Park is a perfectly awesome, perfectly Austin locale. Created and maintained by volunteers for more than 25 years, the park has big and small jumps, as well as a short pumptrack (particularly popular with the littlest riders, though suitable for all ages). This is a good place to go when you want to stay in a small area, or if you're caring for a peloton of riders with different skill levels. Book People and the flagship Whole Foods are fun attractions nearby. From the park, you can also easily hop onto the Shoal Creek Trail, which winds along the creek south past the Austin Central Public Library (another good place to visit); you can cross Cesar Chavez to access the Hike-and-Bike Trail on Lady Bird Lake (above).
Cautions: No bathrooms on site at 9th Street. Shoal Creek Trail drops off steeply into the creek on one side and has a lot of blind turns and some steep grades.
Parking: Street
Tip: Consider holding on to your kid's one-size-too-small bike and using it here.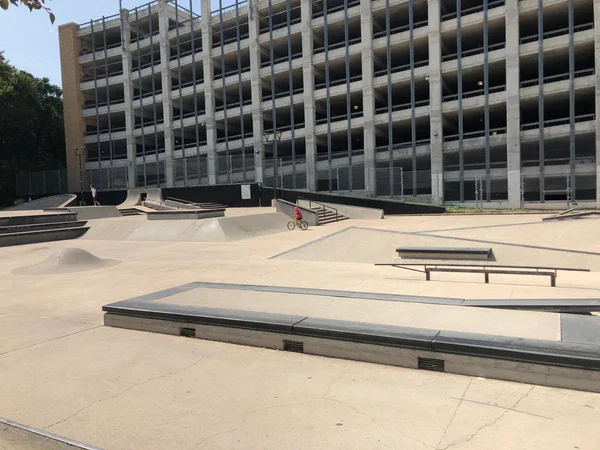 Heath Eiland and Morgan Moss BMX Skate Park
1213 Shoal Creek Boulevard
Not for the faint of heart, the skate park has hard surfaces, tricky features, and adult skateboarders zooming around. Consider getting there early to beat the skaters, and if your rider isn't ready to defy gravity and simultaneously dodge the melee, save this one till their skills advance.
Cautions: A full-face helmet is a plus (enough said).
Parking: Lot
SOUTH

Barton Creek Greenbelt
Mountain bikers know this area as home to the most technical singletrack in Austin, but it's not all gnar. Parts of the trail here are great fun for kids, and you can combine a hot trail ride with a cool dip in the creek when it's flowing. Avoid the popular Twin Falls trailhead (it has a very steep, long downhill and lots of hikers); a good alternative is the nearby 360 trailhead (3755-B Capital of Texas Highway). There's a short section of switchbacks, but at the bottom of these near the creek you can head left/west (more rocky, steeper grades) or right/east (mostly smooth, gently rolling dirt trail till the creek crossing). The Zilker Park trailhead (2201 Barton Springs Rd.) is another good starting point—the first part of the trail here is mostly level, though very rocky and without much shade. Regardless of where you go, the Barton Creek Greenbelt is an adventure: you'll be walking your bike over tough spots, taking occasional trail detours, and wading through creek crossings when water levels are high. It's a beautifully wild place close to the city, though, and if nature is your thing, you'll fall in love with it.
Cautions: General remoteness, hard sections of trail, creek crossings; only the trailheads are accessible by car (so be sure to leave something for the return journey)
Parking: 360 trailhead lot is marked at far end of business park (free parking); Zilker trailhead's closest parking is near Barton Springs Pool (this is free parking some days/times and is often full)
Stroller friendly?: No
FAR SOUTH & SOUTHWEST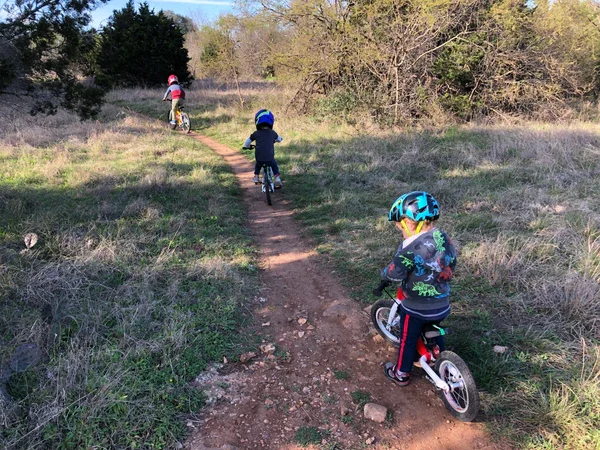 Dick Nichols Park
8011 Beckett Rd
Low-key and full of hidden treasures, Dick Nichols Park is a great place to explore. A wide, 1-mile paved loop (not completely flat, but fairly gradual grades) takes you through the trees, and is rarely crowded. Within the bounds of the paved loop, you'll find a little-known network of short, mostly smooth, packed-dirt singletrack trail that's fun even for (skilled) balance-bike riders. The park has a playground (newly updated in 2019), as well as a pool (open summer only) with free admission. For more miles on the trail, venture onward to the Violet Crown Trail (see below), or the Western Oaks Trail across Beckett Road—this 1.7-mile out-and-back wide crushed granite path ends near the intersection of Escarpment Blvd and Davis Ln and is mostly uphill on the way out and downhill the way back. There's lots more singletrack nearby for exploration, as well.
Cautions: The Dick Nichols paved loop has sections where there's an approximately 1-foot drop off the edge, with no barrier. The Dick Nichols trails tend to be overgrown in places after seasons of heavy rainfall—the northernmost trails see the most use and are often in the best shape.
Parking: Lot
Stroller friendly?: Paved loop yes, Western Oaks Trail yes; singletrack trails no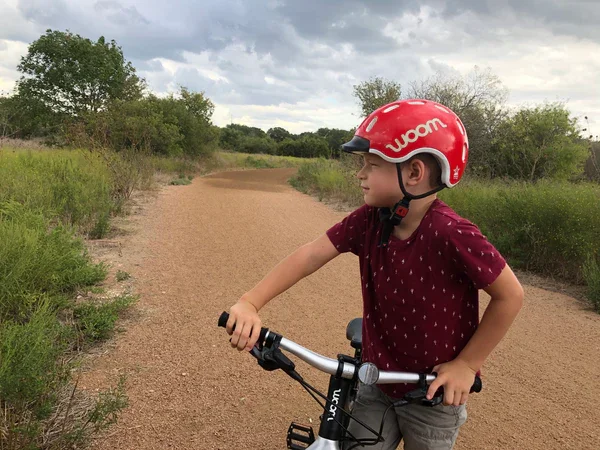 Violet Crown Trail
Still in progress, this trail will one day span 30 miles across Central Texas, from Zilker Park to Hays County. Several new segments have already been completed or are underway. The "360 Trailhead to 290 Trailhead" segment, which connects from 290/Brodie to the Barton Creek Greenbelt, starts with a long section of very steep, rocky switchbacks and is the purview of experienced mountain bikers. The newest sections, however, are wide paths (paved or crushed granite) that are mostly level grades and are great for kids. You can connect to these off the back of the paved loop at Dick Nichols Park. Head roughly north on the VCT from Dick Nichols and you'll end at the intersection of Brush Country/Convict Hill (there's also parking here); across the street there's a crushed granite trail that loops around The Shops at Arbor Trails (this trail has many entrances/exits for cars, however, and often runs close to high-traffic roads). Or from the Dick Nichols trailhead go roughly east on the VCT, under Mopac, and you'll soon parallel Mopac (below the raised freeway) to the south. When you reach Davis Ln, you can take sidewalks and pedestrian crossings to the intersection of Slaughter Ln/Sendera Mesa, where the VCT trail continues, then crosses the creek to singletrack that connects to the back of the Veloway (see below).
Cautions: The VCT is still under construction in some parts and is not currently well marked (especially heading south toward the Veloway), so bring your GPS device and a sense of adventure.
Parking: Dick Nichols, or trailhead at Brush Country/Convict Hill
Stroller friendly?: From Dick Nichols north to Brush Country, yes; from Dick Nichols south to as far as the bridge creek crossing, yes. Singletrack no.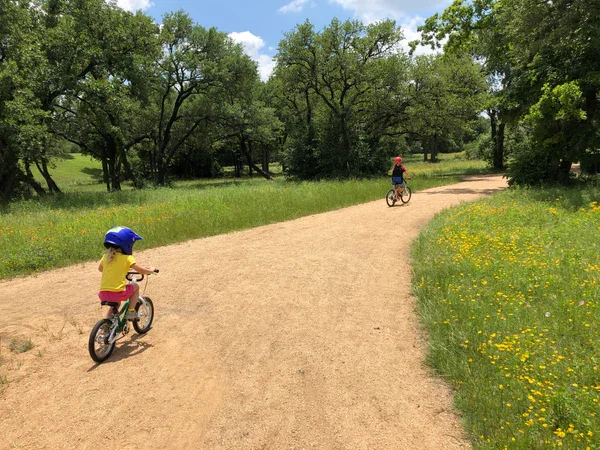 Circle C Metropolitan Park
6301 W. Slaughter Ln.
This park stretches east/west along part of Slaughter Creek just south of Slaughter Lane. Perhaps best known for its soccer fields, it also has a playground, disc golf course, and sand volleyball courts. A quiet and wide crushed granite trail, about 1.4 miles, loops around the westernmost section of the park; a straight section continues (cross over or under Escarpment Blvd at the bridge over the creek) on the eastern side, ending near the back of the Alamo Drafthouse Slaughter Ln. Wildflowers are especially beautiful in the spring. There's lots of good singletrack trail near the creek (especially on the east side of Escarpment) if you're willing to explore—on these, you can connect to the Violet Crown Trail or to the back of the Veloway.
Cautions: When there's water in the creek after periods of heavy rainfall, there's one low-water crossing on the main loop that can be impassable; there's very little shade.
Parking: multiple lots in main section of park; you can also park on the west (southbound) side of Escarpment Blvd near the bridge
Stroller friendly?: main loop yes, but there are some very rocky sections if crossing Escarpment under the bridge, and washouts have made even the main loop very bumpy in places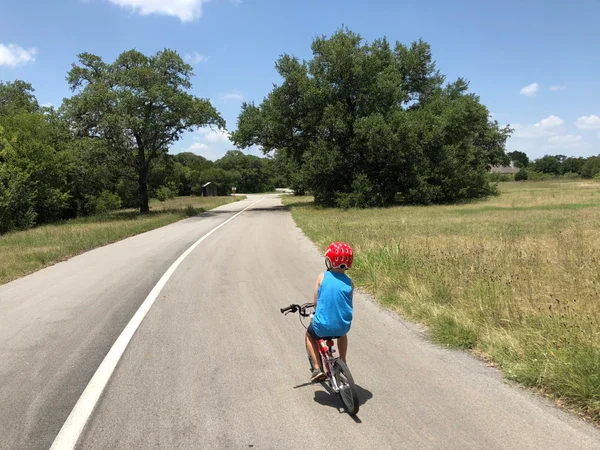 Veloway
Completely paved and recently resurfaced, this 3.1-mile loop is 23 feet wide and is reserved only for cyclists and rollerbladers. The loop is surrounded by undeveloped woods and fields, so there's a very peaceful vibe. This is another great place to see wildflowers in spring. And just down La Crosse Avenue you'll find the Lady Bird Johnson Wildflower Center (no bikes allowed on trails there, though it has some great kid areas).
Cautions: Even though there are no cars, this is not an easy, flat loop. There are steep grades and tight turns—make sure your child knows how to use their brakes and that their brakes are working well. Slower riders should stay in the right lane to allow others to pass.
Parking: Lot and on street
Stroller friendly?: No, only bikes and rollerbladers allowed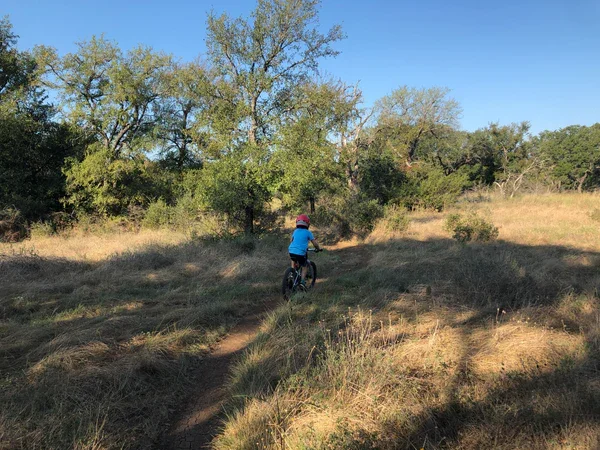 Slaughter Creek Trail
9901 Farm to Market Rd 1826
You have to know your rider(s) for this one—do they like challenging rock gardens and long climbs? Do they mind getting off their bike to walk it in places? There's an option to (roughly) cut the 5-mile loop in half, but otherwise you're in it for the long haul. There's no way in or out except at the trailhead. SCT, while not a long drive from town, feels very much like the wilderness. Bikes go left at the start, and hikers/runners go right. Dogs aren't allowed. (A new official "kid's loop" of approximately 0.5 to 0.75 miles will be marked soon—take the start of the trail until you get to the old asphalt road, then take a right on the road; near the top of the hill, turn right again back onto the trail to pick up the end of the main trail.)
Cautions: Many parts are wide open with no shade, no water is available, pets aren't allowed, and parking is limited at the start; check SCT's Facebook page for hours and closures before you go; this is recommended for kids who are experienced with trail riding, and parents will need a mountain bike as well.
Parking: Gravel lot
Stroller friendly?: No
Slaughter Creek Trail Facebook
EAST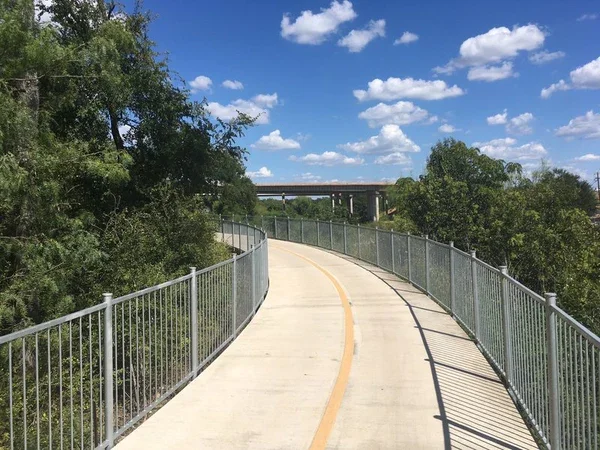 Southern Walnut Creek Trail
Extending from Govalle Park to the Walnut Creek Sports Park at Johnny Morris Road and Daffan Lane, this 7.3 mile concrete path (10 feet wide) winds through trees and other natural settings. You'll pass a turnoff to the Driveway, so plan your ride for a Thursday and stop off to see the bike races—woom sponsors a free kids' lap.
Cautions: some steep grades
Parking: Trailheads at Johnny Morris Road and Govalle Park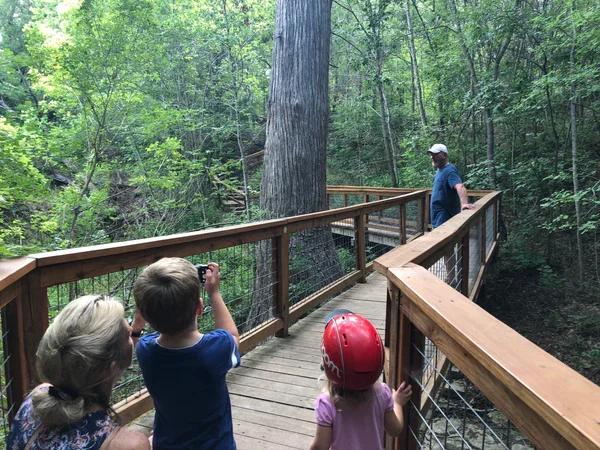 McKinney Falls State Park
5808 McKinney Falls Parkway
McKinney Falls is very close to town (just 13 miles from the capitol building) but feels like a world away. This is a good location to swim or wade, picnic, hike, camp, fish, and otherwise enjoy time out in nature. You can bike the rolling twists and turns of the paved, 2.8-mile Onion Creek Hike & Bike Trail; other, unpaved trail options like the Homestead Trail can be fun too. Highlights in the park include two waterfall areas, the rock shelter (hike in), the moonscape of rocks around the Lower Falls, and the 500+-year-old "Old Baldy" cypress tree.
Cautions: some steep grades; Homestead Trail requires a creek crossing, is rugged in sections
Stroller friendly?: Onion Creek paved trail yes
NORTH
All North Austin suggestions and location details from woom super fan Martin Russell, who logged 800+ miles in Austin in 2018 with his woom riders (2.5 years old and 3.5 years old) and knows all the best bikeable places in the area to see white koi and snapping turtles, climb on things, and buy Band-Aids. Be sure to say hi to him on Twitter!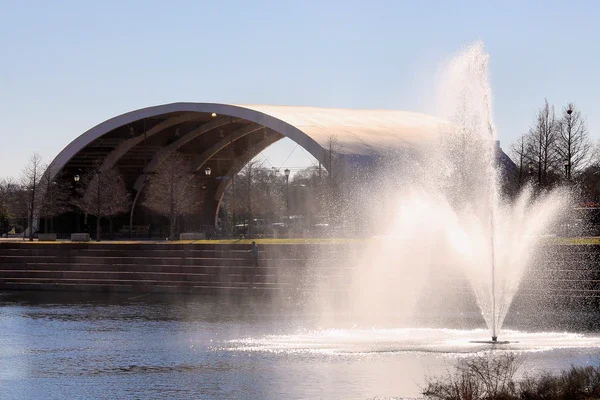 Mueller Lake Park
4550 Mueller Blvd
Take the loop around the lake at this 30-acre park, formerly an airport—see the Texas longhorn sculpture in front of the Mueller offices, eat some snacks at the food trucks by the old hangar shell, look at the ducks, climb on the fire pit metal cover (it's a thing), try not to run over any yoga people, and go off trail and cross country (no stickers here). There are some nice rock areas and a great playground in front of the Thinkery, Austin's children museum, which is well worth an extended visit. Mueller Lake Park is also home to a popular farmer's market with kids' events on Wednesdays and Sundays. Connect this destination with other Mueller Greenbelt trails like the Northwest Greenway trail and Southwest Greenway trail (below).
Stroller Friendly?: yes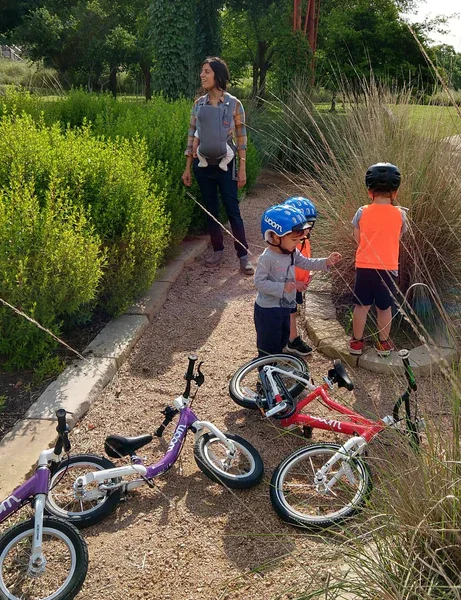 Southwest Greenway - Mueller hike & bike trail
Intersection of Zach Scott St/Tom Miller St
If you're crossing Airport Blvd from Patterson Park, there's a nice new pedestrian and bike crossing, and this is also an easy trail to combine with a Mueller Lake Park (above) visit. Heading north to south on this wide, crushed granite trail you'll find lots of wildflowers and no-mow areas (restored Texas blackland prairie) along the trail as you work your way to the popular "Pollen Grain" metalwork sculpture. There's a maze to ride and play in, surrounded by big rocks—these are great for developing handling skills. Check out the butterfly garden; the various dirt trails paralleling Airport Blvd and Tom Miller streets; two small lakes with waterfalls (usually dry) that are great for throwing rocks, bird-watching, and catching crawfish; and the giant spider sculpture (there are some big rocks here good for climbing and hopping). Another bonus: A view of the state capitol building in the distance if you're in the right place. This is a great place to ride! (You can also ride a protected bike lane north to Bartholomew District Park across 51st Street; this park has a splash pad and some good climbing features.)
Stroller friendly?: yes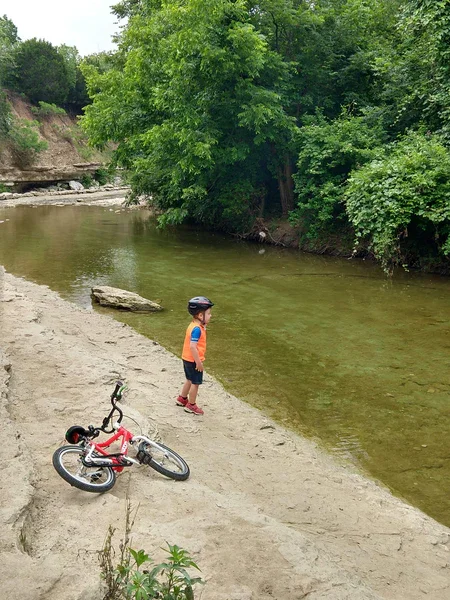 Walnut Creek Metropolitan Park
12138 N. Lamar Blvd.
Singletrack trails, paved paths, a pumptrack...this 293-acre park has something for all riding abilities. Maps often won't help you much here, though, so you might want to factor in some time for learning the lay of the land. The park also offers amenities like a playground, pool, and various sports courts. One trail-ride suggestion, about 3 miles: Park on the west end of the parking lot and ride south, veering to the east on the downhill toward the creek. Go roughly a half-mile to where the trail goes right next to the water. There are stepping stones where feet get wet half the time. Return or go up (steep hike-a-bike) and continue on one of the trails north. Another creek and Lamar Blvd to the east will help keep you oriented. Take the gravel road north back to the paved park road, which connects you back back to the parking lot. (It's easy to get lost on them, but you can also follow singletrack trails that end behind the pool and playground.) Or for an easier trail ride: Head north of the parking lot and ride north along the east side of the sports fields. The trail is just down the hill. Follow the trail to the residential street, turn right across the creek bridge, and look for the pump track. About 100 feet south you need to take a little trail down a ravine and you'll find where the pump track is tucked away. (An aerial map might help.) You can go south on the trails, but the terrain is difficult here, so you'll probably want to return the way you came.
Cautions: Skills, especially braking skills, and/or walking the bike required. Bringing some Band-Aids doesn't hurt, as well as lots of water. Watch out for very steep drops.
Stroller friendly: Paved path yes
Map (good luck)
If you have suggestions for more fun, kid-friendly places to ride in Austin, woom bikes would love to add to our list! Email us at [email protected].
* "Stroller friendly" refers to paths suitable for a durable jogging stroller.