Bikepacking with Kids
Experiencing breathtaking scenery? Traversing remote dirt roads to explore historical sites? Pedaling through a random ghost town? And sharing it all with your little Rider? Yes, please! Embarking on a bikepacking trip is a fun way to exercise, teach crucial life skills, and create unforgettable memories with your kiddo.
What exactly is bikepacking? Bikepacking is a fusion between all-terrain cycling and multi-day backpacking. Like backpacking, it requires a self-sufficient ethos, as Riders must carry their own overnight gear — like water, camping supplies, food, toiletries, and more. Bikepacking is all about venturing off the beaten path. It's a chance to connect with loved ones as you explore Mother Nature's many hidden gems. Rides can range from epic cross-country rides to short, local overnighters.

Dad and cycling enthusiast Tyler Smith shows us how bikepacking can be a wondrous adventure to share with your little superstar cyclist. Here's Tyler's story of his first bikepacking trip with his son, Theodore.


Tyler & Theo's Bikepacking Journey
"After college, I became a bike nut and loved trying new types of cycling. I was always commuting by bike, living the two-wheel life, and couldn't wait to introduce my son, Theodore, to the wonders of cycling — the fresh air, the exercise, the undeniable joy it brings.
My first bikepacking experience was an overnight journey with big mileage days that championed self-sufficiency. That trip really sparked my interest in bikepacking. My longest trip was a multi-day, 300+ mile ride along the Washington Backcountry Discovery Route. It was mostly rugged, off-road terrain, but it was an exhilarating ride and I got to explore the Cascade Mountains. I was so jazzed about the whole experience that when I returned, I decided to put together a fun little bikepacking trip for me and Theodore."


The Destination
For their first trip, Tyler and Theo headed to a little island just outside of downtown Seattle, called Blake Island. Accessible only by boat, Blake Island has miles of trails, campsites, striking views of Mount Rainier, and driftwood-scattered beaches. Tyler and Theo biked about 10 to 15 miles in total during their first overnight trip. Talk about one wheelie fun adventure!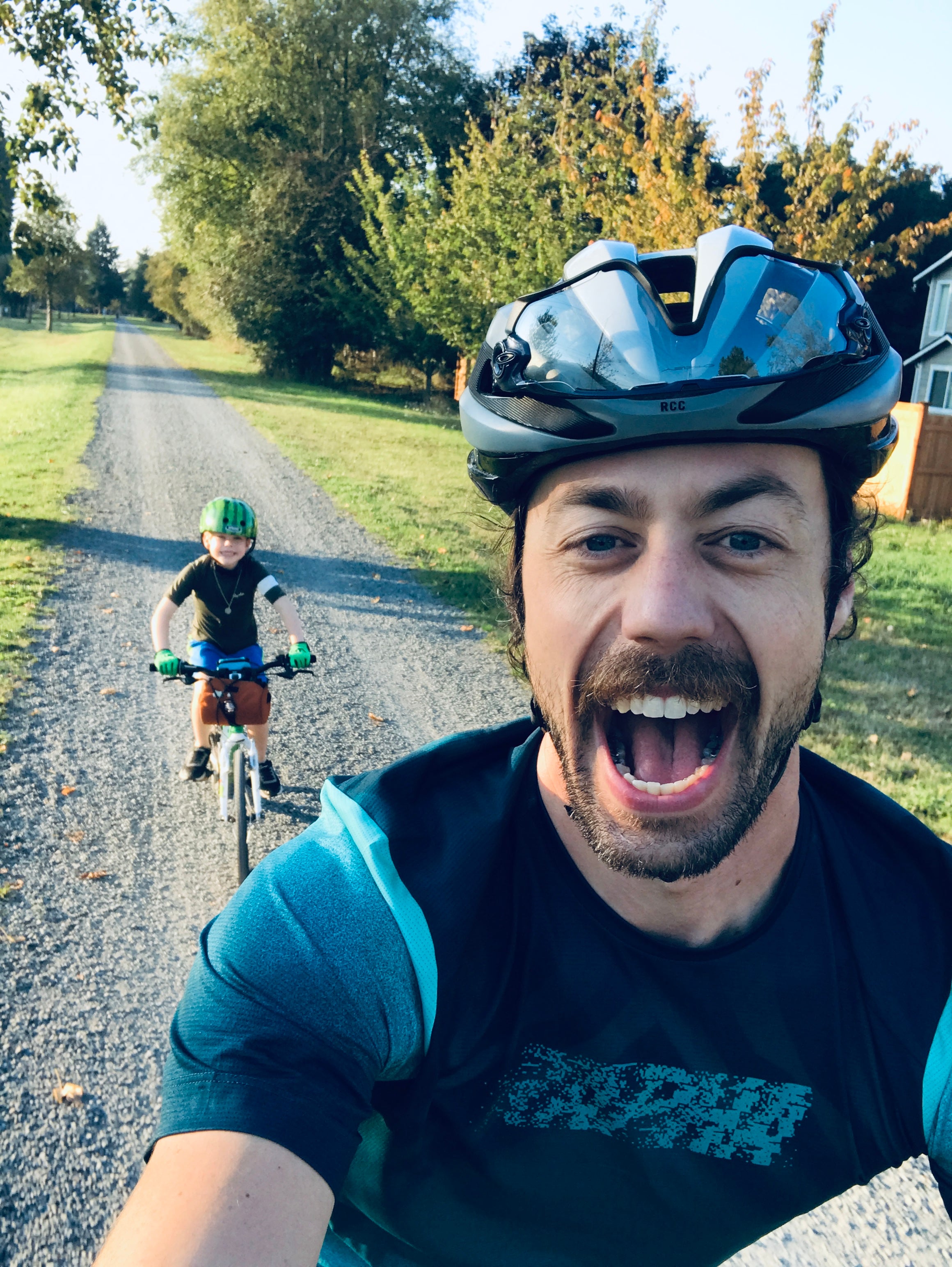 The Ride
"When it came to gearing up for this trip, we wanted to give Theo a sense of pride and ownership by letting him carry some stuff. We fastened a few little handlebar bags to his bike and stocked them with snacks and a couple of toys. Each time we hit the next milestone in our ride, we'd reward ourselves with some sweets (and much-needed calories). We wanted to inject some fun into it and celebrate all the little wins along the way, not just the big finish.
I carried a bulk of the gear — sleeping pads, sleeping bags, tents, all of our cooking stuff. Theo had just the right amount of stuff where he was able to understand the experience and contribute without feeling overwhelmed. That was really important for me: I wanted him to walk away from this experience with a smile on his face. I wanted him eager to embark on the next adventure, not feeling frustrated and turned off to the idea of bikepacking again.
Because this was Theodore's first bikepacking experience, we were trying to bite off a manageable distance. I loved that we could pair camping with cycling in a way that was empowering and fun for Theo. He was just about to turn six and he was such a trooper. It certainly wasn't easy. The bikes are heavy, the hills are steep, and there were times we had to walk a little bit. We really earned our s'mores that evening after a full day of cycling around the island!"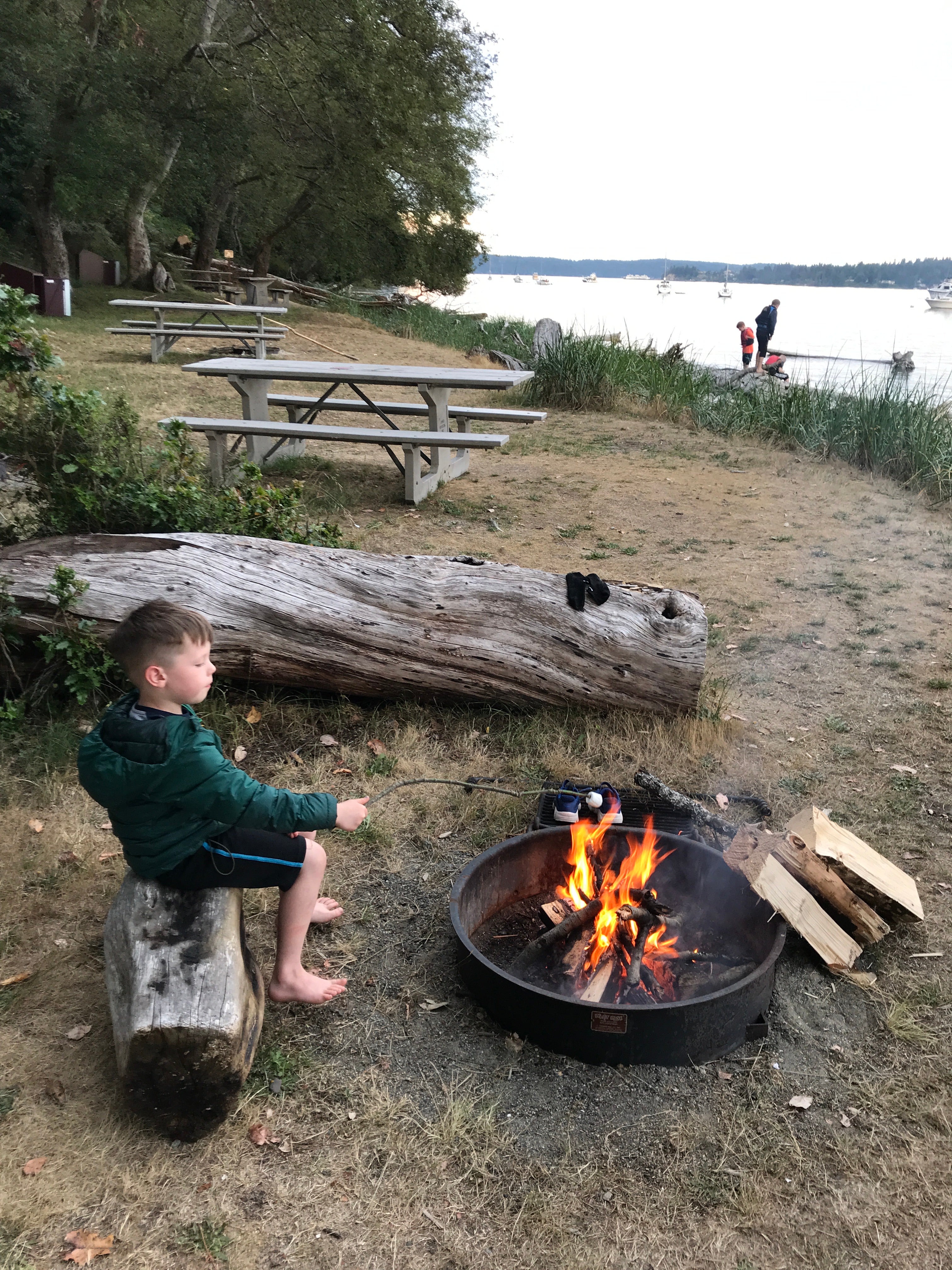 "Our campsite was so special. It was on the west side of the island, the water only steps away from our camp, and the Seattle skyline and sunset views were breathtaking. The destination was amazing. It's remote and away from the normal hustle and bustle of the city.
The shared experience of exploring a place we've never been before was a great bonding opportunity for Theo and me. As we were pedaling, I would think to myself: I wonder what's around the next corner or, man, I wonder what our campsite is going to look like because I've never been there before. So we're both discovering these things for the first time together, and that's what makes the memories special.
It's the little fun things and discoveries along the way, too. We were inside the gift shop and a woman said, 'Hey, are those bicycles yours outside? There's a raccoon on top of them!' The raccoons were basically attacking our bags to get our food. So I would say, pro tip: make sure you adhere to all of the normal camping rules. If your bike is unattended, try to keep food protected because raccoons are some pretty smart creatures."

Some of Theo's favorite memories from the trip? "Having to save our bikes from the raccoons. And the next morning we got to see a starfish and a ginormous jellyfish on the beach. And when we went back to camp, my dad whittled me a face from a stick. I named it Sticky."
After the trip to Blake Island was such a success, Tyler and Theo were eager to plan their next bikepacking adventure. This time, they headed from their home in North Bend, Washington, to Alice Creek — a 36-mile roundtrip route!
"The trail we took crosses the state of Washington, and it's an awesome rail-to-trail conversion. Rail-to-trail conversions are usually low-grade, which is really good for kids to ride bikes. They're pretty scenic, not too challenging in terms of the level of overall difficulty, usually gravel, and there also usually isn't a lot of car traffic to deal with, so these are great trails.
Like our first trip, we made sure to have snacks at every major milestone. Theo got a peanut butter cup at the eighth mile! It's important to keep it fun.

On this trip, Theo was riding his first woom bike, a green and white woom 4. It was perfect for him at the time (he's now on the woom 5!). It was an awesome bike for this trip. It was great for gravel, had a variety of speeds, and it's a comfortable bike too. woom does an especially nice job of designing its bikes without clunky parts. Cycling can be unfortunate for kids if the bikes are really heavy, and it can get in the way of fun. So the woom 4 was an awesome bike for him, and it kept him going all 36 miles of the trip."

While Theo and Tyler didn't meet any raccoons on this second trip, they did meet other campers, an experience Tyler was thankful for. "It was fun to meet the other campers. One of the guys we met had been riding all the way from Vancouver. It was cool for Theo to see other people who are also into bikepacking, and see the great community around it."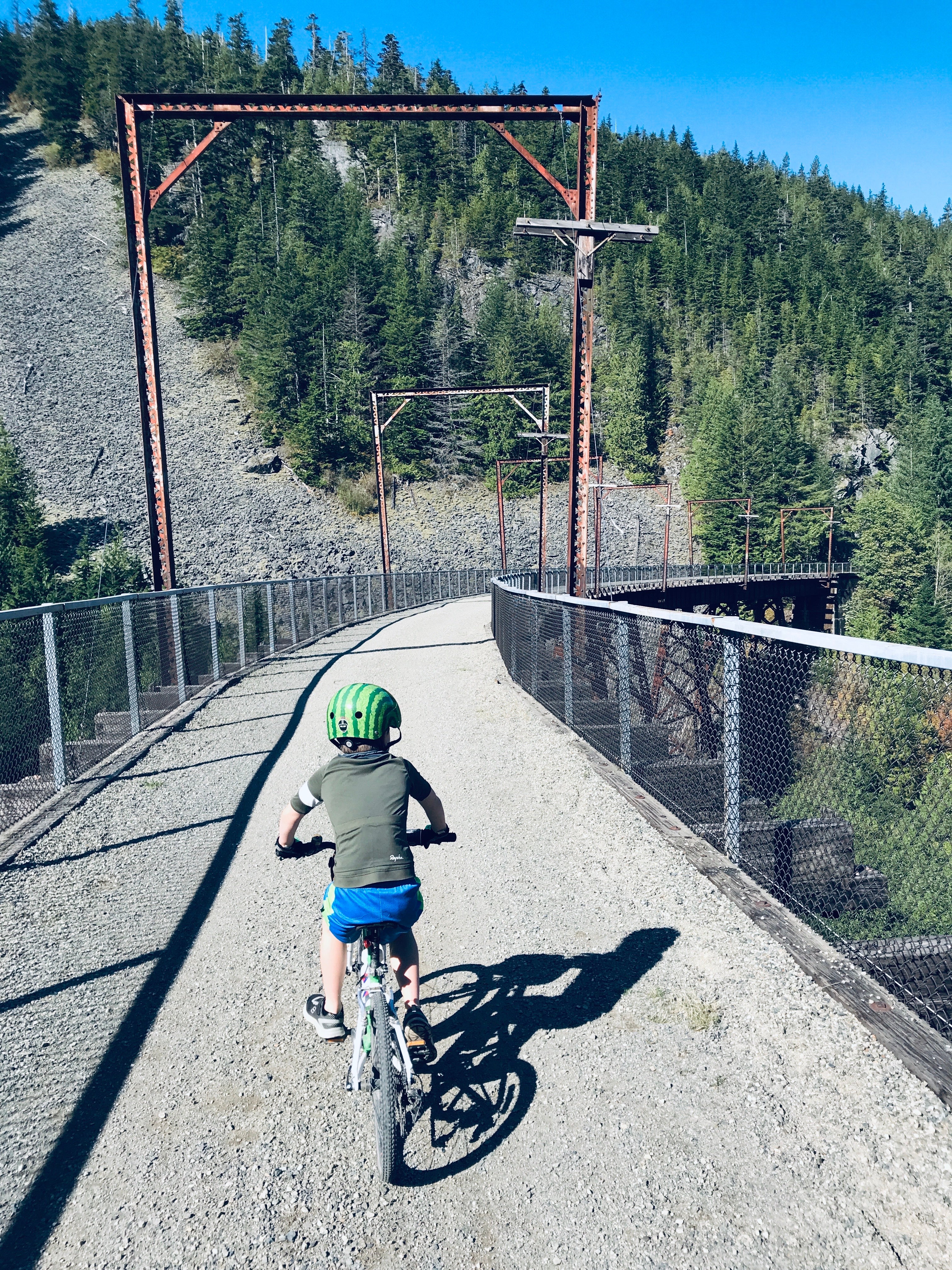 Tyler's Advice to Other Parents
"I think one challenge is making sure your expectations are really reasonable, so you can stay present and enjoy the journey. You may have expectations about the weather or how far you're able to ride, but wind up improvising and setting up camp elsewhere. But the funny thing is, sometimes the mishaps create the best memories.
As Theo gets older and becomes increasingly active, I want to make sure that bikes remain synonymous with fun. Even when you're doing something that takes planning, preparation, and organization, just remember that bikes are fun. Don't forget to be silly and stuff like that! I think that's a big part of making cycling a lifelong sport. Bikes are basically big toys!
Making sure kids have some ownership in the process is really important, even if it's a small handlebar bag with a few snacks. Parents usually shoulder the burden for carrying most of the things they bring. But making sure they arrive with a smile on their face is a big accomplishment. Making sure to keep things fun is such a big thing. To keep everybody upbeat, make sure the mileage and the destination is attainable."
A Happy Ending for the Father-Son Duo
"For this first trip, Theodore didn't have a woom yet. We got one shortly thereafter for our next trip to North Bend. He has since graduated up through different woom bike models.
Trista, Theodore's mom, has not yet had a chance to join us for an epic bikepacking trip. So we're really excited about that because Theo wants to show her Blake Island and do that trip as a family. He will be our little expert tour guide on the island."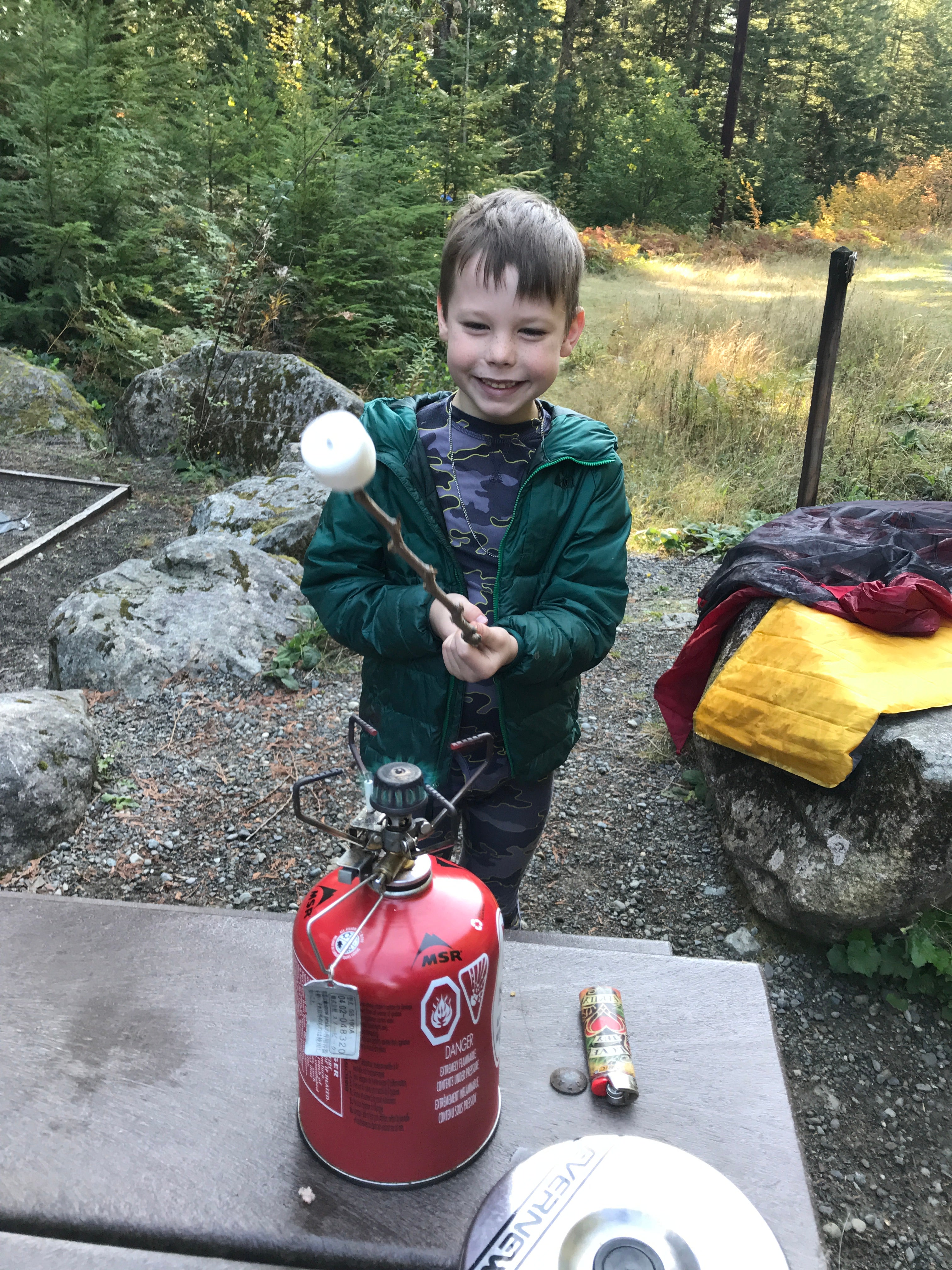 What Gear to Bring for Your Bikepacking Trip
Handlebar bag? Check. Seat pack? Check. Lots of snacks? Check! Here's what to bring when you and your Rider gear up for a bikepacking adventure:
Your bicycles, plus all the necessary accessories
Storage gear for your bikes, including a rack, panniers, and a frame bag or handlebar bag
Camping supplies including sleeping bags, pads, a lightweight tent
Clothes for riding and camping (and remember to take the elements into consideration!)
An ample supply of water, food, and snacks. Have a plan for where to refill water bottles!
Tools, including locks — because as Tyler and Theo learned, you never know when raccoons are lurking around the corner!
Toiletries and a stocked first aid kit
Fully-charged bike lights and a headlamp, in case you unexpectedly find yourself riding in the dark
Stock up on fun! From your camera and swimsuit to glow sticks and fishing poles, get creative! Make sure your trip is filled with love and laughter, and you'll build countless memories.
To find great bikepacking destinations in your area, a simple online search can point you in the right direction. Some states and regions have biking nonprofits with helpful guides too!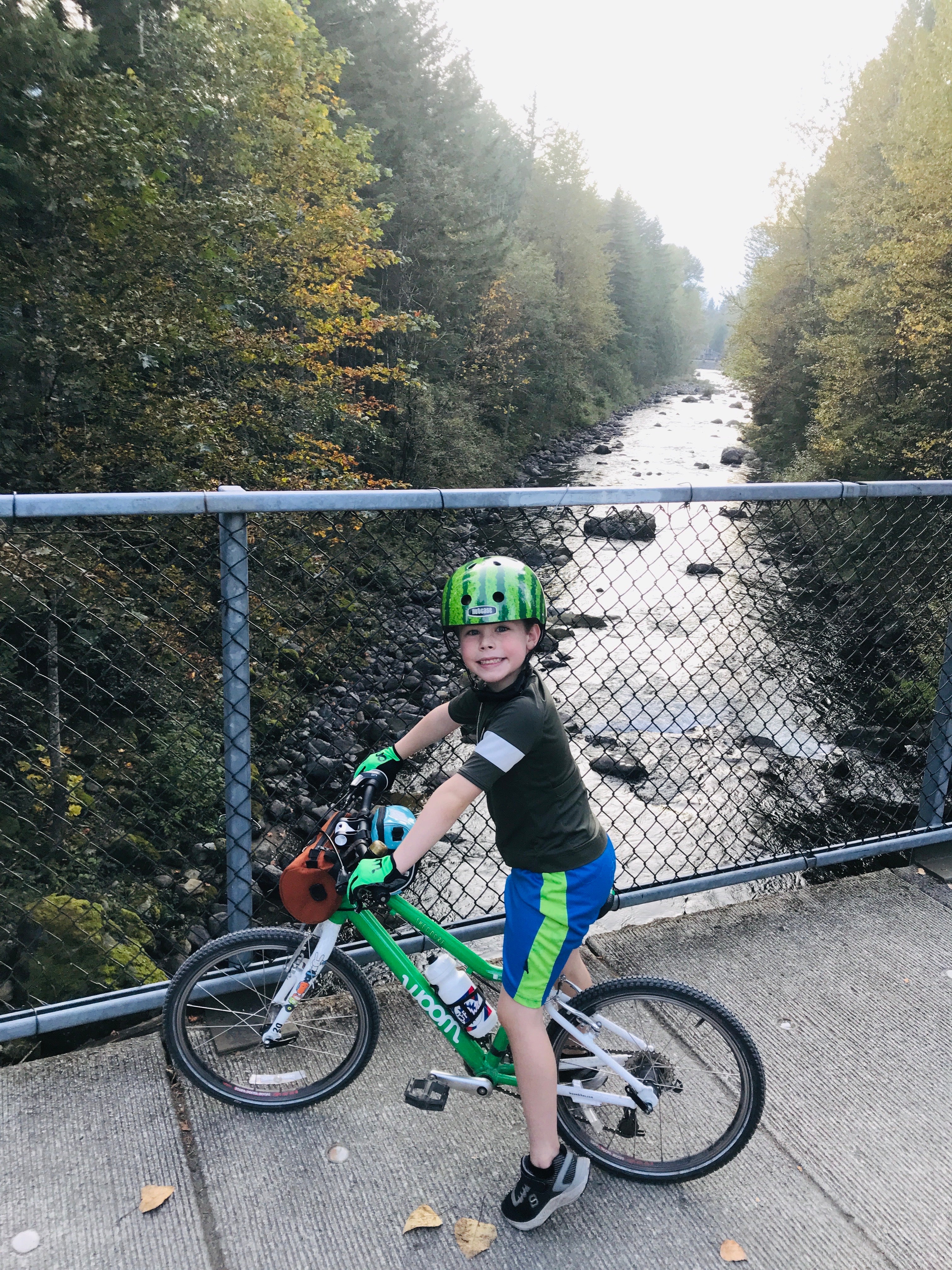 Theo's parting words of wisdom on bikepacking for his fellow kid Riders: "Even though it might be hard sometimes, it's really worth it."