Press releases
You asked, we listened: woom bikes in POWER PINK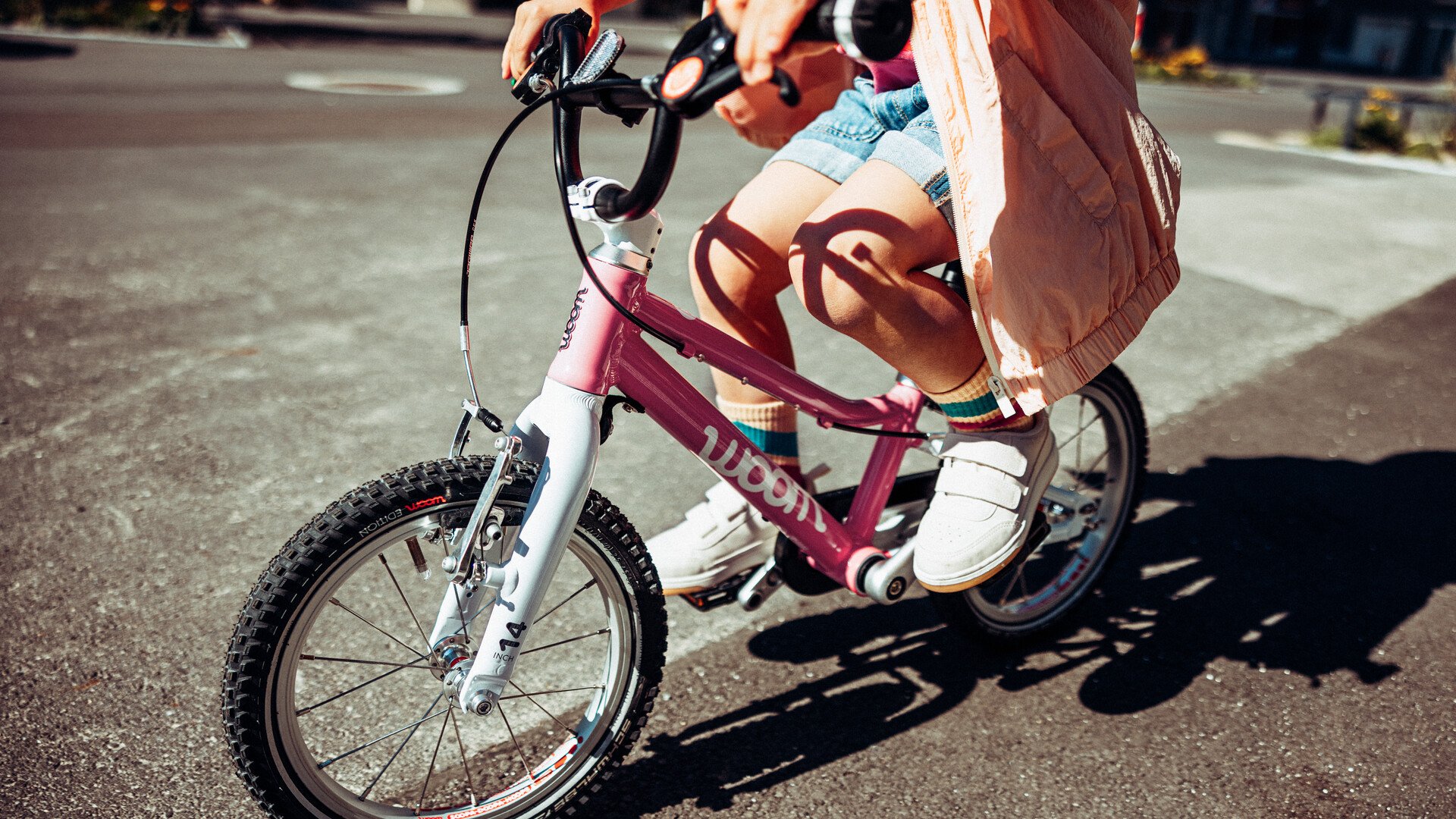 Klosterneuburg, 10.04.2022: Today, woom, the international kids and teens bike brand, brings yet more vibrancy and playfulness to cycling with the introduction of a limited-edition of the woom ORIGINAL in a brand-new POWER PINK colorway. This one-off pink version is available in six sizes as of right now through the woom online store – only while stocks last.
When it comes to learning to ride, the low weight, intuitive handling and exhaustively engineered child-specific geometry of a woom bike frequently translates into a much faster learning curve compared to other brands. In response to requests from customers, it was only a matter of time until woom expanded the ORIGINAL line-up to include a POWER PINK colorway. This fresh power pink finish now stands alongside the rest of the boldly colored woom bikes, joining woom red, sunny yellow, woom green, sky blue, purple haze, mint green, midnight blue and moon grey on adventures with young riders aged from 18 months to 14 years.
To get your hands on one of the woom bikes in power pink, act quickly to secure your child's size. This limited-edition finish has been produced in a limited run and is exclusively available through the woom online store.
The confident color palate from woom underscores the Austrian brand's mission to instill a love for cycling in kids and teens, with the vibrant finishes designed to enhance a child's overall sense of well-being whilst riding. Because a child that feels at ease on their bike is a child that will be eager for their next ride.
Building on from that, woom strongly believes that kids who discover the joy of cycling at a young age will be highly likely to continue cycling as they grow up, lead an active lifestyle, and contribute to a greater shift towards sustainable mobility.


FACT BOX – woom ORGINAL 1 – 6:
The original children's bike from woom, coming in six sizes for kids and teens aged 18 months to 14 years.
At the heart of all woom bikes is the superlight aluminum frame, which ensures woom bikes are up to 40% lighter than other children's bikes on the market.
Confident, capable handling and child-specific ergonomics result in a safe ride. Children have fun on these bikes as they intuitively pick up the key motor skills needed for riding a bike.
The ergonomically shaped grips feature a narrow central section for grip and an over-sized outer edge to protect kids from serious injury should they fall onto the bars. These grips can be removed for ease of cleaning.
The proprietary brake levers are specifically designed to be used by small hands and require nominal force. The all-important rear brake is easily identified by kids thanks to its eye-catching green color. This distinctive design aims to eliminate mix-ups and therefore reduce the risk of injury.
The steering limiterbetween the fork and frame on the smaller models boosts safety by preventing crashes caused by overturning the bars.
Whether on tarmac, gravel or dirt, woom's easy-rolling tires guarantee maximum grip on straights and corners, in all weather conditions and on any surface. The reflective stripe on the tires' sidewall ensures optimum visibility even in low-light conditions.
Timeless design: woom ORIGINAL bikes have received global design prizes for their stylish silhouette and clean design language, including the Red Dot Award, the German Design Award, the Design&Innovation Award amongst others.
woom: Imagery WOOM POWER PINK
Download-Link, copyright woom GmbH
Please note: These images may only be used in conjunction with media coverage about woom. Thank you!
About woom:
Founded in 2013 by Christian Bezdeka and Marcus Ihlenfeld in a garage in Vienna
woom has revolutionized children's bikes and set new standards.
woom bikes are superlight, ergonomic, have won multiple awards, and are equipped with numerous features to enhance safety.
Today, woom is a global brand with a presence in more than 30 countries around the globe, above all in Germany, Austria, Switzerland and the USA.
2020: woom welcomes a group of investors on board, with Marcus Ihlenfeld and Christian Bezdeka retaining a two-thirds majority.
2021: woom establishes exclusive Europe-based production for the European market and the 500,000th woom bike rolls off the production line.
2022: Further internationalization, expansion of the dealer network and the D2C segment
Inquiries & contact:
Belinda Ableitinger, PR Manager
+43-664/888-22-837
[email protected]
https://www.woom.com