Press releases
Automagic! woom ORIGINAL 3 now available with two-speed hub gearing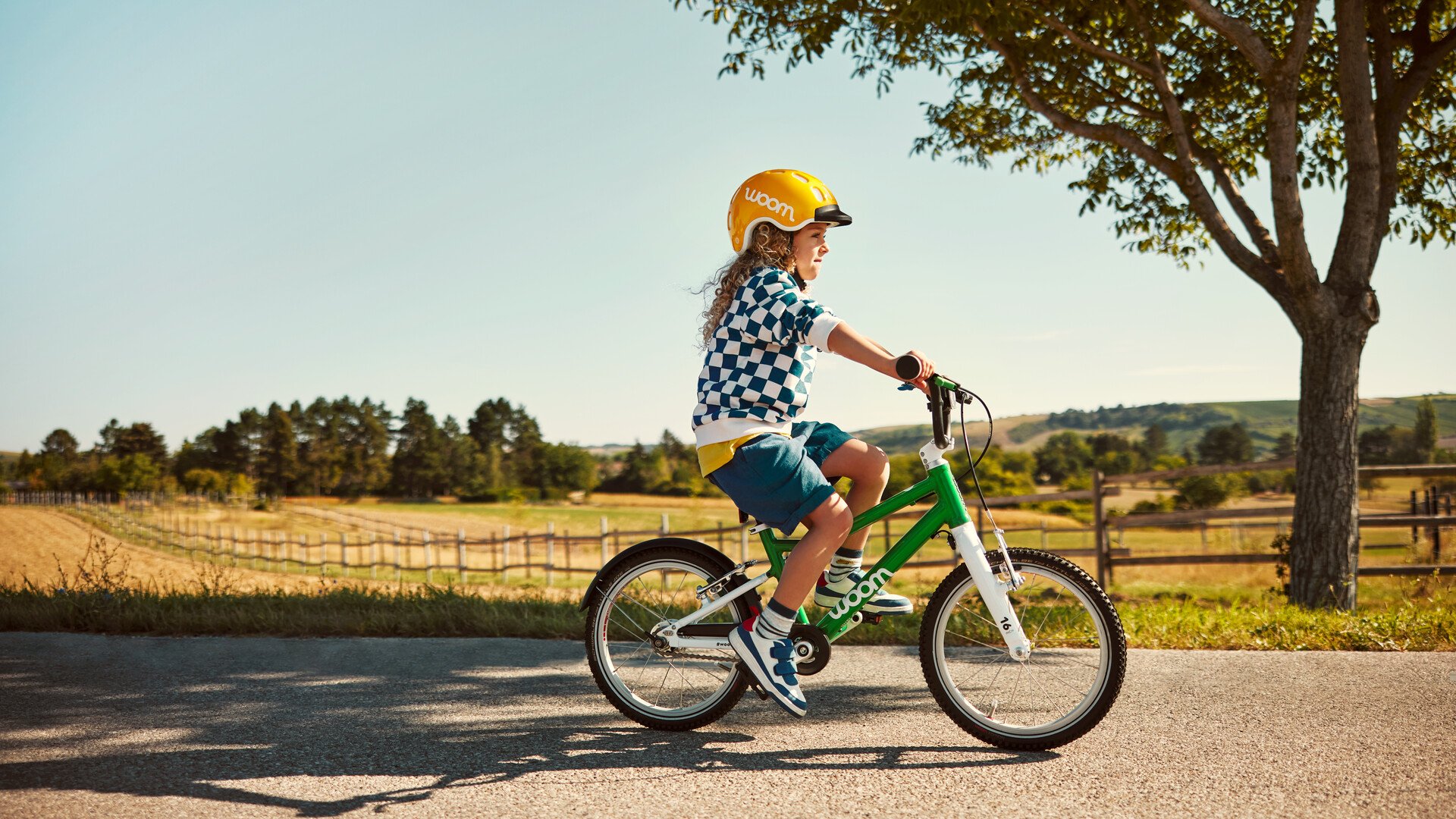 woom product news: woom releases new superlight 16″ children's bike with automatic two-speed hub gearing for children aged between four and six.
The hub gearing shifts automatically into second gear when the rider reaches a speed of 11 km/h thanks to a centrifugal force mechanism.
The automatic gear shifting helps little cyclists set off and go uphill, which makes bike rides even more fun for them than ever.
Klosterneuburg, 8 November 2022: woom, the international manufacturer of bikes for children and teenagers, has released a new do-it-all bike with automatic two-speed gear shifting designed for children aged four and up: the woom ORIGINAL 3 AUTOMAGIC. Having two gears rather than a single speed gives children a boost on gentle to moderate climbs or when riding into a headwind. But they don't have to worry about changing gear because the hub gearing shifts automatically thanks to a centrifugal force mechanism.
"Innovation and product development are built into our company's DNA," says woom CEO Mathias Ihlenfeld on the latest product to come out of Klosterneuburg. "Our developers never stop striving to improve all of our products. Always with a focus on the needs of our little customers. And their parents have been asking for a woom bike with gears for the younger age group for a long while now."
The new woom ORIGINAL 3 AUTOMAGIC is a 16″ children's bike with automatic two-gear shifting on top of all the signature elements and safety features of the woom ORIGINAL 3. That means it has the usual ultralight weight, child-specific components and excellent handling you can always expect from woom. But it also comes into its own when children are tackling hilly stretches on a bike ride or find themselves cycling into a headwind.

"We designed the woom ORIGINAL 3 AUTOMAGIC for young children who are always out and about on their bike and are ready to start going off on longer cycling adventures with their family," explains Mathias Ihlenfeld: "We understand that small children sometimes still struggle to change gear manually, but now the automatic hub gearing can take care of all that for them."
Automatic two-speed hub
When the rider reaches a speed of around 11 km/h, the hub gearing shifts automatically into the higher gear. Little cyclists don't have to worry about the complexities of changing gear and instead can just focus on enjoying the ride. And it's all thanks to a centrifugal mechanism tucked away in the gearing, which shifts automatically from first to second gear when the bike reaches 11 km/h. When the child slows back down to just below 11 km/h, the mechanism shifts back to first gear. This ensures that little cyclists have the perfect pedalling resistance at all times.
The automatic two-speed gearing is produced by the specialists at Sturmey-Archer.
The gears are housed and sealed inside the hub on the rear wheel, which means they are protected from rain, snow, dirt and other external forces. With no trigger shifter or gear cables whatsoever, there are no components that move over time and need to be readjusted every so often. That means the gearing is reliable without requiring much maintenance at all. The chain still has to be cleaned and lubricated regularly – like on any bike. But the special, upper-only chainguard on the woom ORIGINAL 3 AUTOMAGIC makes it exceptionally easy to service the chain from the underside as there's no need to remove the chainguard to do so.
The woom ORIGINAL 3 AUTOMAGIC with automatic shifting is available to buy now from the woom online shop and specialist retailers.
If you're interested in testing out the woom ORIGINAL 3 AUTOMAGIC, please send an email to [email protected]. We'll be very happy to send your editorial team a test bike.
woom: woom ORIGINAL 3 AUTOMAGIC photos
Download-Link, copyright woom GmbH
Please note: These images may only be used in conjunction with media coverage about woom. Thank you!
woom ORIGINAL 3 AUTOMAGIC FACT BOX
On top of the low-maintenance automatic two-speed hub gearing, the woom ORIGINAL 3 AUTOMAGIC comes with all the familiar features of the popular single-speed woom ORIGINAL 3:
Light weight of 6.1 kg/13.4 lbs (without pedals)
Ergonomic geometry designed specifically for children
Ultralight aluminium frame
Wide, ergonomic and lightweight handlebars in BMX style
Child-friendly hand-operated brakes with distinctive green rear brake
woom Ergogrips with a small, child-friendly diameter
Practical quick-release seatpost clamp that's easy to operate with minimal strength
Saddle ergonomically designed to fit a child's pelvis and with protected sides for leaning against walls
Smart steering limiter
Ultralight SOOPA-DOOPA-HOOPS aluminium rims
16 x 1.4″ Schwalbe Little Joe tyres with reflective stripes on the sides of the tyres for optimal visibility
About woom
Founded in 2013 by Christian Bezdeka and Marcus Ihlenfeld in a garage in Vienna
woom has revolutionised children's bikes and set new standards.
woom bikes are superlight, ergonomic, have won multiple awards, and are equipped with numerous features to enhance safety.
Today, woom is a global brand with a presence in more than 30 countries around the globe, above all in Germany, Austria, Switzerland, and the USA.
2020: woom welcomes a group of investors on board, with Marcus Ihlenfeld and Christian Bezdeka retaining a two-thirds majority.
2021: woom establishes exclusive Europe-based production for the European market and the 500,000th woom bike rolls off the production line.
2022: Further internationalisation, expansion of the dealer network and the D2C segment
Inquiries & contact:
Belinda Ableitinger, PR Manager
+43-664/888-22-837
[email protected]
https://www.woom.com