Press releases
woom goes car free for a day
Children's bike brand woom has organised its own Car Free Day to support European Mobility Week and encourage people to use climate-friendly modes of transport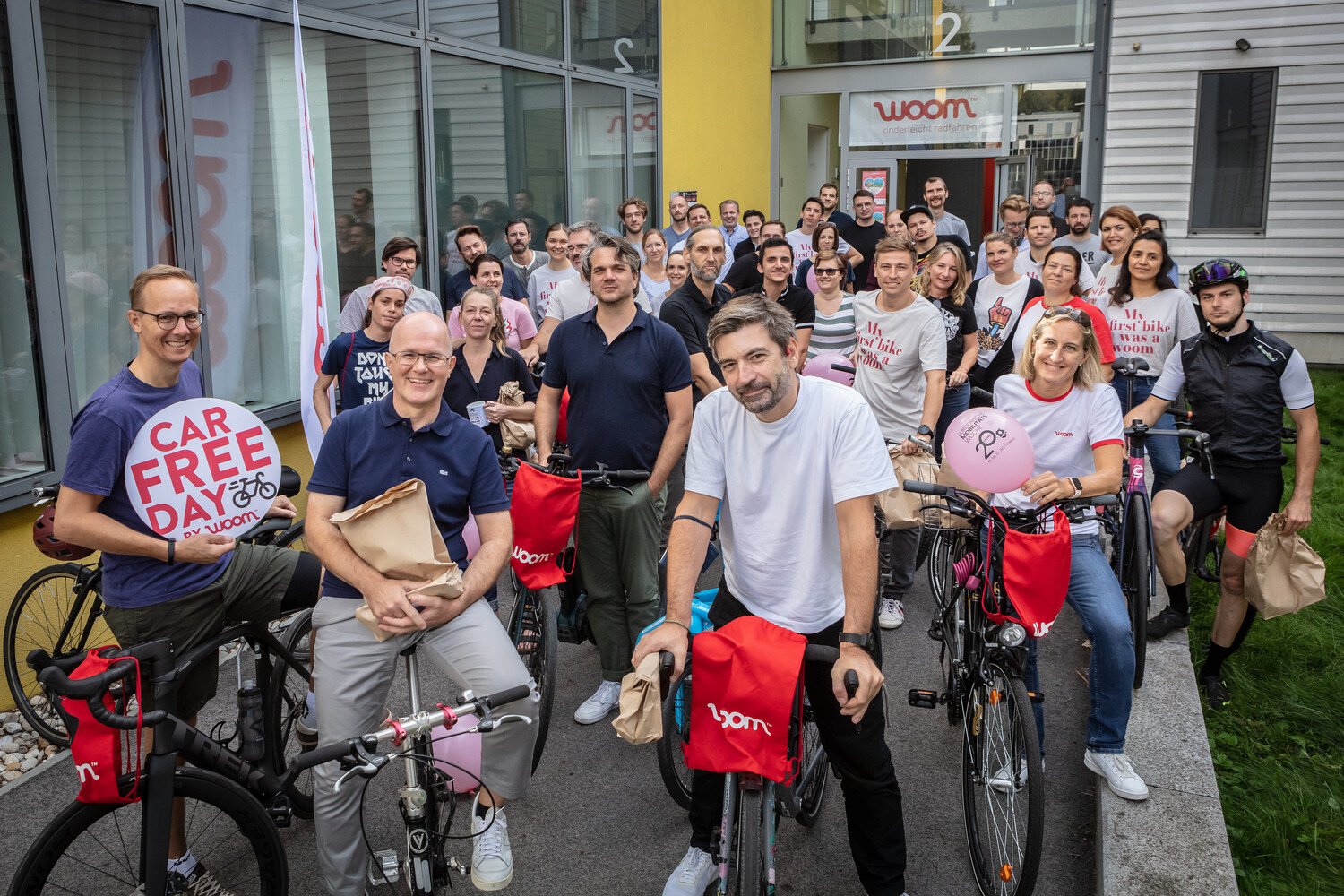 Klosterneuburg, Vienna. woom, the Austrian manufacturer of bikes for children and teenagers, ran its first Car Free Day today, Wednesday, 15 September 2021. The company invited its staff to travel to work by bike or public transport and kick off the day by enjoying a celebratory breakfast together. With this initiative, woom is supporting European Mobility Week and making a stand for green transport policies. The woom Car Free Day is one of many ways the children's bike brand is ensuring sustainable production and working conditions for its staff.
"woom is committed to being as kind and considerate to our planet as possible," explains Marcus Ihlenfeld, who founded the company with Christian Bezdeka back in 2013. "We're constantly striving to improve our production processes and workflows. And the mobility of our staff is part of that because it has an impact on our collective carbon footprint."
36 people took part in the woom Car Free Day, which is pretty much the maximum number of employees that are allowed to be on the company premises at once under the coronavirus restrictions. There are 124 members of staff based at the site in Klosterneuburg as it stands.
"It's so easy for us to get to work by bike because our headquarters is located directly on the Danube Bike Trail," says woom founder Christian Bezdeka. "I usually cycle to work myself as a way of building some physical activity into my day. And we're inviting our colleagues to get their own bikes out for their commute too. The Car Free Day is the perfect opportunity for people to give it a go and see for themselves just how much fun it is and how good it makes them feel."
woom mobility survey
This August, woom asked its employees to complete a mobility survey, which showed that around a third of woomsters regularly get to work by bike or public transport. Half of the people who responded named better public transport connections as the main change that would encourage them to leave their car at home more often.
20 years of European Mobility Week
woom scheduled its Car Free Week to coincide with the start of European Mobility Week. The international initiative devoted to sustainable mobility is taking place for the 20th time. In 2021, over 500 towns, cities, communities, educational institutions and businesses in Austria are getting involved to encourage people to stay 'Safe and Healthy with Sustainable Mobility'. Austria ranks in the top three countries working with the campaign being run by the European Commission.
"Businesses have such an important part to play in the mobility revolution we need to see. Discounts on public transport tickets, bike-friendly infrastructure and awareness-raising campaigns like Car Free Day are effective ways for them to encourage their employees to make a change," says Elke Kastner from the Austrian Climate Alliance.
Sustainability at woom
woom sees cycling as a powerful force for making the shift to climate-friendly, healthy, efficient and enjoyable urban and rural mobility. Bezdeka: "We hope that kids that are excited to ride their bike will one day grow into adults that love the thrill of two wheels just as much." woom bikes are built with premium materials and components, which makes them durable and sustainable enough to be enjoyed by generations of children.
woom is committed to the Sustainable Development Goals (SDGs) set out by the United Nations and has implemented numerous measures that are monitored and evaluated by a team of experts specialising in CSR.
Made in Europe
A factory run by German company SPRICK CYCLE GmbH in Świebodzin in Poland has been handling final assembly for the European market since the start of 2021. woom ORIGINAL bikes roll off the production line there. In fact, this facility handles around half of the company's overall production, largely covering the demand on the European market. There are plans to further expand production capacity in Europe. This strategy makes it easier to monitor production conditions at supplier companies, while shortening supply chains and reducing the carbon footprint in the process.
Halfway through 2021, woom started working with climate start-up Glacier to take targeted action to protect the planet and reduce its climate footprint across all departments.
woom also supports other organisations like the mobility and transport advocacy group Verkehrsclub Österreich, in addition to projects that promote active, healthy, climate-neutral and safe mobility – just like European Mobility Week.

Inquiries & contact:
Belinda Ableitinger, PR Manager
+43-664/888-22-837