Press releases
woom pedals into 2022 under new management
woom stays on course for growth in 2022
New leadership trio: CEO Mathias Ihlenfeld, CFO Paul Fattinger
and COO Martin Bartmann
Founders step back from day-to-day operations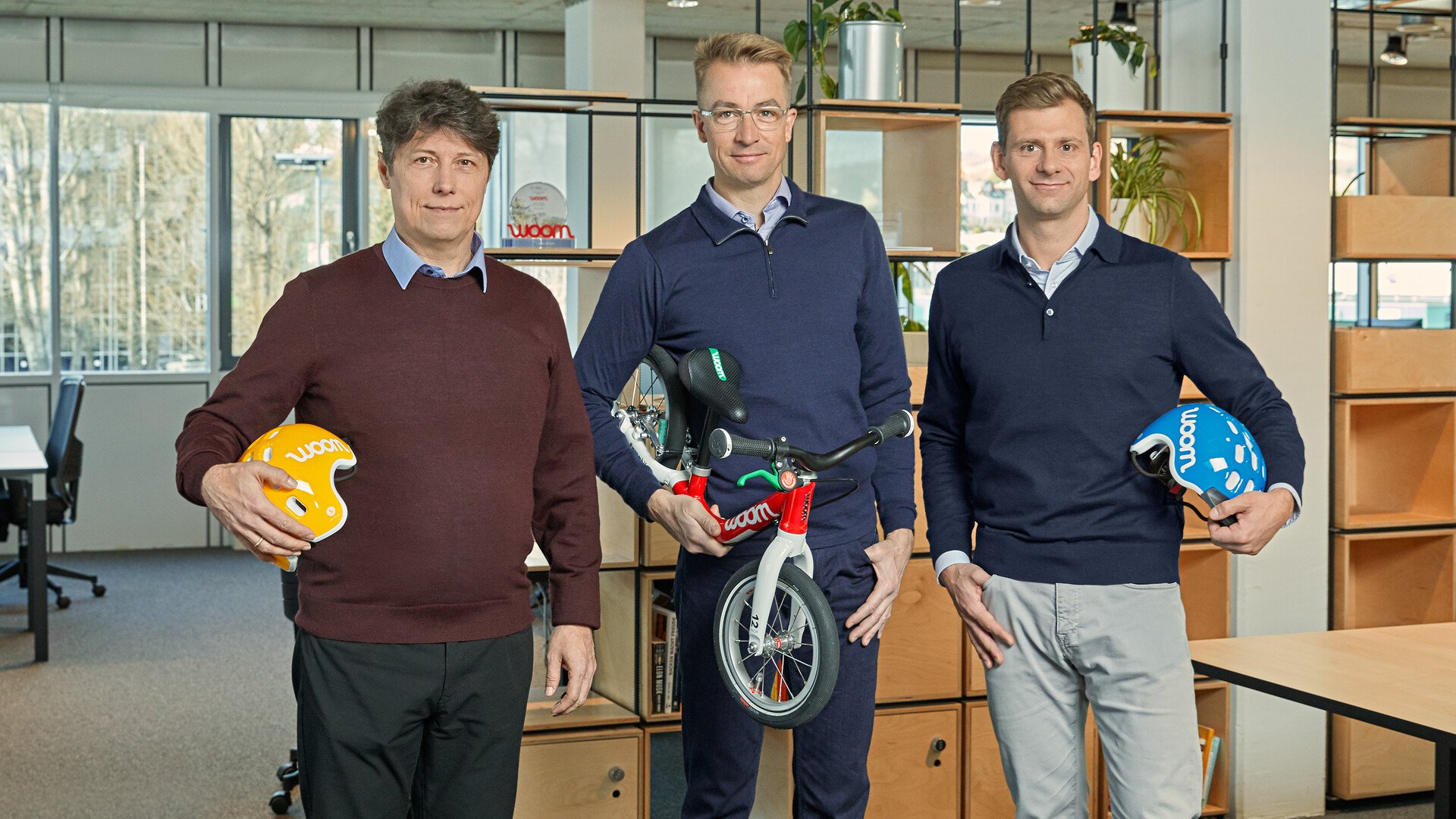 Klosterneuburg, 1 February 2022: The Austrian children's bike brand woom pedals into 2022 under new management: woom USA founder Mathias Ihlenfeld joins Paul Fattinger and Martin Bartmann to continue on the path to international growth for the company. The woom Europe founders Marcus Ihlenfeld and Christian Bezdeka will concentrate on their roles on the advisory board and as shareholders.
The love of bike riding is stronger than ever. As an international manufacturer of bikes for children and teenagers, woom also profits from that trend. Just eight years after its founding, the 500,000th woom bike rolled off the production line in 2021. On the agenda for 2022 is expansion into new markets. Some operational changes and a new management trio are expected to make this successful.
Starting from the new year, Mathias Ihlenfeld has taken on overall management of woom as its CEO. The 47-year-old German native founded woom USA in 2014, and then built up the US business. With his uncompromising focus on the direct-to-consumer business and outstanding customer service, Ihlenfeld has managed to make woom one of the fastest growing bike brands in the USA. Not long ago, Ihlenfeld expanded the woom US headquarters in Austin, Texas to serve North America, the biggest growth market for woom. Last year, nearly 45,000 bikes from direct online sales went to US customers.
"We want to continue to grow while at the same time preserving the unique woom spirit," says Mathias Ihlenfeld, "We still have a clear priority: to instil the love for bike riding in as many children as possible. That is our mission."
The new CFO at woom is Paul Fattinger (40). The long-time partner at BDO Austria specialises in scaling businesses. Following positions at KPMG and the Boston Consulting Group, Fattinger orchestrated the merger of woom USA with woom Europe in 2021 to create the global "one woom" brand. In his new role as Chief Financial Officer responsible for financial affairs and strategy the native of Graz, Austria is responsible for ensuring a solid financial structure and for the strategic guidance of the company.
"In just under eight years, a garage start-up has become an international player," says Paul Fattinger, "We now want to ensure that this rapid growth can continue without causing growing pains for woom."
Martin Bartmann (56) rounds out the new leadership trio as interim COO. With his degree in business informatics and his international upper-level management experience, Bartmann will be responsible at woom for optimising logistics processes and supply-chain security. Bartmann takes over this function from Guido Dohm, who will concentrate on further development of the European woom production and assembly location in Świebodzin, Poland and fully automated bicycle frame and fork production in other Eastern European countries. The engineer and supply chain expert will promote the development of a new bicycle technology cluster in the middle of Europe with an array of specialised engineering, technology and automation partners. This will advance re-shoring efforts for shorter delivery times, better product availability and as a contribution to sustainability – all issues that are central for woom.
Founders step back from day-to-day operations
With the new woom management team organisation, Marcus Ihlenfeld and Christian Bezdeka are stepping back from day-to-day operations. The two woom founders and shareholders will now devote their attention to the vision and long-term strategic development of the brand as well as the future of the product portfolio.
"I'm happy to return to doing exactly what I enjoy most," says Christian Bezdeka, "That is, designing bikes and products that get children excited about bike riding tomorrow and for many days to come."
"It's important to let go at the right time," says Marcus Ihlenfeld, "Had we not continuously brought people on board who could do certain things much better than we could, we'd still be building bikes in the garage and selling 300 bikes a year."
*****
Mathias Ihlenfeld (47), Chief Executive Officer (CEO) & founder of woom USA
In 2014, not even a year after the parent company was established in Vienna, Mathias Ihlenfeld, the younger brother of Marcus Ihlenfeld, founded woom USA. A father of a one-year-old at the time, he was passionate about woom bikes from the very beginning, and he immediately identified the potential for success in the US market. Within just a few years, Mathias Ihlenfeld and his team have positioned woom as the fastest growing direct-to-consumer children's bike brand in North America. Born and raised in Germany, he moved to the USA as a college tennis player in 1994 and completed his MBA at the University of Alabama. As a management and financial consultant for IBM and SAP, he developed his skill set and became the kind of person that has what it takes to successfully manage a company in the fast-paced economy of the digital era.
Paul Fattinger (40), Chief Financial Officer responsible for financial affairs and strategy (CFO)
Paul Fattinger was named Chief Financial Officer responsible for financial affairs and strategy at woom in October 2021. Fattinger studied Business Administration and Law at Vienna University of Economics and Business and graduated with an MBA from ESADE Business School in Barcelona. The new CFO has many years of experience in the financial markets and consulting field. He started his career at the auditor and business consultancy KPMG. His career has also included stints at the Boston Consulting Group and Austin BFP, where he developed the management consulting business. Since 2018, Fattinger has been a partner at BDO Austria – the international BDO network is the world's fifth-largest auditor and business consultancy. It was also BDO that brought Fattinger to woom.
Martin J. Bartmann (56), Interim COO
Martin J. Bartmann studied Business Informatics at Vienna University of Technology and attended the management programme (Strategy & Organisation) at the Stanford Graduate School of Business (GSB), in addition to studying Strategic Finance at the Institute for Management Development (IMD) in Lausanne. The international executive is an expert in supply chain management and finance. Bartmann started his career as a consultant at Andersen Consulting (today's Accenture, one of the world's largest providers of business and strategic consulting). In multinationals such as RHI AG, the world market and technology leader in refractory materials, and Magnesita Refractories, Bartmann has held several positions with international leadership functions. Since 2021, Bartmann has been on the management team at woom, where he will use his expertise to promote international expansion.
Photos of woom management:
Download-Link Photos of woom management, Copyright woom GmbH
About woom:
Founded in 2013 by Christian Bezdeka and Marcus Ihlenfeld in a garage in Vienna
woom has revolutionised children's bikes and set new standards
woom bikes are ultralight and ergonomic, with every last detail designed specifically for kids
Present in over 30 countries worldwide, above all in Austria, Germany, Switzerland and the USA, after eight years in business
In 2021, woom opened a European factory and now manufactures for Europe in Europe; the 500,000th woom bike rolls off the production line
2022: Further internationalisation, expansion of the dealer network and the D2C segment
Enquiries & contact:
Matthias Bernold, Head of Communications & PR
+43 664/888-22-793
Belinda Ableitinger, PR Manager
+43-664/888-22-837