Presseaussendung
Gearing-up: The safe way for your child to enjoy spring cycling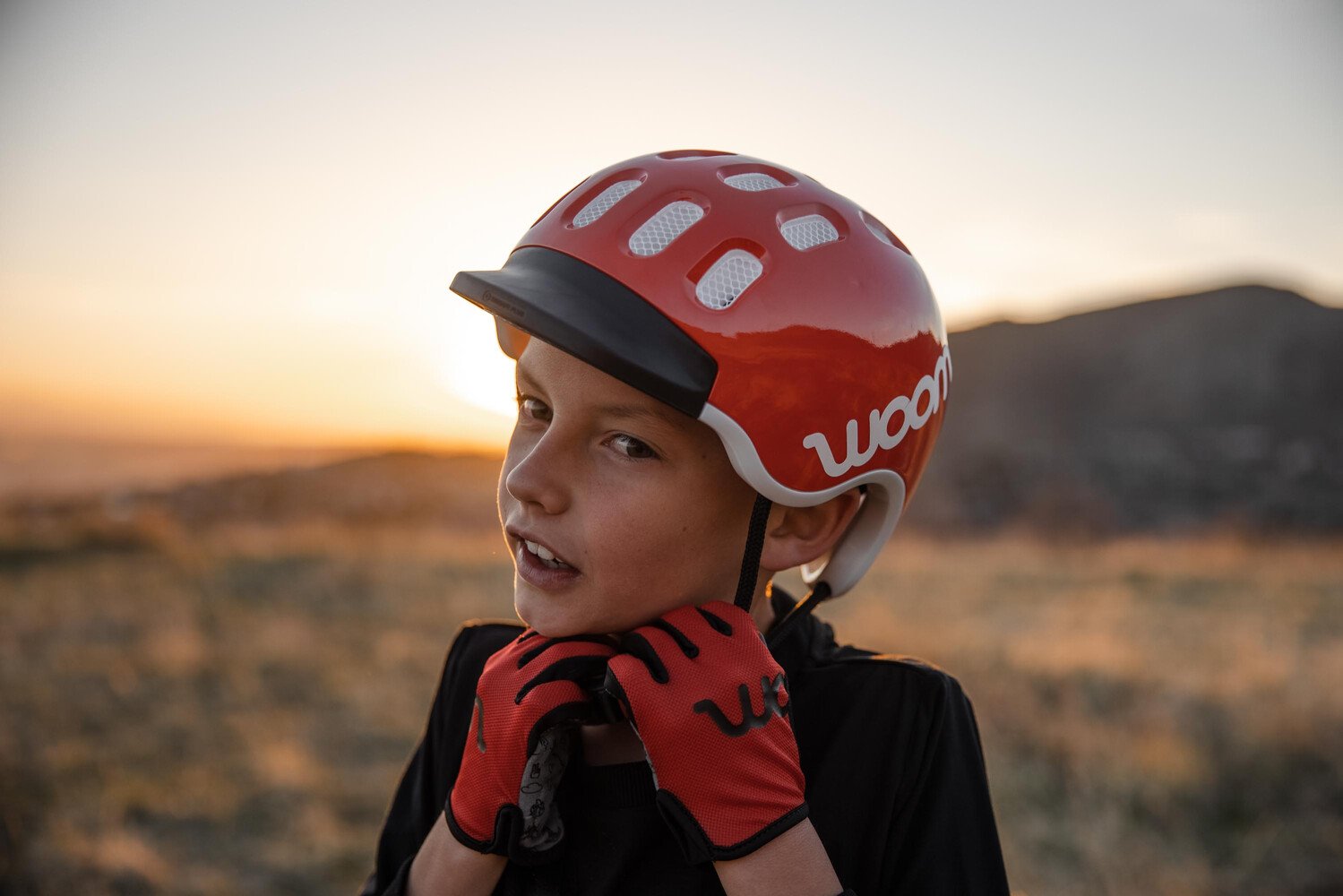 Klosterneuburg, 14 March 2022: International bike manufacturer woom not only offers super-safe and superlight bikes for children and teens, but also super cool protective gear, including the popular woom KIDS' Helmet and TENS Bike Gloves. There's a new addition to the woom product portfolio in 2022: the NEEBOWS knee and elbow protectors for young cyclists.
For maximum wild outdoor adventure with maximum protection, the international children's and teens' bike manufacturer woom has just the right protective gear in its product range: the snug-fitting, award-winning woom KIDS' Helmet with its innovative features is one such item. It offers children reliable protection from head injuries. Helmets are even a legal requirement in many states, like California, where children are required to wear one up to the age of 18.
Bike gloves are also an important part of protective gear. After all, it's the hands that usually hit the ground first. The TENS Bike Gloves by woom not only protect a child's sensitive skin from more serious injury in a fall, but they also ensure a good grip on the bars and brakes.
NEW addition to the portfolio: The NEEBOWS Knee and Elbow Pad Sets by woom
Kids love two-wheeled adventures. But scratches and scrapes can't always be avoided, which is why it's important to keep exposed skin well protected. The new protectors by woom, the NEEBOWS Knee Pad Set and the NEEBOWS Elbow Pad Set, protect knees and elbows so that young riders return home from their voyages of discovery in one piece.
These knee and elbow pads, which are as comfortable as they are robust, come in pairs in three sizes and offer young bikers an optimal fit and the full range of mobility while cycling: the super light, stretchable and flexible upper material (70% polyester, 10% spandex, 20% nylon) perfectly fits the individual contours of the joints and are child's play to get on and off. No more mix-ups: their universal design means that kids can wear the pads on either the left or right knee or elbow, eliminating any possible mix-ups. What's more, the breathable fabric provides good air circulation and comfort, even on long rides.
The silicone strips on the top and bottom cuffs, along with the silicone print on the inside, ensure that the pads stay put even when your child is riding over bumpy terrain. The pads (made from 100% PU) have a lovely, soft feel during the ride but they harden immediately on impact, cushioning the blow and protecting your child's precious knees and elbows from scrapes and bruises.
The woom mission: to inspire a love of bike riding in children and with the right gear enable experiences in nature they'll cherish for a lifetime. With the woom protective gear, nothing stands in the way of safe and boundless riding adventure. The perfect alternative to a gaming console or phone!
All of the woom accessories are available in the woom online shop and at selected dealers.


Factbox NEEBOWS:
The NEEBOWS Knee Pad Set and the NEEBOWS Elbow Pad Set are available in three sizes (S, M, L).
The pads are for children only and are suitable for everyday cycling and roller sports, they are not designed for high-speed cycling or jump sports, such as downhill, dirt-jump or BMX.
The pads meet the requirements for personal protective equipment (Regulation EU 2016/425) and have been tested by an independent testing institute in accordance with EN 14120+A1: 2007-09 Level 2. The pads are also CE certified.
Price per set: EUR 39
Photos of woom accessories (KIDS' HELMET, TENS Bike Gloves and NEEBOWS Knee Pad Set and NEEBOWS Elbow Pad Set):
Download-Link for product photos, copyright woom GmbH
Please note that that these images may only be used in connection with media reporting about woom. Thank you!
About woom:
Founded in 2013 by Christian Bezdeka and Marcus Ihlenfeld in a garage in Vienna
woom has revolutionized children's bikes and set new standards
woom bikes are superlight, ergonomic, have won multiple awards, and are equipped with numerous features
Today, woom is a global brand with a presence in more than 30 countries around the globe, above all in Germany, Austria, Switzerland and the USA
2020: A group of investors welcomed on board at woom, Marcus Ihlenfeld and Christian Bezdeka retain a two-thirds majority.
2021: woom production for Europe in Europe is established and the 500,000th woom bike rolls off the production line.
2022: Further internationalization, expansion of the dealer network and the D2C segment
Inquiries & contact:
Belinda Ableitinger, PR Manager
+43-664/888-22-837