Press releases
woom champions family-friendly mobility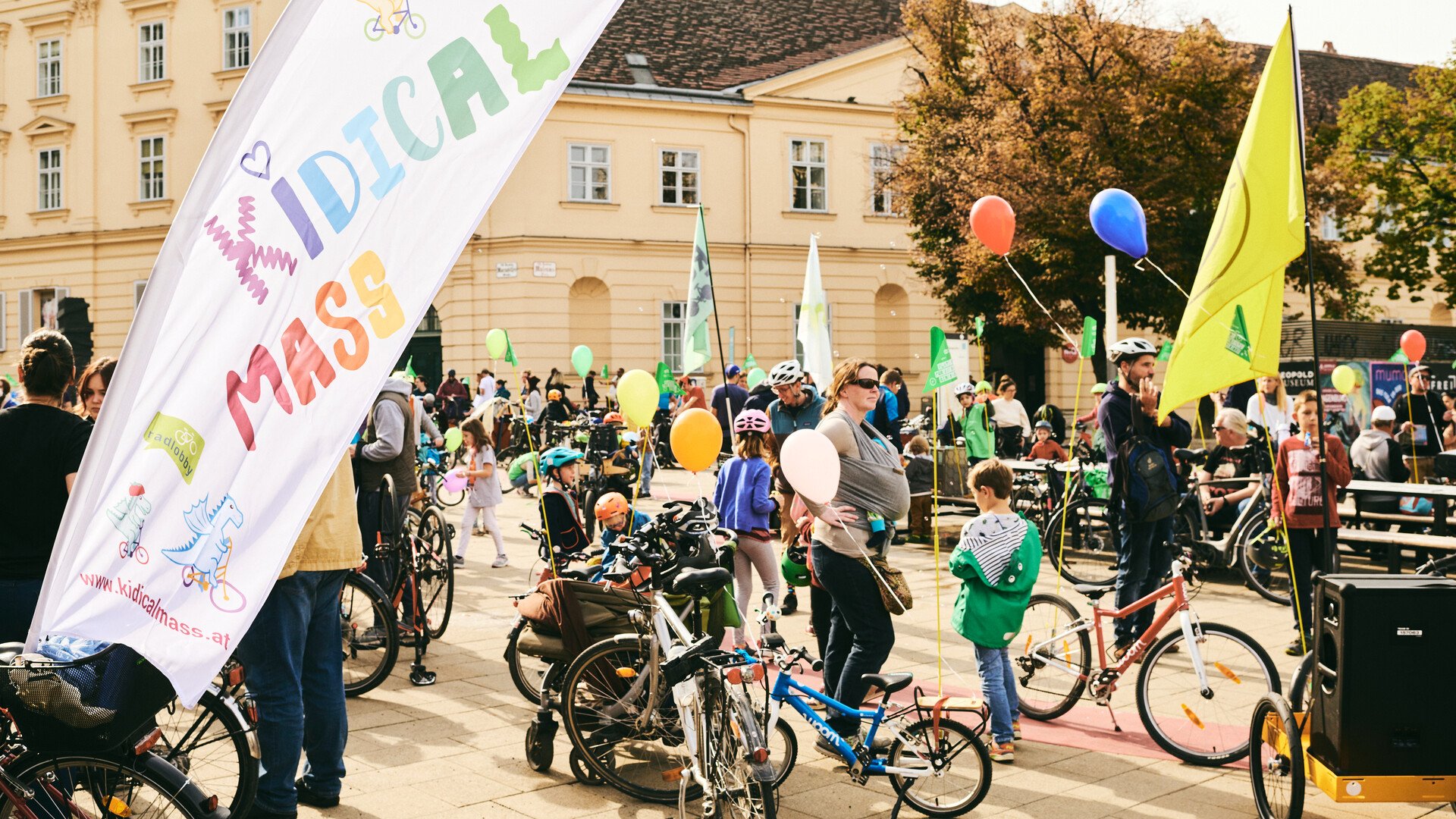 woom sponsored the 2022 VCÖ Mobility Award.
woom and the VCÖ (Verkehrsclub Österreich) announced the first winner of the new category for family-friendly mobility concepts.
The winning project was KIDICAL MASS, a global movement empowering families to reclaim the road space through bicycle demonstrations.
Klosterneuburg, 28/09/2022: This year, the Verkehrsclub Österreich (Austrian Traffic Association, VCÖ) has introduced a new category to its Mobility Award to recognise family-friendly mobility concepts. As a manufacturer of bikes for kids, woom is committed to championing transport infrastructure that is safe and suitable for children and families. And so it made perfect sense for woom to become the main sponsor of the new award category.
"We applaud the VCÖ for putting valuable ideas and projects relating to sustainable and future-focused mobility in the spotlight," says woom founder Christian Bezdeka. "Children and families stand to benefit from smart ideas and mobility projects that open up cycling and walking as practical options and enjoyable experiences. And if we can get lots of children excited about cycling now and they go on to become bike enthusiasts as adults, that can only mean positive things for the transport revolution."
Bring on the transport revolution

Through the VCÖ Mobility Award, the Verkehrsclub Österreich recognises projects that encourage people to use sustainable and environmentally friendly forms of transport.
And the winner is... KIDICAL MASS

There were 24 submissions in total and a judging panel of international experts nominated five projects in the 'Child-Friendly Transport System' category. In the next stage, the public voted KIDICAL MASS as their winner.

The global movement, which is also supported by the cycling advocacy group Radlobby in Austria, organises bicycle demonstrations for children and families as a way of opening policymakers' eyes to the need for child-friendly cycling infrastructure. That includes wide cycle paths in an extensive network, car-free zones outside schools, bike playgrounds in all cities and secure parking spots for cargo bikes.
More than 700 cyclists of all ages joined the recent demonstration in Vienna on Saturday, 24 September 2022 and cycled together from the MuseumsQuartier to the Vienna Museum of Science and Technology. Once again, lots of kids on woom bikes were in the crowd with their families.
Bezdeka: "We want as many children as possible to love to ride their bike. That relies on them having a decent bike. But proper cycling infrastructure is just as important – if not more so."
woom PR Manager Belinda Ableitinger hands over a cheque to KIDICAL MASS Initiator Florian Klein.
woom: Photos of KIDICAL MASS 2022 in Vienna
Download-Link, Copyright VRATNY
Please note: These images may only be used in conjunction with media coverage about woom. Thank you!
Find out more about the 2022 VCÖ Mobility Award here: https://vcoe.at/mobilitaetspreis
Read more about KIDICAL MASS here: https://www.kidicalmass.at/
About woom:
Founded in 2013 by Christian Bezdeka and Marcus Ihlenfeld in a garage in Vienna.
woom has revolutionised children's bikes and set new standards.
woom bikes are superlight and ergonomic, have won multiple awards, and are equipped with numerous features to enhance safety.
Today, woom is a global brand with a presence in more than 30 countries around the globe, above all in Germany, Austria, Switzerland and the USA.
2020: woom welcomes a group of investors on board, with Marcus Ihlenfeld and Christian Bezdeka retaining a two-thirds majority.
2021: woom establishes exclusive Europe-based production for the European market and the 500,000th woom bike rolls off the production line.
2022: Further internationalisation, expansion of the dealer network and the D2C segment
Inquiries & contact:
Belinda Ableitinger, PR Manager
+43-664/888-22-837