mountain biking
A MTB holiday with kids – Top tips from the experts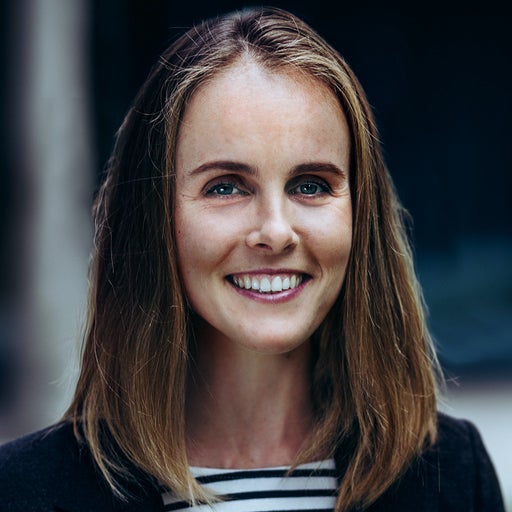 Sarah Schwarz
With schools out across most of Europe for summer already or teasingly close to the final school bell of the year, is it time to consider a staycation rather than a seaside jaunt? A brand new experience for many of us!
If your original summer plans have been reshuffled due to the pandemic, we may have the solution: MTB holidays are ideal for active families of all abilities, whether you're predominantly recreational, at a racing level, or brand new to the sport. We chatted to two experts in the field: Martin Baumann from the marketing agency MTS Austria GmbH and South Tyrol-based hotelier Christoph Kofler for their top tips.
Hi Martin and Christoph, let's begin: bike holidays and families – is it a match made in heaven?
CK: Absolutely! The combination of family–sport–time is the ultimate holiday trio. We see it first-hand, time after time. The most important thing is that parents don't expect too much from their child. Kids won't manage more than 200 to 300 metres of climbing without it becoming too much, or just too hard and too little fun. Remember, most kids are used to tarmac bike paths and won't have a clear picture of what a bike ride might involve. That's why I always suggest making use of preparatory technique or skills training or custom family–orientated routes which are offered in many places. In recent years more families are opting for e-bikes, which means the kids can accompany their parents on longer rides, or the parents attach a trailer to tow the kids.
MB: I have to agree! Within our Mountain Bike Holidays association there are six kids-specific Kinderhotels. Given the situation right now, the majority of their activities will be taking place outdoors instead of indoors. Mountain biking is using just one element of the holiday and runs in unison with other activities.
Do you have any tips or tricks for getting the whole family excited about a riding holiday – particularly if it's their first ever MTB holiday?
CK: Before booking a bike holiday, parents need to look closely at what's on offer in the region, including its family-friendliness and potential routes. Bike-mad parents among us – me included! – need to realign their focus; the emphasis on a family bike holiday has to be on shared experiences rather than training. Variety is key: add in some moderate via ferrata or climbing, trips to lakes, and a spot of sightseeing to keep everyone happy.
MB: The trend in trail building right now – of shaping trails that are less and less technical – plays right into the hands of families. It opens up trail riding to newer or younger riders. Flow trails are action-packed and guaranteed to delight kids.
Is there such a thing as the perfect age to take your child on an MTB holiday?
CK: It can happen pretty early on! Parents that are keen cyclists will want to get back on two wheels fairly quickly and start sharing their passion with their kids. Trailers are great at the start as a way of letting your little one experience the sport with you. Once they reach a certain age – usually between six and seven years old – they can join in on easy rides, depending on their endurance. A lightweight model like a woom bike is definitely beneficial at this stage. Gravel tracks can usually be incorporated once your child is around eight years old or has some experience under their hat.
What are the important factors for families to consider when picking their bike holiday accommodation?
MB: By picking a property that specializes in families and cycling, your pre-holiday planning is easier. They take charge of aspects of the preparation and ease the burden of logistics. We've introduced the category 'Easy & Family' for exactly this purpose – it's explicitly aimed at families on bikes, novice cyclists and recreational riders. Designated Easy & Family member hotels not only have to meet the usual requirements but also satisfy specific family-friendly criteria, including children's bike and trailer rental as well as childcare.
CK: Many families are happy to leave their own bikes at home, which is where bike rental at the hotel or in the town is incredibly useful by adding flexibility to their holiday. You can't be rigid in your plans when you're on holiday with kids; it pays to be spontaneous. With on-site options, you can simply decide during the course of the morning if you will hire bikes on that specific day. We often see kids forming new friendships in the hotel and then preferring to climb rather than go for a bike ride. Childcare is another big concern for many parents that cycle; this is available in our family-friendly Kinderhotels. Older kids from the age of around six can participate in kids-specific skills workshops and technique training, such as at our Bike Camp, where they can develop their riding skills alongside other kids in a playful setting. This frees up the parents to embark on a road or MTB ride together with a clear conscience.
What are the key items to pack in your luggage and what can be rented upon arrival?
MB: Families will always have a lot to pack, which is why we make sure that they can rent as much as possible on site. Fundamental equipment to remember on every trip includes a first aid kit, ample food and drink supplies, and a riding backpack so that you can carry said essentials and be equipped for any mid-ride incidents.
CK: Clothing and shoes are essential. Specialist hotels will have protective items such as knee and elbow protectors and a helmet with a visor available for hire. And bike bottles will also be available.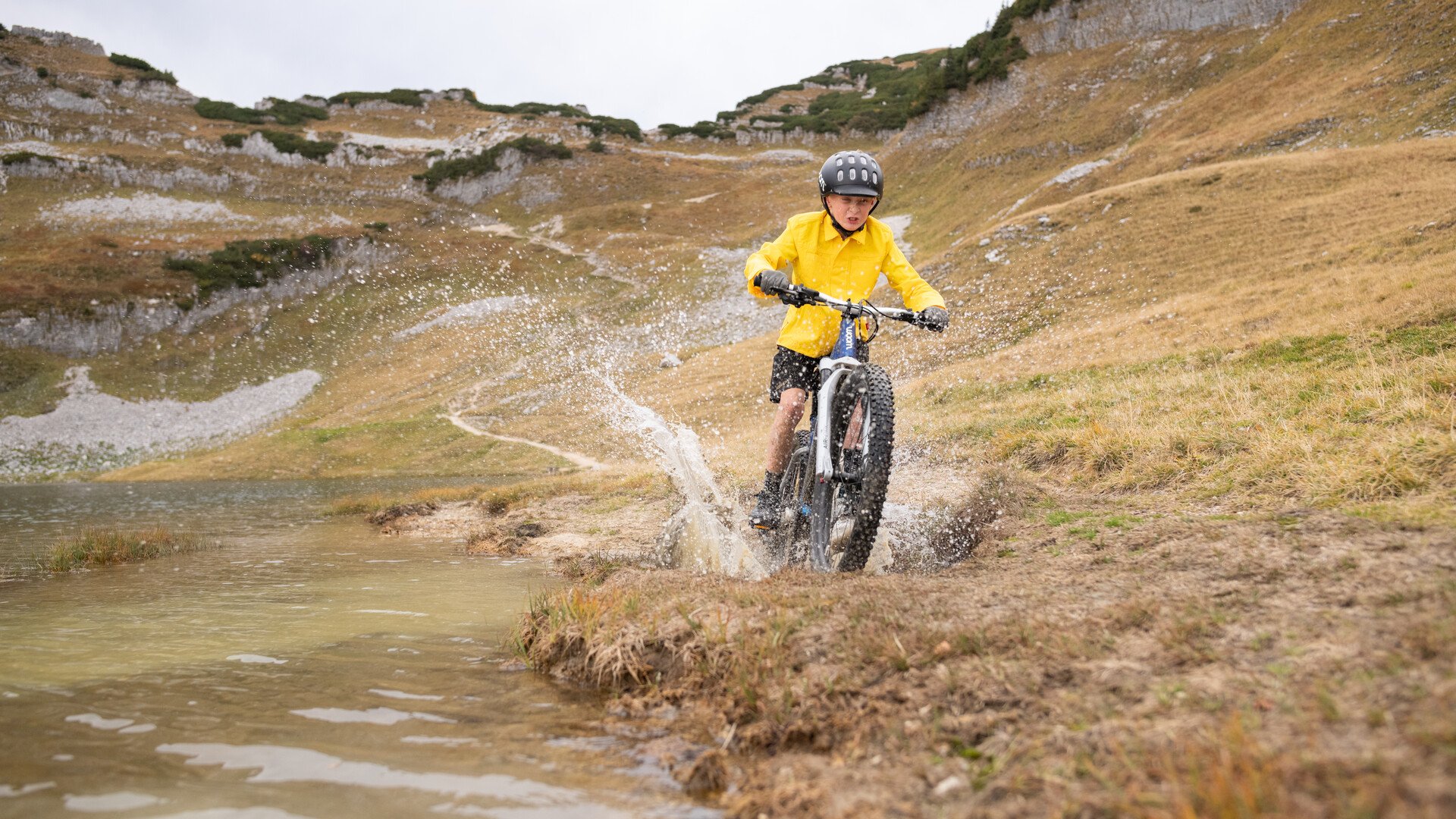 Not too steep, not too far, and not to carry too much – what are the right ingredients for a successful ride with kids in the mountains?
MB: The actual act of cycling is less important for kids – apart from riding trails, of course. Just like for us adults, the experience is what counts. That might involve the scenery and culinary highlights for us, but kids might be more into the idea of themed trails or other playful elements that can be incorporated into your excursion.
CK: You have to add in more breaks on the ride – perhaps to take photos or paddle in a lake. Always make sure that they're eating and drinking enough. The route needs to be tailored for their level, and should not be too challenging. With all these elements, you should all have a great time.
How do families know which route to pick?
MB: From my experience as a ride guide, elevation gain in terms of metres climbed can be quite an abstract concept for many holidaymakers, which is why I wholeheartedly recommend asking local experts. Not only will they know the most suitable routes but also the best destinations.
CK: Exactly, MTB Hotels have in-house riding expertise with local experts. This is hugely advantageous for families that are quite new to the sport. But it's also quite common for parents to misgauge their child's ability, which becomes clear during our technique training sessions. After a chat and some specific questions, we're able to determine which routes could be suitable and give the family some practical tips, such as how to stay on the flatter trails, which sections might be tricky, and where find the best views.
You can't rely on technology in the mountains, mind you. If you lose your GPS signal at a junction the best course of action is to turn around. I'm a big advocate of taking a hiking map in your backpack, which helps families to locate themselves if needed.
All ages and abilities – how do you please everyone? Could e-MTBs be a solution?
CK: (laughs) I'm the only member of my family that rides a non-motorised bike! My youngest daughter is very sporty, the elder one less so. My wife and daughters probably would not even consider joining me on regular MTBs! Thanks to the e-bikes we can go out on a ride together; one rides in eco mode, the other in turbo and I get a good workout. It opens up a much wider radius, we see more and can loop in places like mountain huts that we would not be able to reach otherwise. By the end of the ride we're all grinning madly and that's the most important thing. When it comes to kids, you have to think a little differently: they don't want to struggle. It's the same when they are skiing. They just want to have fun, which is what e-bikes can provide. These days, we win just by getting the kids outside for a while anyway.
MB: Exactly, the topic of e-bikes is a big one for debate, but we have seen that e-bikes are just as much of a hit with kids as they are with adults here in Alpine regions. Kids don't have the same fitness and without a motor many would be unlikely to get on board a bike. E-bikes are one way to combat the lack of movement and exercise that's so prevalent in society at the moment, as well as being a great way for kids to socialize. I'm convinced that the benefits outweigh the cons. If the e-bike trend continues in the same manner than it's highly likely that this young discipline of cycling will become as common as hiking in 20 years time.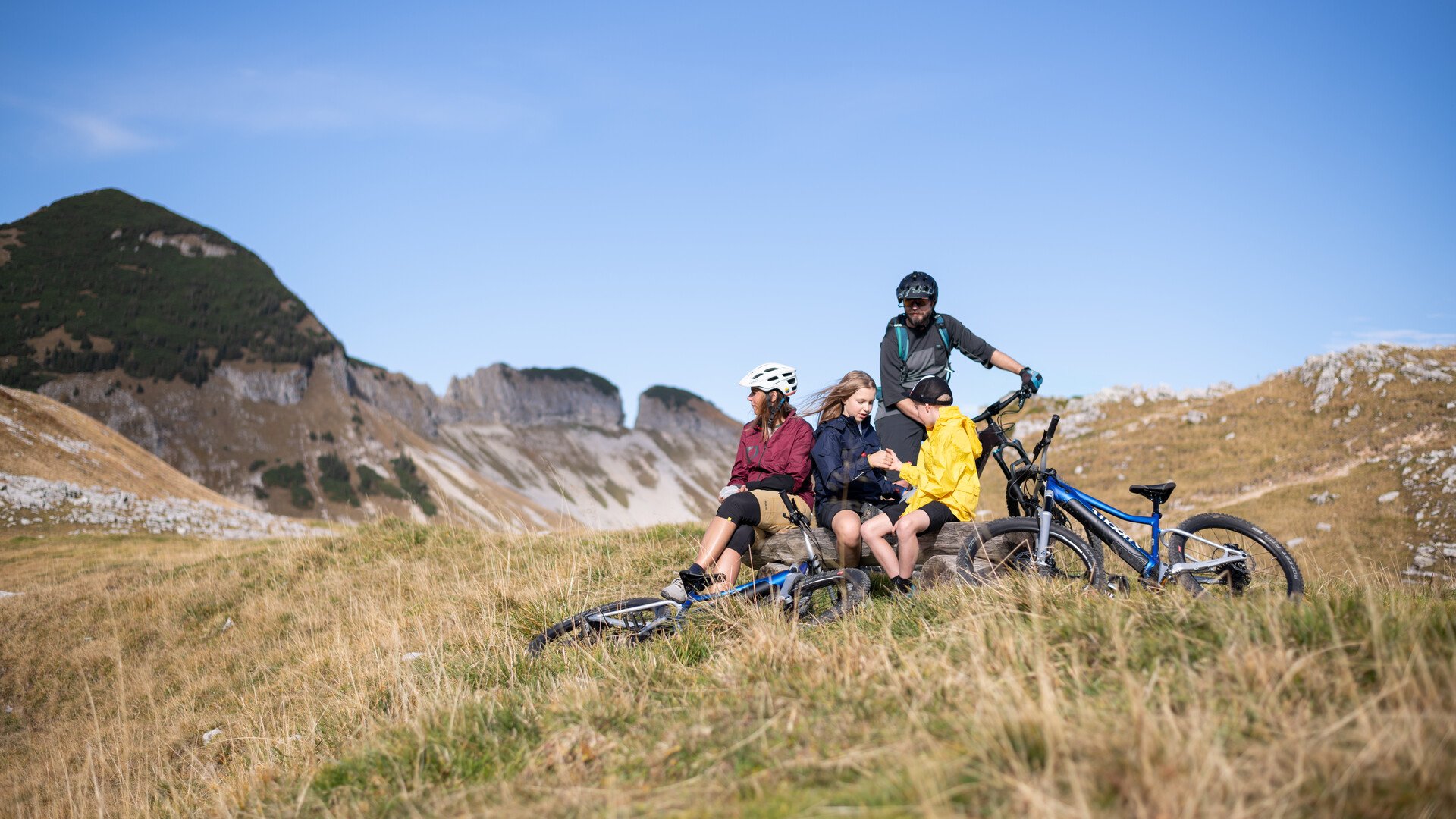 Apropos E-MTBs – what's your experience with e-bikes and kids?
CK: Lots of families bring their own MTBs on holiday but will grab the chance to have a go on an e-bike. Over dinner I'll ask them how it went and they always give me a thumbs up: 'It was super cool!'. The excitement is sky-high, which is not always the case with regular mountain biking: sometimes kids come back from a ride and say that it was too much like hard work. Downhills are still the main source of difficulty, just like regular mountain biking – this is where having the right size bike really matters so that kids can quickly plant their feet on the ground when needed. It's also tricky for kids to gauge their speed on descents; parents need to pay close attention here.
MB: Because the hotels are required to have a certain level of e-bike competence, guests are guaranteed to have a thorough introduction to e-bikes and how they work. This is really important for newbies. For anyone riding in the Alps, you really need to have some experience on riding on loose terrain, like gravel access roads to make sure you'll get back to the valley safely.
Are there specific guided rides for families? What are the benefits of such an excursion?
CK: Yes, regions that specialize in cycling tend to offer guided tours, both with MTBs and e-MTBs. These are ideally tailored for families and might be undertaken in small groups of two to three families. The benefits? Parents can rely on the experienced guides to pick a suitable route –including the right level of difficulty, climbing, and distance. What's more, they'll endeavor to pick the best route possible, featuring beautiful views, places to play and unknown spots. After all, it is not just a bike ride – it's a shared experience for the family and should be fun.
MB: I loved being a ride guide during people's holidays, riding with like-minded people and showing them the best areas. It's great for the guests too: having a guide with local knowledge and bike expertise means that there's no real stress on your family ride; nothing to cause any major time losses, and no need for excessive research beforehand.
What activity should we pick as a way to balance out the biking? There's no guarantee of sunshine every day, so what do you suggest for rainy days?
CK: I'd definitely suggest going rafting, even in the wet. Our hotel is set in the mountains but you're in Bolzano within fifteen minutes, where families can explore the city, visit the fortress or find out about Ötzi the Iceman. Spending a day at Lake Kaltern/Lago di Caldaro is a great alternative to riding too.
MB: Kids make friends really quickly at family-friendly hotels and while doing sport, so they will really relish the time to play together. On rainy days they'll happily keep themselves entertained.
Where are the coolest trails and bike parks to satisfy every generation?
MB: Many bike parts directly target kids and specialize in family-friendly offerings. The two places that really stand out are Leogang and Serfaus, which adopted this approach early on.
CK: You mainly find natural trails in this area, rather than man-made ones, and so you'll ride quiet, little-used hiking paths.
Sounds cool. Let's end on a high: what are your personal MTB highlights?
MB: The incredible variety – from the Dolomites to Austria's grassy Kärntner (Carinthia) mountains right through to the enduro trails in Nauders. In terms of where to ride, the options are increasing rapidly and there's more and more variety in every direction.
CK: The way that biking connects people. In our small hotel, all of our guests get to know each other, swap tips and share recommendations. We're happiest when our guests are happy; when they return home after a few days at ours having had a great time
Martin Baumann began work with the MTS Austria GmbH, the Marketing Tourismus Synergie, in 2015 and has been the authorised signatory since 2019. Within the leading marketing agency in the field of tourism for hotels and regions, Martin is responsible for product and marketing management for both its road bike and mountain bike holidays. Its association members have to satisfy strict criteria and undergo regular checks to ensure their hotel offerings meet the standards. Back when he was a student, Martin was already a passionate, qualified ride guide for Mountain Bike Holidays, leading hotel guests on road and mountain bike routes. Now project manager for the divisions, Martin takes care of around 90 member hotels in the Alpine regions, ensuring the smooth-running and implementation of initiatives, the range of services, strategic development, and marketing.
Christoph Kofler, hotelier and avid cyclist and hiker, was one of the earliest to spot the logic behind the pairing of families and cycling, which he translated into Hotel Maria. Nestled in the small village of Obereggen in South Tyrol, this hotel has been a specific child-friendly Kinderhotel since its renovation in 2002, a Mountain Bike Holidays member hotel since 2008, and a designated Rennradhotel, with additional, proven expertise in road cycling for the past three years. Hotel Maria welcomes young, sporty parents that enjoy being outdoors with their kids. With Bike Camps, technique training and tailored rides, Christoph makes sure that the offspring are catered for.