Joy After the Flames: woom Donates to Basecamp Collective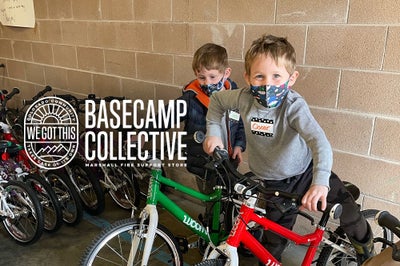 "It's difficult to think back to when the fires impacted our community, but the most prominent thing I can remember is an overwhelming feeling of sadness for the youngest affected, our children," reflects Jennifer Henry, a Colorado resident who helped catalyze woom's contribution of 127 bikes to her neighbors after the 2021 Colorado wildfire.
Jennifer's neighbors were just some of the thousands whose lives were changed by the catastrophic Colorado wildfire. The fire, among the most damaging in the state's history, began the morning of December 30, 2021, and spread with astonishing speed across suburban communities in Boulder County.
Nearly 1,000 homes were destroyed as a result, and tens of thousands of residents were forced to evacuate. Authorities have reported about 6,200 acres burned and have said it may take years to rebuild from the damage.
"In an instant, everything they knew and loved was gone, everything that made them feel safe and brought them joy," Jennifer shares.
The first few days after the fire were somewhat surreal, says Louisville mom Laura Firman.
Laura, as well as her husband Paul, her 8-year-old daughter Lily, 6-year-old son Greyson, and dog Woody, evacuated their home as the fires approached. Already devastated, they packed their vehicle to the brim and left everything else behind as they found a safe place to stay.
"You know when you're waiting for a bus, and you keep looking down the street — like, is it coming? Is it coming? — It makes no difference if you're looking. The bus comes when it comes, and you have no control over it. The aftermath of the fires felt like that," Laura remembers with sadness. "There was nothing we could do; there was no way to get information since everyone was evacuated. It was this weird waiting for the bus situation, and there was no use looking down the street for the bus."
The Firman family's house was just 0.2 miles away from where the fires stopped, and they're grateful it didn't burn down. But the fire was catastrophic nonetheless. Their home, and everything in it, suffered severe smoke damage, leaving most of their belongings covered in toxic smoke and ash.
At first, Laura hoped she and her family could return to their home once the smoke settled and they could clean everything.
Knowing that so much of our small, incredible community are avid outdoors folk, I knew that the loss of bikes was just an added monumental blow, especially for the kids. -Jennifer Henry
"When you think about all the things that burned in the destroyed homes — batteries, cans of paint, cleaners, the list goes on — these things are all toxic when burned. So we had to throw away literally everything in our home because of the toxins in the smoke. Smoke damage families like mine have lost so much, and we're fighting for what's safe for our kids."
And the space where the greatest smoke damage took place? Their garage — where Lily and Greyson's bikes were stored.
Jennifer knew the stories of families like Laura's and felt compelled to take action. "As someone who was grateful to not have lost our home and having two young children, I felt an overwhelming responsibility to do something for the children," Jennifer shares.
"Knowing that so much of our small, incredible community are avid outdoors folk, I knew that the loss of bikes was just an added monumental blow, especially for the kids." She wanted to offer the kids in her community something that would make their worlds feel a bit more normal again, something that would bring joy after the flames.
Enter woom.
"Thinking about how much we love our woom bikes, I reached out with little hope of getting any response," Jennifer shares. "To my surprise, I received a response back immediately, and without hesitation, woom told me they would make it happen! I was absolutely floored!"
In order to make this big gesture a reality, Jennifer enlisted the help of an incredible nonprofit founded in the wake of the wildfire: Basecamp Collective.
Basecamp Collective is a group of entrepreneurs, parents, and friends who came together to harness their collective love for their neighbors and provide relief efforts after the wildfire.
As the woom bikes arrived in Colorado, Basecamp Collective volunteers sprung into action. Dave Dallaire, Deirdre Moynihan, and many other Basecamp Collective volunteers spent countless hours organizing to get the bikes into the hands of the community's kiddos.
"It's really an overwhelming feeling of gratitude to watch so many selfless people give their time and love to so many people who were dealing with one of the most devastating events of their lives," Jennifer says. "Louisville truly is THE BEST place to live."
The moment when kids got their very own woom bikes? Simply unforgettable, Jennifer says.
"I watched the tears stream down parents' faces while they saw the first feelings of joy in their children following such a catastrophic loss," she reflects. "I watched kiddos zip around the parking lot feeling free again, big open smiles covering their faces."
For Laura and her family, the bikes were a truly memorable gift. "It was just so amazing to have this outpouring of support," she remembers. "It's the gift of giving these kids the ability to go out and explore and ride their bikes and have some normalcy and to be safe. And it's a gift to the parents to be able to have these bicycles for them when so many things are just up in the air."
And the gift of woom bikes has been a catalyst for something these displaced families desperately needed: moments of normalcy and fun in the face of tragedy.
"I've had dozens of parents message me with overwhelming gratitude for the sense of normalcy this has brought back into their lives. It is truly such an amazing thing woom and Basecamp Collective have done for this community."
Laura remembers how special it was for Lily and Greyson to get their new bikes. "woom could have given 10 or 50 bikes, but it was so much more. It was like going to a bike shop!" she smiles. "It was astounding to see. There were lines of these beautifully colored bicycles and kids coming in to get fitted. They even had helmets. It was just so kind and generous and really made our family feel really cared for."
Lily's bike was even set aside for her with a special nametag. Lily, who has a sensory disorder, loves learning how to ride her new bike. And her little brother is not far behind. Even in the midst of tragedy, the Firman kiddos have loved learning to ride.
For 5-year-old Greyson, the new bike has been a big hit. When asked about his three favorite things about the bike, Greyson does not hesitate: "It's fast, it's cool, it's red!" he shares with so much excitement.
"My small request for hope was truly answered with so much love, and we are all immensely grateful for the monumental generosity from woom," Jennifer says. "We will forever remember with a full heart."
To make a contribution to Basecamp Collective, or learn more about their efforts, visit Basecampcollective.org.