Company
An Interview with woomster Lisa McGriff: "My goal is to deliver Magic Moments."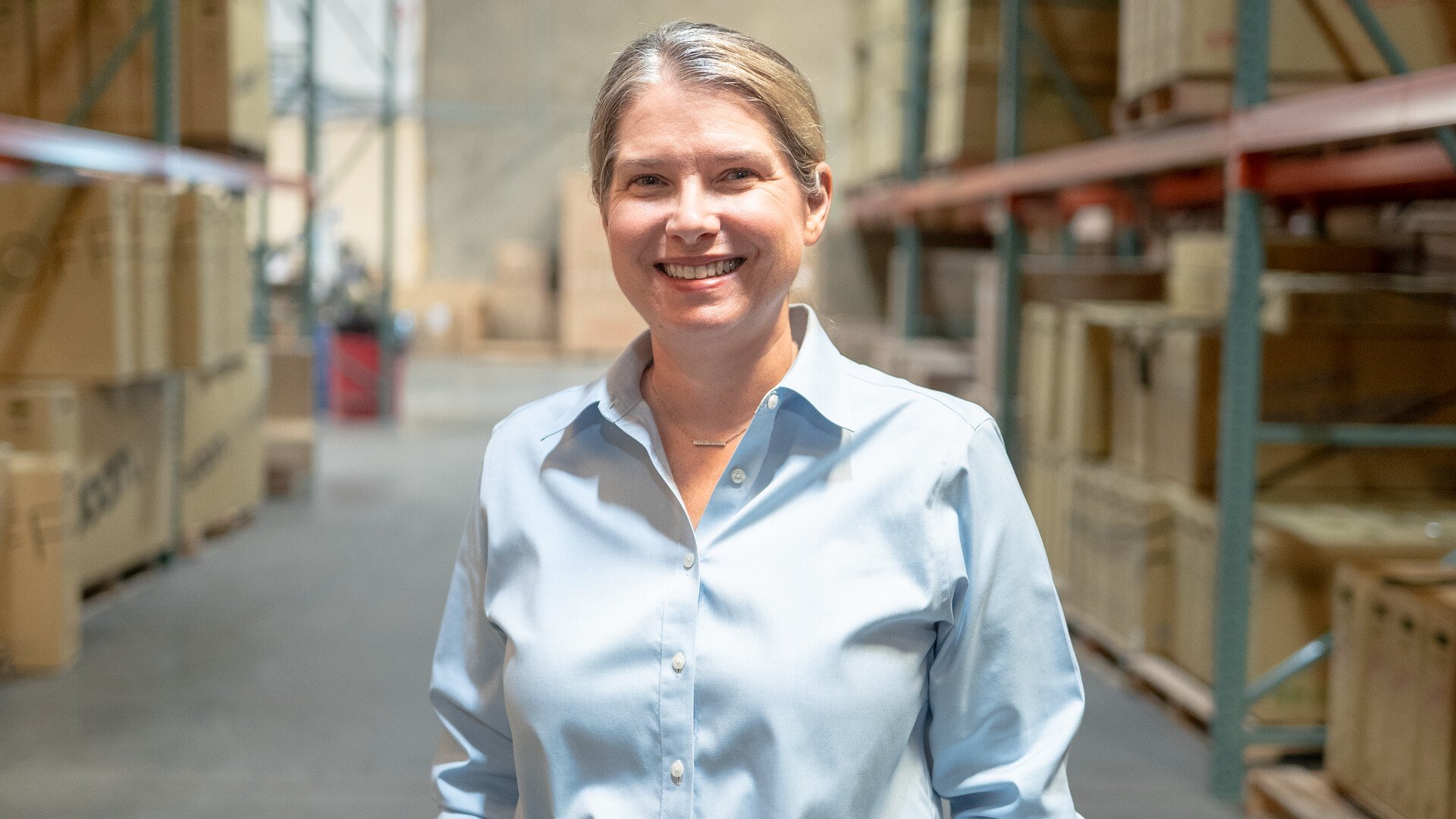 With 30 years of experience in supply chain management, Lisa McGriff is passionate about helping people and companies grow and develop. After experiencing the complete life cycle of a business early in her career (while simultaneously attending a full-time intensive executive degree program!), Lisa brought her expertise to several companies, from retail to healthcare services.
In April 2021, Lisa became a woomster as our Head of Global Warehousing and Logistics. She joined woom at a unique time, as the world crossed the one-year mark of the global pandemic. Countless companies experienced shipping and production delays, and Lisa was up for the challenge. As a result of Lisa's efforts and the efforts of her team, woom is thrilled to have bikes in stock and ready for Riders around the globe!
In our interview with the logistics management expert, Lisa shares the challenges and innovative solutions of managing an international team, especially in the wake of a global pandemic.
What are the most important tasks as a logistics department head?
It always comes down to making sure we have capacity. Whether it's people, warehouse space, or carrier pools, we need to ensure we have enough for the order volume we have or anticipate. If any of those aspects are at risk or at capacity, we jeopardize whether we can deliver our bikes in time.
Here at woom, what does logistics entail?
Much of the logistics ecosystem is about coordination. You're coordinating people, products, and facilities; if one step is missed, that next step is potentially at risk. It's about how you mitigate that risk and try to see what potentially may happen under certain scenarios.
My goal is to create a frictionless experience for the customer. Logistics involves everything leading up to the final touchpoint between woom and a customer. The last touchpoint is the carrier who delivers the package, and our work encompasses everything from placing the order through that final touchpoint. From ensuring orders are accurate to choosing the right partner, these are all mission-critical aspects of my job.
It's like the classic "duck floating on the water" analogy. We want our customers to see the duck comfortably floating on water, but underneath the surface, the team is paddling like mad to ensure that we stay afloat while making it smooth and seamless for the customer. This is how we deliver those Magic Moments!
How did your passion and expertise for logistics lead you to become a woomster?
I wanted a role in which I could impact growth and development on the "people'' side. When I first joined woom, the company in the US was young and growing, having not yet merged with woom in Austria. I was able to leverage my experience with acquisitions and mergers before joining woom. I wanted to focus much more on growing leaders and passing along the information, skills, and expertise I had gained over the years. woom gave me the perfect opportunity to do that in a space with a fun product.
woom offers a very different product from the healthcare services products I had worked with previously, and it's easier to be uplifted in a company with such a joyful focus. All of the same things need to be in place from a logistics standpoint, but at the end of the day, a smiling, happy child gets to receive that bike!
You became a woomster a year into the pandemic and were faced with a challenging global supply chain crisis. That's no small feat! What have you done to ensure streamlined logistics, and how do you ensure things go smoothly today?
It's all about contingency planning. If the last two years have shown us anything, it's that what we used to think of as standard is not anymore. We used to align ourselves with one or two key partners, including suppliers or service providers. That concept fell apart during the pandemic, and we seized the opportunity to become multi-partner-oriented.
We proved that there's not just one way: There are many different ways to solve a problem and accomplish a goal. We learned how to do things creatively, and there is no reason to go back and change at this point.
In the always-changing adventure of supply chain management, what are the greatest challenges and most innovative solutions you've seen here at woom?
With the supply chain issues over the last few years, even simply moving products from point A to point B called for creativity. Because of supply chain issues from the pandemic, people had to open up the dialogue with other companies that they may have never otherwise considered as potential partners.
At woom, we established partnerships with companies doing something similar to us and joined forces to make a move or transport happen. Especially in the United States, getting products in was a challenge. Once we got beyond the blocker, it was a game-changer for woom that has continued to work well the way we're doing it today.
While you're based in Austin, you work with a global team. How does collaboration work with such an international team?
At the end of the day, the main difference is just the time zone. We quickly figured out the optimal times for everyone, and everybody is very respectful of what times may be too early or too late for the teams in differing time zones.
Having an international team allows us to learn about other cultures and how different countries work. For example, it's exciting and fun to talk about our traditions in different cultures, like our celebrations, favorite foods, and drinks! It really is only the time zone that separates us.
We're all committed to making woom the best, and there are far more similarities than differences in that spirit. It's fun to try and figure out how to leverage everyone's strengths, taking the best parts of each culture and each group and putting those together to make it better.
What does good teamwork look like to you? And how do you see that collaboration come to life at woom?
Teamwork at woom is about our three core values: courage, responsibility, and joy. To me, good teamwork creates a space where people can be courageous and feel safe. It's where people are willing to take responsibility for their part, whether that part was the best thing ever or maybe it wasn't. We can always learn from our mistakes.
The most important thing is to have fun and find joy in your work. woom makes enjoying work easy because you can always envision that kid getting a bike on their birthday, for example, and what that bike enables them to do.
As you think about your career, who is your biggest role model? What lessons did they teach you that have influenced your work here at woom today?
In 2012, I worked for Mary Zappone, a CEO who is quite successful. I worked for her at a critical point in my career, and she was influential in my professional growth.
She not only presented opportunities and opened many doors for me but also taught me how to integrate work life with my home life. I worked for Mary during a time in my life when my kids were moving from toddlers to elementary school-aged, so there were lots of transitions in that season. Mary gave me the space and advice I needed to be successful at both. She's still a mentor to me now, though really more of a friend.
What's a significant experience in your life that has shaped the leader you are today?
Spending the first decade of my career in the retail space was pivotal. I was so fortunate to see that entire business cycle early in my career, and it established a foundation for what I wanted to do for the rest of my professional life.
In that same period, I was also enrolled in an accelerated executive degree program at the University of Louisville, so I worked full time and went to school full time. The program was extremely team-oriented, so most of our assignments were structured that way. There was even a rule that if a particular teammate was not doing their part, they could essentially be "fired" and have to interview to join another team. This intensive environment taught me to be collaborative, which I consider one of my key strengths to this day.
What's your vision here at woom? And how does that coincide with woom's goals as a company?
I want to make a difference that positively supports the company's growth and helps my coworkers grow. I enjoy contributing to the company in ways that go beyond the scope of my role, and that's one thing that excited me about coming to woom: being able to have influence across the organization, as opposed to just in one function. Beyond that, I'm always asking what we can do as a team to elevate woom within the kids' bike space.
woom is a growing company, and so I'm very focused on wanting to grow team members so people can have a career path at woom. Because many woomsters are earlier in their careers, it's a great opportunity for me to help coach, mentor, and encourage. My vision is to help nurture and guide not only individual woomsters, but the company as a whole.
At woom, we're always trying to grow, improve, and strengthen our approach. To that end, what are you curious about? How would you like to grow within your role?
I'm curious to see how innovation continues to change post-pandemic. There will always be something global that will force us to find creative and unique ways to run businesses. We have to continue to find better and better ways.
I also seek opportunities to help others grow outside of my work life by volunteering to mentor up-and-coming young professionals early in their careers. I'm passionate about being a sounding board for those early in their careers and being part of someone else's career path, as Mary was for me. I consider it a deeply personal honor to be part of someone's decision-making process. When someone is considering their next career step, it tends to be a major life change, and I enjoy being part of that process. For that reason, I'm passionate about being there for someone else.
What does cycling mean to you?
I still remember exactly what my first bike looked like. It was a yellow Schwinn with a banana seat and a big basket on the front with bright flowers. My dad taught me to ride, and I remember going to a school playground with quite a bit of sand. My dad thought that although the sand would make it harder to pedal, it would anchor me more — and it wouldn't hurt as much when I fell off!
And I distinctly remember my children learning to ride a bike, the independence it brought to them, and how that intrinsically changes as kids. There are so many life lessons that riding a bike teaches us, and it's such a monumental event in each person's life, even if they don't become a "cyclist" like many of my woom colleagues are. That independence and self-confidence that results from riding a bike was part of woom's appeal to me because it's easy to get behind the product and the mission whether you are a cyclist or not.
What makes woom special for you?
The smiles of happy kids riding our bikes. You can't help but look for woom bikes when you're out and about. There is nothing more exciting than finding a "woom in the wild" — when you see a kid riding a woom bike out and about.
The outside of our woom boxes say, "Happy childhood inside." When you see a happy kid riding a woom, it shows that we did what we said we would do and bring a smile to kids' faces. If you're having a tough day or a tough week, all you have to do is remember those happy kiddos. And then you're back to being focused on the mission!
What is your #whywoom? Why would you tell others to become woomsters?
woom is such an open and welcoming company. We're so people-focused, and we want people to pursue their passions, whether that passion is work-related or after work. It's a great place to be who you are and bring your expertise. We'll help you grow professionally and personally.
Above all, our mission is to make kids love riding bikes. Who wouldn't want to be a part of that? It's an easy sell!
Your office desk looks like:
It's mostly technology — a computer monitor, an iPhone, an iPad, and cords.
Three things for a deserted island:
I have a dog, a bird, a bunny, and three fish — plus two kids and a husband. Can I bring them all?
A magic moment in my life was:
When each of my kids was born, I didn't know that anything could be more magical than that.
A magic moment in my career was:
There is not one singular moment that stands out above the rest. I have had the opportunity to participate in many amazing experiences throughout my career, but it is always the people who I met along the way that make me smile when I think back.
A book I recommend is:
I read 52 books last year and plan to do it again in 2022. But one favorite so far is West with Giraffes. West with Giraffes by Lynda Rutledge. I loved this historical fiction about two young giraffes (the first two ever in the United States!) who were transported from New York City, where they arrived from Africa via steamship after surviving a hurricane on the voyage. The book appealed to both my passion for animals and my love of logistics.