Presseaussendung
Bike revolution: urban lifestyle bike by woom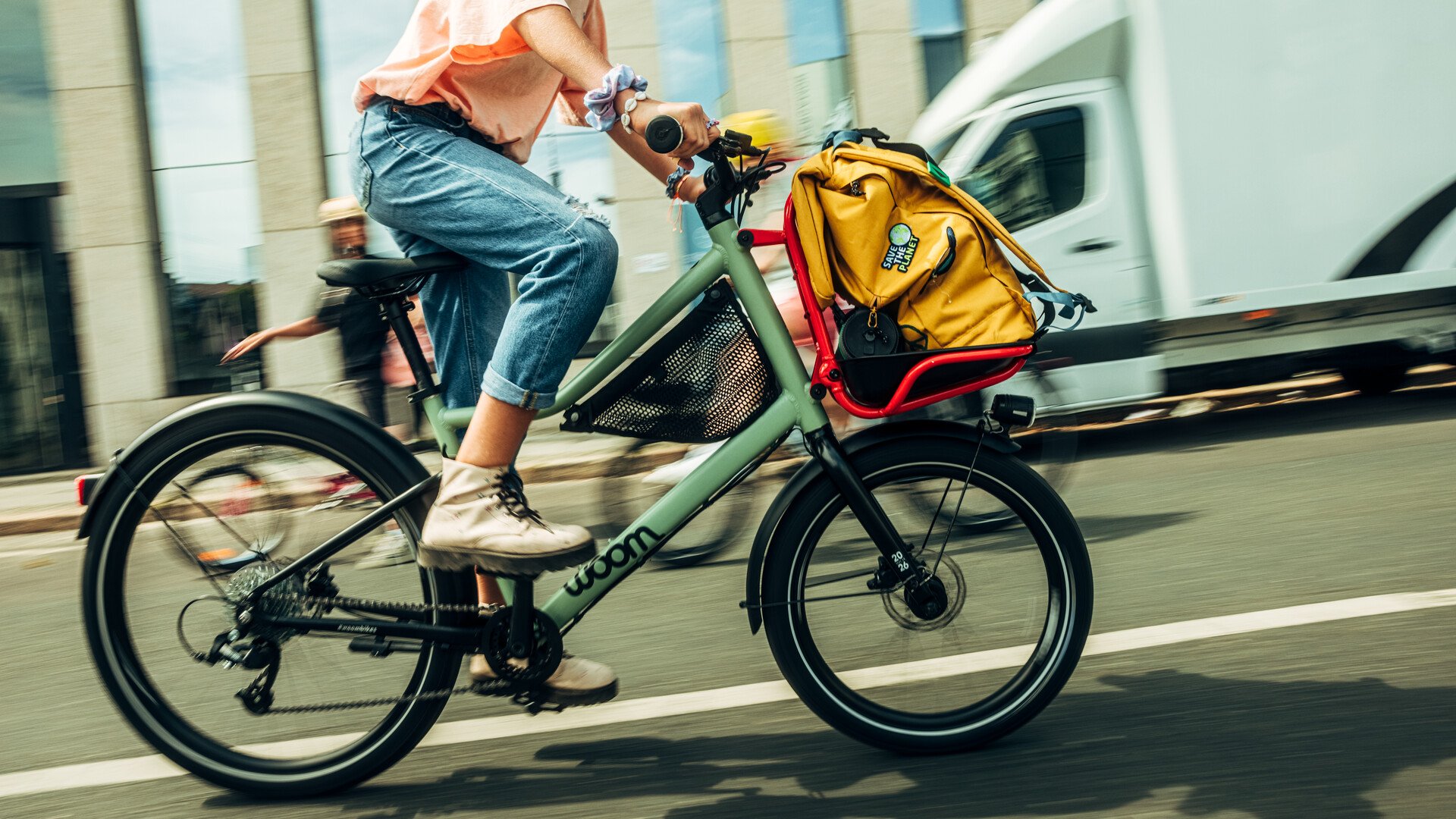 The new woom NOW carries its cargo up front
For the urban lifestyle: With its revolutionary geometry, exceptional features and complete package of road-safety accessories, the all new woom NOW caters to the needs of everyday bike riders aged 6 to 14.
Klosterneuburg, 30 March 2022: With its woom NOW, the Austrian manufacturer of bikes for children and teens is launching an urban lifestyle bike that is as eye-catching as it is unique: the new woom is a lightweight and fully loaded bike with a new take on frame architecture and packed with special features. In a nod to the world of bike messengers, the woom NOW combines an integrated front rack with a small front wheel. This feature is not only stylish but also makes for a safe and stable ride when carrying loads.
Like all woom bikes, the woom NOW is tailored precisely to the needs and anatomy of children and is built with proven woom quality. With its (street-ready) host of accessories (including lighting and a hub dynamo, hydraulic disc brakes and cobblestone-ready extra-wide tires) the woom NOW is the ideal vehicle for the urban lifestyle – and its light weight and high-quality construction set the stage for good times with friends and family.
The bike is available in three sizes (20/16, 24/20 und 26/20 inch) suitable for kids and teens aged 6 to 14.
woom NOW: The development story
"A lot of woom customers wanted a bike that was perfectly tailored to the day-to-day mobility needs of their kids. We responded with the woom NOW. It's a cool bike for the city that lets kids get where they need to go by bike," says Matthias Leite-Gürtner, the head of the Product Design team, "even when they've got a backpack, groceries or a duffle bag."
woom NOW product manager Raffael Zimmel adds, "We wanted to make a bike that was as cool as a mountain bike but was perfectly suited to the big city."
The team of developers tinkered for more than two years and thought about the requirements for a new generation of urban bikes. "Good load-carrying options, good mudguards to keep clothes clean, and good lighting that's always available and doesn't need charging. The smaller front wheel also makes for better maneuverability in town," says Zimmel. "We're focusing on urban youth who put a high premium on freedom and independence."
woom NOW: The features
NEW FRAME GEOMETRY: A front rack integrated into the aluminum frame enables a 10 kg load-carrying capacity. Combined with a small front wheel, the rack has a lower center of gravity, which optimizes the bike's handling, even when carrying a load. The frame geometry was adapted for transporting cargo with an eye to maneuverability in an urban setting and an upright sitting position for visibility in traffic.
CLEVER DESIGN DETAILS: woom product developers invested more than two years in the design of the bike and all its details. Here are a few examples:

The plastic liner in the rack prevents backpack straps and belts from getting caught in the spokes. If necessary, the liner can be unscrewed to make it easier to transport things like skateboards.
A practical frame bag – the Identity Bag – offers additional space and can be personalized with a custom-designed panel.
A twist-operated bell handily mounted right next to the grip, a protected headlight and rear light.

LIGHTWEIGHT: At 23.1 lbs (woom NOW 4), 26 lbs (woom NOW 5) and 27.8 lbs (woom NOW 6), the woom NOW is a robust lightweight, despite its full complement of accessories.
FULLY LOADED FOR THE URBAN ENVIRONMENT: Features like fixed mudguards, a center-mounted kickstand, an ergonomic bell, a hub dynamo, and a high-power lighting system mean that the woom NOW provides the full complement of features you need be seen and heard in traffic. The headlight is well protected under the front rack. The twist-operated bell placed immediately next to the handgrip is intuitive to operate. The Schwalbe Big Apple extra-wide tires cushion the ride on cobblestones and don't get stuck in light rail or trolley tracks.
HYDRAULIC DISC BRAKES: The hydraulic flat-mount disc brakes offer excellent modulation, and in combination with the child-friendly brake levers (spaced for small hands) increase safety and control.


woom NOW: Photos
Download-Link for product and mood photos, copyright woom GmbH
Please note that these images may only be used in connection with media reporting about woom. Thank you!
woom NOW: Design Awards
Even before the official product launch, the exceptional design of the woom NOW had already won prestigious international awards:
iF Design Award 2022
German Innovation Award 2022
Red Dot Award: Product Design 2022
Design & Innovation Award 2022
A´Design Award Silver 2022
Taipeh Cycle d&i Award 2022
Staatspreis Design Austria 2022 – shortlist
woom NOW: FACTBOX
premium lightweight bike for urban riding with a front rack
designed for kids and teens aged 6 to 14
three sizes: woom NOW 4 (20/16″, 10.5 kg (23.15 lbs)), woom NOW 5 (24/20″, 11.8 kg (26 lbs)) and woom NOW 6 (26/20″, 12.6 kg (27.78 lbs))
two colours: moss green/formula red and ice blue/carbon black
powerful hydraulic disc brake
microSHIFT 8-speed twist shifter gearing
fully compliant with road traffic regulations: fixed mudguards, mid-mounted kickstand, integrated twist-grip bell, high quality LED lights powered by a hub dynamo with backup standlight function when stationary
About woom:
Founded in 2013 by Christian Bezdeka and Marcus Ihlenfeld in a garage in Vienna
woom has revolutionized children's bikes and set new standards
woom bikes are superlight, ergonomic, have won multiple awards, and are equipped with numerous features
Today, woom is a global brand with a presence in more than 30 countries around the globe, above all in Germany, Austria, Switzerland and the USA
Annual growth of well over 50%
2020: A group of investors welcomed on board at woom, Marcus Ihlenfeld and Christian Bezdeka retain a two-thirds majority.
2021: woom production for Europe in Europe is established and the 500,000th woom bike rolls off the production line.
press contact:
Belinda Ableitinger, PR Manager
+43-664/888-22-837