"Every day a bit better": How woom is making bike production more sustainable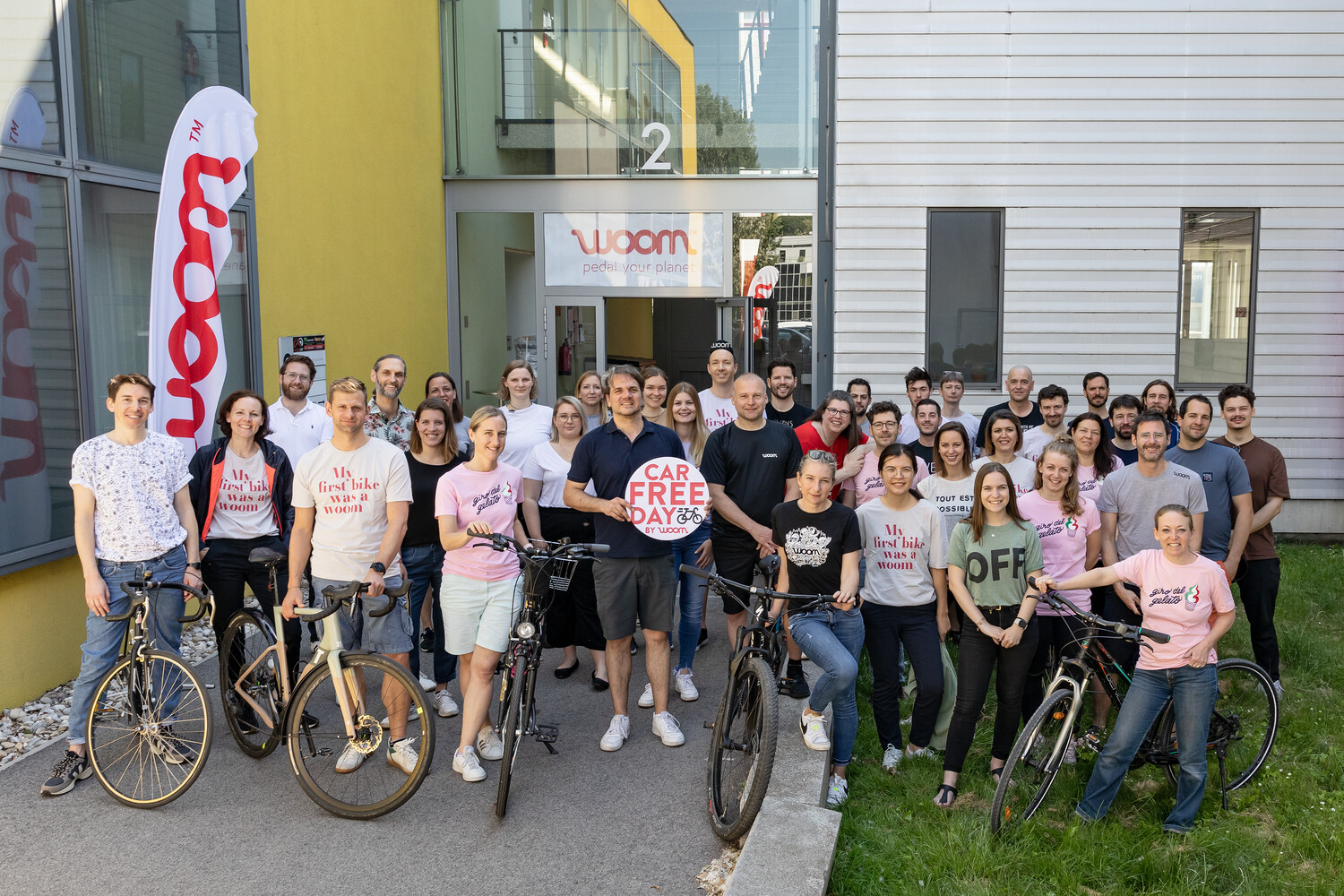 Sustainability review at woom
New CO2 reduction goal: down 42 percent
woom signs the Bike Charter and the Shift Cycling Commitment
Sustainable employee mobility with Car Free Day
Klosterneuburg, 29th June 2022: A host of new initiatives are designed to make woom bikes for children and teens even more sustainable. Added to the ambitious 42% CO2 reduction target is support for the industry-wide sustainability initiatives Bike Charta and Shift Cycling Commitment. In addition, the international manufacturer of bikes for children and teens from Klosterneuburg encourages sustainable mobility for its employees.
"For us, sustainability isn't just a buzzword; it's a lived company philosophy. "Each woom bike is a sustainable product with the potential to make the world just a little bit better." But woom is not satisfied with baby steps: "We have a multi-layered process aimed at improving sustainability in every aspect of our production."
New CO2 reduction target: 42% by 2030
By the year 2030, woom wants to reduce emissions that harm the environment (includes all direct emissions and energy consumption at all company sites) by 42%. This reduction goal is recognised by the Science Based Targets Initiative (SBTi), the world's best known and most high profile climate protection initiative, and published on its website: https://sciencebasedtargets.org/companies-taking-action

The Science Based Targets Initiative, a collaboration between the Carbon Disclosure Project, UN Global Compact, World Resources Institute and the WWF, supports companies in setting individual, science-based CO2 reduction targets. More than 2,100 companies around the world already participate in SBTi. The goal is to limit global warming to a maximum of 1.5°C, in line with the Paris Agreement on climate protection.
Environmental and social sustainability standards in the bicycle industry
Sustainability is one of the big seven company goals at woom and should be a feature of every one of the company's departments. Just recently, woom joined two sustainability initiatives that set environmental and social standards in the bicycle industry: In March 2022, woom signed the Bike Charter, an action plan for corporate social responsibility, resource conservation, sustainability and climate protection for products and services in the bicycle industry. The second initiative is the Climate Commitment of the non-profit Shift Cycling Culture initiative, a declaration by companies in the bicycle industry to accept their responsibility with regard to the UN climate targets and work together to meet the targets.

"As a company that makes bikes, we identify with a bike-friendly lifestyle that is easy on resources and enhances the quality of life in cities".


Car Free Day at woom
"That's why we also want to make it as easy as possible for our employees to get to the office in a sustainable way." A lot of woomsters already bike to the woom headquarters in Klosterneuburg, which is located directly on the Danube Bike Trail. The distance from St. Stephen's Square in Vienna's city center to the woom office is ten kilometers, a good distance for a bicycle or e-bike. Twice a year, the company celebrates a woom Car Free Day with an all-hands breakfast so that less cycling-savvy employees get a taste of the cycling lifestyle.
Sustainability is a process
The company's nearshoring activities are also connected to sustainability. Since 2021, woom bikes have been finished at a plant operated by the German company SPRICK CYCLE GmbH in the western Polish town of Świebodzin. This is part of the medium-term goal of woom to bring production closer to the consumer markets and meet demand from Europe in Europe.
"We know that we are not there yet", says woom CEO Mathias Ihlenfeld, "But we're working hard to ensure that we integrate sustainability into all our business processes. There is no aspect of woom that we haven't looked at very closely to keep getting better."
woom: Photos
Download-Link to product and mood photos, copyright woom GmbH
Please note: These images may only be used in connection with reporting about woom. Thank you!
About woom:
Founded in 2013 by Christian Bezdeka and Marcus Ihlenfeld in a garage in Vienna
woom has revolutionized children's bikes and set new standards.
woom bikes are superlight, ergonomic, have won multiple awards, and are equipped with numerous features to enhance safety.
Today, woom is a global brand with a presence in more than 30 countries around the globe, above all in Germany, Austria, Switzerland and the USA.
2020: woom welcomes a group of investors on board, with Marcus Ihlenfeld and Christian Bezdeka retaining a two-thirds majority.
2021: woom establishes exclusive Europe-based production for the European market and the 500,000th woom bike rolls off the production line.
2022: Further internationalization, expansion of the dealer network and the D2C segment
Inquiries & contact:
Belinda Ableitinger, PR Manager
+43-664/888-22-837