Press releases
woom2school: woom supports cycling initiatives for a safe and sustainable school run
New woom sponsorship program championing sustainable mobility
Strong partners based in Germany and Austria
"Get into Gear" nationwide school competition in Germany with GEOlino and Tobias Krell (better known as "Checker Tobi")
woom supports "Austria Cycles to School" in partnership with the Federal Ministry for Climate Action
woom bikes provided for cycling courses in Vienna
Klosterneuburg, 04/19/2023: woom, the manufacturer of bikes for kids and teens, is focusing on promoting safe and sustainable mobility on the school run through its ambitious new sponsorship program called "woom2school". The first woom2school mobility initiatives in Germany and Austria are launching this April.
"It's our mission to instill a love of cycling in as many children as possible," says woom CEO Paul Fattinger. "After all, kids who love cycling will one day grow into adults that enjoy riding their bikes." A top-quality product is essential in inspiring a passion for cycling, but it's not enough on its own. "Children and families also need safe surroundings and a family-friendly infrastructure to be able to get out and about on their bikes," says Fattinger.
And that's exactly why woom has launched its "woom2school" sponsorship program. woom is focusing on championing mobility projects at schools and supporting the teaching of cycling skills through this program. woom is already sponsoring several major cycling initiatives in Austria, Germany, and the USA, with more projects set to be added to the program.
The idea is for the initiatives to encourage lots of children to bike to school, while raising awareness of sustainable mobility and inspiring improvements to be made to the cycling infrastructure. Fattinger adds: "When a safe cycling infrastructure is in place, children have more freedom and independence so they don't have to rely on their parents quite so much."
A closer look at the "woom2school" projects:
"Get into Gear" – cycling safely with TV star Tobias Krell
woom is organizing the "Get into Gear" competition for schools in partnership with the children's magazine GEOlino. This competition invites classes in Germany to submit their creative projects and ideas for making the area around their school a more bike-friendly, and in turn safer, space. Tobias Krell – famous for the children's TV program "Checker Tobi" – will pay a visit to the winning school and is sponsoring the competition too. There is also €3000 up for grabs to go towards making the winning project happen.
"I think cycling is brilliant for so many reasons!" says Tobias Krell. "It's good for our health and the planet. Plus, it allows people to co-exist peacefully in towns and cities. Not to mention that it boosts concentration and helps children learn in school. I use my bike to get around as much as I possibly can. And that's why I'm delighted to be supporting this school competition being run by woom and GEOlino."
Tobias Krell – famous for the children's TV program "Checker Tobi" - is ambassador of the Germany-wide competition "Get into Gear", ©Hans-Florian Hopfner.
woom as main sponsor of "Austria Cycles to School"
"Austria Cycles to School" is an active campaign running between March 20 and June 16, 2023. Austrian school students are being encouraged to record the number of kilometers they cover on their bikes on the school run and in their free time to be in with a chance of winning exciting prizes that include woom NOW bikes, woom bike accessories, and a cycling event for their whole school.
This school campaign is being supported by the Federal Ministry for Climate Action, with woom as the main sponsor. Schools in Burgenland, Lower Austria, Upper Austria, Tirol, Salzburg, and Vorarlberg in Austria are involved in the campaign.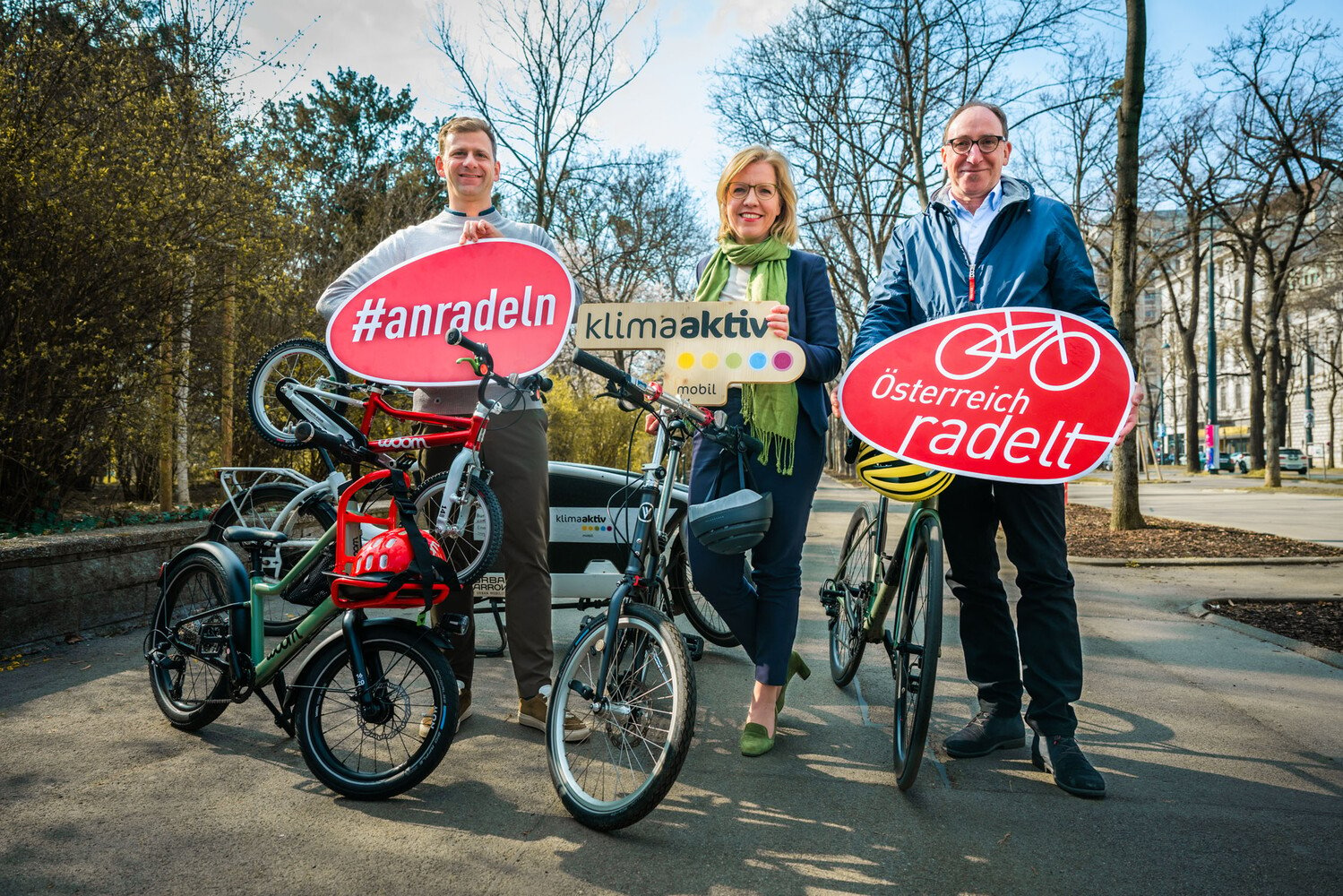 woom CEO Paul Fattinger, Leonore Gewessler (Minister for Climate Action, Environment, Energy, Mobility, Innovation and Technology of Austria), Johannes Rauch (Minister of Social Affairs, Health, Care and Consumer Protection of Austria) © BMK / Cajetan Perwein.Federal
Cycling Through the City – children's cycling course with woom bikes
woom has also been collaborating with the City of Vienna Mobility Agency and the Austrian Federal Ministry for Climate Action, Environment, Energy, Mobility, Innovation and Technology on a project called "The City and You" for a number of years now. The company supplies woom bikes for cycling courses offered free of charge by the City of Vienna to children aged between 8 and 10.
"woom2school" rides on
Through "woom2school", woom is also raising awareness of initiatives and campaigns championing sustainable mobility and a safe cycling infrastructure. "This year's projects were just the beginning," says Fattinger. "As a manufacturer of children's bikes, we see it as our responsibility to do our bit to ensure a safe cycling infrastructure is in place. And we'll be continuing to support bike-friendly mobility projects too."
Find out more about "woom2school" and the ongoing initiatives here: www.woom2school.com.
woom: Photos

Download-Link, copyright woom GmbH
Please note: These images may only be used in conjunction with media coverage about woom. Thank you!
About woom:
Founded in 2013 by Christian Bezdeka and Marcus Ihlenfeld in a garage in Vienna
woom has revolutionized children's bikes and set new standards
woom bikes are superlight and ergonomic, have won multiple awards, and are equipped with numerous safety features
Today, woom is a global brand with a presence in more than 30 countries around the globe, above all in Germany, Austria, Switzerland, and the USA.
2020: woom welcomes a group of investors on board, with Marcus Ihlenfeld and Christian Bezdeka retaining a two-thirds majority
2021: woom establishes exclusive Europe-based production for the European market and the 500,000th woom bike rolls off the production line.
2022: woom advances internationalization by expanding the dealer network and D2C segment and welcomes the Jebsen Group on board as a new investor.
2023: 10 Years of Magic Moments: woom celebrates its tenth anniversary.
Inquiries & contact:
Belinda Ableitinger, PR Manager
+43-664/888-22-837
[email protected]
https://www.woom.com