Mountain biking with children: Seven excursions worth the trip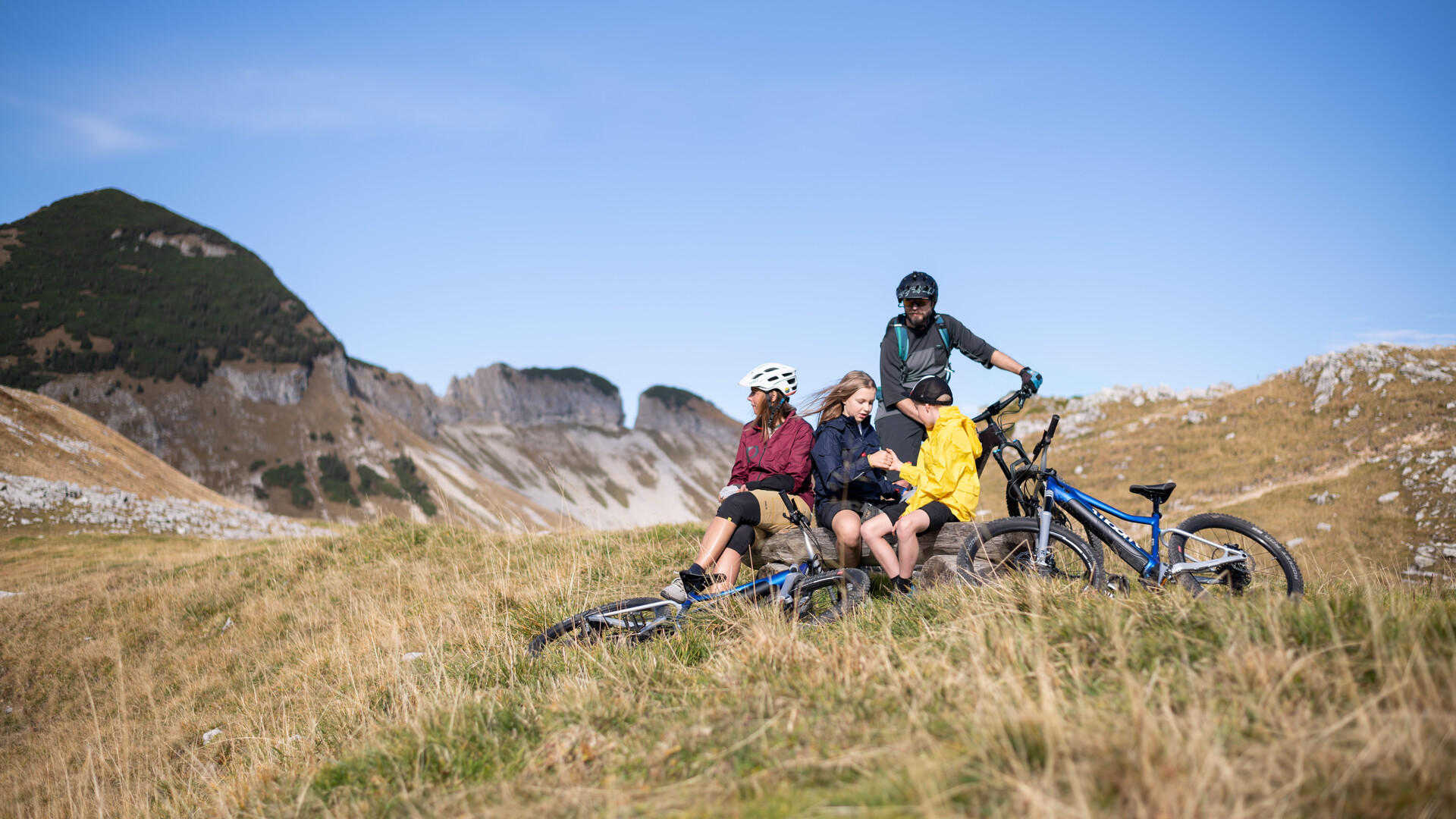 Getting that tingling feeling in your legs yet? With the days growing longer and spring approaching in leaps and bounds, what better time to plan your mountain biking adventure. After all, the anticipation is half the fun.
If your kids are as fired up about mountain biking as you are, your weekends can become fun filled outings for the whole family. Whether you're after leisurely riding excursions, scenic bike tours or action-packed downhill runs in the bike park, mountain biking offers plenty of variety. In this post we've put together a list of destinations that are perfect for beginners as well as highlights you won't want to miss with your kids.

1. Bad Kleinkirchheim, Austria
The longest flow country trail in Europe
What could be better than enjoying a flow country trail surrounded by the picturesque natural scenery of mountains, blue lakes and green meadows? And after a day in the saddle, how about a dip in the cool water? No problem. The Nock Mountains in the Austrian region of Carinthia offer this great mountain biking experience for the whole family. The Bad Kleinkirchheim nock/bike region offers some 750 kilometres of legal and varied bike routes. There are summit rides, single nature trails, or you might just want to enjoy a leisurely tour along the lakes. The unique thing about the region is that you can combine all routes and trails with each other.
Insider tip: Pack your swimsuit, as some tours lead directly from the mountain to the shore of the Brennsee – a dip in the lake can do wonders for motivation on the tour ;)
Since 2019, another highlight has been added to the Bad Kleinkirchheim region: Europe's longest country flow trail guarantees endless riding fun for all levels of ability and every age. The gravel road winds for 15 kilometres over meadows, through forests into the valley. You will cover nearly 1,000 metres in altitude with an eight percent gradient. Steep turns, drops, bumps and rollers offer plenty of variety. You can also combine this trail with any of the other routes. The trail head is easily accessible by gondola.
A 400-meter-long practice course in the town of Feld am See offers some bonus action for your child. The course is a fun way for your kids to get acquainted with obstacles, pumps, roots, berms and north shores.
https://www.badkleinkirchheim.at/en/
2. Petzen, Austria
Over the mountain and into its heart
The MTB ZONE bike park on the Petzen, Carinthia's family mountain, has three trails on offer. The flow country trail, stretching over 11 kilometres, is one of the best of its class. It is the perfect start to the day and fun for the whole family. The tables, berms, steep curves and a specially designed track give you that typical flowing roller coaster feeling. You can also simply ride over the obstacles.
For older children who are already very advanced riders, the two enduro nature trails will set even an experienced kid's heart racing. As the name suggests, the Thriller Trail is technically highly challenging: it is seven kilometres of rugged, natural terrain with tricky root carpets and rock-strewn fields. The EWS Trail was built for the 2018 Enduro World Series, so you can be sure that this is not a trail for beginners or the casual weekend biker.
You can train your riding and curve technique in the practice park. Waves in different sizes, easy jumps and north shores await you there.
https://www.mtbzone-bikepark.com/petzen/
Are your kids particularly adventurous? Then Stollenbiken might be just the ticket for you. In the Slovenian border village of Mežica, only 20 minutes by car from Bikepark Petzen, there is a decommissioned mine. You and your children can explore the underworld of Petzen on a mountain bike. The route is more than five kilometres long and the guided tour takes about 2.5 hours. Insider tip: Dress warm!
Find out more here: http://www.podzemljepece.com/?lang=en
3. Saalbach Hinterglemm, Austria
Into the curvy paradise!
The region that bills itself as the Home of Lässig (Home of Chill) embraced the MTB trend early on and has built up a diverse range of activities. With its 400-kilometre road network and 70 kilometres of trails for all levels, this incredible variety of routes lures mountain bikers in droves every year. Even MTB newcomers and your little ones won't miss out on this trail Eldorado. On the pump tracks, as on the Reiterkogel, your kids can really let off steam and get a feel for waves, jumps and berms. The three beginner-friendly routes are peppered with easy obstacles which are ideal for the first small jump attempts or can simply be negotiated at low speed.
Saalbach Hinterglemm has also made a name for itself as an especially family-oriented region. From your own experience you might know what a logistical challenge a family bike holiday can be. To ensure a low-stress, relaxing holiday, many accommodations in the region specialise in mountain biking families and have adapted their services accordingly, offering bicycle trailers, rental bikes for children, guided tours and much more.
https://www.saalbach.com/en/summer/mountain-biking
4. Trailcenter Pod Smrkem, in Nové Mesto pod Smrkem, Czech Republic
100 kilometres of pure flow trail fun!
The single trails wind along the local Smrk mountain like miles of pump tracks. There are different levels of difficulty, but the differences are not major – there are different types of curves, for instance, like natural wallrides or long drawn-out berms and the black trails have small jumps. The different routes intersect at numerous spots and are easily combined. The trails themselves are designed to be so fluid that you can enjoy the flow and weightlessness even at low speeds with hardly any need to apply the brakes. On the very smooth, almost rootless surface you roll effortlessly uphill and, almost without noticing it, cover a few metres of altitude time and again – simply brilliant! You can ride all of the trails easily without any previous riding experience and the climbs are so shallow that even your child can manage them without a problem. This is the ideal spot for your young mountain bikers.
Admission to the trail park is free of charge.
The Singltrek Pod Smrkem trail centre leaves nothing to be desired: it has a store, a workshop, rental bikes, showers, and a small pump track.
You can get even more out of your trip, because at the foot of the Nové Mesto Bike Centre there is an scenic bathing lake – the perfect way to top off your trip! You can also camp there. Sausages grilled on the campfire and sleeping under an open sky will make this excursion an unforgettable experience for your child.
5. Molveno, Italy
A mountain biker's dream
Nestled between the peaks of the Brenta Dolomites and the emerald green Lake Molveno, this 400-kilometre network of routes features trails for every skill level – from forest roads and flow trails to e-bike trails and enduro tours. And that's not all this location has to offer. On the beach in Molveno, there is a fun pump track and a skill course for children aged five and up. On the tour, you will always have a wonderful view of Lake Molveno, but for kids the highlight of the tour is usually the lake itself. Here they can splash around and skip stones after the bike tour.
Molveno has big plans. The Paganella Dolomiti Bike Project was created to make the region one of the best mountain biking destinations in Italy and Europe.
The entire region is part of the Adamello Brenta Nature Park, which is home to a variety of wild animals such as deer, foxes, weasels, ptarmigans and brown bears, the symbol of the park. With a little luck your child might catch a glimpse of one of the animals.
https://www.dolomitipaganellabike.com/en/molveno
6. Golovec, Ljubljana, Slovenia
A bike trip to the capital
Variety and entertainment are key ingredients when touring a city with children. Why not combine your city trip with a bike tour? In Ljubljana, it's easy to do. Just ten minutes by bike from the centre is a green oasis for riders: the Golovec hill, a veritable trail paradise. The hill offers your child plenty of action and is sure to lighten up the cultural itinerary. Around ten routes in different difficulty classes wind playfully through the dense forest, and the trail network is constantly being expanded. Guided tours are also offered directly from the city centre to the trails. A guide will lead you along the best route depending on your riding skills and preferences. On the way to the trail park you can stop at the largest asphalt pump track in Slovenia. At the end of the tour the guide is available for a short guided tour of the city.
7. Willingen, Germany
Land of a thousand mountains
The area is distinguished by its lush green hills, meadows and forests – perfect for mountain bike excursions of all kinds: from leisurely family tours to varied trail descents. On a total of 12 mountain bike tours you can explore the landscape around Willingen and in the MTB ZONE bike park eight routes with a total length of twelve kilometres await the whole family. The easy flow and flow country trails are suitable for all ages and the whole family. The animal-themed trail signs, are an especially nice touch; they are coded by colour and the characteristics of the animal – a flying bird marks the easy route, for example. On the practice course right next to the valley station, your kids can improve their riding technique on steep turns, jumps, tables, drops and dirt jumps and do a few warm-up laps before heading off into the trail bonanza.
https://www.willingen.de/themen/bike/mountainbike.html
It may sound obvious, but with children, fun is the top priority. For a successful bike excursion, you should not take on too much. An outing is most fondly remembered when your children experience little adventures. Routes through forests, over trails or along small watercourses are ideal for this. Plan a picnic, and take your child's best friend along for the ride. The kids have fun in small races like "who can get to the big rock faster" – this can help to overcome even a small lapse in motivation, and will pave the way an unforgettable family outing.
Have fun planning and pedalling!