mountain biking
Kids do it best: MTB tricks taught by Tim
Six cool MTB tricks with our designated woom instructor and BMX rider Tim Stöckl.
Hanna Stadler,
7/13/2023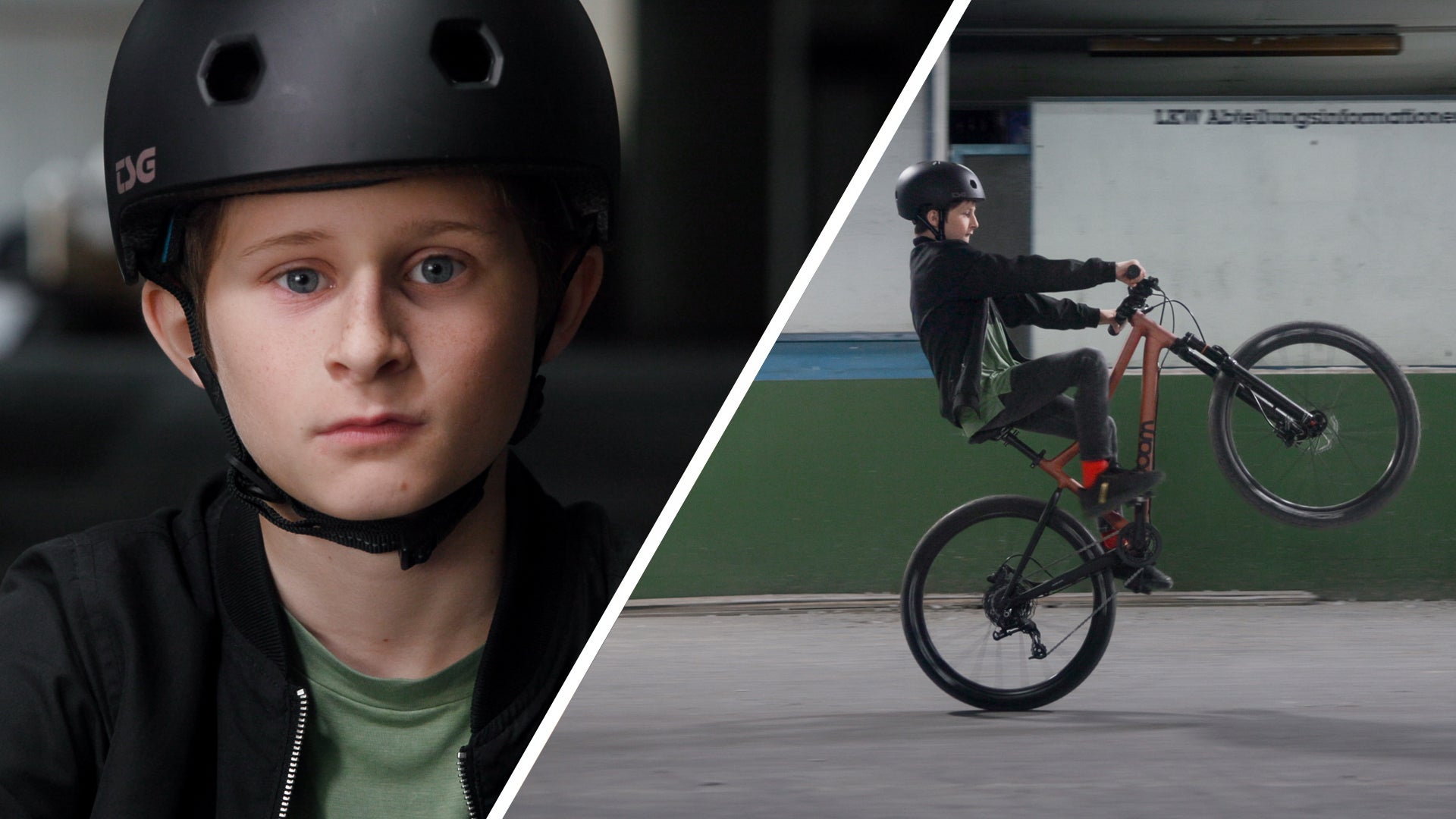 Got a confident young rider in your family that's ready to take their riding to the next level by learning cool tricks? Sweet, then you're in exactly the right place. We've enlisted the help of 12-year-old BMX rider and woom ambassador Tim Stöckl to break down six key tricks into short video tutorials to inspire your kids to send it safely. Think wheelies, bunny hops, no-handed and more.
Age 5: Tim sees BMX riders in action
Three years later: 8-year-old Tim claims the top step of the podium at the Austrian National BMX Championships for his age group.
As his skills have developed and he's picked up more trophies and cool tricks, Tim has learned that cool skills aren't only a way to win – they're a way to have fun. Although in Tim's case, being able to shred capably takes on an even bigger meaning when you discover this rider was born with a hearing loss.
Despite having hearing difficulties, it takes a lot to keep Tim away from a podium.
Hearing aids aren't permitted in the kind of BMX racing that Tim does, which means the 12-year-old rider has had to develop some clever methods for race day, involving sharpened senses and keeping a close eye on the shadows of his competitors.
Back in 2022, we published our first interview with Tim, entitled >>"Deaf BMXing: I use shadows to know where the competition is."
Getting kids excited about cycling
Tim's awe-inspiring skills and contagious excitement for riding is what initially caught our attention. Here at woom, we wanted to find a way to support this young rider, help develop his skills, and showcase his extraordinary talent.
This is why Tim became the first-ever woom sponsored rider in 2023.
But it hasn't stopped there: Tim has hopped on board to help create a series of How To videos that focus on super cool tricks. In this way, we want as many kids as possible to soak up his expertise and learn from his experience. We think there's a lot of truth in the saying that kids learn best from other kids, don't you agree?
In our How To videos, Tim breaks each trick down into simple steps for your kid to practice on their MTB.
A-B-C-Drift with Tim
When it came to creating this video series, we reasoned that there's no one better placed to teach kids how to pull MTB tricks than another kid, so why not Tim? This 12-year-old isn't just an awesome bike handler, he's also exactly the right age and build for other kids to identify with him.
Kids are most likely to pick up skills – such as bike riding – quickly and easily just by watching, especially if their eyes are fixed on someone with skills like Tim!
With the instructor ready to go, we then had to choose which tricks to teach and which bike to use. For MTB tricks like wheelies, English bunny hops and American bunny hops, you need a bike that is capable of withstanding some intense action.
Our HOW TO videos feature the woom OFF AIR – our ultralight and durable mountain bike that's the perfect choice for kids wanting to try out Tim's tricks. Endless fun for budding stunt riders and peace of mind for parents too.
Always find somewhere to practice tricks safely that is traffic-free and soft (e.g. grassy) so that risks are minimized. Once you've found the right spot, always do a pre-ride bike check for safety and make sure your child wears protective gear– including a helmet, gloves, plus protectors for knees and elbows. You can read more about safety >>here.
Cool tricks to boost your day-to-day riding...
Trackstands, wheelies and American bunny hops will come in useful in your day-to-day riding, too.
While most of the tricks shown by Tim in these six videos may look like they're all about generating whoops of admiration from neighbors, they're also super beneficial to riding, even in traffic. Being able to lift your front wheel – like in a wheelie or American bunny hop – is a useful skill for getting over small obstacles, like tree roots, rocks, tramlines or getting onto the sidewalk.
Learning how to trackstand is a great way to practice keeping your balance. It unlocks the ability to come to stop and then start again without putting a foot on the ground – think about taking a quick breather or scanning the road or trail ahead of you so you can pick a safer line.
… and have more fun!
English bunny hops and drifting don't just look cool, they'll also make you smile.
Tricks like drifting, riding no-handed and pulling English bunny hops are obviously not intended for riding in traffic, but that doesn't make them any less fun. Besides all the impressive glances your kid will get from neighbors, your kid will also develop some life-long bike skills.
Remember:
When practicing these tricks, find a safe, traffic-free location that is free from distractions, e.g. a courtyard, park, or car-free neighborhood.
So, what's the quickest way to pick up these tricks and be the next Tim? Begin by copying Tim's every move and practice, practice, practice.
Take a seat, watch the videos, and then go send it!