ORIGINAL
Plus
An innovative and ultralight 14 inch balance bike with pre-fitted footrest designed for children aged 3 years and over.
Weight:
4.45 kg (9.25 lbs)
Top features:
green rear brake, steering limiter, SURFBOARD Footrest
---
Height:
95 - 110 cm (3.1 - 3.6″)
---
The first time on two wheels from three years and up
Not all of tomorrow's little pros start their cycling careers at the same time. While the woom ORIGINAL 1 is designed for children aged 18 months and older, the woom ORIGINAL 1 PLUS is aimed at children three years and up. It really gets them moving, enabling them to have fun while becoming familiar with the wonderful world of cycling. The woom ORIGINAL 1 PLUS comes with the woom Surfboard, which kids can rest their feet on while riding to experience the feeling of surfing on clouds.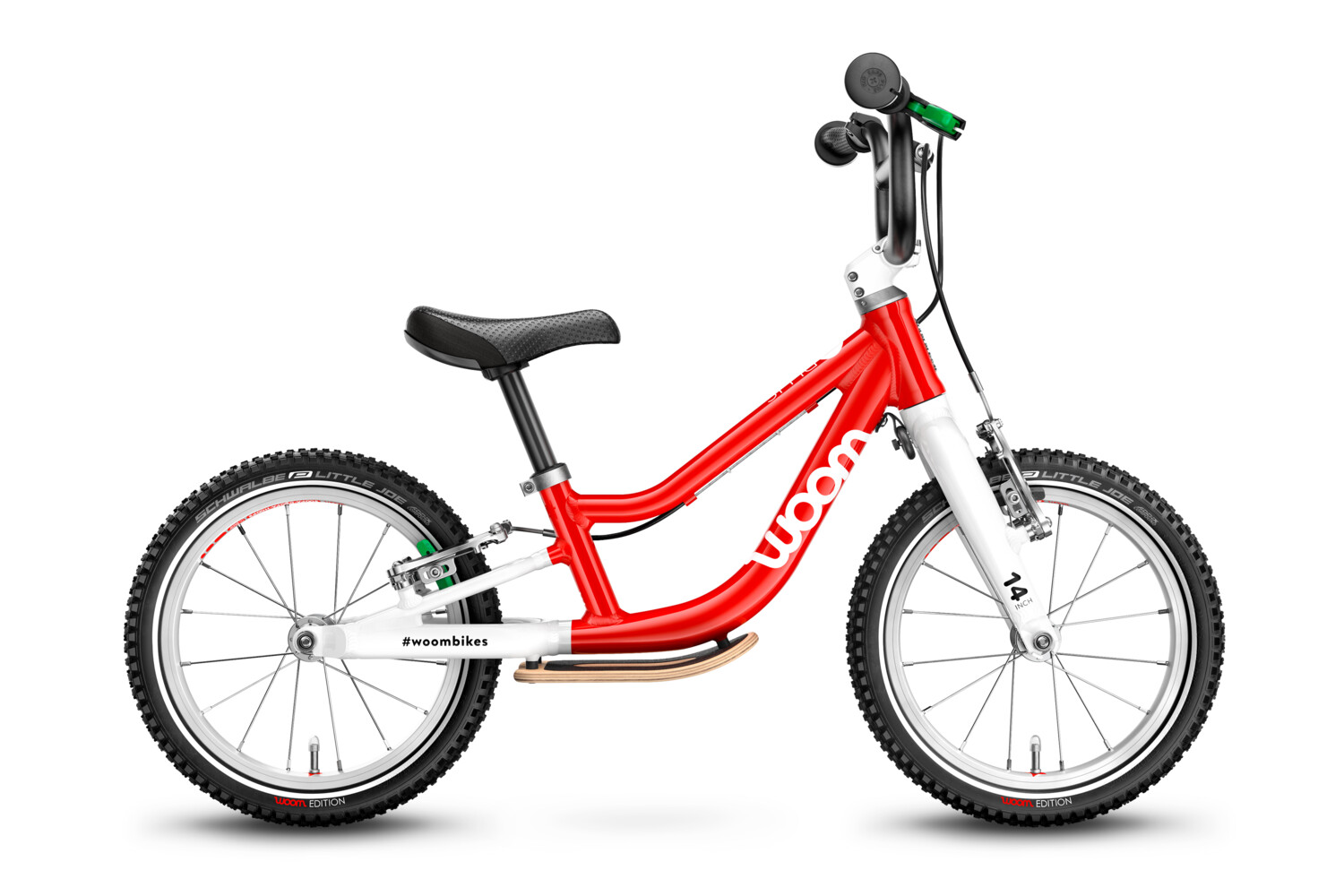 Innovative frame design
The superlight aluminium frame is the heart of the balance bike and ensures easy riding fun. The meticulously designed, age-appropriate geometry with its low step-through lets kids hop on and push off safely. Thanks to the long seatpost and open seat tube the bike can be adjusted over a broad range to accommodate your growing child.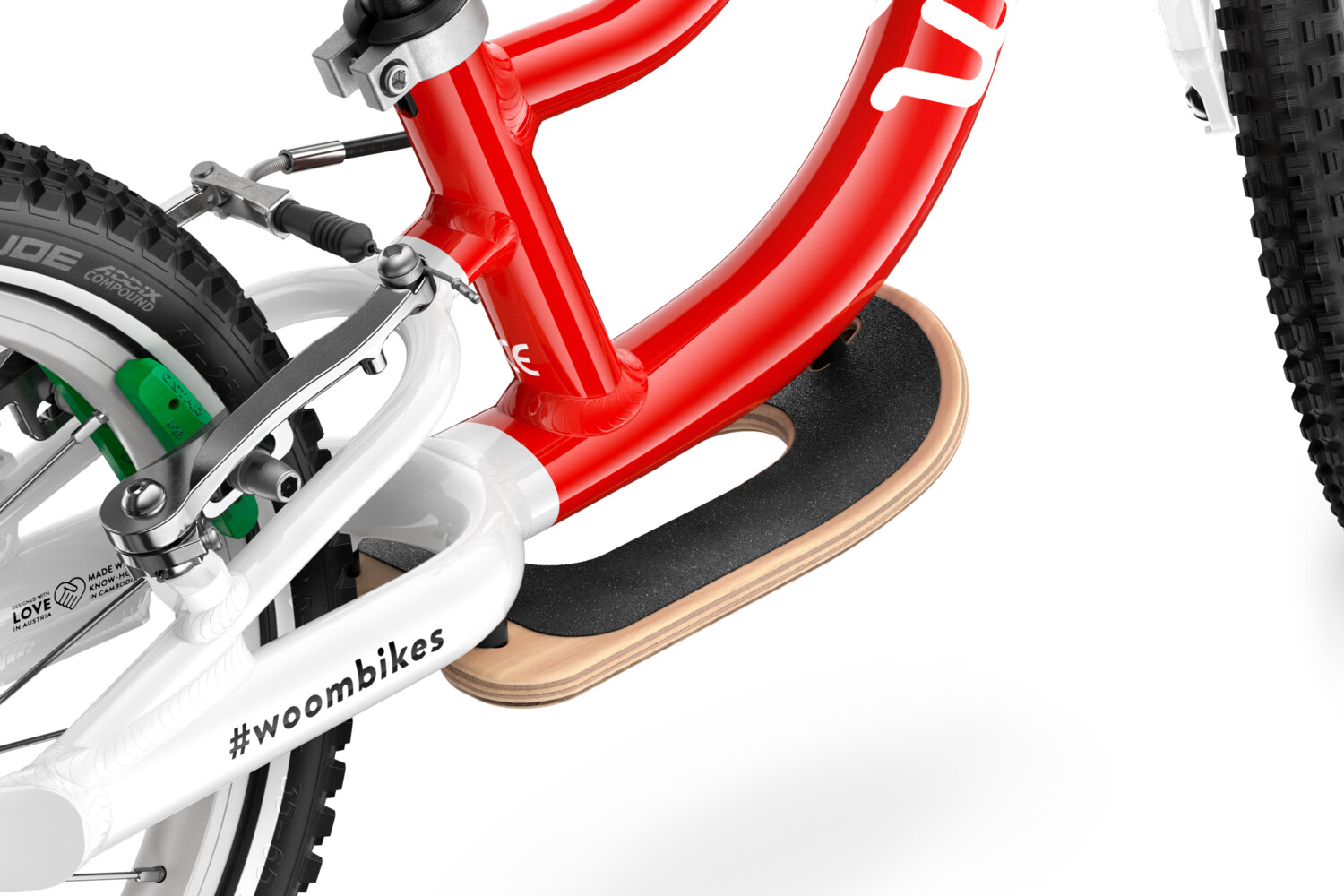 Handy footrest
Our SURFBOARD footrest made from premium maple plywood lets kids put up their feet and feel like they're surfing the clouds. The ergonomic design offers plenty of room for little legs to run while the grip tape surface prevents accidental slips. This is what riding a balance bike was meant to be!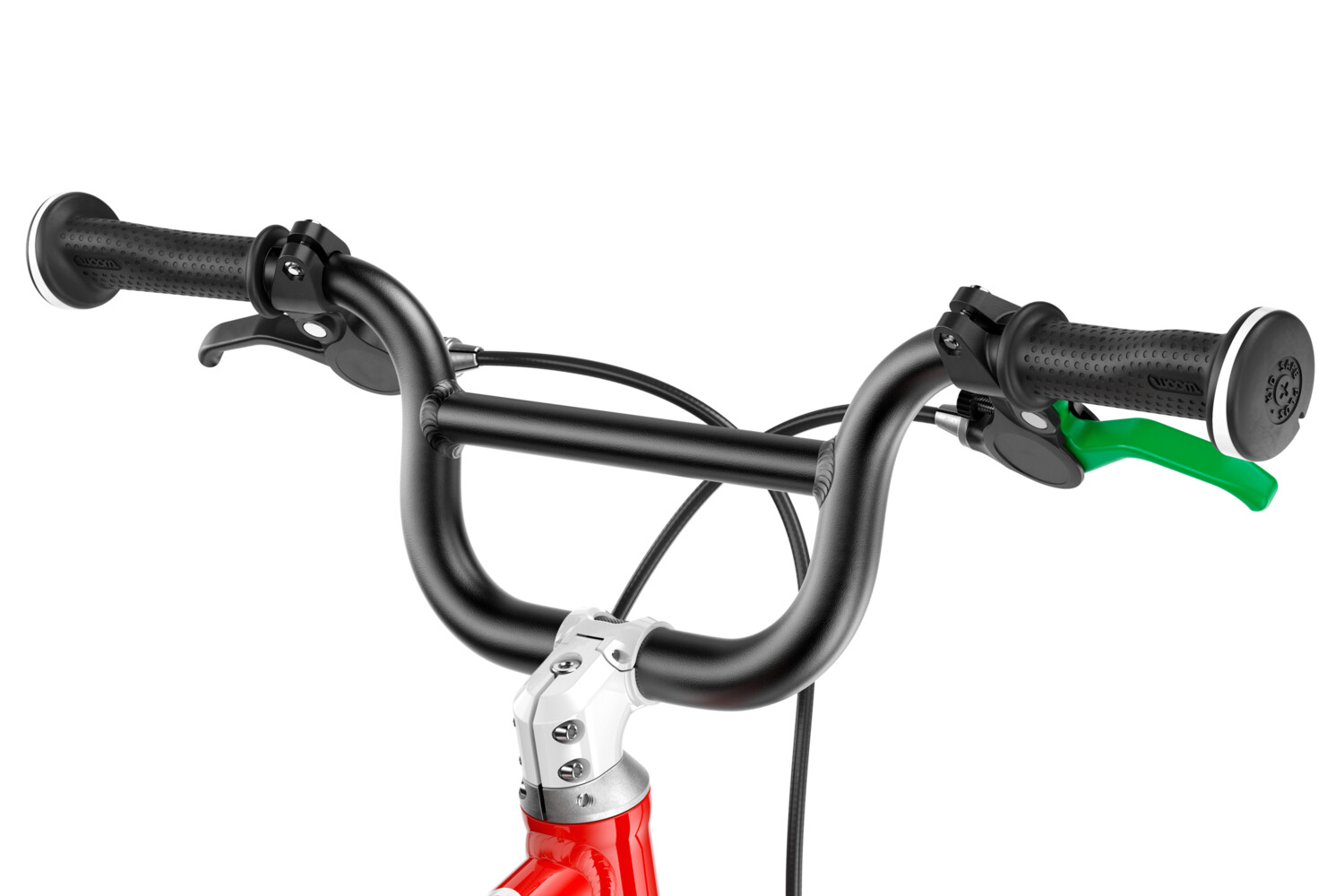 Knee-friendly stem
Our stem is the safe and lightweight connection between the handlebars and the headset. The sleek, rounded design, the integrated handlebar clamp and the recessed clamp bolts make it a trusty "knee saver".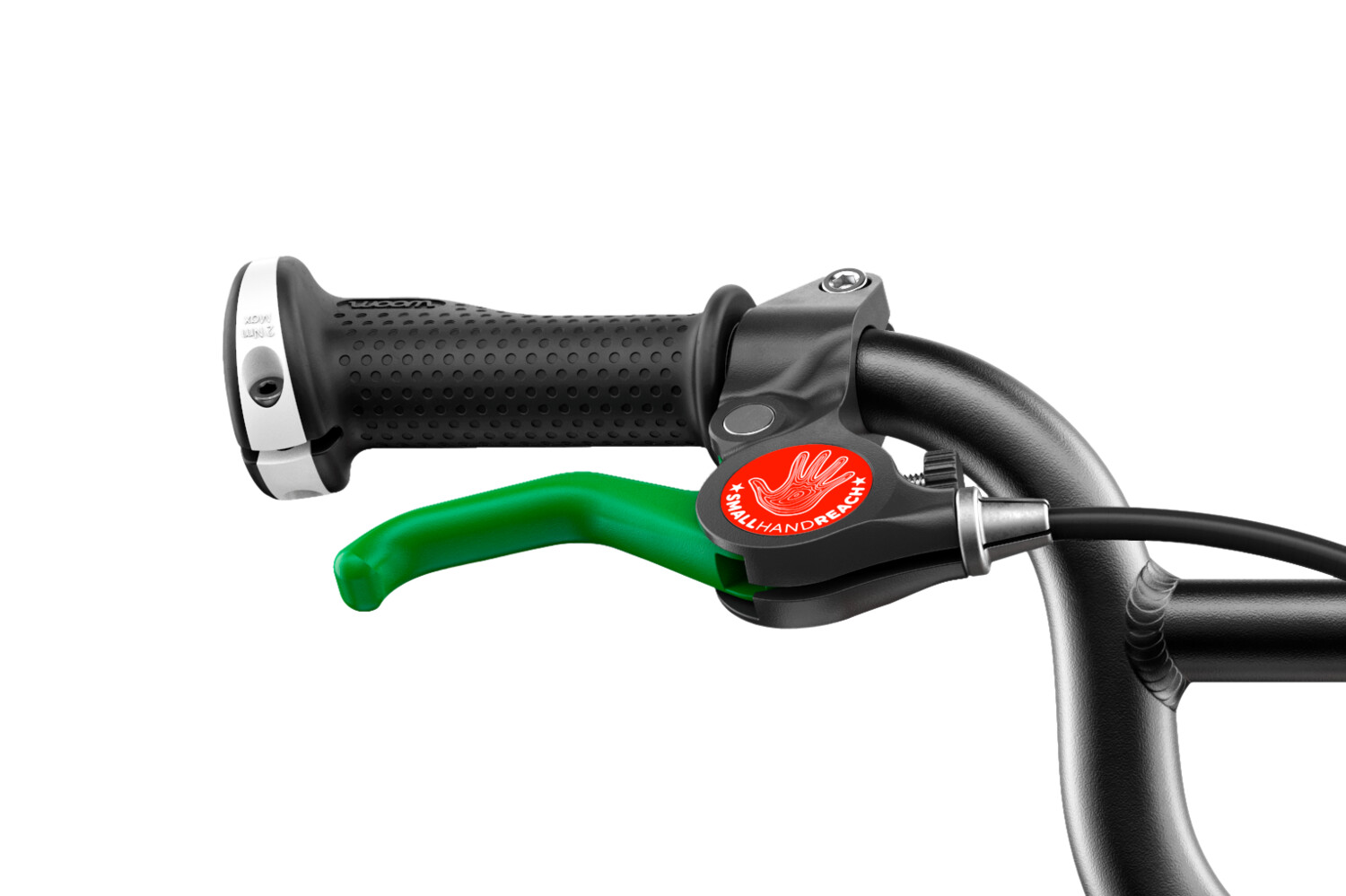 Child-specific hand-operated brakes
Learning to operate a rear brake as early as possible makes it easier later on to use brakes on a pedal bike and can prevent accidents. Our specially designed brake lever is easy to pull with small hands and requires little strength to bring the bike to a safe halt. This, combined with the ergonomically designed grips, make the process of stopping child's play.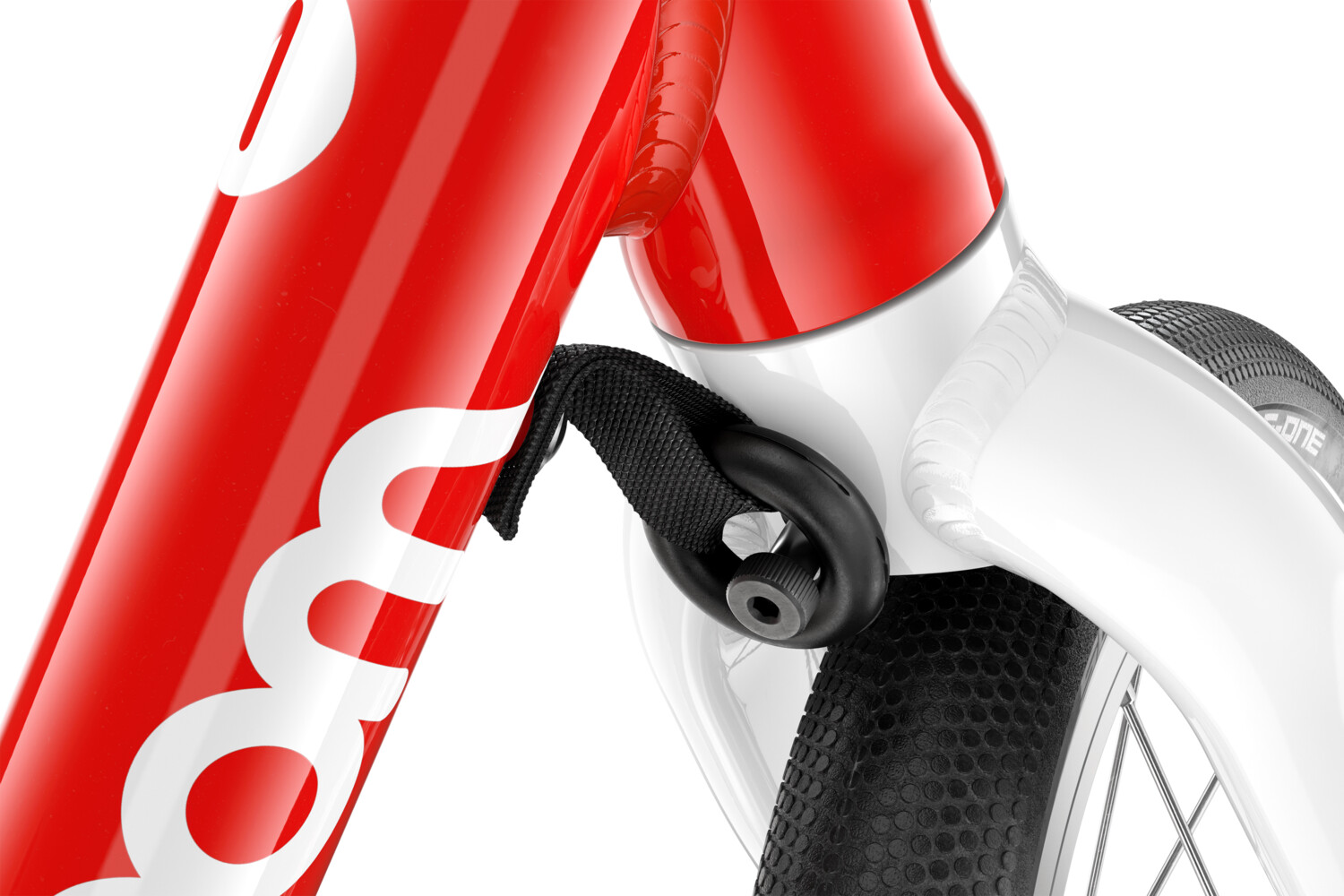 Flexible steering limiter
Our specially developed steering limiter is a vital safety feature. It prevents the handlebars from overturning and helps children ride straight, which reduces the risk of accidents.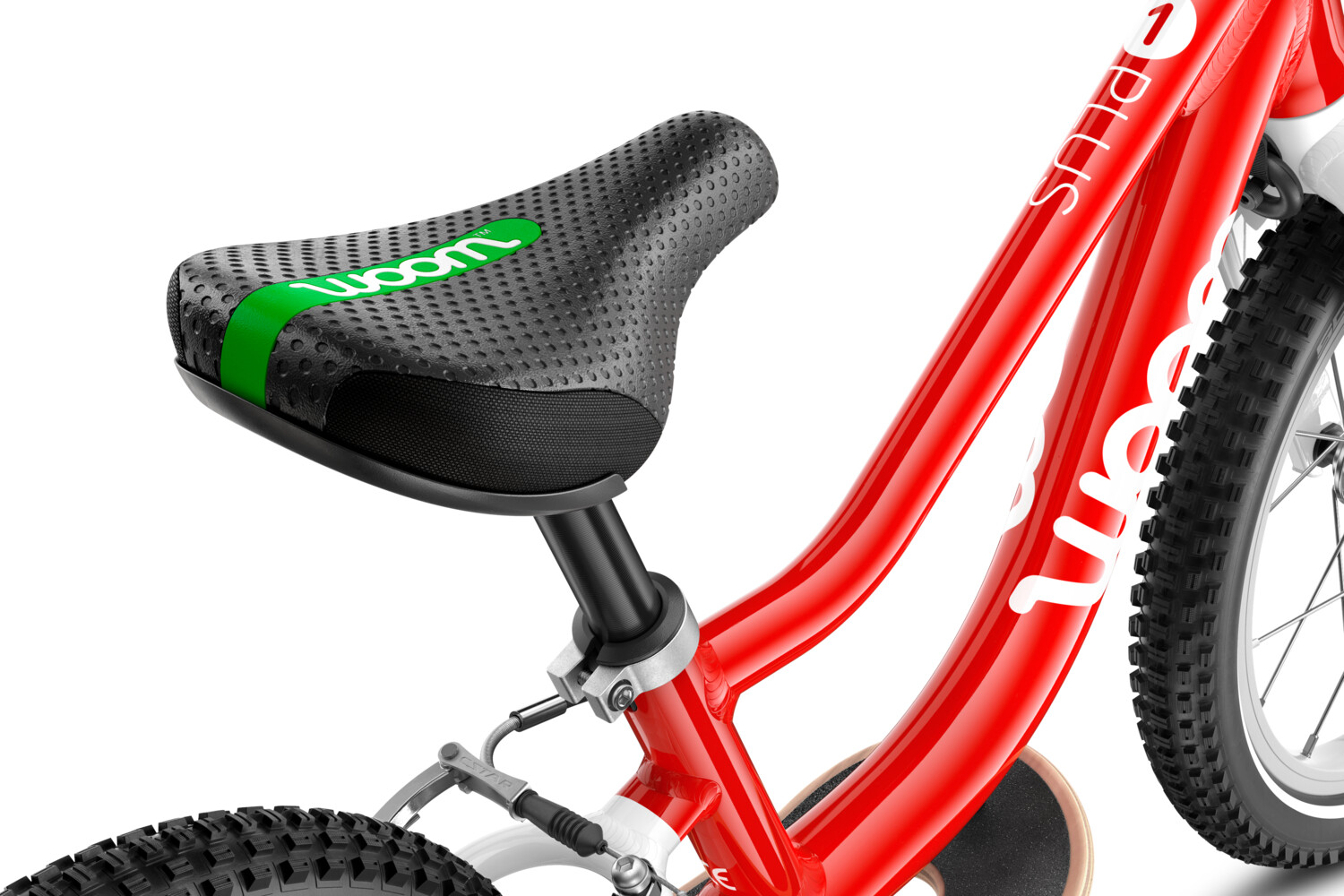 Ergonomically formed saddle
The saddle is one of the most important points of contact between the child and the bike. It has a huge effect on the overall feel of the ride. That is why our saddle is designed to be a perfect fit for the pelvis of children in this age group and optimized for an upright riding position. Its scooped design is engineered to ensure continuous optimal support. In short, these features make our saddle the ultimate all-rounder for every position – whether your child is sitting, standing, or cruising at speed.
Please note that as we work with various suppliers, the actual saddle on your woom bike may vary slightly from the images shown.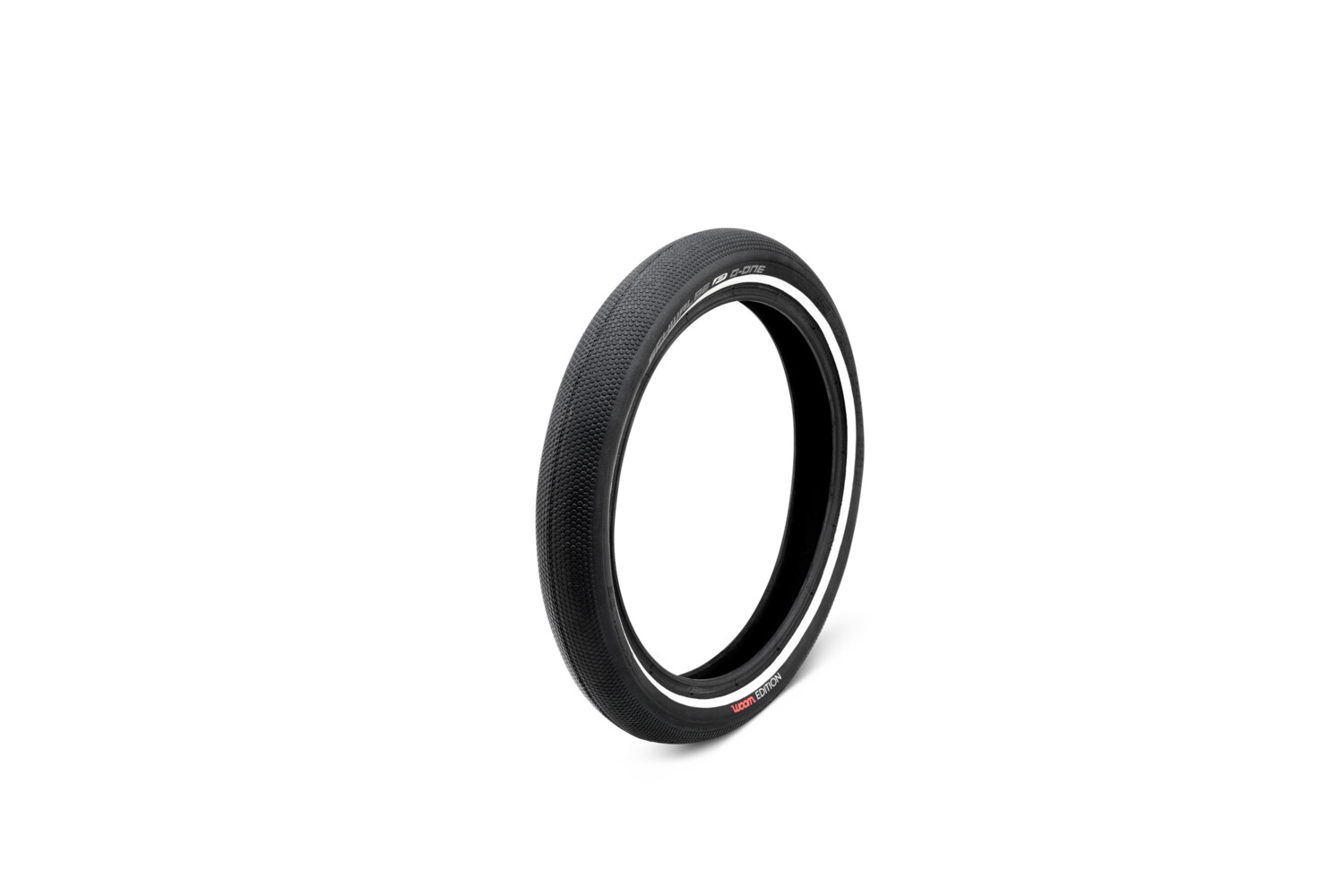 Grippy, low-resistance tyres
Tyres have a major influence on how a bike handles, which is why for the woom ORIGINAL 1 PLUS we have chosen high-quality, lightweight and grippy tyres with low rolling resistance. This ensures smooth running and good grip whatever the terrain – whether paved, gravel or dirt roads. The reflective stripe on the side of the tyres ensures good visibility even in low-light conditions.
Smartly engineered wheels
To roll smoothly and quickly, a balance bike needs good wheels. And that is exactly what we have given our bikes. It is their individual components that make the woom wheels so unique: from the smooth-rolling hubs to the high-quality stainless spokes and our exclusive SOOPA DOOPA HOOPS rims. And the extra narrow rear wheel hub provides generous leg clearance for easy riding. And the extra narrow rear wheel hub provides generous leg clearance for easy riding.