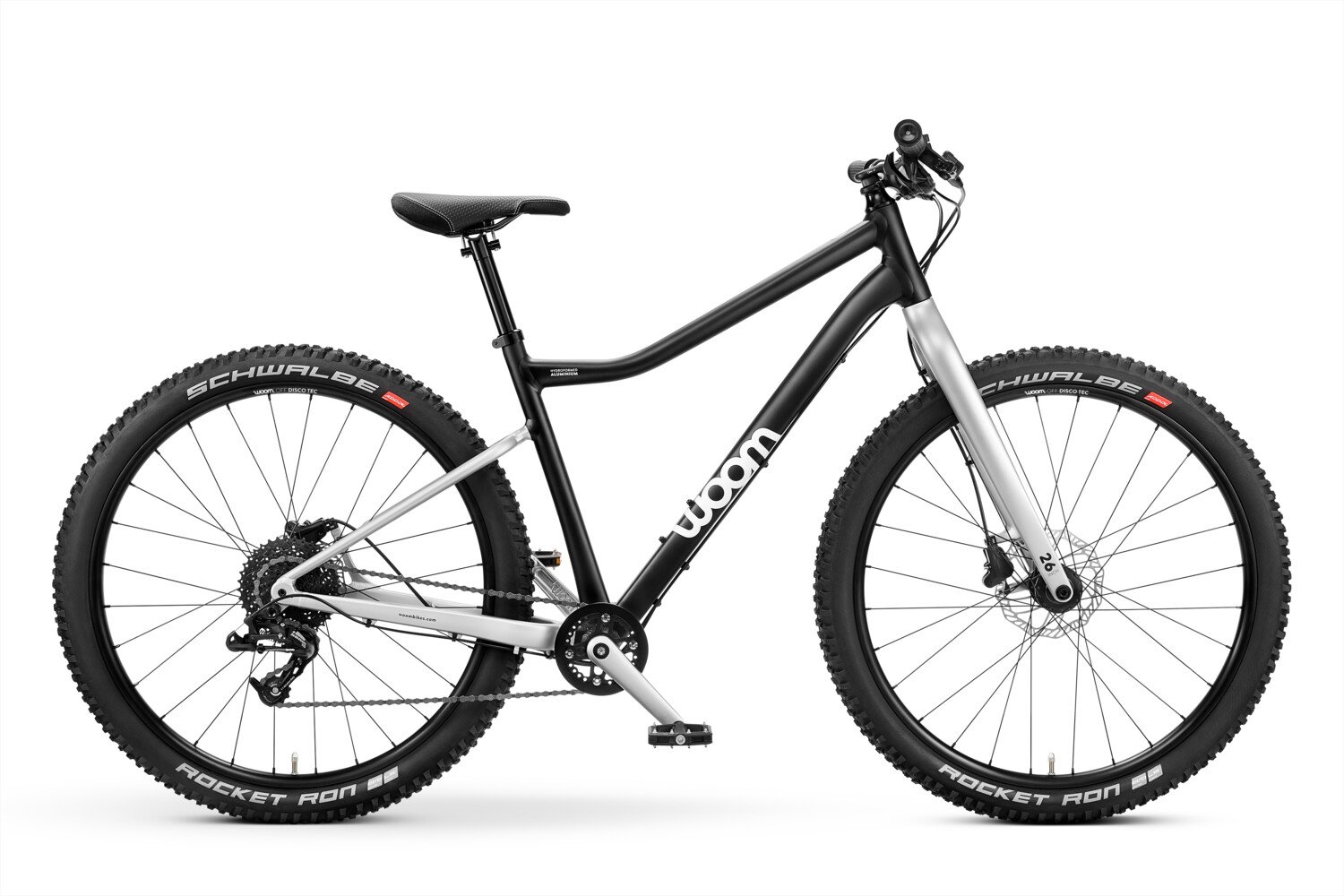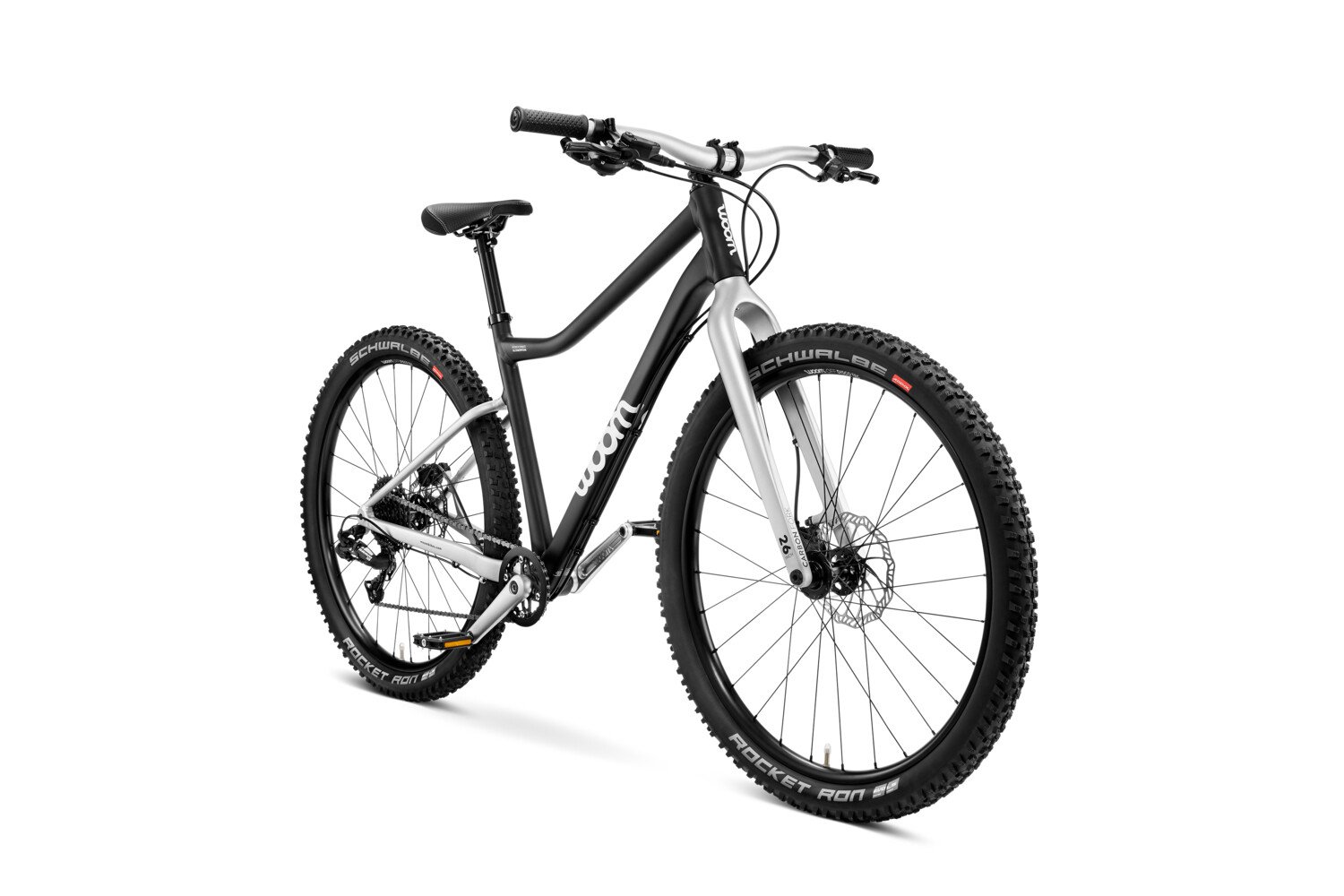 OFF
An ultralight and durable 26″ mountain bike (first generation, 2020 model) with a carbon fork, 9 gears and disc brakes designed for children and teens aged 10 years and over.
Weight:
9.3 kg (20.5 lbs)
Top features:
child-specific geometry, carbon fork, flip-flop stem
---
Height:
140 - 165 cm (4.6 - 5.4″)
---
Follow the call of the trails
The first-generation woom OFF 6 (2020 model) offers children aged ten years and older a superlight and durable mountain bike which they can use to rock every trail. Tough terrain is no longer an intimidating obstacle but instead a fun challenge to be overcome. The special chainring ensures that the chain stays in place no matter how rough things get. A love of cycling becomes a passion for mountain biking.
woom frame
The superlight aluminium frame with butted hydroformed tubes has a sporty geometry, long wheelbase and flat steering angle. The kink in the top tube makes it easy to dismount quickly in any situation.
woom carbon fork
Superlight and super stylish – the carbon fork offers maximum stability with minimum weight. Multidirectional carbon fibres ensure plenty of torsional strength when steering and braking. That makes the bike strong and stable even on the roughest terrain.
Brakes
The disc brakes with their excellent modulation combined with special brake levers designed for children's hands increase safety and control in all situations, including on rough terrain and in wet conditions.
woom stem
The specially developed stem from forged aluminium guarantees maximum stiffness with minimal weight. Thanks to its flip-flop design it can be turned over and mounted upside down to adjust the handlebar height.
woom saddle
The saddle is one of the most important points of contact between the child and the bike. It significantly affects the feeling when riding. That is why we have designed our saddle to fit the pelvis of children and give them a slightly stretched riding position. Perfect for a unique riding experience!

During a recent redesign of our products, the security seatpost clamp shown here was replaced with a quick-release seatpost clamp. The result: quick and easy saddle height adjustments – no tools required.
Gears
The precise and easy-to-operate gear system allows smooth shifting. The SRAM X5 system has nine gears suitable for a wide range of gradients thanks to 28 teeth in the front and an 11-32 cassette in the back.
Tyres
The high-quality Schwalbe mountain bike tyres with ADDIX SPEED rubber compound offer an ideal combination of low rolling resistance, maximum grip, good shock absorption and excellent durability.
Trigger shifter
The easy-to-use SRAM trigger shifter allows riders to shift smoothly and reliably through the nine gears using their thumb.
Sticker set
Pimp your bike! Every woom OFF is delivered complete with a set of stickers in four colours. Place them on your rims and top tube to personalise your bike!
Your OFF-road adventure can begin shortly!
Watch this video to find out how to assemble your woom OFF AIR, which tools you need, and how to set up the front suspension to suit your child.
Assembly instructions
Instructions for use
Find more information in our Service & Info area.