Press releases
Maintenance Notice - Stem check required for woom ORIGINAL Bicycles (Model Years 2018-2021)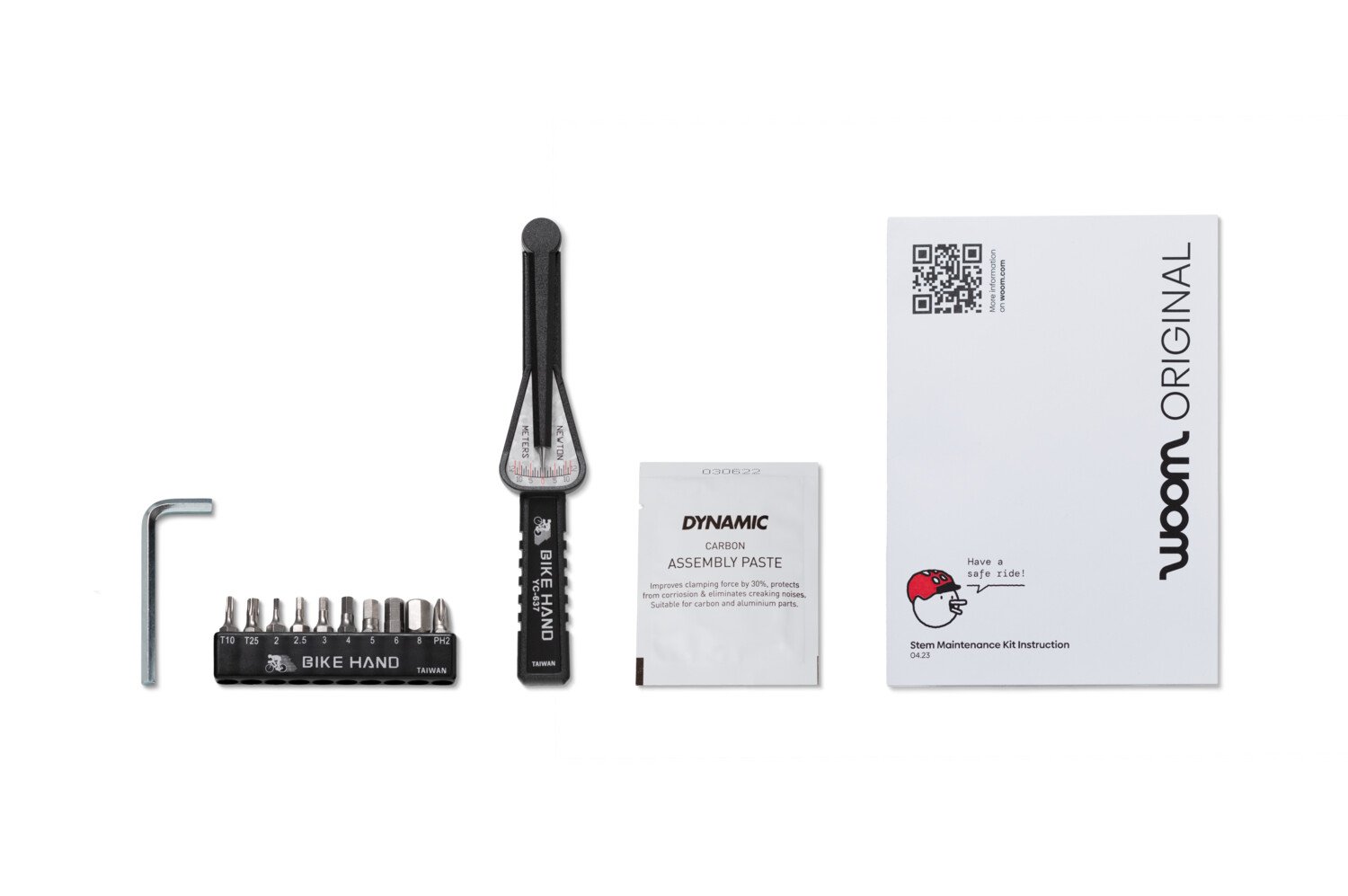 Maintenance notice for woom ORIGINAL bikes from model years 2018 to 2021 with a one-bolt stem clamp design
Risk: Stem may become loose or detach. woom requests affected customers to service their bikes
Online stem check available immediately at woom.getfeedback.com/online-stem-checker/
Each affected bike owner will receive a free woom ORIGINAL Stem Maintenance Kit
Klosterneuburg, July 5, 2023: woom, the Austrian manufacturer of bikes for kids and teens, is reaching out to its customers with a maintenance notice: woom ORIGINAL bikes from model years 2018 to 2021 that have a single (silver) stem clamp bolt require a service. Customers can easily identify if their bike is affected by using an online tool to verify and, if necessary, order their free woom ORIGINAL Stem Maintenance Kit.
The maintenance notice applies to woom ORIGINAL models from model years 2018 to 2021 in sizes 1, 1 PLUS, 2, 3, 4, 5, and 6. The stem of these bikes is secured with a single silver bolt. There is a slim likelihood that the stem could become loose or detach. The risk is increased when the stem clamp bolt is not fully tightened to the recommended torque of 10 Nm. woom ORIGINAL bikes from earlier model years (–2017) and after 2021 are not affected. Additionally, the woom OFF, woom OFF AIR, woom NOW, and woom UP are not affected.
Free Stem Maintenance Kit and complimentary service at dealers
Customers are now being encouraged to use the woom Online Stem Checker to identify their bike and determine if it is affected. If so, they can immediately order a free woom ORIGINAL Stem Maintenance Kit, which includes a torque wrench, a 5mm hex key, assembly paste, and accompanying instructions. Equipped with their Stem Maintenance Kit, customers can service the stem at home and ensure that their woom bike is safe to ride again. As an additional option, customers in Austria and Germany will receive a voucher for a complimentary stem service at participating woom dealers.
Transparent communication
"Safety is our top priority," says woom CEO Paul Fattinger. "It is part of our company culture to be transparent and open with our customers. We hope that as many affected individuals as possible will participate and have a fantastic summer of cycling."
Links:
About woom
Founded in 2013 by Christian Bezdeka and Marcus Ihlenfeld in a garage in Vienna.
woom has revolutionized children's bikes and set new standards.
woom bikes are superlight and ergonomic, have won multiple awards, and are equipped with numerous features to enhance safety.
Today, woom is a global brand with a presence in more than 30 countries around the globe, above all in Germany, Austria, Switzerland, and the USA.
2020: woom welcomes a group of investors on board, with Marcus Ihlenfeld and Christian Bezdeka retaining a two-thirds majority.
2021: woom establishes exclusive Europe-based production for the European market and the 500,000th woom bike rolls off the production line.
2022: Advancing internationalization: woom expands the dealer network and D2C segment and welcomes the Jebsen Group on board as a new investor.
2023: 10 Years of Magic Moments: woom celebrates its tenth anniversary.
Inquiries & contact:
Matthias Bernold, Head of Communications & PR
+43-664/888-22-793
Belinda Ableitinger, PR Manager
+43-664/888-22-837
[email protected]