What makes the components on our woom ORIGINAL bikes so special Part 3: The Frame
At the heart of our woom ORIGINAL bikes you'll find the superlight aluminium frame. Meticulously engineered, it's built with age-appropriate geometry for great handling and a grin-inducing ride.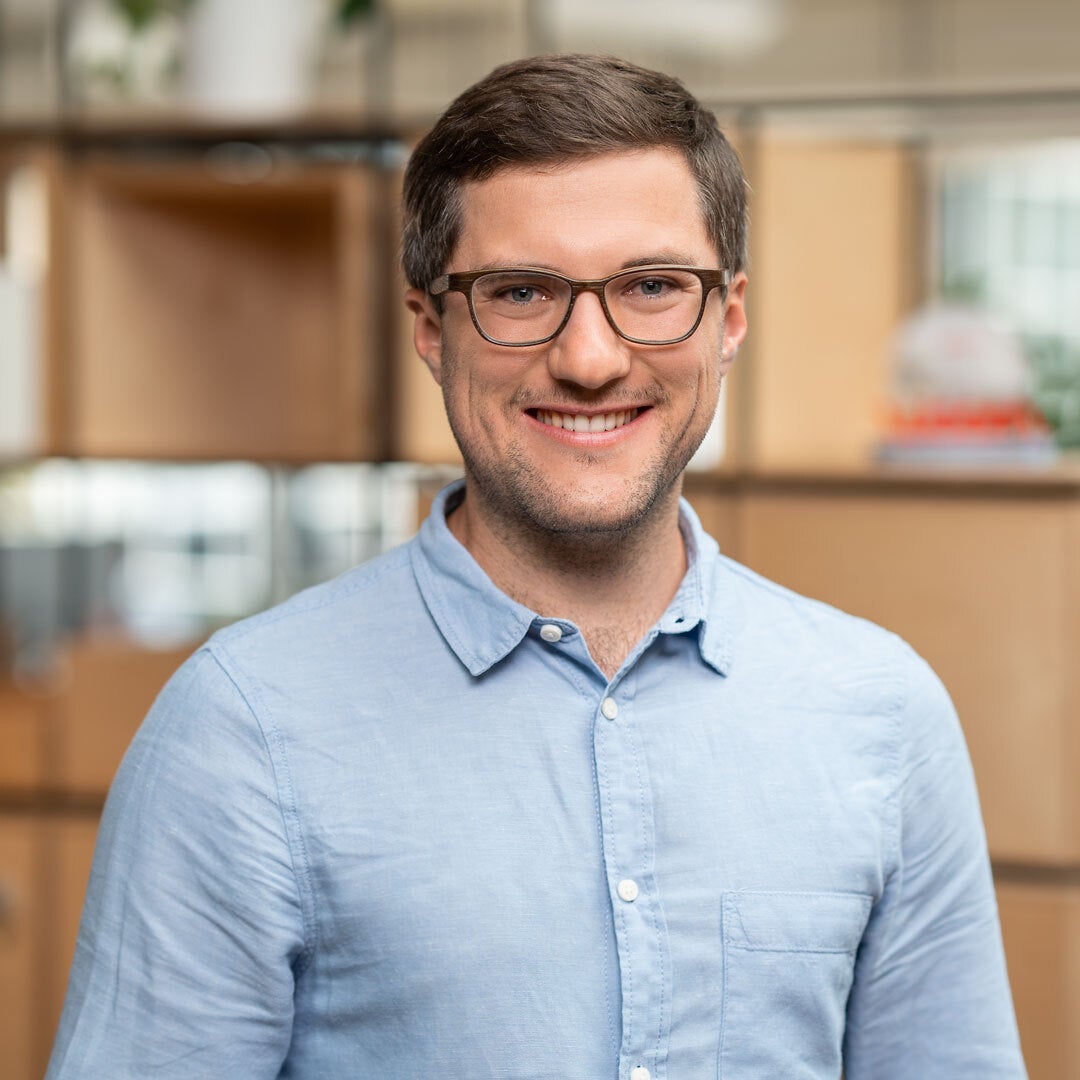 Felix Schifflhuber,
10/31/2022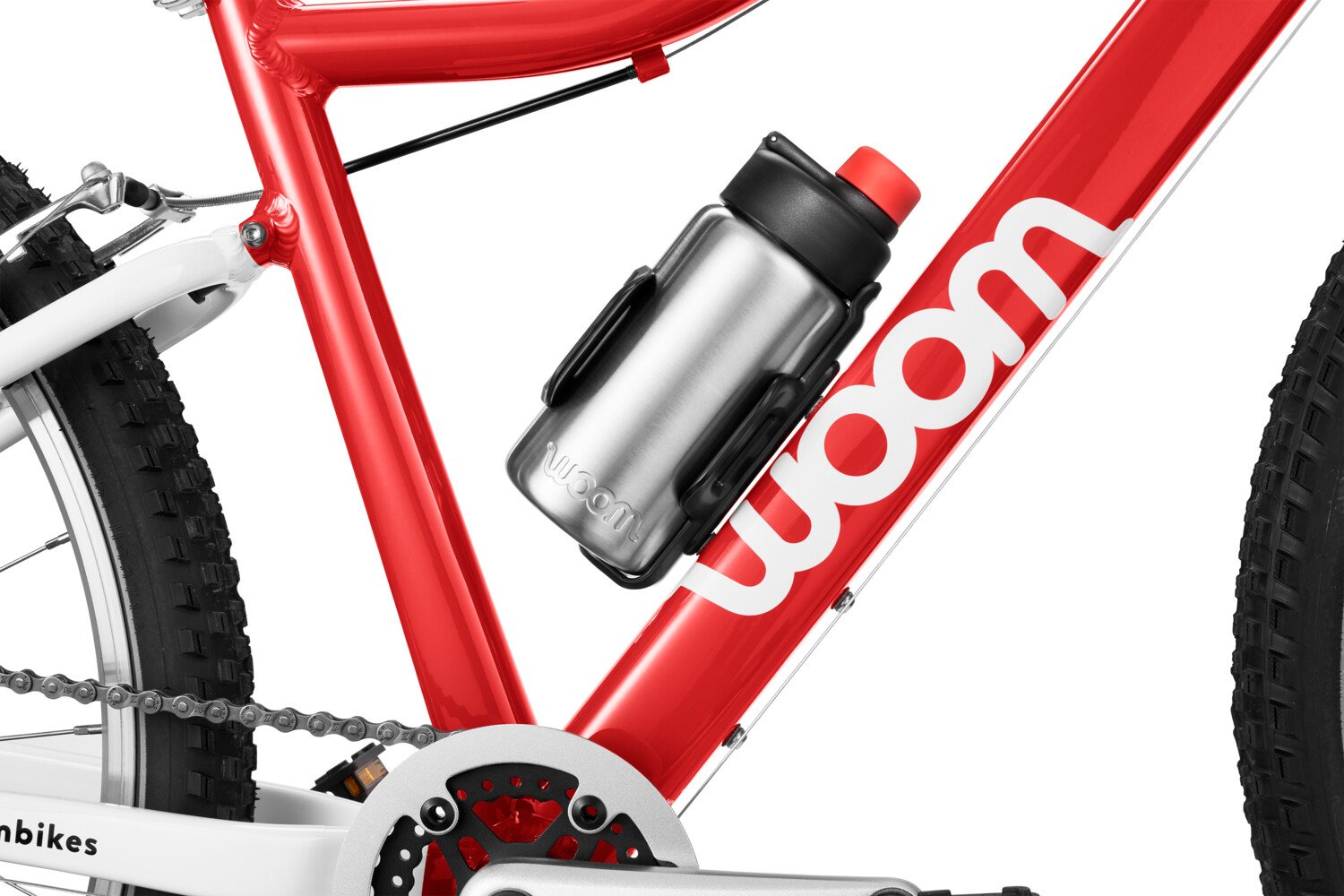 A woom ORIGINAL 4 with the GLUG stainless steel bottle mounted on its down tube.
Where lightweight meets stability and durability
When developing our children's bicycles, we invest a lot of energy into keeping their weight to a minimum. As a result, our woom ORIGINAL bikes are up to 40% lighter than the rest of the market.
We achieved this ultra-low weight through our informed choice of premium materials. Christian and Marcus, the founders of woom, opted for aluminium for more reasons than just its featherweight credentials:
Aluminium is robust.
Aluminium doesn't rust.
Unlike our aluminium approach, steel-framed children's bikes can often be so heavy that they weigh as much as 70% of the child's own body weight. Steel is also susceptible to rust, which can reduce a bike's resale value.
This choice of material is something we're pretty proud of – because we know that a bike frame made from premium aluminium makes learning to ride a pleasure.
A lightweight bike translates into a bike that's easy to ride – this is what's known as its handling. Keeping the weight down to a minimum also helps your child to master balance and braking with more ease. And the added bonus is that they'll simply be having more fun from the word 'go' and will be less likely to throw it down in tears.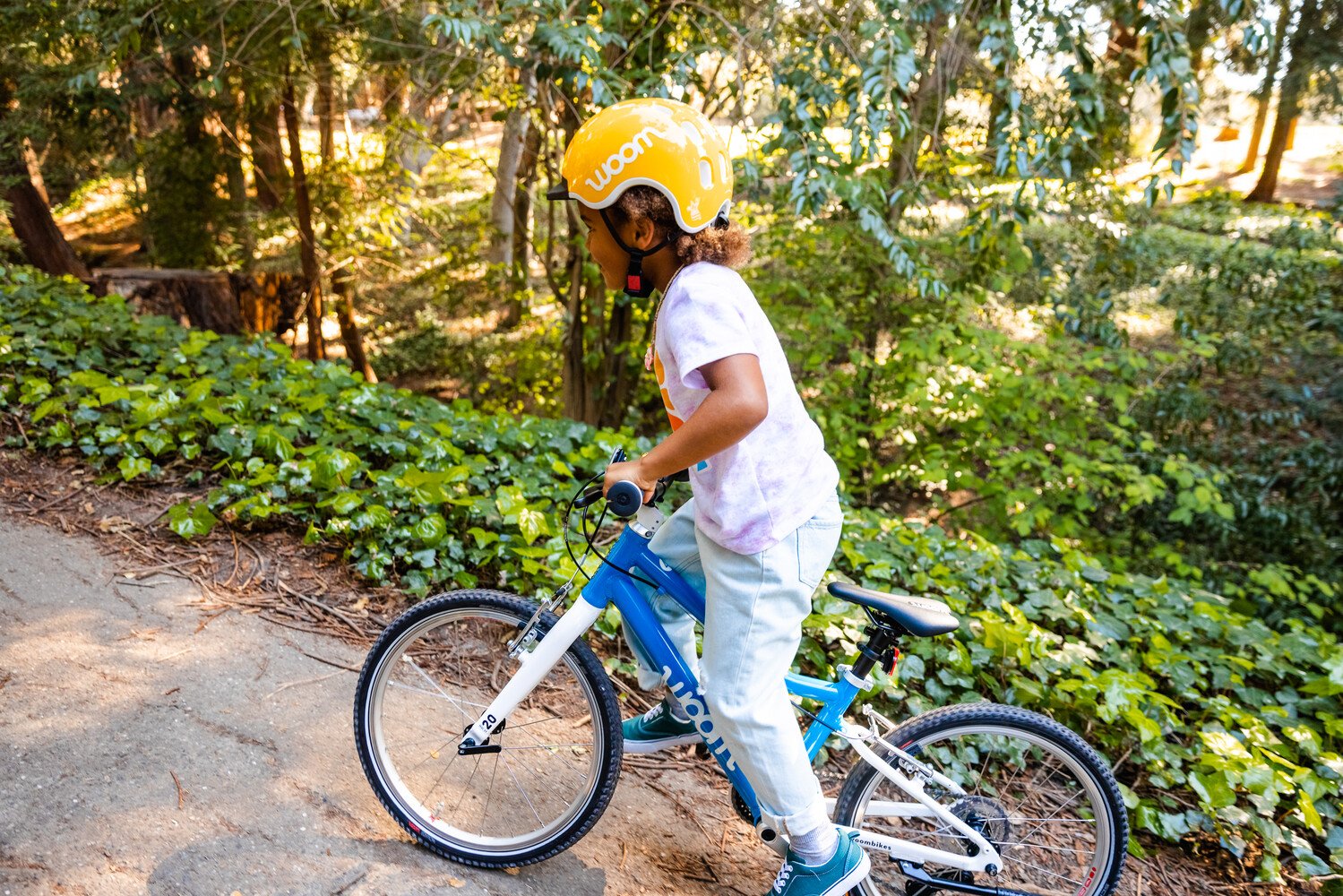 Thanks to the aluminium frames, our woom ORIGINAL bikes have a very low weight.
Why's there a kink in the top tube?
"There are certain design elements that distinguish our woom bikes," agrees Matthias Leite-Gürtner, Manager of Product Design at woom, with a smile. And yes, the kink in the top tube is certainly one of these.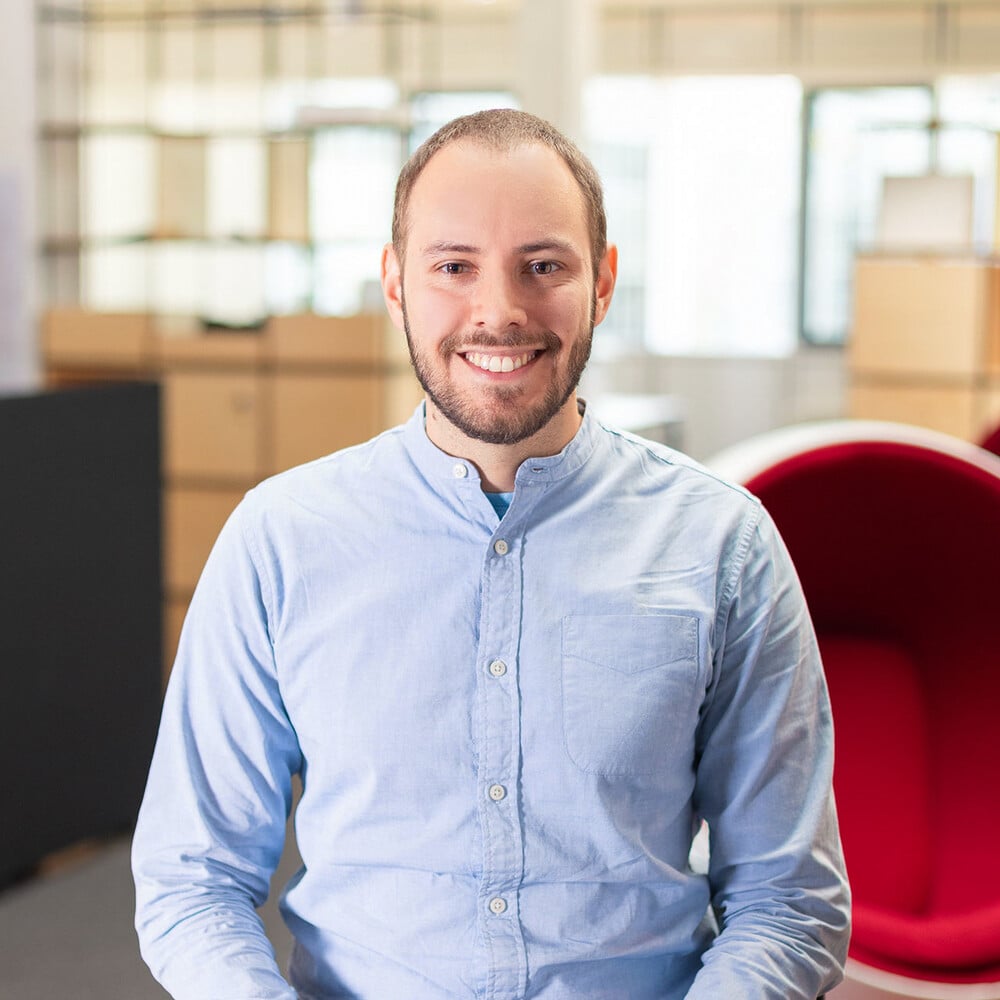 But other than design, it has a very specific function too:
Cycling can be unpredictable from time to time, so having the dropped top tube allows your child to make safe ground contact if they find themselves in a situation where they need to stop abruptly or hop off their bike quickly.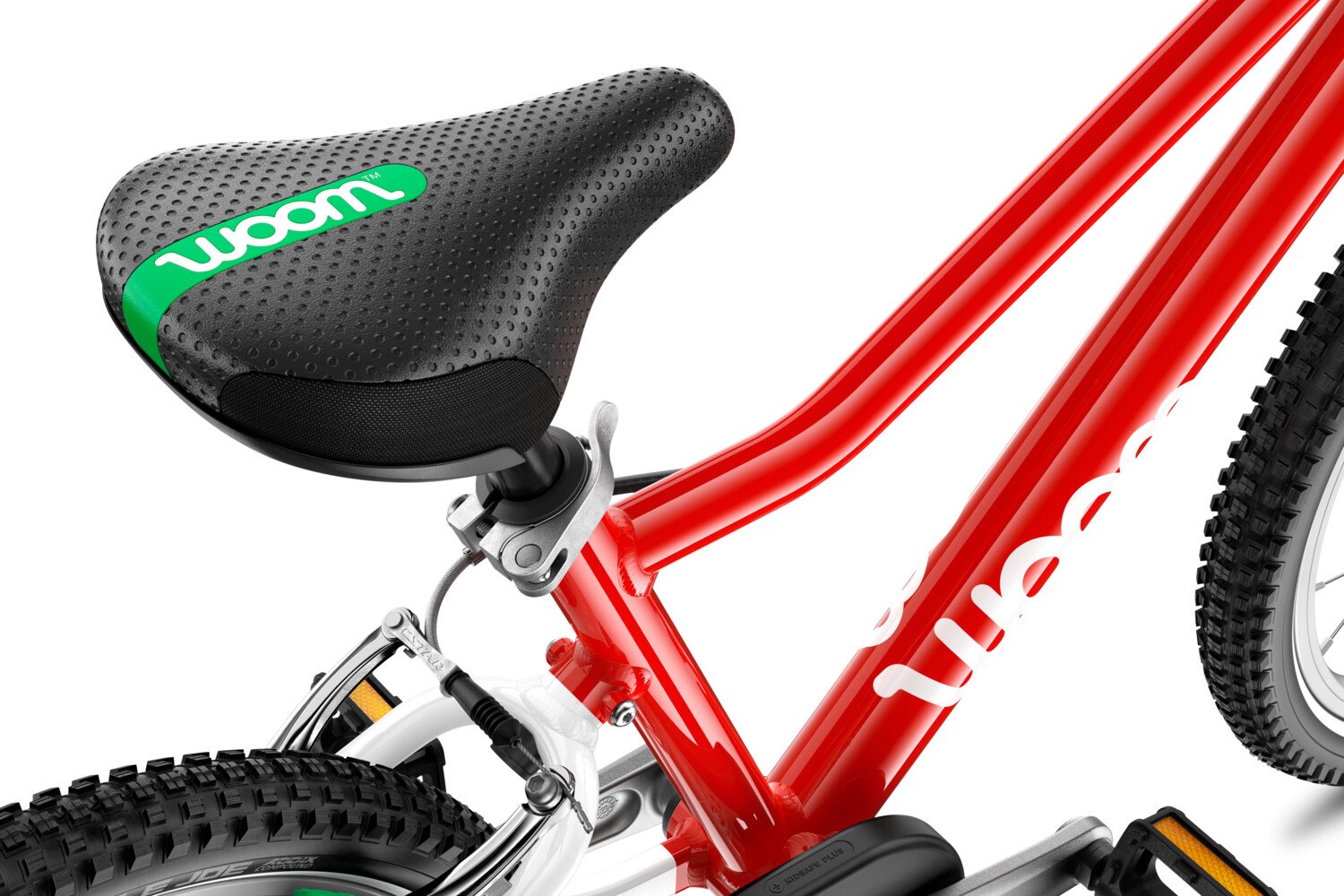 The kink in the top tube is signature woom design.
Child-specific geometry & tuned to all stages of riding
Shorter? Narrower? Indeed. There's nothing new about the fact that children have shorter fingers, shorter legs, narrower shoulders, and a differently shaped pelvis compared to adults.
That's why, instead of simply shrinking an adult-sized bike and playing with a few proportions, we designed our frames from the ground up to suit the anatomies of children.
The geometry of a bicycle frame has the ultimate influence on how a bike rides, and can be a decisive reason why a child may or may not fall in love with cycling from the outset.


Getting off to a safe start: woom ORIGINAL 1 to 3
Purpose built for those who are learning to ride, we focused on the following elements for our frames:
The low centre of gravity results in high stability and balance. By 'centre of gravity', we're talking about how the rider's weight is distributed optimally across the bike thanks to the low, stable riding position.
Our considered geometry produces an upright riding position to ensure your child gets a clear view over their surroundings despite being sat low on the bike.
The combination of the slack head angle and long wheelbase translates into smoothness, which is hugely beneficial to new riders.

(Head angle refers to the angle between the steerer and the ground. The wheelbase is the measurement between the axles on the wheels.)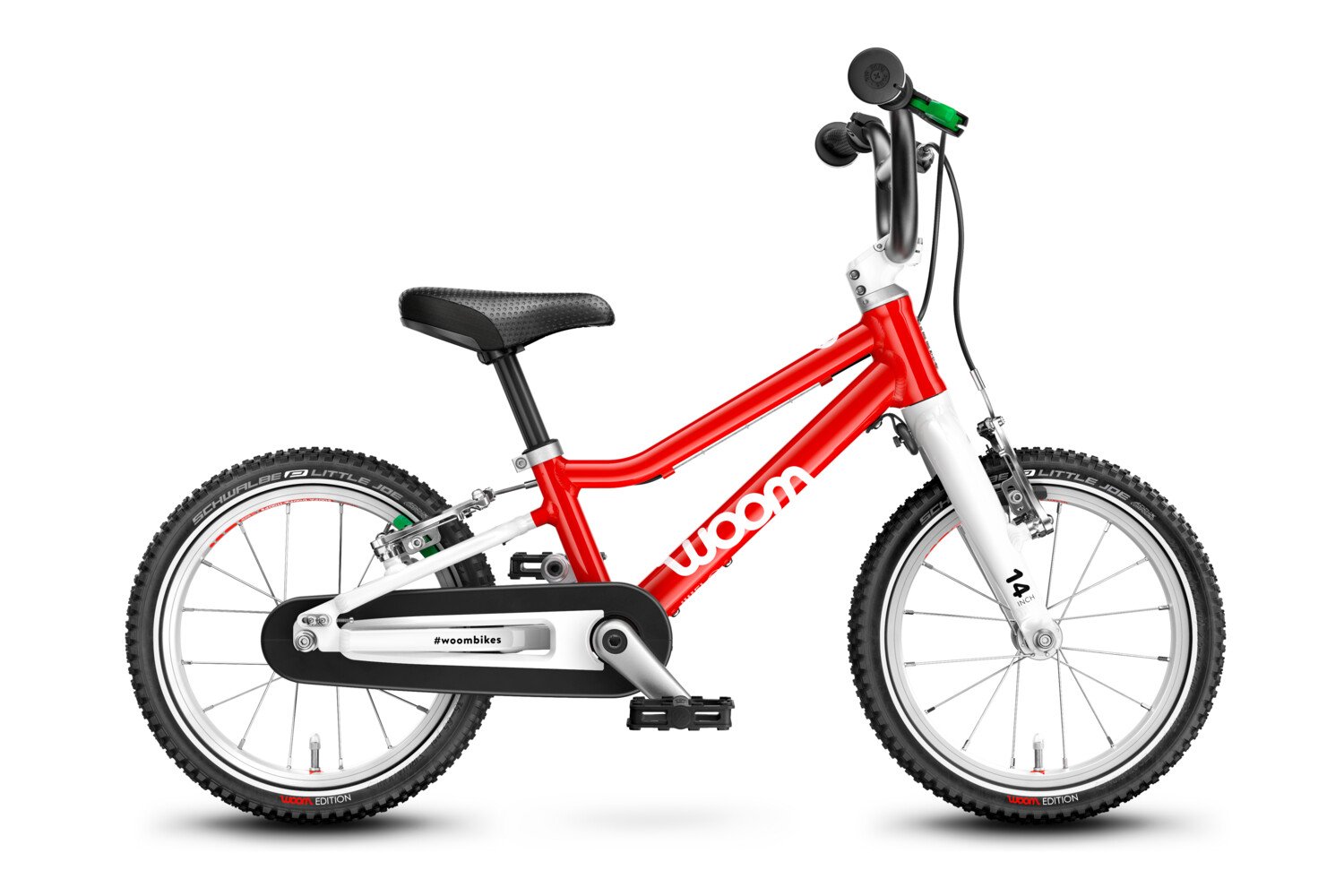 Safety is always a key consideration, but it's even more important when designing for the smallest riders.
Older, faster, differently positioned: woom ORIGINAL 4 to 6
For older kids and teens, we tuned the geometry with a more responsive approach:
The slightly stretched-out riding position results in efficient power transfer onto the pedals and an agile ride.
With a slightly higher bottom bracket than on the smaller models, the pedals won't get caught on roots or rocks when riding through the woods.
The very low riding position and forgiving front-end geometry mean control and fun are permanent features.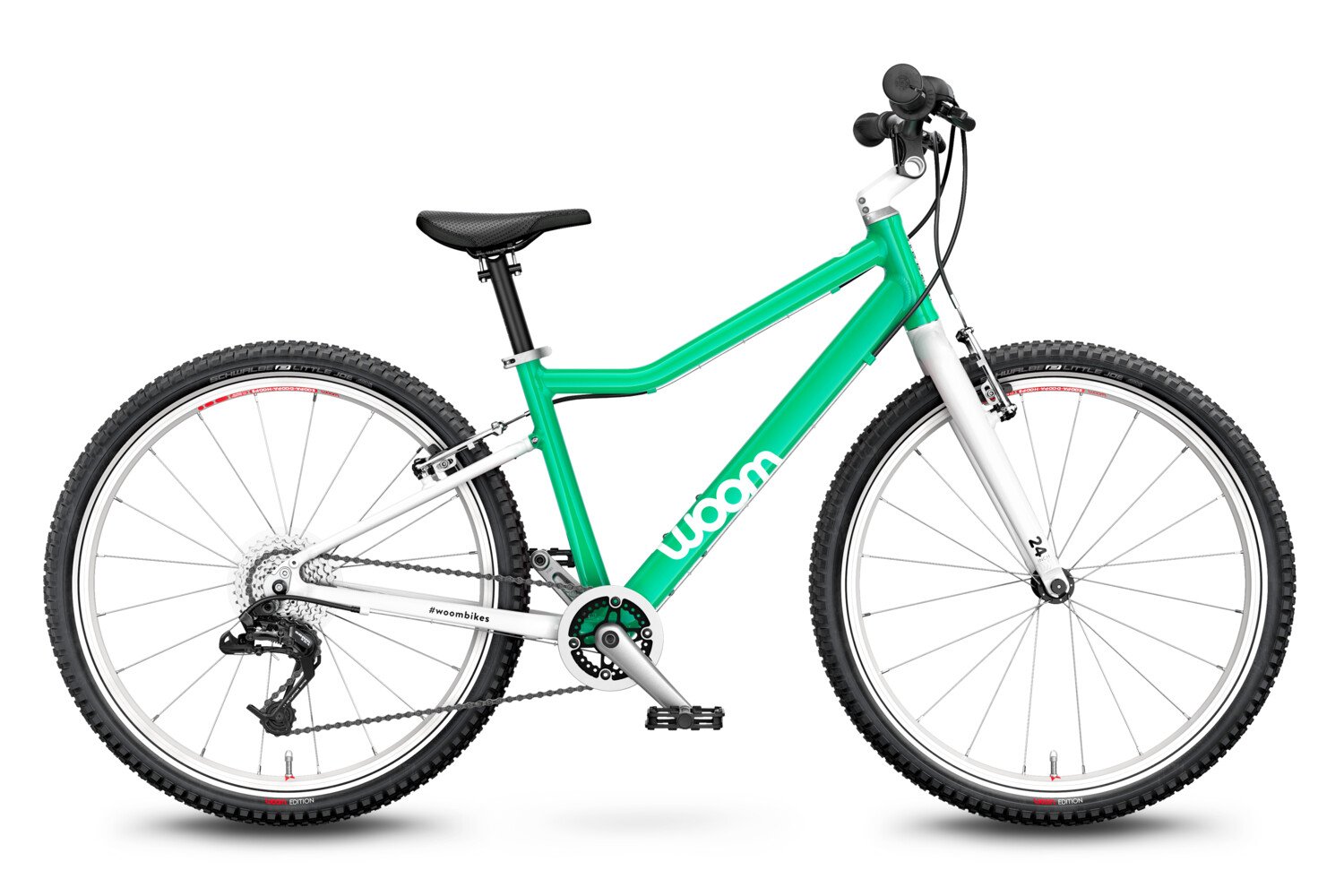 When designing for older riders, we recognised the need for speed.
Advanced production using tube butting
Almost all the tubes on our bikes are butted. Butting refers to how the inside walls of the tubes are engineered with varying thickness, particularly at the ends where they tend to be thicker.
A thicker tube wall adds strength to areas where power is transferred and tubes are welded together – this isn't necessary in areas that are subjected to less force. The different thicknesses are only inside the tubes, so you won't be able to spot the difference from the outside.
The benefits of butted tubes:
Butted frames are exceptionally strong and therefore extremely long-lasting.
By reducing the amount of aluminium used in the thinner sections, we can make valuable weight savings across the whole bike.
Butting is a great production method to create stable but lightweight bikes.
The bike that makes multiple kids happy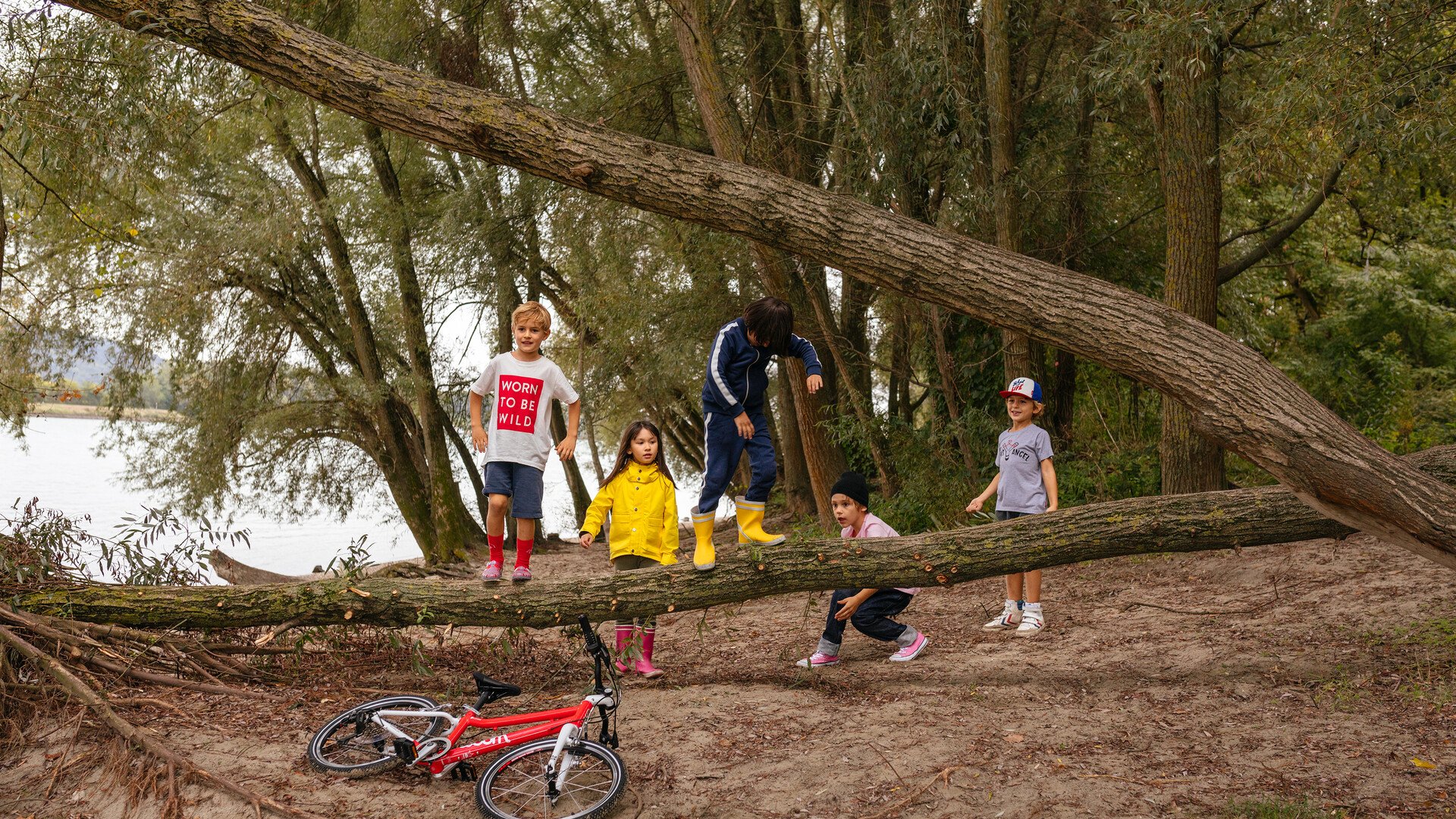 woom bikes can withstand a lot of use, meaning multiple kids can enjoy the same bike one after another.
Kids' bikes have to put up with a lot of action. All of our woom ORIGINAL frames are finished with multiple coats of paint to make them extra scratch resistant and prevent corrosion.
This additional finishing work stands out alongside the premium aluminium and high-quality production to ensure that our children's bikes are a particularly long-lasting and sustainable product.
Tell us more...
A woom bike isn't designed for just one child; they exist for the enjoyment of multiple children over a period of many years. The fact that they're high quality is reflected in their lengthy lifespan – whether you're handing it on to a friend or neighbour or selling it on for a high value.
Have you heard about our upCYCLING scheme? That's the option for those who don't want to resell or pass on their bike – you can simply return the bike that your child has grown out of and receive up to 40% of the original price back when you buy a bigger size.