ORIGINAL
An innovative and ultralight 24" children's bike with 8 gears designed for all-round use by children aged 7 years and over.
Weight:
8.7 kg (19.3 lbs)
Top features:
adjustable Vario stem. precise, smooth gear shifting, practical quick-release seatpost clamp, Ergogrips
---
Height:
125 - 145 cm (4.1 - 4.8″)
---
Safe up hill and down dale
The woom ORIGINAL 5 gives children aged seven years and older the chance to ride just like the big ones thanks to an eight-gear derailleur and easy-to-use twist shifter. No matter whether the bike is just a means of transport or a favourite hobby, riding the woom ORIGINAL 5 guarantees fun and safety on two wheels.
Please note: this product does not include a bike bell, front light, rear light or wide-angle Z reflectors. If your child plans on cycling on public roads and streets, their bike may need to meet certain standard requirements before it can be considered legal in your country of residence. In many countries, bikes must be equipped with a bike bell, front and rear lights, as well as reflectors. We strongly suggest checking the legal obligations and guidance for cyclists in your country to make sure that your child's woom bike complies with the relevant road traffic regulations.
Innovative frame design
The superlight aluminium frame is the heart of the bike and ensures a fun and safe riding experience. Its cleverly designed age-specific geometry offers good control over the bike and gives young riders maximum safety while exploring new horizons.
Child-specific hand-operated brakes
The two V-Brakes are easy to operate thanks to their ergonomically adapted brake levers with reach adjustability. The levers require only little strength to bring the bike to a safe halt.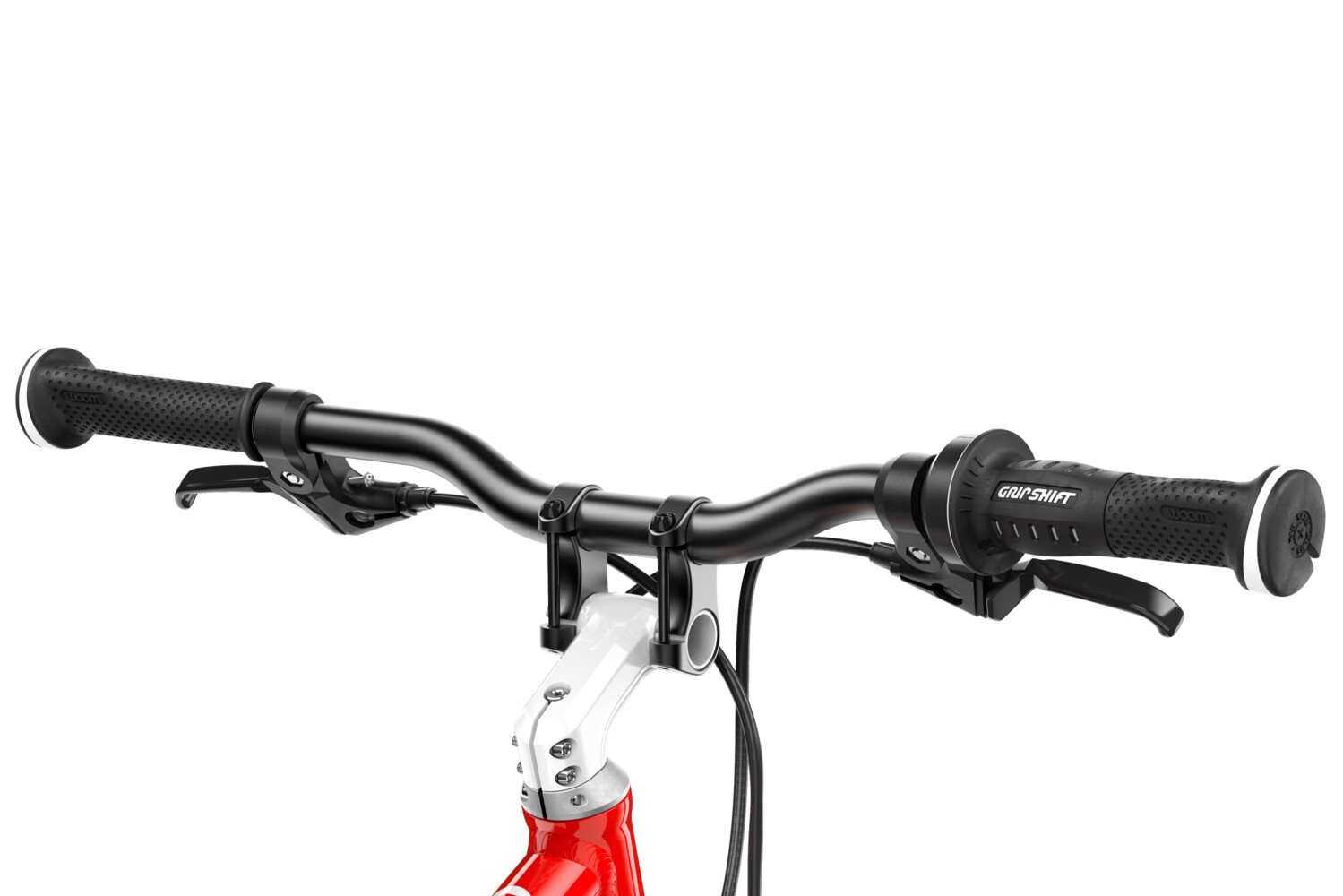 Individually adjustable Vario stem
With the flexibility of the adjustable Vario stem, you can set not only the height of the bike but also its length to suit the rider. This means the bike grows with your child to ensure an optimal riding position at all times.
Please note that as we work with various suppliers, the actual stem on your woom bike may vary slightly from the images shown.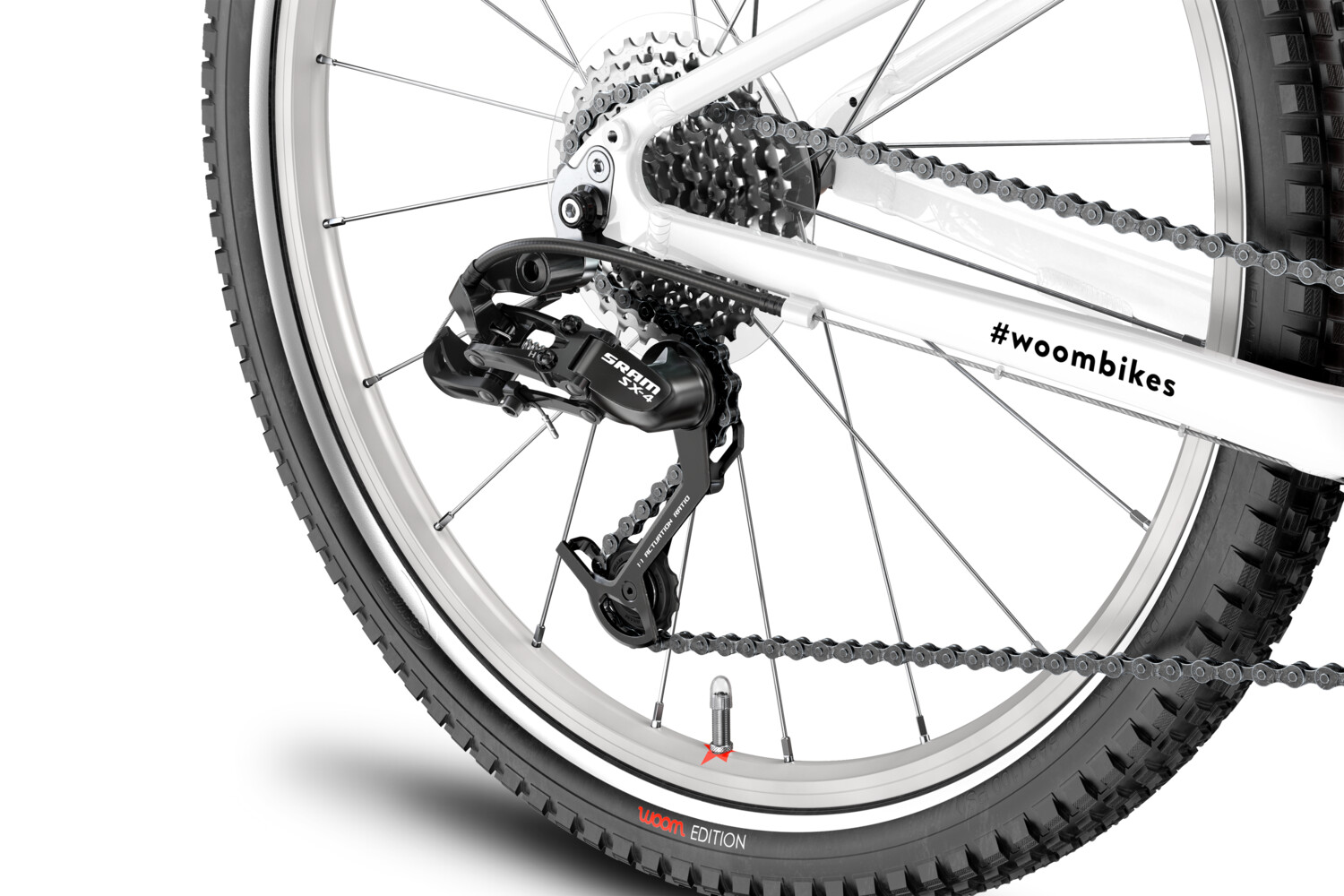 Eight gears
The precise and easy-to-use gear-shifting makes riding more fun and enables children to go on longer rides while remaining simple enough for youngsters to understand. The SRAM X4 system has eight gears in the back (11-32) designed for a wide range of gradients combined with a 28-tooth chain ring in the front.
Please note that as we work with various suppliers, the actual gears on your woom bike may vary slightly from the images shown.
Cranks with a narrow Q-factor
The crank length and distance between the pedals are ergonomically adapted to fit children's bodies. This results in an optimum stance and very natural movements. And thanks to the chain guard ring those days of getting your trouser leg caught are over!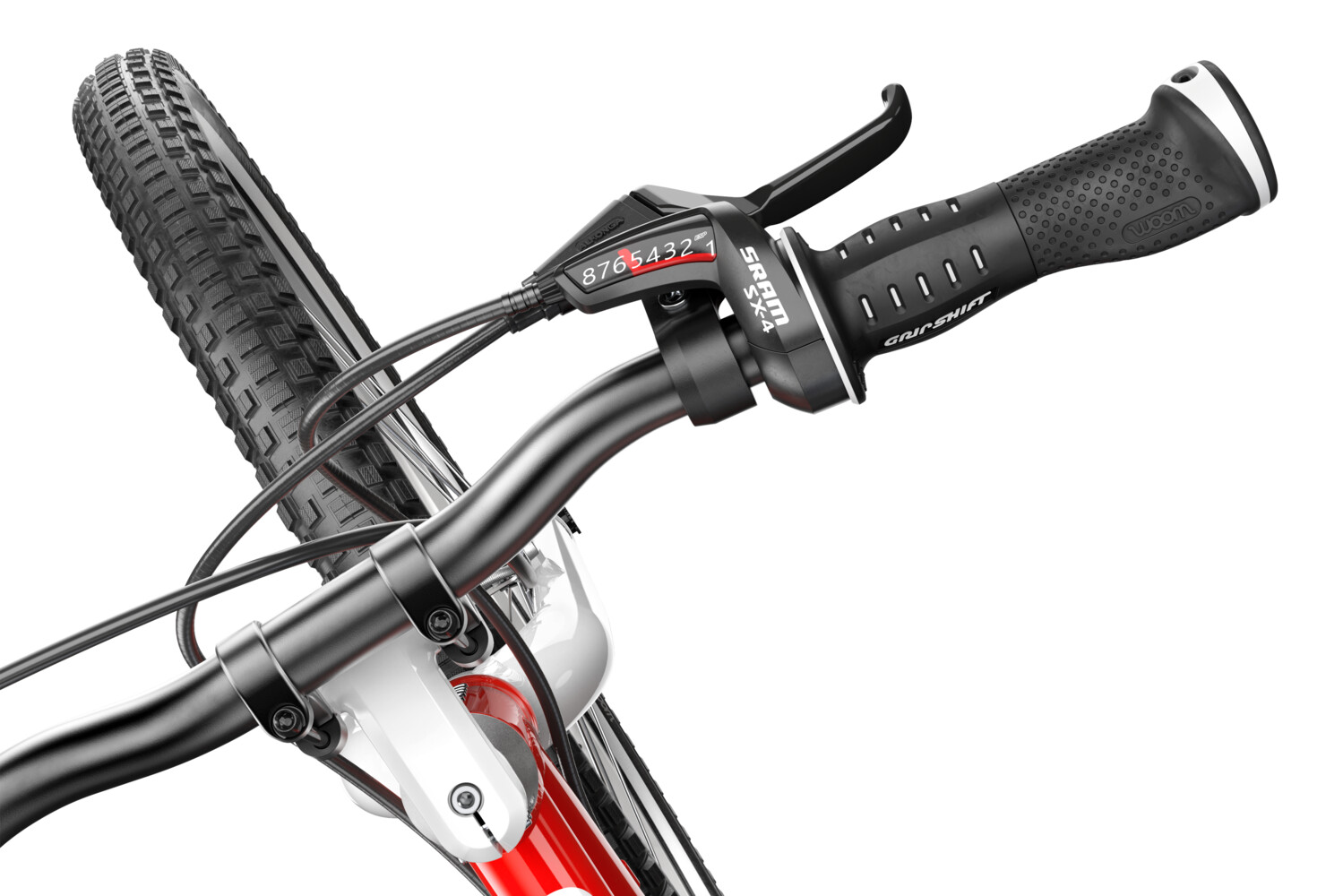 Twist shifter for intuitive shifting
The easy-to-operate SRAM twist shifter enables riders to shift intuitively through the eight gears with minimal hand strength required.
Practical quick-release skewer
Quick-release skewers make installing and removing the wheels from the frame a quick and easy job. Having the wheels out of the frame makes it much easier to transport the bike in a car. And a quick removal and installation of the wheels is also super helpful if you get a flat tyre.
Grippy, low-resistance tyres
Tyres have a major influence on how a bike rides. That is why for our bikes we have chosen tyres that can be used for a broad variety of terrain. Whether you child is riding on tarmac, gravel or dirt, our lightweight tyres will ensure maximum grip in any weather and on any surface, whether your child is riding straight or making turns.
Ergonomically formed saddle
The saddle is one of the most important points of contact between the child and the bike. It significantly affects the feeling when riding. That is why our saddle is designed to fit the pelvis of children in this age group and give them a slightly stretched-out riding position. Perfect for a unique riding experience!
Please note that as we work with various suppliers, the actual saddle on your woom bike may vary slightly from the images shown.
Practical quick-release seatpost clamp
The quick-release seatpost clamp offers a simple, quick and tool-free way to adjust the saddle height. It's even easy enough to be operated by children. On your pedals, ready, go!
Here's how your bike will arrive – Set a 5-minute timer and let's go!
This video has a step-by-step guide to assembling your woom ORIGINAL 5, which tools you need, and how to make sure it's tip-top for your child.
Assembly instructions
Instructions for Use
You can find more information in our service and help area.