Bike-life
The perfect bike for the school run
If you want to make the school run as safe and smooth as possible, you need to be sure that your child's bike ticks all the right boxes. Let's start with a rack for carrying their school bag and look into all the other equipment that will keep them safe on the road.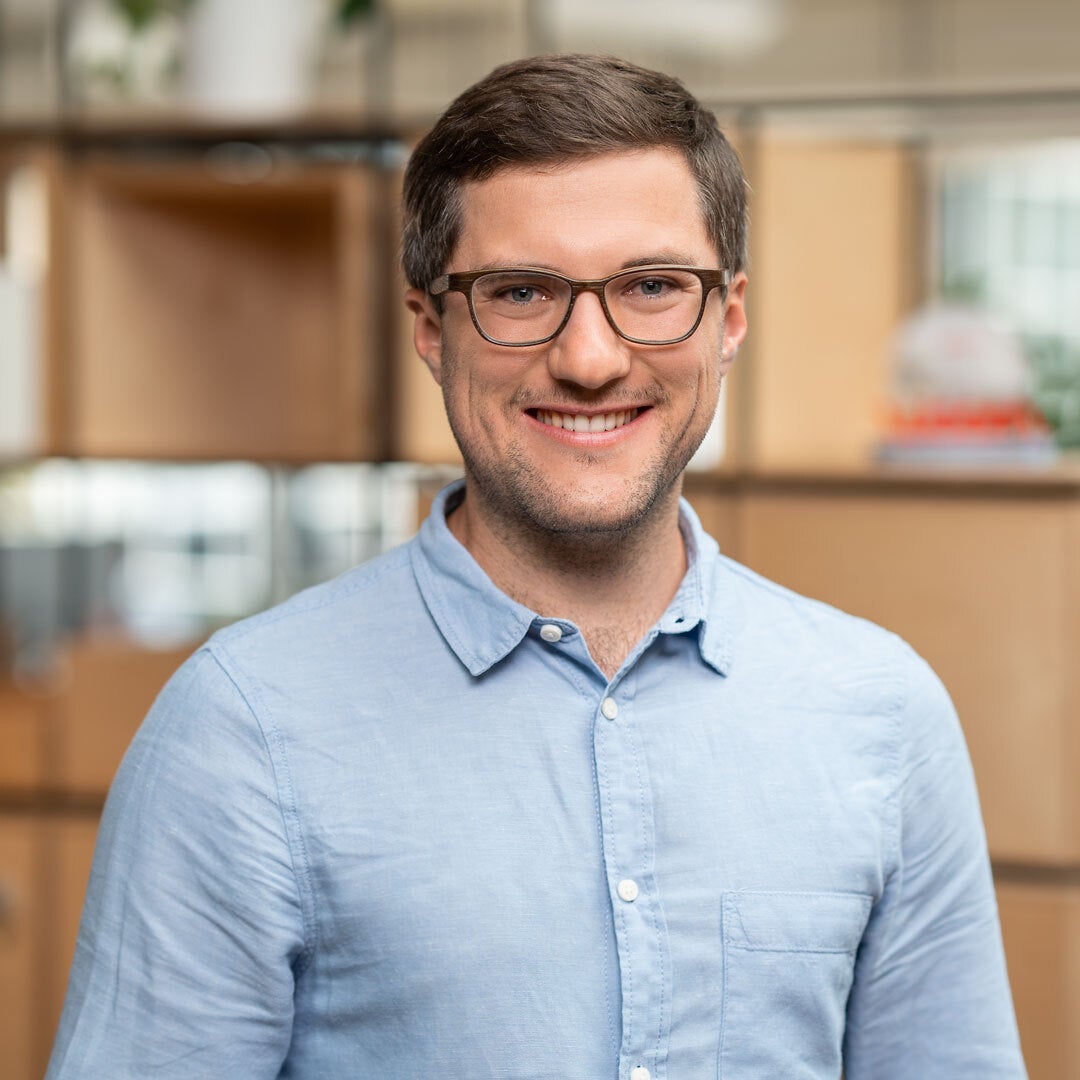 Felix Schifflhuber,
8/26/2022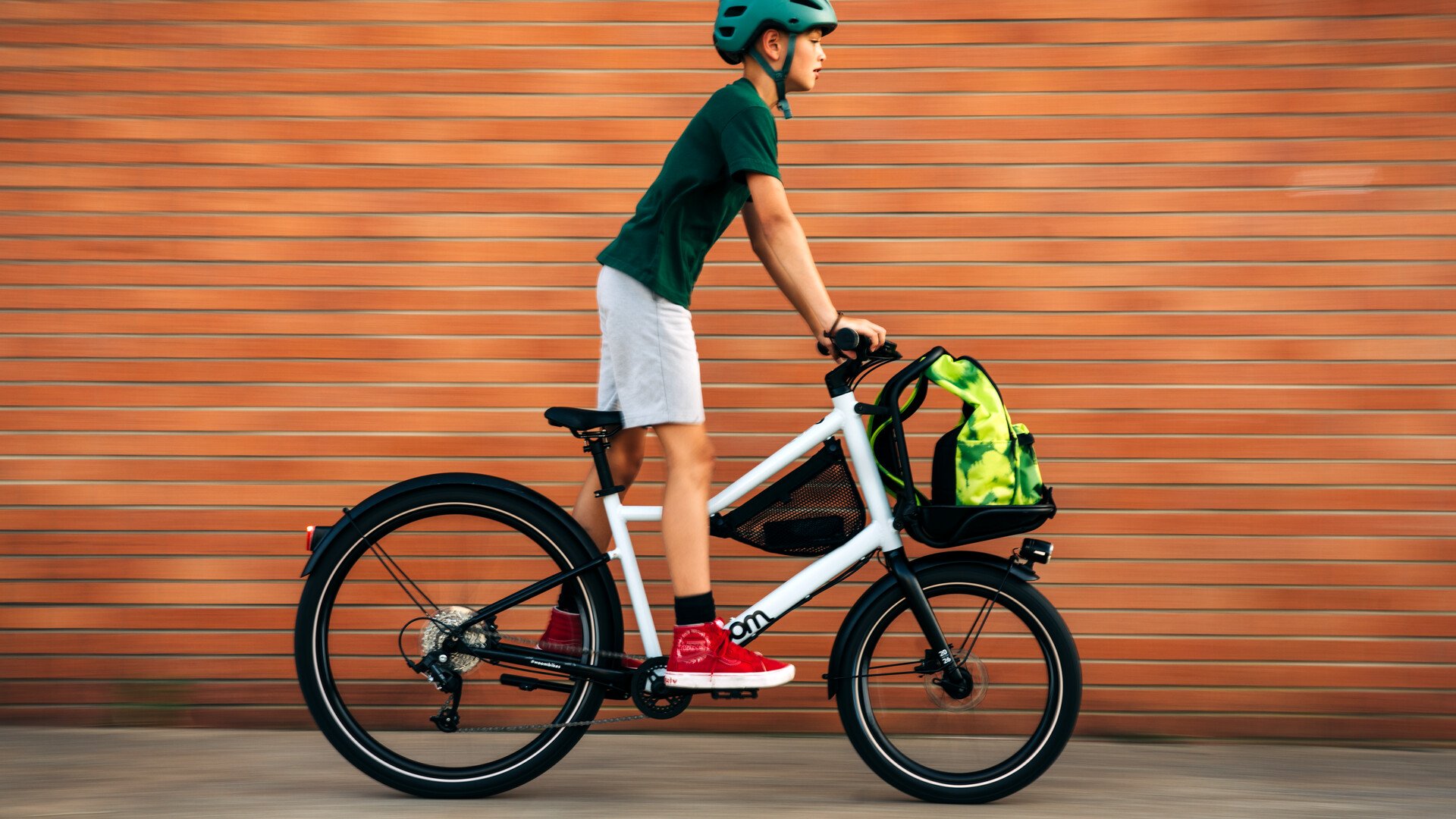 Safety comes first with a small front wheel and front rack combination.


Store heavy school bags up front
There's no better way to carry a backpack and sports kit to school than on a rack positioned over a small front wheel. Even better if that rack is fitted directly to the frame.
That's because it provides much more stability and balance than when racks are attached to the handlebars. Even when your child goes around corners. It all comes down to the fact that the cargo doesn't move when your child steers.
If the front wheel is smaller, the front rack is lower. And that brings a long list of benefits, as Raffael Sperl-Zimmel, Senior Product Manager at woom, explains: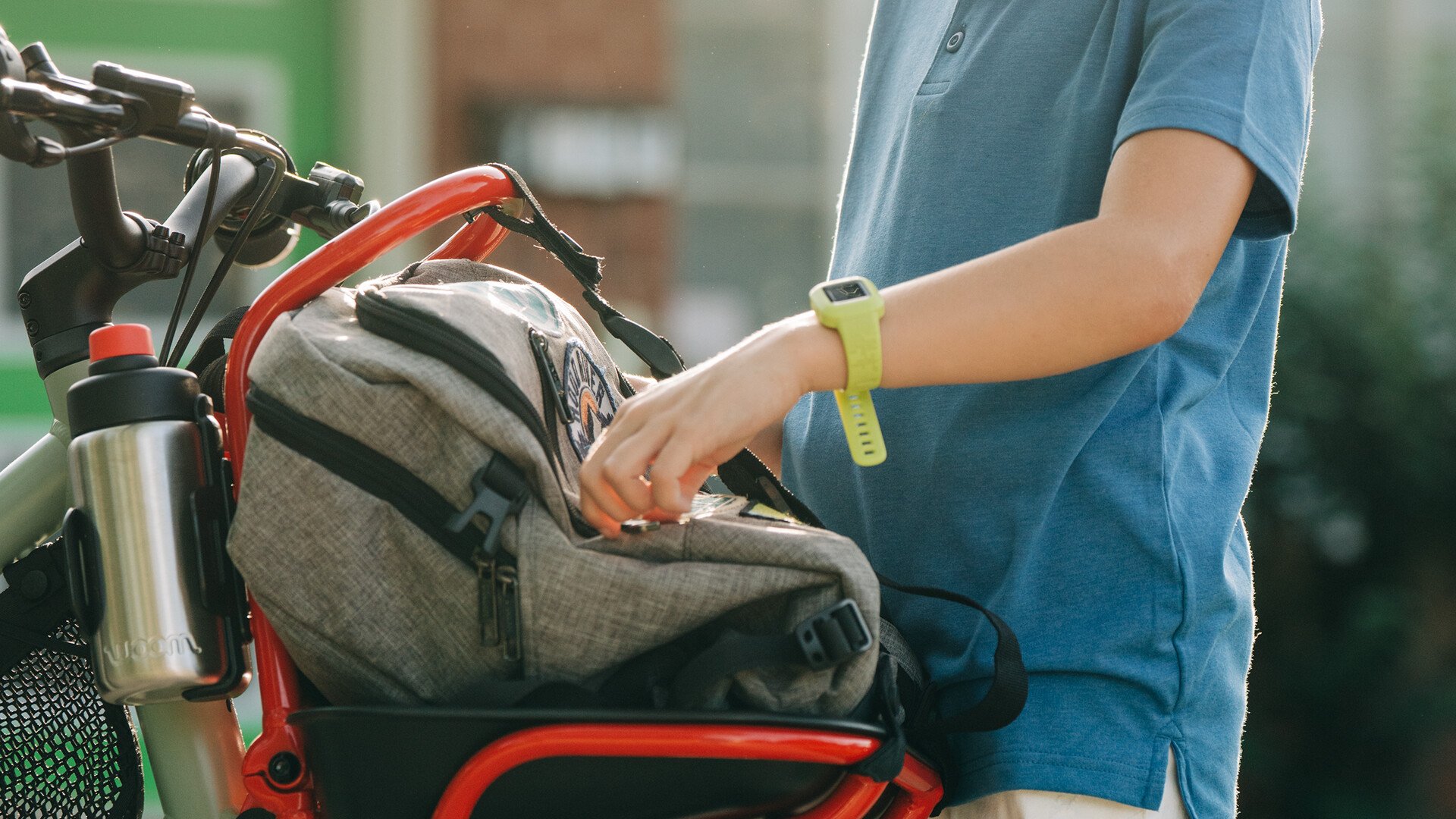 School bags can be secured with a strap for extra security.
"Firstly, it's easier for kids to load the rack at this height compared to the usual height of a basket on a rear rack. And secondly, the cargo's centre of gravity is lower, which makes the bike significantly easier to handle, even when riding with a heavy load."
The smaller front wheel also lends more agility to the bike. And by mounting the front rack onto the frame, like on the woom NOW, there's no influence on the steering. That's your child's ticket to a safer school run!
While we're on the topic of safety...
Your child will need to use straps to keep their cargo secure on their journey. The woom NOW front rack even comes with its own strap that's so easy to use that bags can be securely stowed within seconds.
Say goodbye to wet backs
If your child cycles to school with their bag on their back, they might end up feeling a bit sweaty by the time they arrive. The front rack keeps your child's back and clothes nice and dry, so they can focus on that day's lessons without worrying about being uncomfortable.


Keep it light, make it fun
Keeping the weight to a minimum is the best way for your child to enjoy their ride to school and keep control over their bike. All of that will boost safety too.
The woom NOW may come with a lot of components, but the lightweight build ensures that it still weighs significantly less than other bikes with a similar specification.
Our designers have managed to reduce the weight by using a smart design and ultra-light materials and components.
The frame is a perfect example because it's made from high-grade aluminium – an extremely lightweight metal.
Light the way on a dark and dreary morning
It may well still be dark on the way to school during the autumn and winter months. So it's really important to fit effective lighting to your child's bike to help them find their way safely.
What exactly do we mean by effective lighting?
We want to make sure that your child can see and be seen by other road users, so they'll need bright lights at the front and back that keep on shining even when they stop at traffic lights and crossings. And reflectors are essential at the front and back as well as on the wheels and pedals.
That's why the woom NOW comes with its own non-removable, powerful LED lights. And all the necessary reflectors too, of course.
The lights are powered by the high-quality hub dynamo. Charging up batteries is a thing of the past. And so are the days of your child accidentally leaving their bike lights behind at home.
The LED lights are powered up as soon as the wheels begin to turn, so your child can see exactly where they're going at all times. But you can always switch off the lights when the sun is bright enough to guide the way.
We just have to mention that the woom NOW also comes with a backup standlight function when stationary. That means the headlight and rear light keep shining for a while after your child stops pedalling and powering them with the dynamo.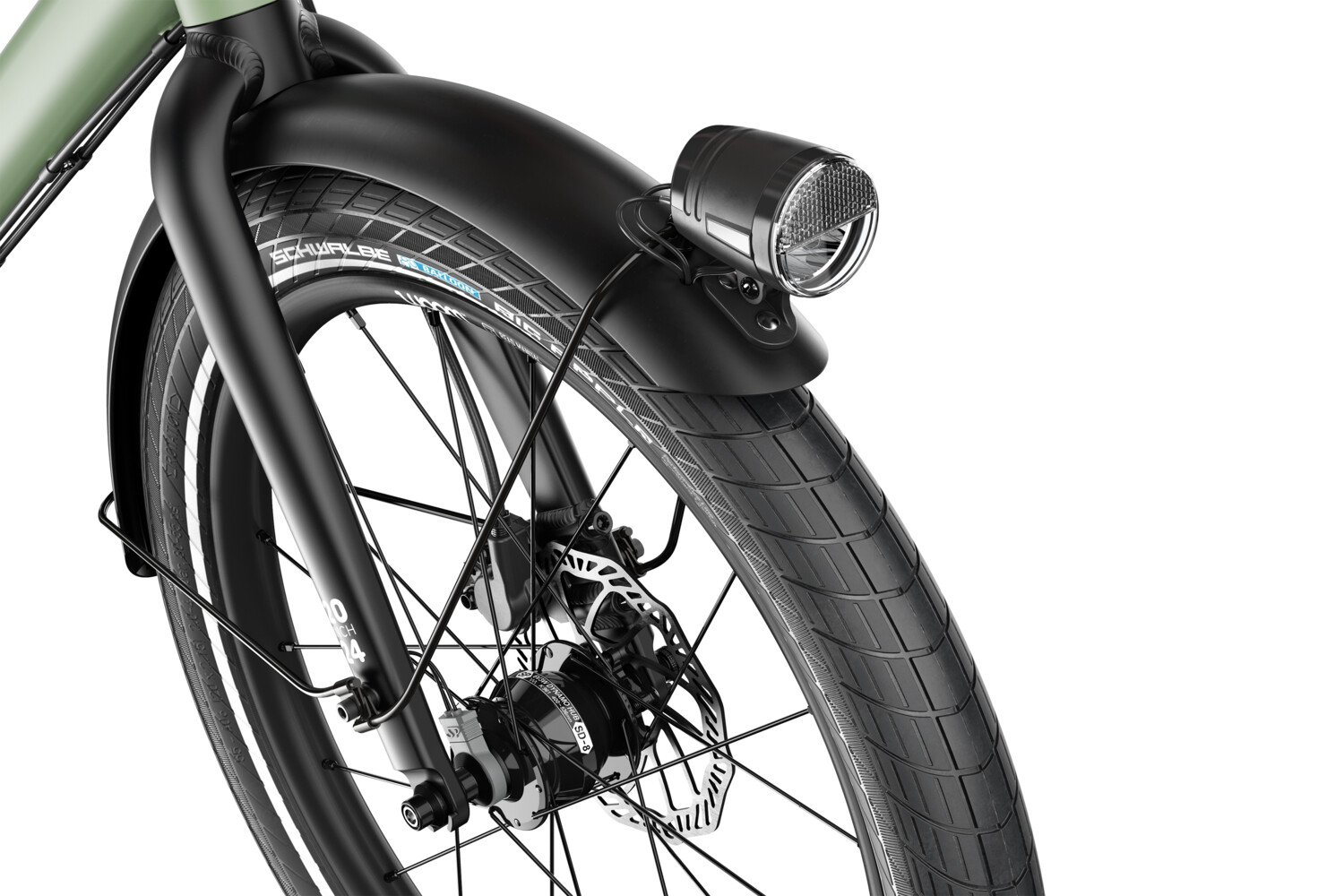 Effective lighting is the key to a safe ride when it's still dark out.
Make sure your child's bike complies with the rules of the road
In some countries, your child's bike will legally need a bell, two separate brakes, a white headlight and a red rear light if they're going to be cycling on the road.
Not to mention a white front reflector, a red rear reflector, reflectors on the pedals and reflectors or reflective strips on the wheels.
The woom NOW complies with the rules of the road that apply in lots of countries across Europe. With the reflectors built into the headlight and rear light, the chances are that you won't have to worry about adding more reflectors of your own.
Beyond the legal requirements, some other features just make good sense!
Hydraulic disc brakes look cool – and they make it easy to brake quickly without much effort. Mudguards, meanwhile, keep dirt and rainwater at bay.
A kickstand allows your child to quickly park their bike up safe in the knowledge that it won't fall over. And an integrated bell provides an easy way for them to get other people's attention if they need to. How about somewhere for your child to keep their school bag and other bits and pieces safe on the school run? That's exactly where racks and frame bags come in!
The woom NOW comes with all this equipment we've mentioned – as standard. And an ergonomic saddle that'll get your child to school every day in comfort and style.
Safety first thanks to bike frame and equipment
Let's quickly summarise all the main points...
The innovative frame design of the woom NOW teams with the front rack and smaller front wheel to keep the weight of your child's cargo down low, which means confident handling while cruising. Your child will be sitting in an upright position, giving them a good view of whatever else is happening on the road around them.
Loud and stylish, the super functional twist-grip bell is hidden on the handlebars and so easy to reach that your child literally doesn't have to lift a finger.
The wide balloon tyres provide the woom NOW with natural cushioning, which keeps things cushy even over cobblestones. In fact, they're so wide that your child can cruise confidently over tramlines without having to worry about getting stuck. And the built-in puncture resistance stops any sharp objects putting a hole in the inner tube.
The woom NOW comes with powerful disc brakes, which work really well even in wet weather and don't require super-human strength to function. This is a key benefit, especially when the bike has cargo on board.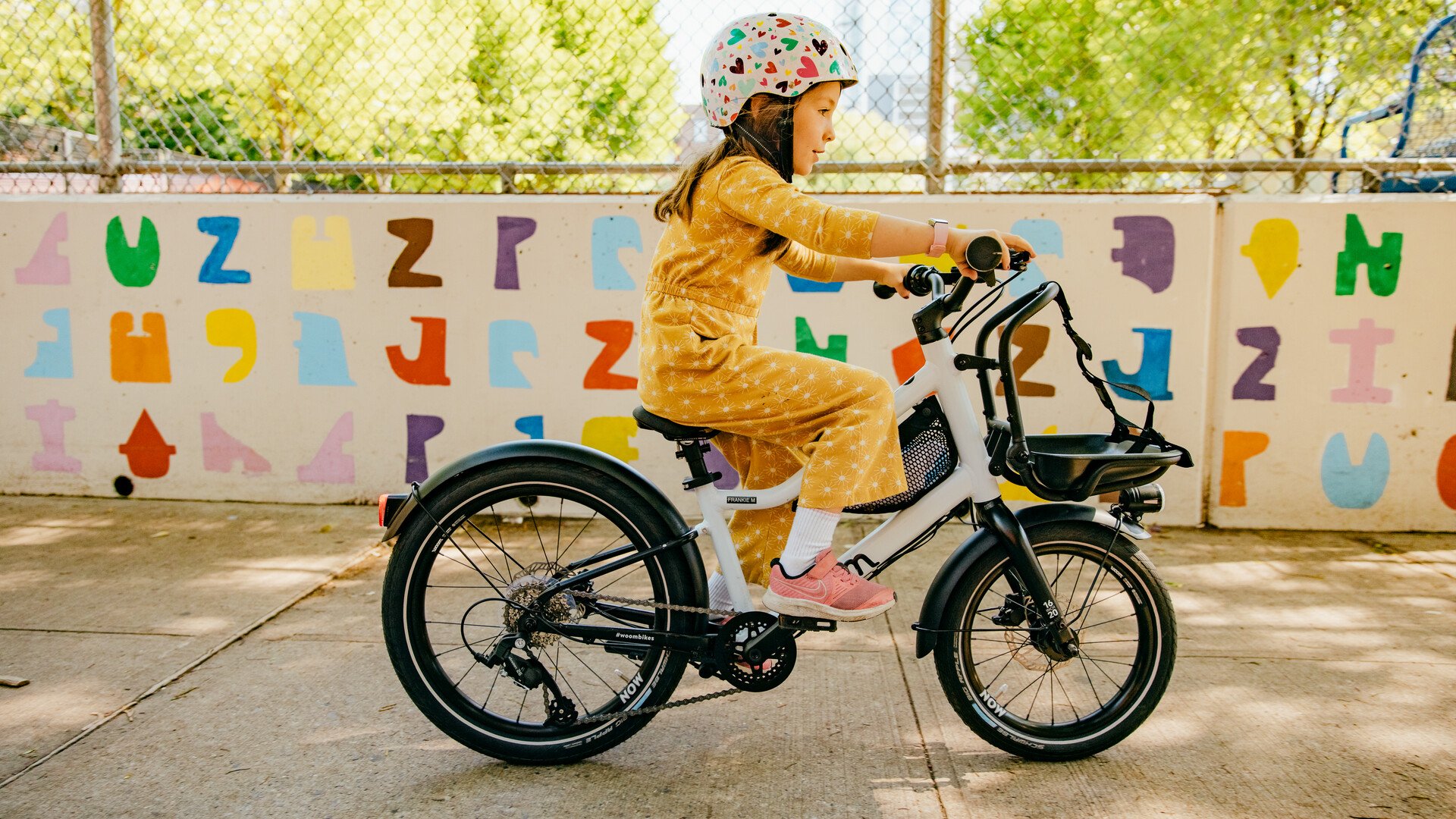 The upright sitting position gives your child a good view of the road ahead.
Looking cool on the way to school
When it comes to the school run, bikes are so much more than just a means of transport. They're a way for your child to express themselves and show off their personality.
That's why we care so much about what the woom NOW looks like.
The aesthetics are spot on thanks to the fresh and clean design concept that seamlessly integrates the bike's technical features. Its confident, cohesive silhouette, matt finish and black components complete the cool, urban look.
So much so that the design has already won multiple awards. These are just some of them...
German Innovation Award 2022
Red Dot Award: Product Design 2022
Design & Innovation Award 2022
TAIPEI CYCLE d&i Award 2022
Silver A' Design Award 2022
Staatspreis Design Austria 2022 – Shortlist
So many children are passionate about sustainability and protecting our planet.
What better way to show their concerns about the climate crisis than cycling to school rather than relying on their parents for a lift? And they can use the frame bag on the woom NOW to tell the world all about what matters to them most.
The customisable message boards are ideal for making a statement through their own words and works of art.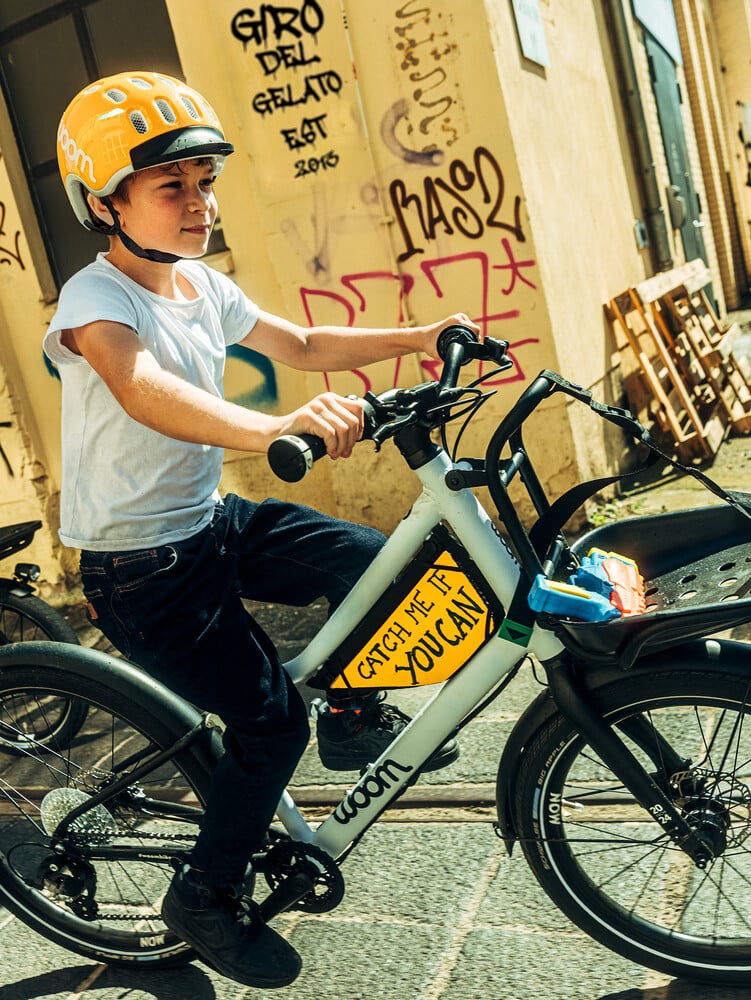 Wondering how to make your child's bike their favourite way to get around? We bet they'll love the chance to get creative on the frame bag.
An urban lifestyle bike is more than just a cargo bike or city cruiser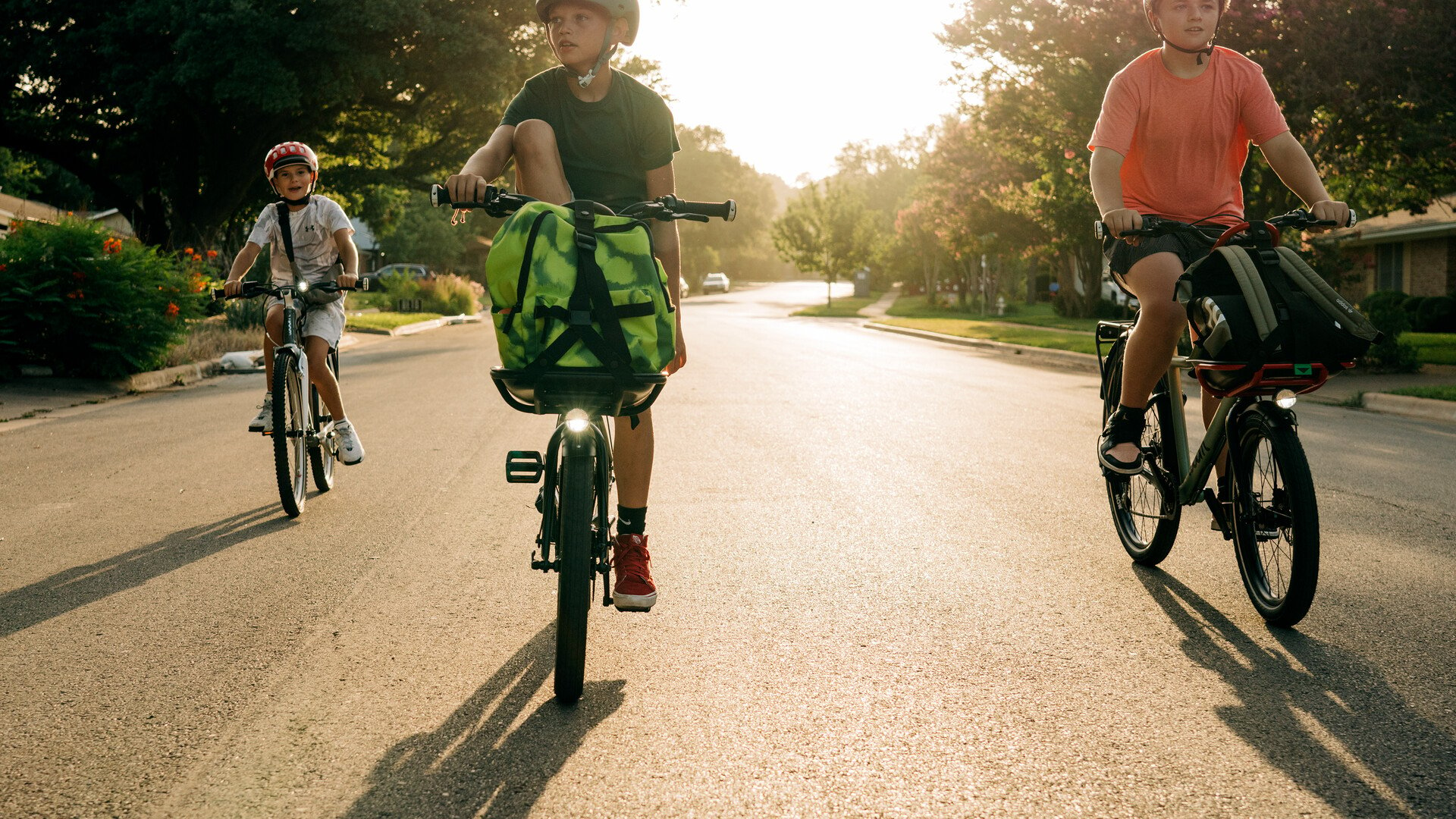 The woom NOW is the answer to Generation Alpha's calls for sustainable and flexible ways to get around.
The woom NOW represents a new category of bikes designed for children and teenagers, which is not a city bike, cargo bike or a city cruiser.
"The woom NOW is the ultimate companion for kids and teens who live in an urban space in which they want to ride safely while having fun and expressing their individuality and values,"
Sure, the woom NOW is the ideal way for your child to get around town – especially if they have bags on board. But it's also the answer to Generation Alpha's desire to be different, have freedom and flexibility and be rebellious. To them, the bike is an extension of their identity and an integral part of their lifestyle.
Just so you know, young people born between 2010 and 2024 are classed as belonging to Generation Alpha.
The way this generation thinks and acts is partly shaped by megatrends like urbanisation, health, climate change and sustainability.
4 good reasons to bike to school
1) Getting active on the way to school boosts health and performance
Cycling is a form of cardio exercise that'll raise your child's heart rate and improve their stamina. It's a great way of strengthening their muscles without putting too much strain on their joints.
Countless scientific studies have shown that children who are active on their way to school are more likely to perform better in the classroom.
2) Cycling to school is good for the environment
Cycling and walking are the most sustainable, low-impact options based on emissions and space requirements, followed by public transport.
Bikes are also the key to making towns and cities healthier and safer places to live. Instilling a love for cycling in children and teenagers is an important part of the transport revolution.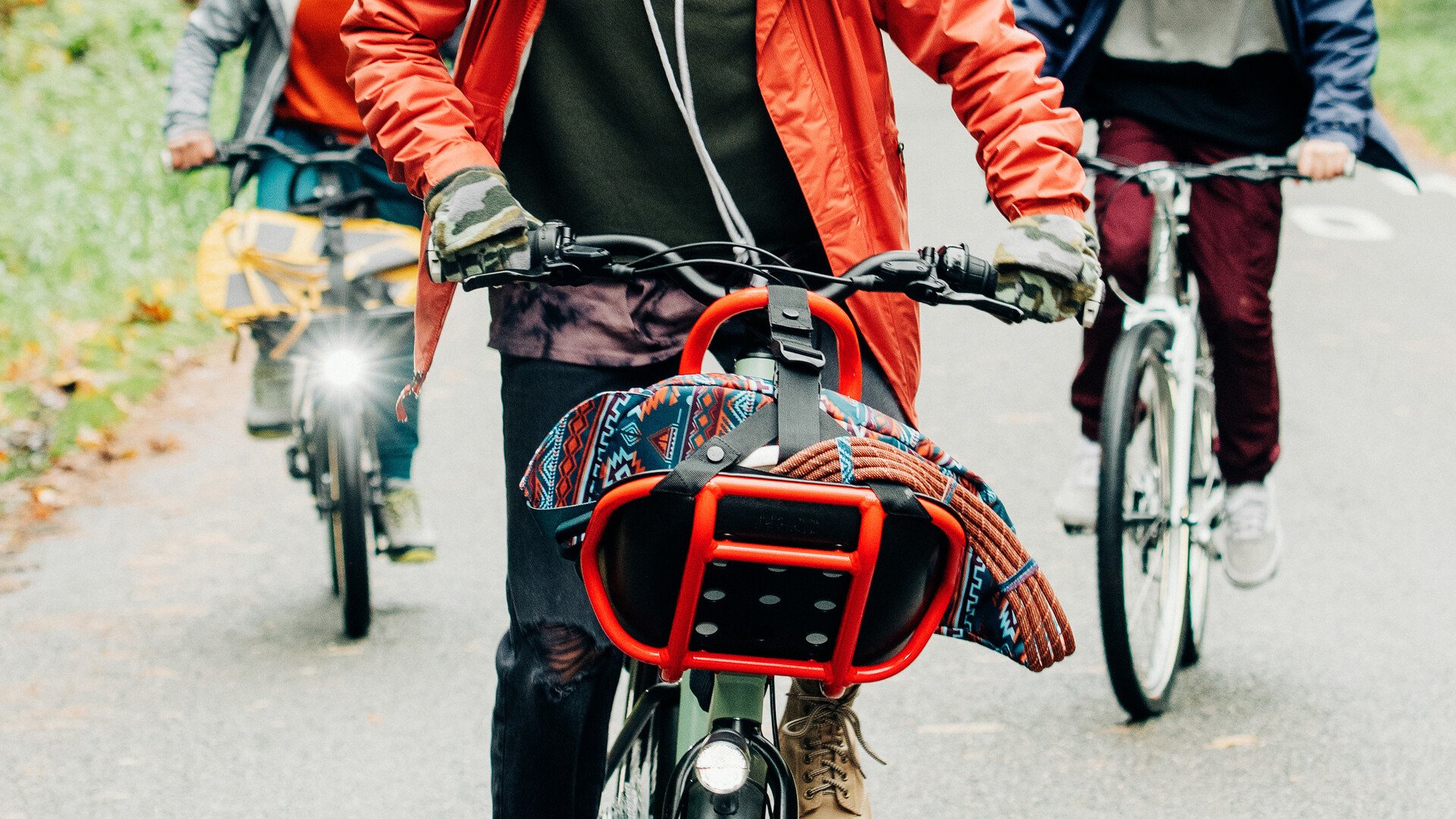 The frames, rigid forks, handlebars, stems and cranks on all woom bikes, including the woom NOW, come with a 10-year warranty.
3) Giving your child more independence frees up the whole family
Some older children can bike to school on their own if the circumstances are right...
They have to feel up to it physically and mentally.
They need a roadworthy bike that's as lightweight and easy to handle as possible, with a way of transporting their school bag safely.
Their route to school should take them on safe paths that are ideally separated from the road.
It can be a huge relief for many families when a child is ready to travel to and from school on their own. The mornings suddenly become a lot less stressful and everyone has more time to enjoy their breakfast.
Check out this blog post to find out how best to prepare your child for riding on the roads, which hazards your child should be aware of and how kids perceive traffic.
4) Leaving the car at home makes the school run safer for everyone
Studies have revealed that the final stretch of the school run is the most dangerous because of all the parents dropping their kids off in the car. Fewer children getting a lift to school means fewer cars on the road. And the school run suddenly becomes so much safer.
Walking, cycling or scooting to school reduces the morning traffic chaos outside the school gates and the risk of accidents.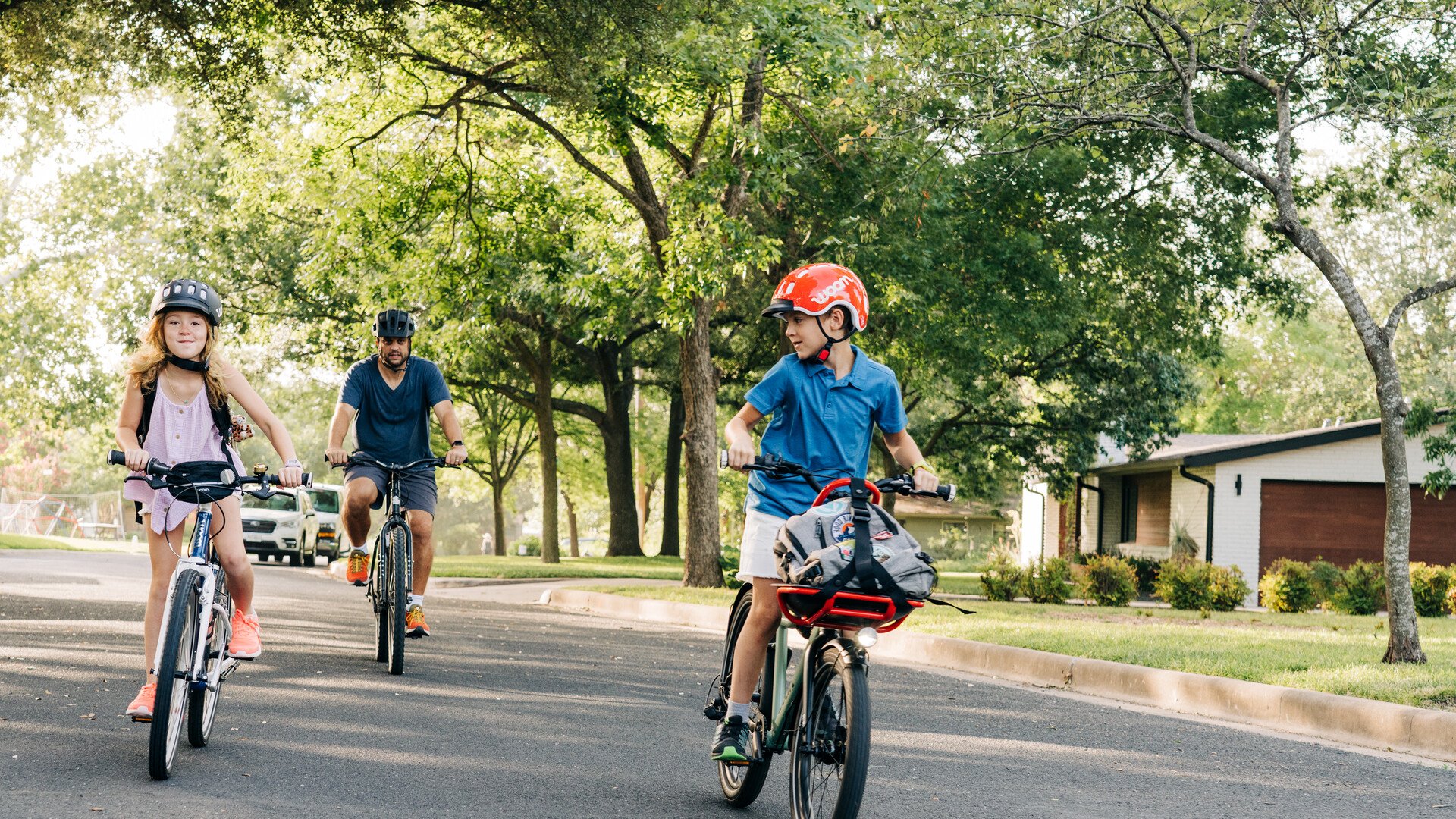 Some children will cycle to school on their own and others will be accompanied by an adult depending on where they live.
Frequently asked questions about cycling to school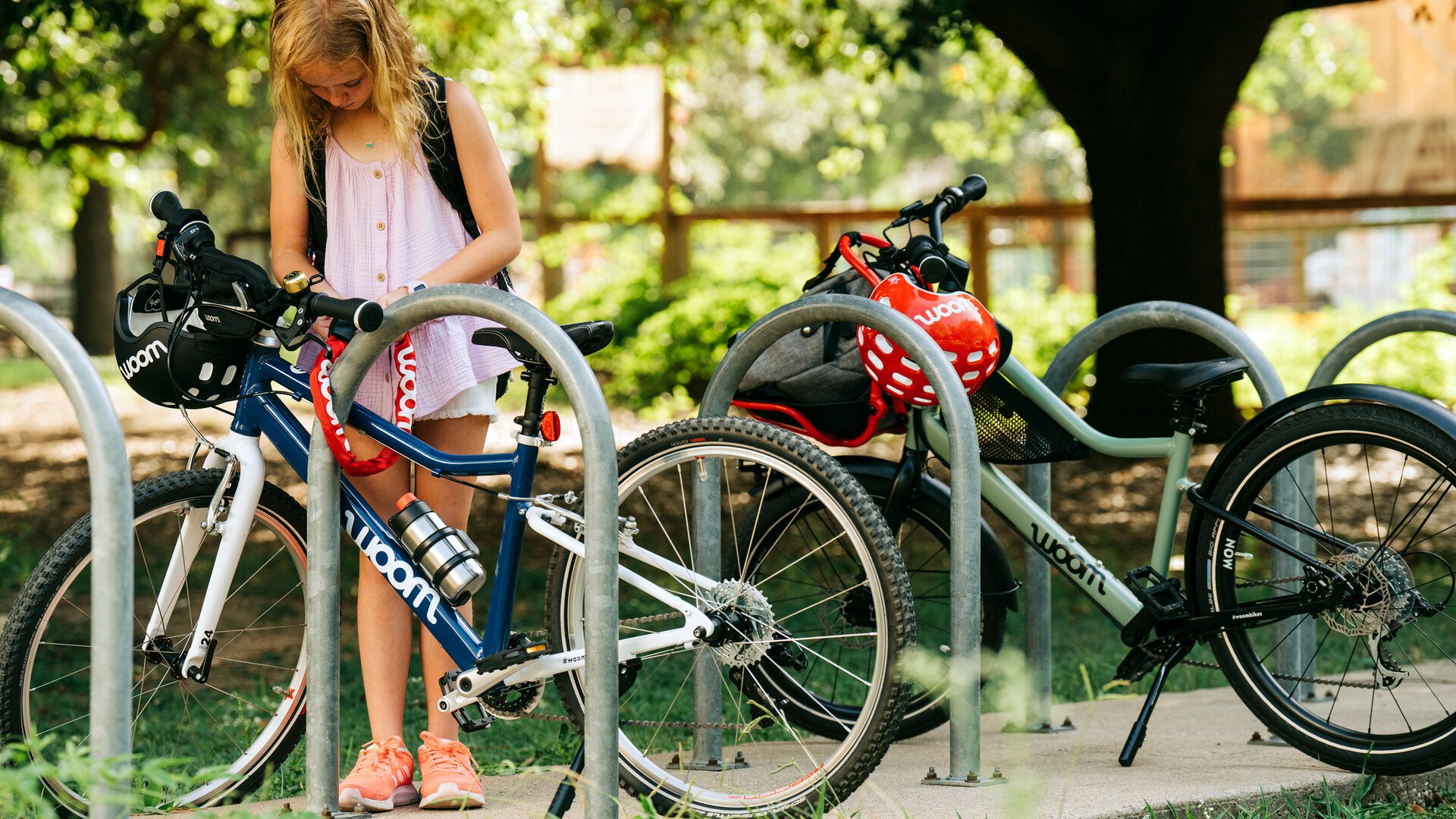 Your child should always lock up their bike at school with a decent bike lock.
We did some serious research to make sure we got all the information in this blog post right for you. But things change all the time, so we cannot provide any guarantee that the content is correct, complete or up to date. It's your responsibility to check the current rules and regulations where you are. Remember that it's always better to be safe than sorry!