Products
Which woom Bike is Right for your Rider?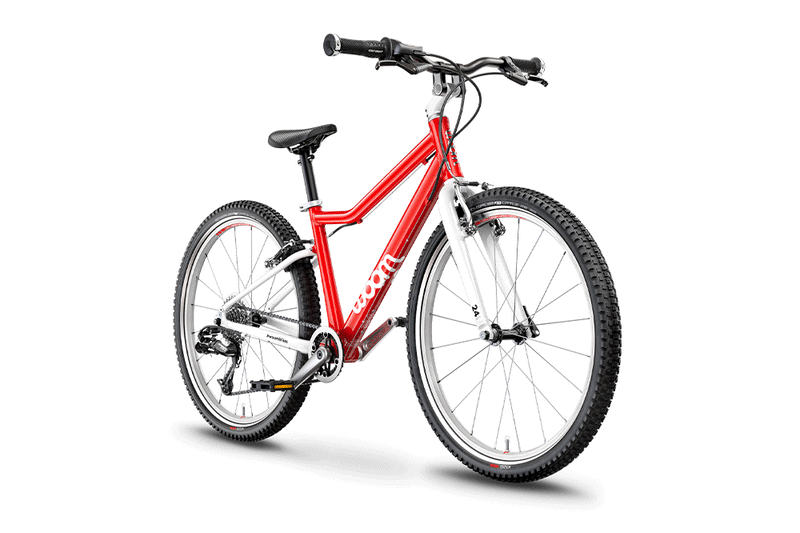 Biking is a blast! Kids know that. They spin off smiling on two wheels faster than you can keep up sometimes. What could make it even more fun? Having a bike specifically made for how and where they want to ride.
Selecting the size is relatively straightforward because it's based on their height. But choosing and discovering which type of bike they'd appreciate the most requires more than a measuring tape.
When your child reaches 46" in height (usually around 6 years old), they have a few options to select from in the woom lineup. And it matters — riding in a bike lane in New York City is quite different from riding trails in the Rocky Mountains.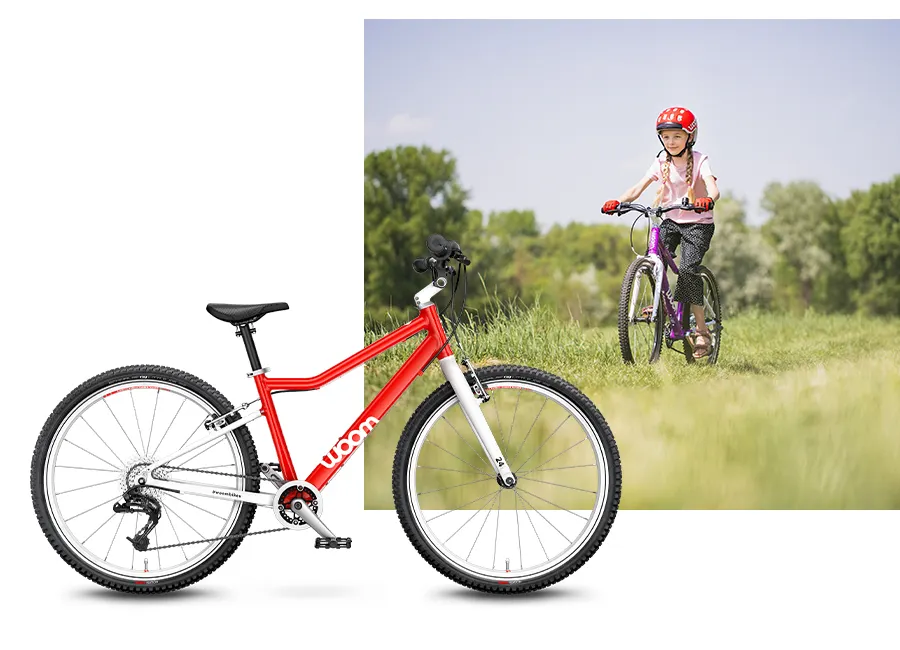 The woom ORIGINAL collection was woom's first product line. ORIGINALs are ideal for helping kiddos learn to ride and are the best all-around bike for children.
Their features include a low standover height, relaxed frame geometry, and an incredibly lightweight frame. woom 1 and woom 1 PLUS are balance bikes, woom 2 and 3 are single-speed pedal bikes, and Riders level up to gears and derailleurs on woom 4, 5, and 6. Not to be forgotten, the woom 3 AUTOMAGIC rounds out the woom ORIGINAL collection, offering a two-speed internal gear hub and automatic gear shifting to help bridge the gap between single-speeding and manual shifting.

Each model in the collection is designed to be practical, versatile, and easy to use. Available in various colors, the ORIGINAL product line is compatible with multiple accessories, including the VIENNA bell, rear PICKUP Rack, GLUG Stainless Steel Bottle, and CYCLOPE Bike Lights.
The woom ORIGINALs are best for kiddos cruising around the neighborhood on sidewalks, bike paths, streets, and most neighborhood dirt and gravel trails.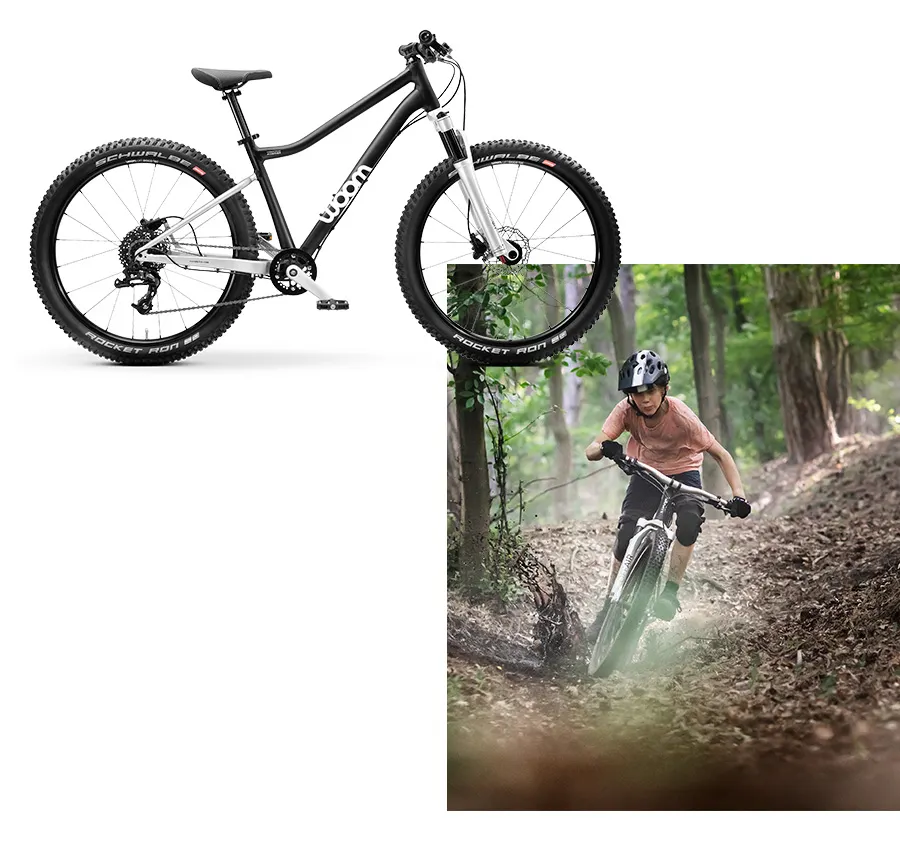 If your Rider is looking to go off the beaten path and onto some more technical trails, they'd be a lot more comfortable doing so on the woom OFF or woom OFF AIR.
Both product lines feature three mountain bikes designed for off-road use, and the "AIR" models come with an air suspension fork. With their trigger shifters, hydraulic disc brakes, knobby tires, and nimble frame geometry, both the woom OFF and the woom OFF AIR are in their element in the woods, dodging roots and rocks on dirt and gravel trails.
The woom OFFs (starting at woom OFF 4) feature a rigid carbon fork – strong, lightweight, and compliant material that reduces vibrations and increases comfort when riding over bumpier terrain.
If and when your kiddo is ready to shred even gnarlier trails and maybe hit a few jumps, they might consider a woom OFF AIR model instead. The woom OFF AIR Suspension Fork can be adjusted to the Rider's weight, features adjustable compression and rebound damping, and conveniently has a lock-out option. Having ample front-end shock absorption allows kids to ride further on rougher terrain and dramatically reduces the impact of slamming into the ground after catching some air.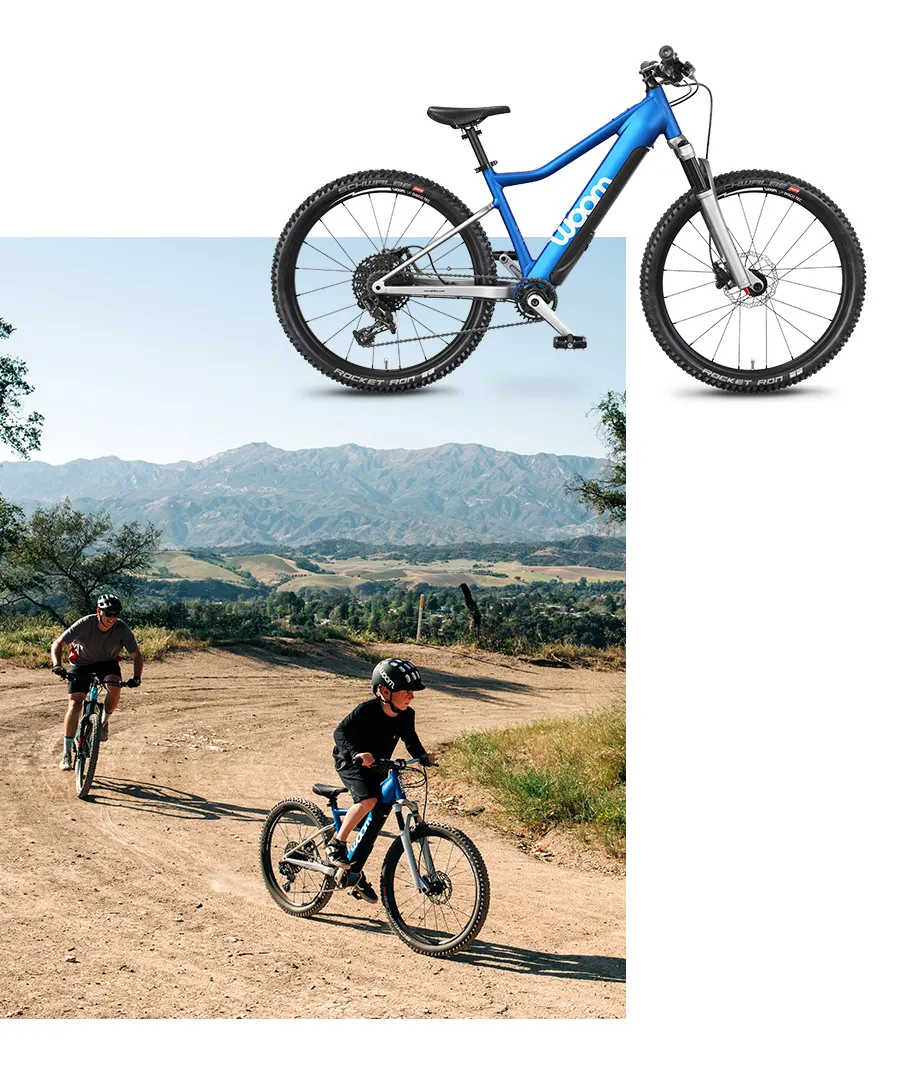 The first e-bike in woom history, the woom UP features three levels of pedal-assist to propel young Riders to new heights. The electric motor comes with a cadence sensor and a child-specific torque sensor – ensuring a smooth, natural ride. Essentially, the woom UP only provides a boost when your child is pedaling and does so proportionately with the amount of force they apply to the pedals.
As a mountain e-bike, the woom UP sports many similarities to the woom OFF AIR — knobby tires, hydraulic disc brakes, a trigger shifter, and an air suspension fork — optimizing it for off-road riding. The woom UP is available in two sizes, starting with woom UP 5 for Riders approaching 50" in height and going up to those 65" tall for the woom UP 6.
Because the pedal-assist function cuts off at speeds above 12 mph on the woom UP, its boost is felt most at slower speeds. Going up extra steep trails, dealing with quick changes in topography, or getting back up to speed after a sharp switchback are all child's play with the woom UP. Your Rider can take the woom UP just about anywhere.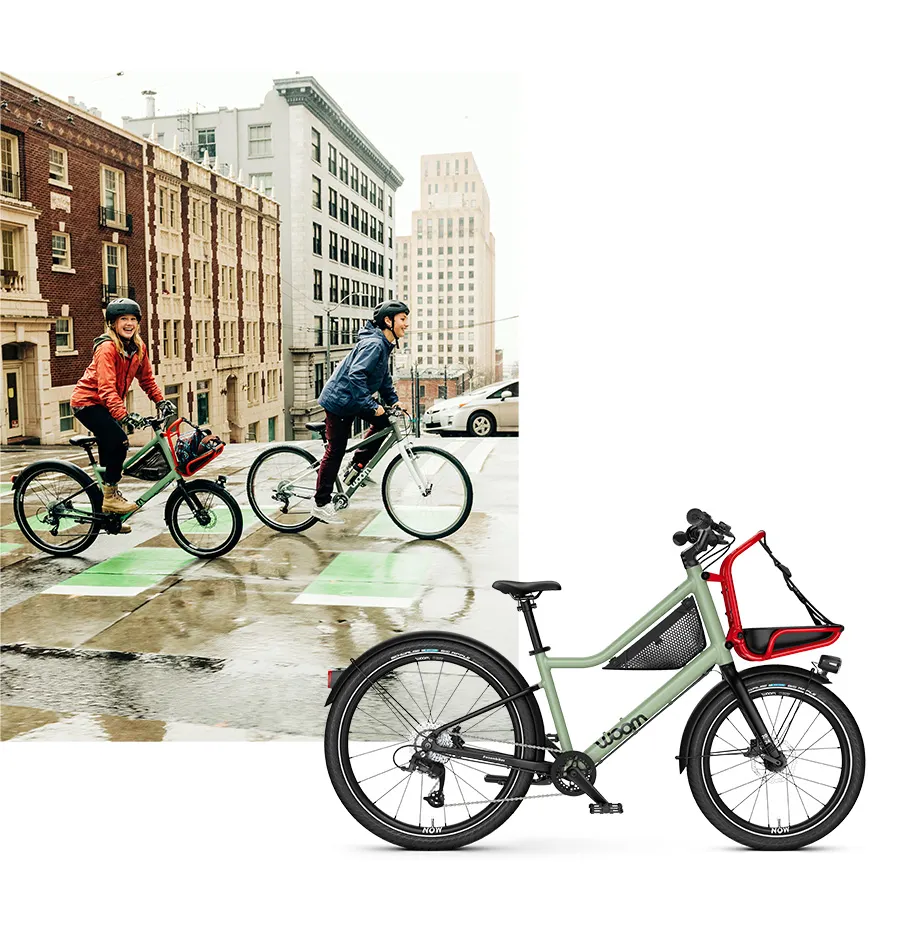 The woom NOW redefined urban mobility for kids. It was developed to provide them with a practical bike to get them from here to there while carrying all their gear on a front cargo rack. It comes in three different sizes starting with woom NOW 4 for children 46" tall.

Its features empower kids to feel safe and confident when riding from cities to suburbia. The bike's fenders protect Riders from getting splashed as they cruise through puddles, and the disc brakes make it safe and easy to stop in wet conditions. A bell is integrated into the handlebar to alert passersby.
The innovative frame design leads to confident cargo hauling, while the center-mounted kickstand makes for easy cargo loading. Its cushy "balloon" tires smoothly roll over potholes, railroad tracks, curbs, drainage grates, and other urban obstacles.
The most convenient built-in feature? Integrated headlights and taillights, pedal-powered by the dynamo hub whenever the woom NOW is in motion.
The woom NOW is more than capable of being used in the countryside or a small town but truly thrives in highly urbanized areas. The woom NOW can typically be spotted in its native habitat hauling its Rider and their backpack bound for school or practice.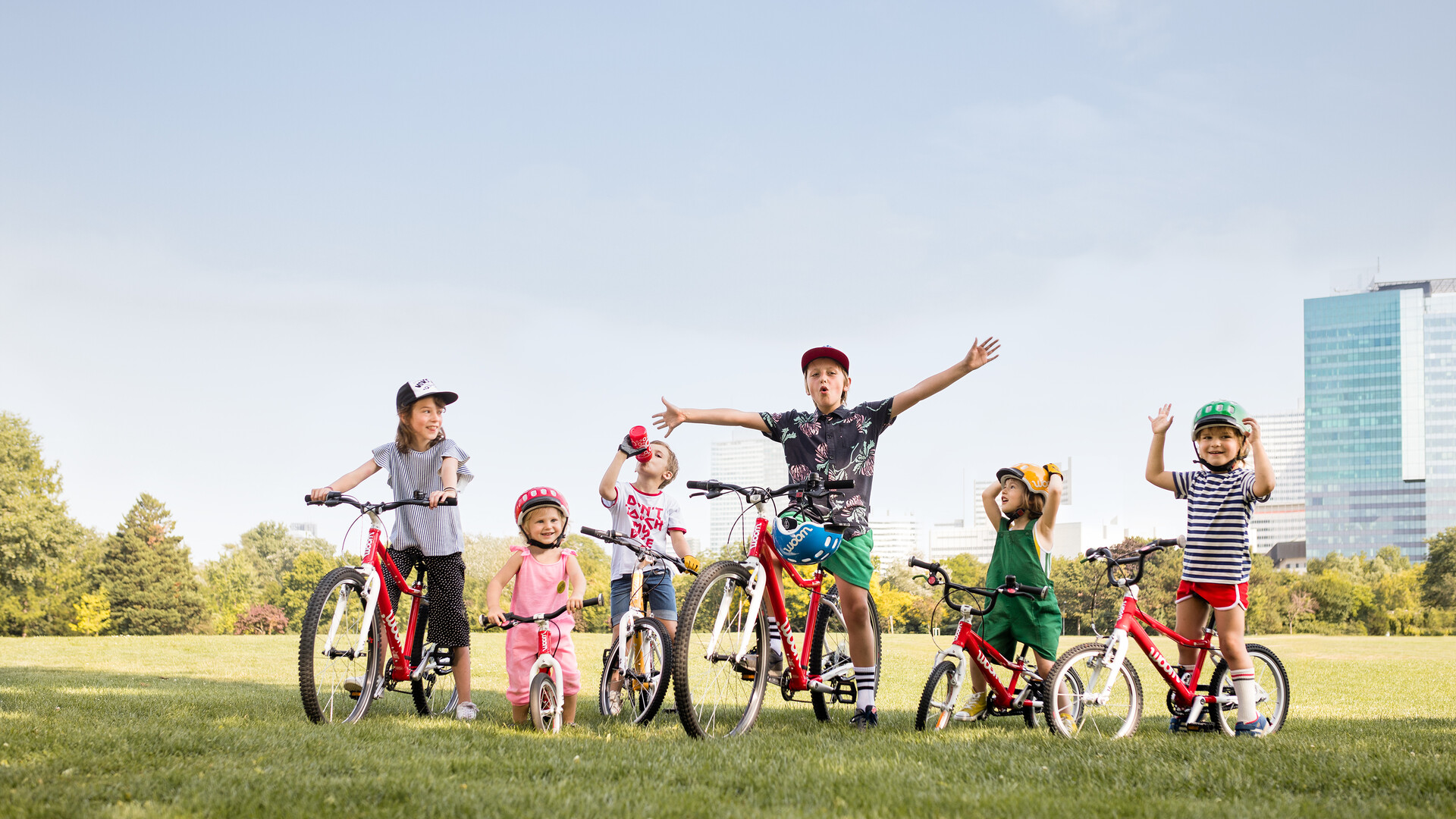 Whether your Rider prefers to cruise their block, shred the local pump track, rip up mountain trails, or ride safely to school – woom has just the bike.
As your Rider grows up and finds their place within the cycling community, we are here to support them no matter where their journey takes them.
Shop All Bikes