mountain biking
How (And Why) To Join a Kids' Mountain Bike Club
From building confidence to nailing new skills; from Pennsylvania to Northern Italy to Switzerland: A trio of adults behind mountain bike organizations across the world give insights into a world of wide, flat bars, singletrack exploration, and shared stoke.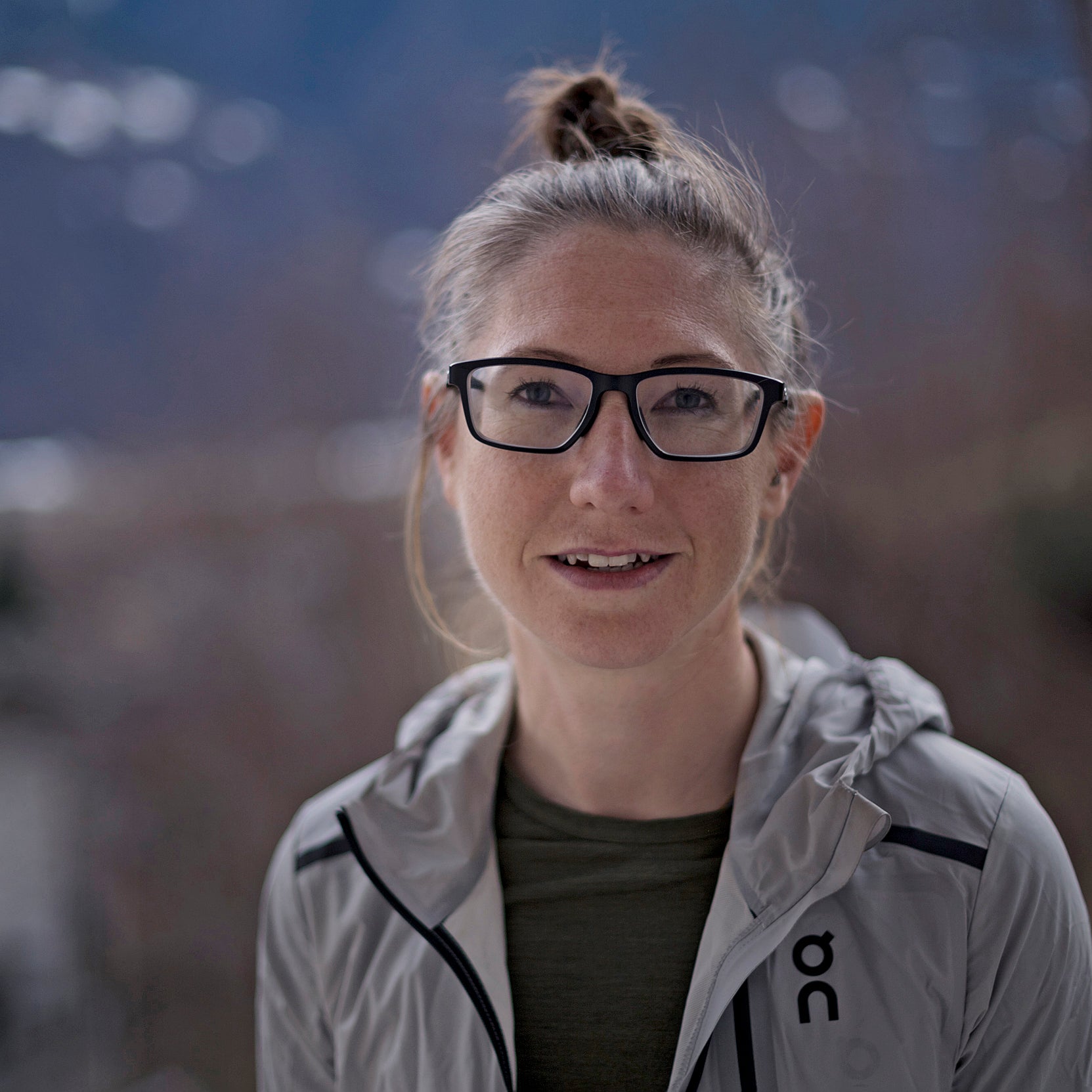 Emmie Collinge,
7/19/2023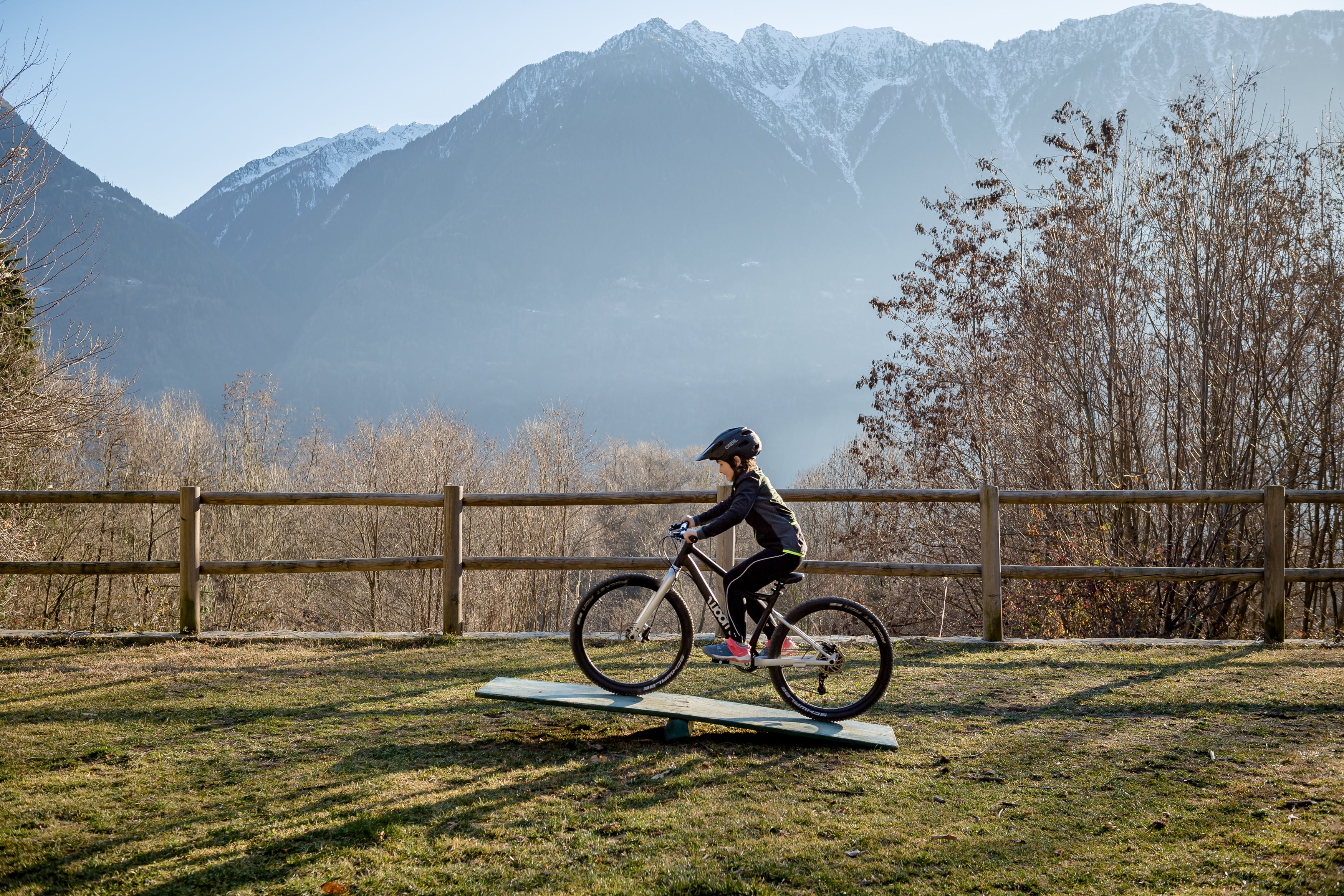 What is a kids' mountain bike club?
Like soccer or swim club, you sign your kid up to attend training sessions under the guidance of a coach. It could be weekly or twice weekly, and may even include a day out on the weekends.
As the sessions progress, your kid will spend a couple of hours a week in a similar-ability group, dabbling in games, drills, riding trails, and even racing.
Depending on the club, a team-issue jersey or even a club bike bottle might be included in the club membership. Whatever it might be, it'll help strengthen a sense of identity and cement friendships between the club members.
What do kids get out of a club?
Alongside developing some steezy bike handling skills (that's style-meets-ease, by the way), young riders will come out with new buddies, grow in confidence, and a whole new set of translatable skills.
The physical challenge of riding rough terrain or picking a line over rooty ground develops resilience and perseverance.
With friends around them, kids won't be looking for an exit when things get tough; instead, they'll push on to keep up, blooming into more skilled and confident riders with a stronger sense of self-worth.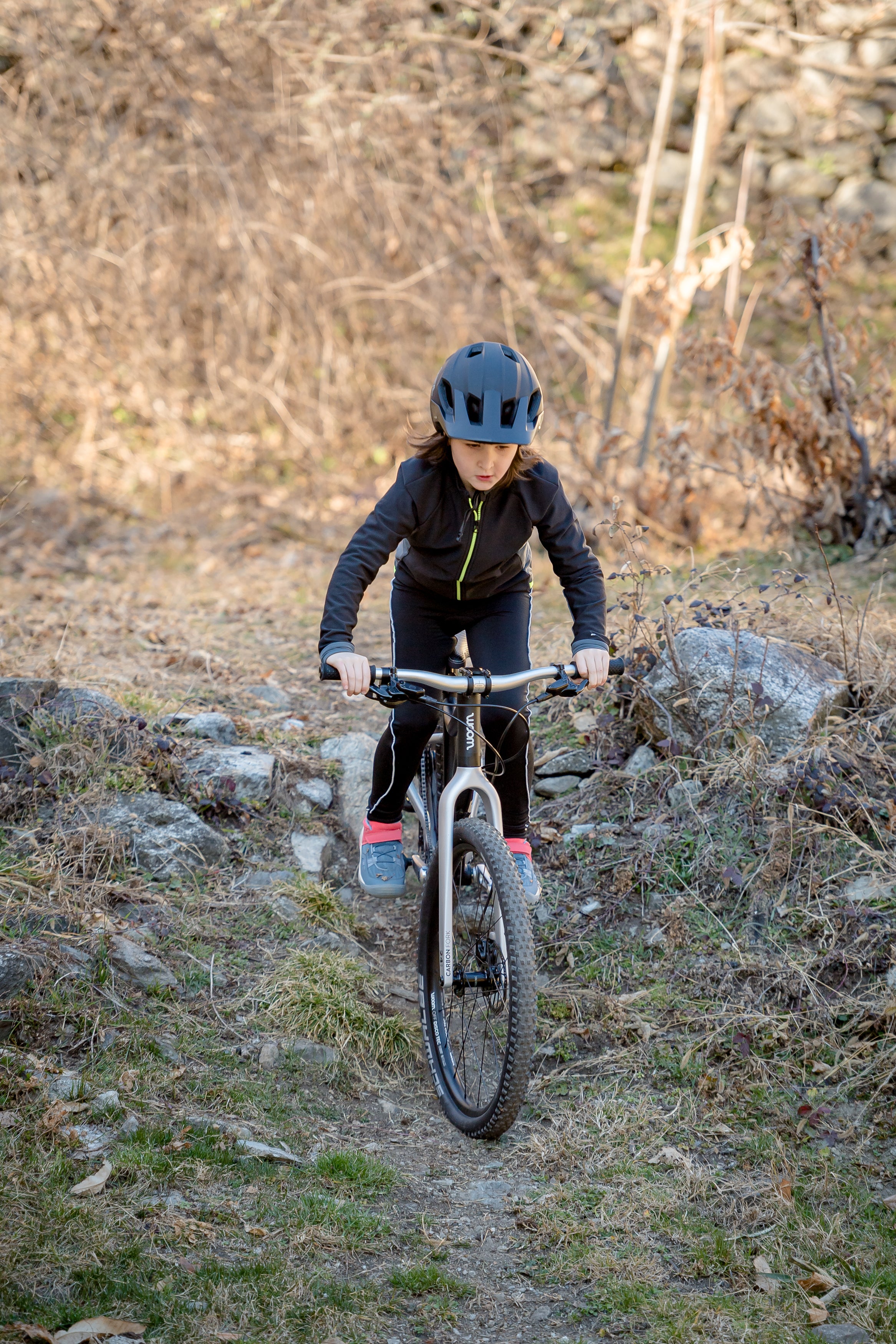 Once you've got a well-maintained, ride-ready bike, your child also needs the right gear in order to stay safe. >>Here are our suggestions.


'It can be life-changing'
Dad-of-two Mike Kuhn runs bike races, does coaching and is one of the most welcoming faces on knobby tires in the United States.

When he says that being part of a team can be life-changing, he's speaking from experience.
Mike set up the Pennsylvania Interscholastic Cycling League (PICL) eight years ago and brought it under the umbrella of the National Interscholastic Cycling Association (NICA).


A club in every school district in Pennsylvania (then the world!)
With 1,320 registered kids in Pennsylvania alone, the aim of Mike's league is to build the sport of mountain biking in middle and high school by launching teams in local communities and developing volunteer coaches.
"Each of the state's school districts should have a club," Mike says emphatically, "And each club needs a number of coaches.
"Through PICL, we help the clubs to get going and make sure the coaches not only know how to give skills instruction but also how to go about it in terms of attitude and philosophy.
"These are community-built and community-based teams that we're facilitating so we're very aware that these coaches are going to play a big role in a kid's life."
The focus on fun outweighs performance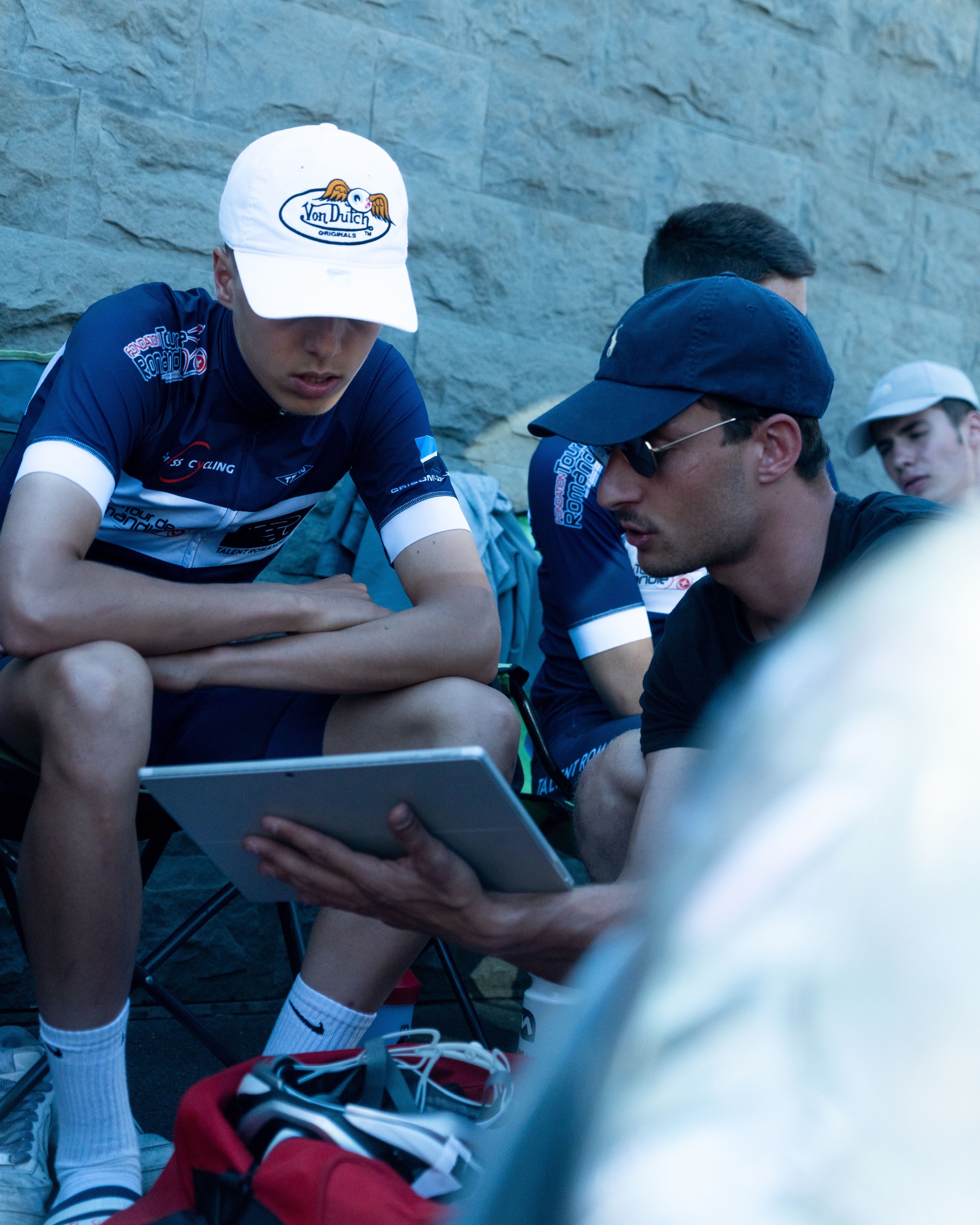 Switzerland's Leo l'Homme, a former pro mountain biker turned expert coach for Romandy, agrees that clubs and their coaches can have a big influence:
"I joined a club when I was six at the same time as my friends and cousins. It was so much fun and even though I started racing straight away, there was no real sense of 'training' until I was in my mid-teens.
"Back then, it just felt like playing and being outside with my buddies. I remember how much we looked up to the coaches."
Checks and balances
Much like Mike's setup in the US, Leo is a cog within the Swiss system that has a whole series of checks and balances when it comes to coaches. "I did all five coaching certificates while racing as a professional. After I retired, I went into full-time coaching.
"My responsibility as an 'expert' in the national Jugend+Sport network is to make sure clubs are running as they should. I'm super confident in our coaches and really love the fact that the sport is so accessible to all families, even those on a budget – my only worry is the kids and their eagerness!"
Leo laughs: "The mountain bike culture is so strong here in Switzerland that riders like Nino Schurter and Jolanda Neff are national heroes – household names, basically – and kids want to ride like them immediately."
Mike's ears perk up here, as he bemoans mountain biking's absence of mainstream appeal in the US.
"That's something we're working on!" he grins. "We focus on cross-country mountain biking because it's such a great entry point – it's fun and we can manage the risks."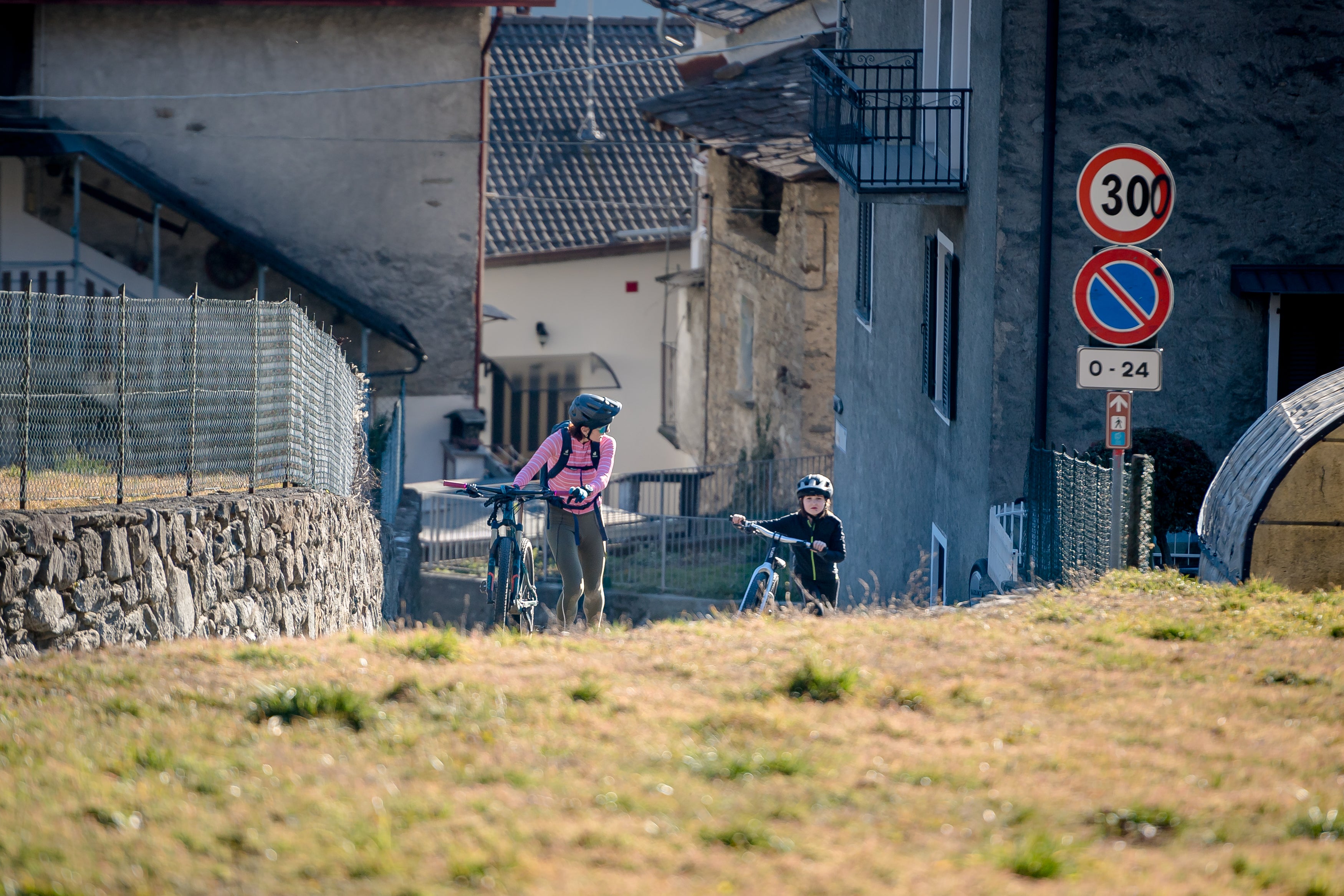 Sign up the whole family
Mike continues, getting into his vibe: "The most important thing for the kids (and us as coaches) isn't performance; we're all about creating a love for the bike, developing confidence, awareness and skills that'll stay with a kid forever. And what we see with our interscholastic model time and time again is just how much of a sport it is for the whole family."
In fact, he probably wouldn't be surprised if all of NICA's 15,000 volunteer coaches are simply enthusiastic parents that have worked through the teaching qualifications and completed the concussion and first aid training:
"Once you take a group of kids to the woods, you need a lot of coaches. The beautiful thing is that parents see this and think: I want to help! Then before you know it, they're out on the bike too and reaping the benefits of being active."
A global emphasis on fun
If there's one thing to learn from Leo and Mike, it's that fun has to take center stage when it comes to mountain biking – especially at a young age – but that structure is equally as vital to keep things safe.
After all, it's a sport that's practiced all year round in the elements on rough, sometimes loose, sometimes slippery terrain, so all extra precautions are a good thing.
No local club? Non è un problema!
Make-believe bridges to duck under, slaloming around cones – Lucia Moraschinelli creates kid-centric mountain bike sessions that are fun.
Okay, so you've scoured the internet, checked out nationalmtb.org (for those in the US), and asked your local bike shop, but still not found a nearby club or federation with a focus on young riders? It might be time to take matters into your own hands.
In 2020, Italian restaurateur Lucia Moraschinelli did exactly that.
"After lockdown, I wanted to find a way to get kids back outdoors and bring the community together again, so when summer 2020 rolled around and things opened up, I reached out to my then-five-year-old daughter's kindergarten classmates about starting a weekly bike skills session to challenge the common Italian perception that cycling is only a performance sport."
As parents milled around the playground practicing social distancing, Lucia's idea gained momentum.
Step 1: A coaching certificate and concept
Living in the mountains of Northern Italy without any major cities nearby, Lucia researched how to get her level one coaching certificate. "It's going to be the first of several," she says.
"I started with 10 kids on the sports pitch and got my partner to build some wooden obstacles. This gave us a safe space to play."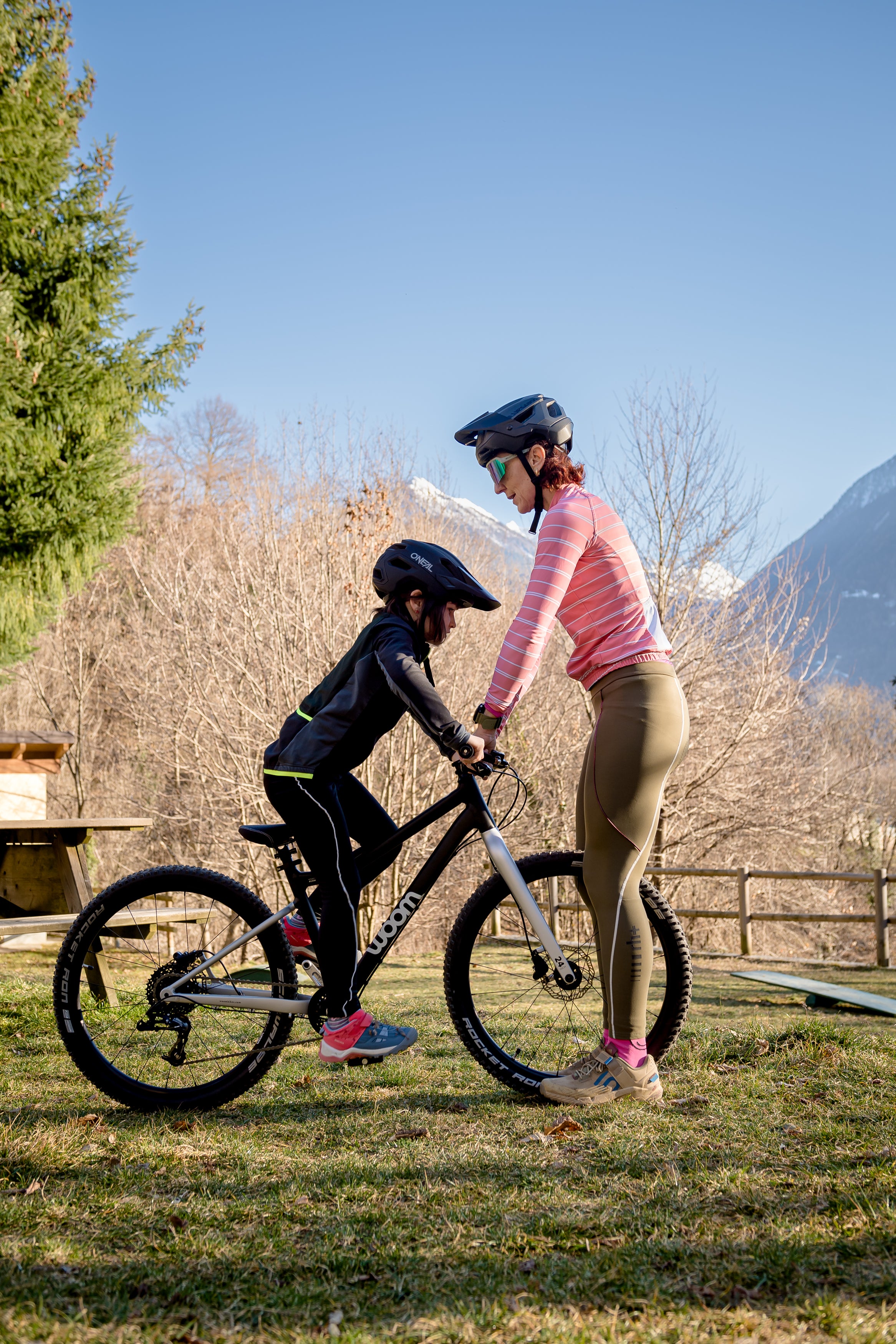 Each country has its own strict qualification policy for being a mountain biking instructor.
Step 2: The club's name and vision
While Lucia's own fiery red hair inspired her new-founded club's name, Red Line MTB, she's quick to point out how special it is to reach the metaphoric 'red line':
"Kids aren't always aware of how much they can achieve, so I encourage them to practice bravery and find their limits," she smiles broadly.
Lucia's club – the picture of a grassroots organization – now totals two coaches and thirty kids split into two groups. And unsurprisingly, Lucia shares a common set of values with Mike and Leo:
"We have bigger aims than just developing their riding skills; it's about personalities, confidence and showing kids how much they're capable of achieving."
Lucia's top tips for starting your own club:
You've got to love the outdoors and know your local area inside-out. In my freetime I'm often out cleaning the trails and scouting new routes.
Each two-hour session has to involve an equal amount of fun, education and teaching values; it's not all about mountain biking.
A competitive element can be great fun for the older kids from time-to-time. My group loves it when we do a Le Mans-style start to reach their bikes.
Kids don't have the same perception of risk as adults, so I often end up holding my breath throughout the session.
I always bring spare tubes, air canisters, and tools. You never know what trailside repairs will be necessary!
A Le Mans-style start involves running to reach your bike, hopping on it, and pulling off a clean lap. Timing optional!
Looking for even more adventure and insider tips?
Here you'll find lots more ideas and inspiration to make bike riding even more fun!